Rap Report
What is lost when everybody gets paid in no-cut events?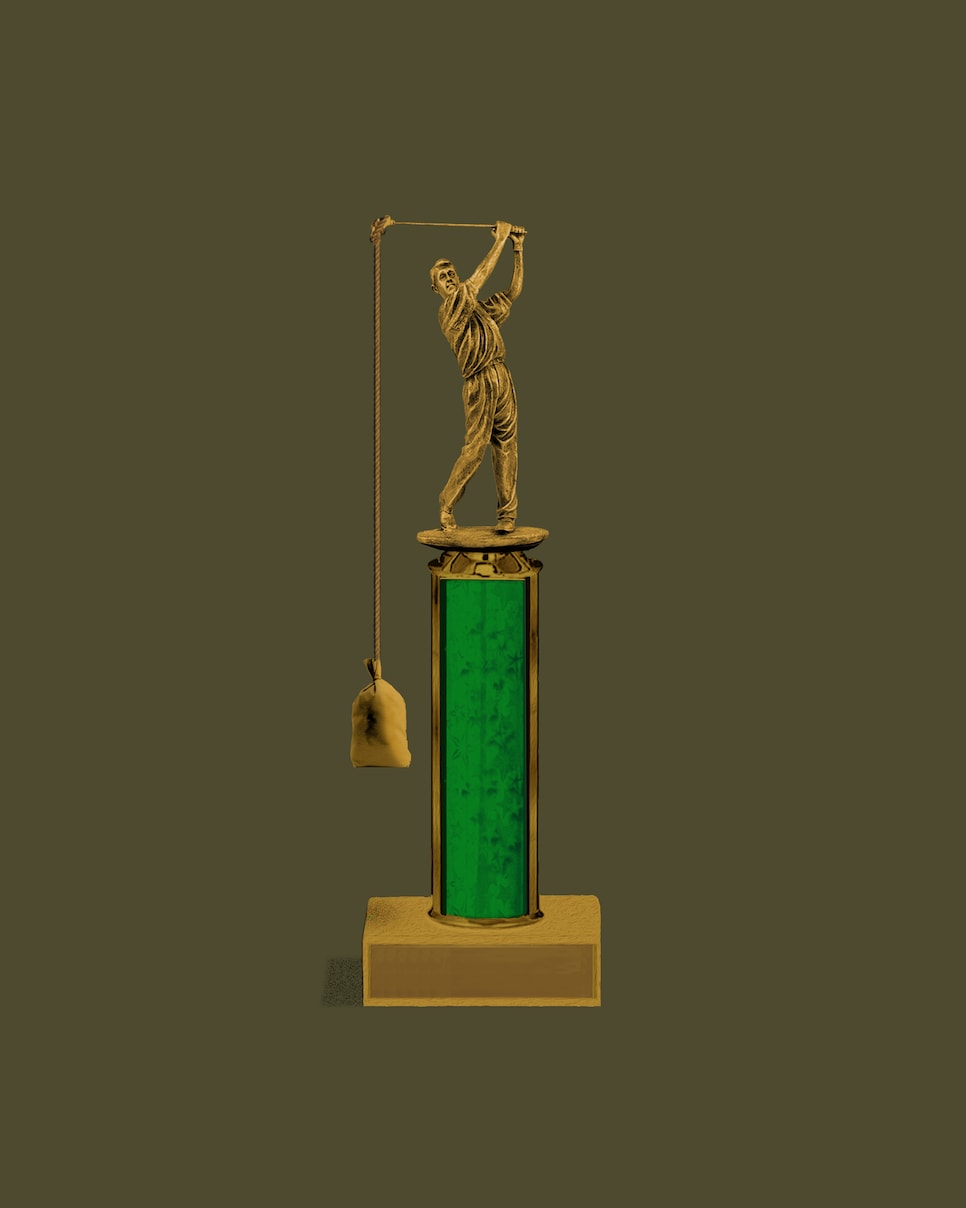 Illustration by Oliver Munday
In an interview with NBC ahead of his Hall of Fame induction ceremony, Tiger Woods was asked which of his accomplishments brings him the most pride. He didn't hesitate: his 142 consecutive cuts made, the most ever on the PGA Tour.
"You're going to have plenty of bad days; you can get the wrong side of the draw, where you're just not feeling well, things just aren't going right, and bad things just happen," Woods said. "But I didn't miss a cut for over six years. That's something I'm truly proud of."
It's telling that a man who has hoisted every trophy and stood on every mountaintop hangs his hat on being better than average every single week.
Earlier this year, I watched Jon Rahm study a six-footer with forensic intensity as the sun faded from Riviera Country Club. He read it from both sides. He checked it twice, then a third time. He consulted his caddie. Oh, and he was 16 shots behind the lead.
Why did Rahm grind so hard over a seemingly meaningless putt? Because Rahm had to drain that nervy par to make the cut at the Genesis Invitational, and Jon Rahm hates missing cuts. Every professional golfer does. The 36-hole cut has been part of professional golf for decades, a rare beacon of meritocracy in the sporting world. Basketball players receive game checks whether they win by five or lose by 30. The same is true for baseball, football and hockey. Even tennis players make some cash for a first-round exit, a reward for qualifying. But golfers? You miss the cut, you make no money.
However, this all could change. The 36-hole cut could be headed for the same fate as plus-fours and persimmon drivers—quaint relics of a bygone era—at least at the elite level of the men's game. After two-plus years in the shadows, the Saudi-funded, Greg Norman-fronted challenger to the PGA Tour has provided some details. LIV Golf Investments will host eight 54-hole events— LIV is the Roman numeral for 54, and you can insert your Greg Norman final-round jokes here—that will take place in the United States, Europe, Asia and Saudi Arabia. Each event will not have a cut, and the last-place finisher will take home $120,000. This is in addition to the seven-figure appearance fees LIV will pay players for their presence. It's a similar format to the one originally proposed by the Premier Golf League, another upstart that has tried to partner with the PGA Tour with no success.
I understand the reasoning behind these limited-field, everybody-wins events—that sponsors and fans want to see stars—and I'll counter with this: Fans see right through the facade and won't be compelled to tune in if they know multimillionaires are being handed buckets of cash simply for showing up.
The PGA Tour doesn't allow appearance fees, but executives are considering lucrative limited-field events worldwide with guaranteed paychecks for all. It's a highly appealing payment structure for tour players who have coveted guaranteed money for decades.
Unlike team sports, where organizations cover the costs of doing business, PGA Tour players pay their way every week. A round-trip domestic economy flight will run $200 to $800 depending on the origin and destination. A player will pay his caddie a base fee of $1,500 to $2,500 for the week before the standard 8 percent of a made-cut paycheck and 10 percent of a victory. If the player's coach stays at home, the player might be able to get away with paying him 2 to 3 percent of earnings, but if the coach is on tour often, it will be closer to 5 percent. The top players also have trainers, and some guys pool money to bring a chef on the road. Housing costs vary; some players will stay with friends or a host family for free. A typical hotel for the week will cost about $300 a night. If a player wants a house for a major-championship week to accommodate family and his traveling entourage, it will cost $15,000. The money adds up quickly, and it's hard to take if the player is sent packing Friday without a paycheck to balance the books.
But there's already guaranteed money in golf, and more is on the way—it just doesn't come via a weekly direct deposit after a tournament. Players have long worked around the appearance-fee ban by securing deals with companies that sponsor PGA Tour events and contractually committing to play in their tournament. Now a credible challenger to the PGA Tour has gifted players leverage, and the tour has had to respond with additional dollars. The Player Impact Program will offer $50 million next year with a $10-million first prize for the player who brings the most positive attention to the sport. Anyone who plays in 15 or more events in a season now gets a $50,000 bonus. Purses and FedEx Cup payouts continue to skyrocket, and the PGA Tour offers a generous pension plan. But the tour has stopped short of offering players contracts to play in tournaments, and the players are doing just fine financially.
The biggest stars bring in north of $10 million in endorsements a year, and about 40 players make more than $1 million before hitting a shot. Ironically, the main reason golfers are so marketable—four of the six highest-earning athletes ever are golfers, according to a recent Forbes list—is lines. because they are not viewed as being as money-hungry as team-sport athletes. Endorsement negotiations happen behind closed doors, and golfers do not hold out of tournaments because they are unhappy with their contracts.
The reason for players to leave behind the history of the PGA Tour for an unknown commodity with shady backing is money. The Saudis are offering heaps of lucre, and their checks will cash even if the player shoots three 83s. I'm all for players making as much as they can, but tournament checks are just one piece of a modern touring professional's earnings—the lone truly meritocratic piece, where compensation is directly tied to score. Let's keep it that way. Something is lost if we move away from every player on the leader board starting from $0 each week and having to earn at least some of his fortune with his clubs. Play for pay is a positive differentiator, one of golf's countless charms, a dynamic worth protecting. With no cut, we wouldn't get to see the world No. 1 grinding over a six-footer like his dinner depended on it while 16 back on Friday afternoon.
Rahm made that putt, and he fist-pumped like he had won the tournament.