News
Weekend recap: Day prevails, Tiger and Phil together at Players, Bill Murray doing Bill Murray things and another rules snafu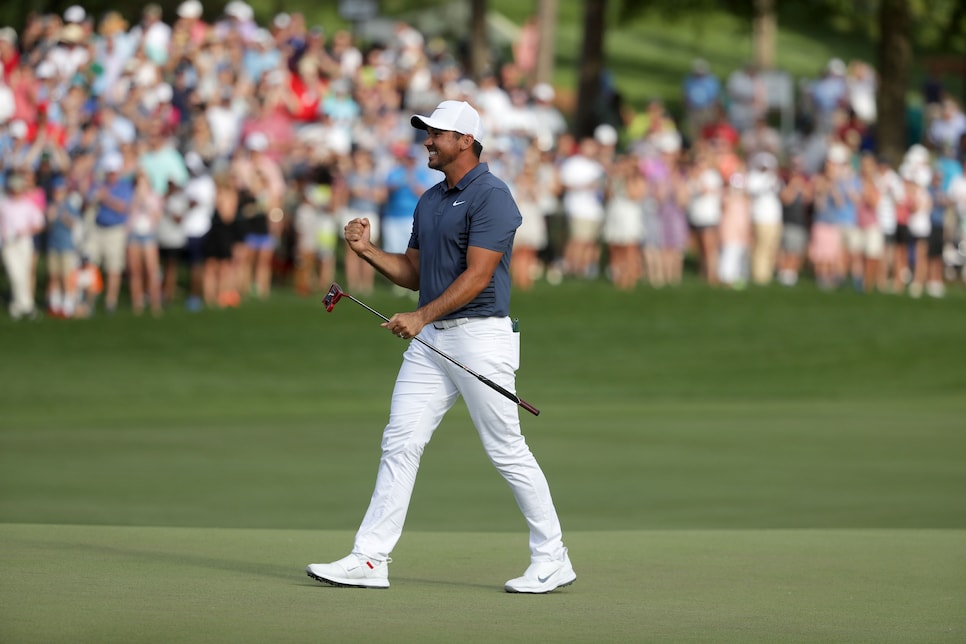 Welcome to the Dew Sweeper, your one-stop shop to catch up on the weekend action from the golf world. From the professional tours, trending news, social-media headlines and upcoming events, here's every golf-related thing you need to know for the morning of May 7.
Day wins Wells Fargo with fiery finish
The Green Mile is supposed to be one of the toughest stretches on tour. Jason Day made it look as difficult as your local putt-putt.
Tied with rookie Aaron Wise with just three holes remaining, Day birdied the 16th and 17th at Quail Hollow Club in Charlotte, N.C., before making a conservative par at the last to win the Wells Fargo Championship by two shots. A clutch performance highlighted by a near ace at the par-3 17th, a hole that surrendered just three birdies on the round:
It was far from a flawless effort, as the Aussie hit just six fairways on the afternoon and made four bogeys, including an ugly snap hook at the 14th into water. Still, when a push from the 21-year-old Wise made it interesting, Day answered with moxie.
Day already bounced back from his nightmarish 2017 with a victory at Torrey Pines earlier this year and a runner-up finish at Pebble Beach, but to say he's angling to reclaim the No. 1 world ranking is an affront Dustin Johnson, Justin Thomas, Jon Rahm and the like. Conversely, with the Players on the docket and the U.S. and British Opens looming, the 2015 PGA Champ has recaptured his formidable form, a notion that should send head-shakes throughout the sport.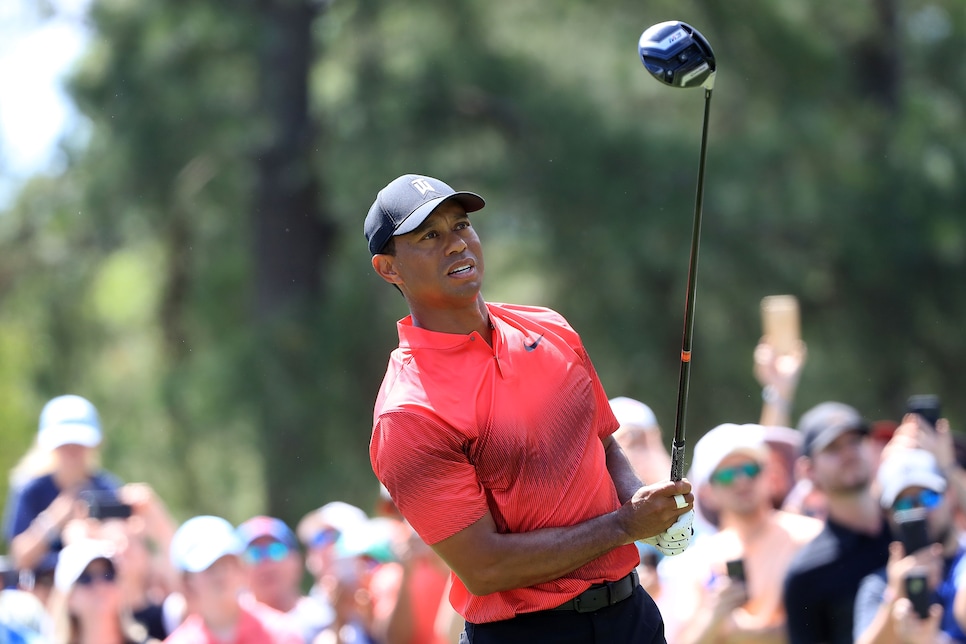 Tiger stumbles in Sawgrass warm-up
There were signs of promise. His driving, poor in his previous six starts, was strong, finishing 16th in strokes gained/off-the-tee. His approach game was similarly solid. But Tiger Woods had his worst finish since the missing the cut at Riviera, shooting a final-round three-over 74 to finish T-55 at the Wells Fargo Championship.
"I didn't putt well again," said Woods, who needed 31 strokes on the greens Sunday. "I felt like I drove it pretty decent today, but I made nothing. The chances I did have, I missed them all. It was just a bad week, and the good news is wipe your hands clean and go on to the next one."
Short-game woes were a recurring theme for Woods at Quail Hollow. The 42-year-old finished the week last in sg/putting for those that made the cut. He also failed to record a red number on Sunday, just the sixth non-major round in his career without a birdie.
"I got shutout," Woods said.
Not the ideal reps before traveling to TPC Sawgrass, which ranked as the second-hardest track on tour last season. Of course, Si Woo Kim missed four of his previous five cuts before his Players triumph last spring, so perhaps Woods is right where he needs to be. Speaking of which...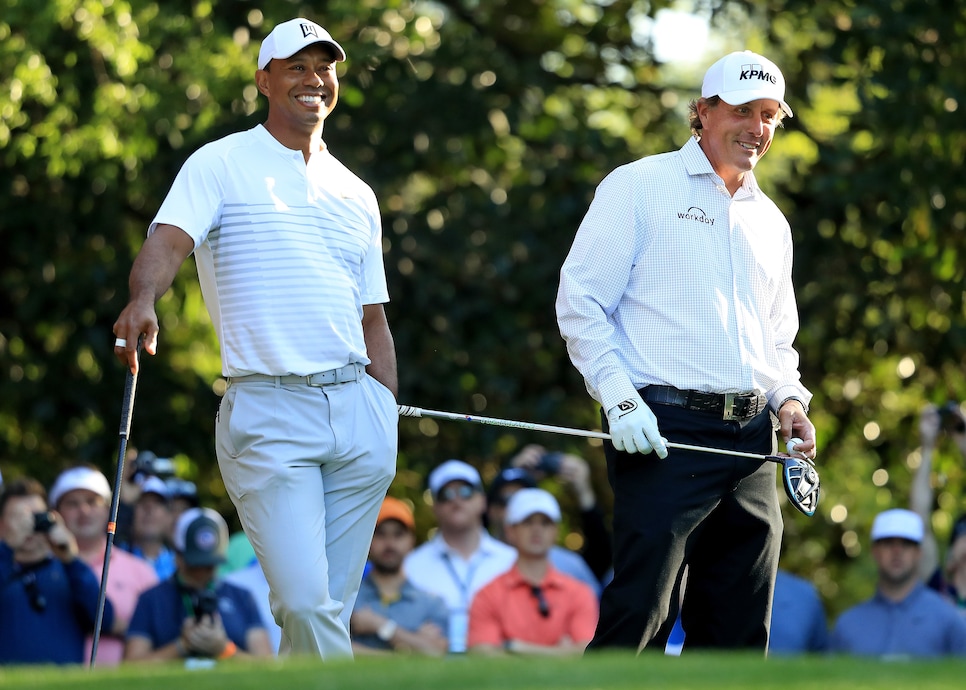 Golf's biggest stars paired for Players
Knock the "fifth major" discussion all you want, but the Players Championship certainly knows how to set the stage when it comes to marquee pairings.
The event announced its two featured groups on Sunday, with Woods and Phil Mickelson serving as headliners. The duo famously played a practice round together at this year's Masters, although they have not been paired together in tournament play since the 2014 PGA Championship. Both have won at TPC Sawgrass in their storied careers, and will be joined by Rickie Fowler, the 2015 Players champ.
They're not the only group flaunting firepower. Jordan Spieth, Justin Thomas and Rory McIlroy, the past three FedEx Cup champions, will also be teeing it up together on Thursday and Friday. Two more featured groups will be announced early this week, but good luck topping these trios for attention.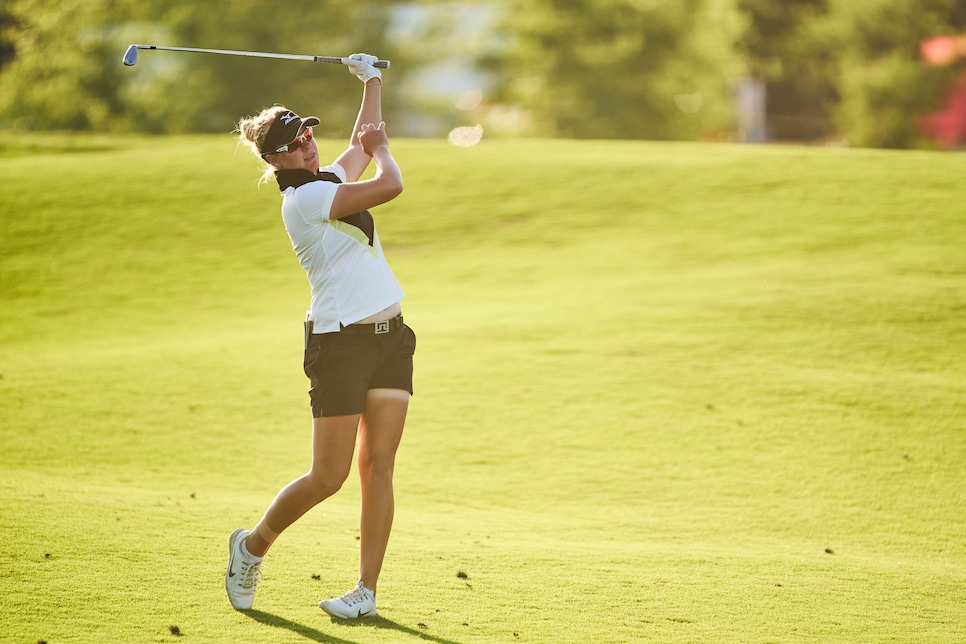 Darren Carroll/Getty Images
Stop if you've heard this sentence before: There was a run-in with the Rules of Golf this weekend. Denmark's Nicole Broch Larsen was its latest victim.
On Saturday at the Volunteers of America LPGA Texas Classic, Broch Larsen called over an official because she thought she saw her ball move while address a chip shot near a green at Old American Golf Club. However, the official ruled that Broch Larsen hadn't caused its relocation, saved from a possible penalty.
Except another official, assigned to watch the broadcast, contacted the on-site Rules Committee with "added information" from seeing video footage. The Rules Committee, upon further review, assessed Broch Larsen a one-stroke penalty under Rule 18-2.
If you're wondering, "Hey, I thought this review nonsense was over with," GD's Ryan Herrington explains: "But what about last year's decision, "The Lexi Rule," which says that a player's reasonable judgment will be accepted even if video shows it to be inaccurate? In this instance, video was permitted to help overturn the original ruling because that new decision (Decision 34-3/10) was meant to apply when the issue involved is either determining a point of relief or the replacement of a lifted ball, or in instances where it reveals things that could not reasonably be seen with the naked eye."
Though the penalty dropped her from alone in the lead to a tie with four other players entering Sunday's play, the stroke ultimately did not decide the fate of the tournament, as Broch Larsen finished six shots behind Sung Hyun Park. Nevertheless, the recurrence of such matters—specifically, the perceived lack of common sense in which they're handled in—is getting old. It would be refreshing if those who monitor golf start applying that "game of integrity" maxim to themselves.
Bill Murray, still the man
For the record, gender parties are narcissistic and highly unnecessary. No one cares that you're having a baby, let alone if it's a boy or girl. But, if you're going to ruin everyone's weekend with this stupid party, might as well bring Bill Murray along for the ride.
Playing in the Murray Bros. Caddyshack Golf Tournament, Michael Davis (no, not that Mike Davis) and his wife wanted to do their reveal a la Dustin Johnson via an exploding golf ball. However, the couple ran into the owner of the Chive, who was able to get Murray to do the honors instead:
Props to Murray for playing along, and our apologies to all expecting parents. Because after this video, the old "Alright, let's take a bite of our cupcakes and see what color's inside!" stunt ain't going to cut it.