News
LPGA pro first cleared of rules violation, then penalized, for ball moving at Texas event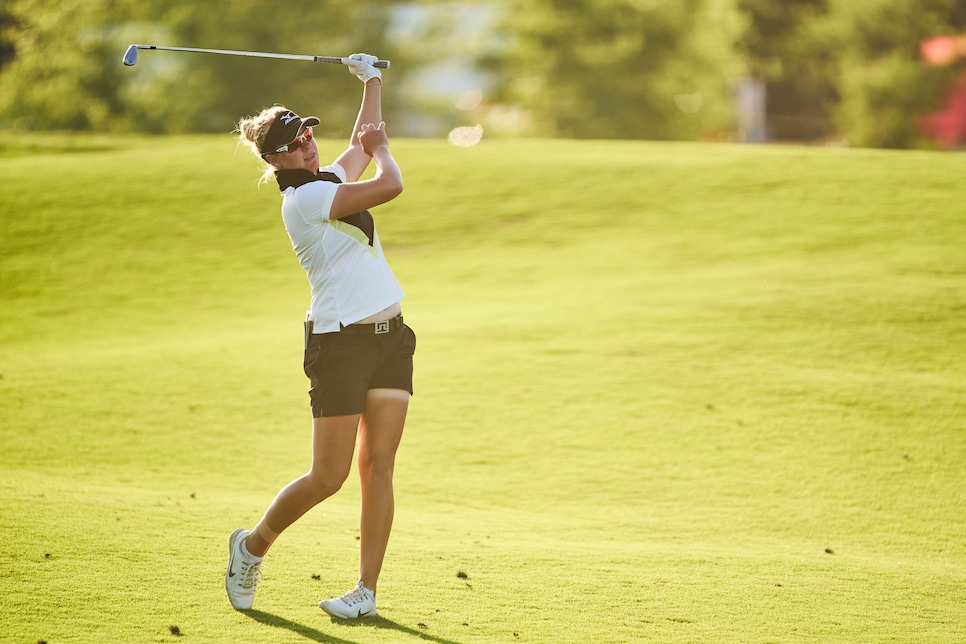 Darren Carroll/Getty Images
As Sunday's second (and final) round played out at the rain-plagued Volunteers of America LPGA Texas Classic, Denmark's Nicole Broch Larsen likely was still upset about what happened late Saturday night. However, she did not have to fret that the penalty stroke for her rules violation cost her the chance of claiming her first LPGA title.
Playing the par-5 fourth hole at the Old American Golf Club outside of Dallas, the 13th of her second round and the second-to-last she would play on Saturday, Broch Larsen thought she saw her ball move after grounding her club while preparing to play a chip shot just off the green. The 23-year-old discussed the situation with an on-course rules official, who ruled that Broch Larsen had not caused the ball to move. So she played on and made what she thought was a birdie 4. However, an LPGA official assigned to watch the broadcast of the event contacted the on-site Rules Committee with "added information" from seeing video footage.
After the Rules Committee reviewed the video as well, and had further discussions with Broch Larsen, it was determined that it was more likely than not that she did cause the ball to move, and so she received a one-stroke penalty after all under Rule 18-2. She did not, however, receive a penalty for playing her ball from the wrong place because she was following the direction of the on-site officials.
Taking a par instead of birdie, Broch Larsen fell to six under par for the tournament when play was suspended for darkness, leaving her tied with four other players for first as they waited to finish the second round rather than being the overnight leader. Broch Larsen then played her remaining four holes on Sunday in one over, and finished her 36 holes at five-under 137. At the same time, India's Aditi Ashok wrapped up a second-round 66 that left her at seven-under 135. Meaning, Broch Larsen didn't have to wait the rest of the day as the remaining players in the 144-player field closed out their second rounds to see if she might be in a playoff (or worse yet be one stroke out of a playoff, caused by the penalty). Sung Hyun Park, with a 65-66, wound up winning the title by one stroke over Lindy Duncan, with Broch Larsen finishing tied for 12th.
But what about last year's decision, "The Lexi Rule," which says that a player's reasonable judgment will be accepted even if video shows it to be inaccurate? In this instance, video was permitted to help overturn the original ruling because that new decision (Decision 34-3/10) was meant to apply when the issue involved is either determining a point of relief or the replacement of a lifted ball, or in instances where it reveals things that could not reasonably be seen with the naked eye. It was determined that was not the case here.