U.S. Open memories
Webb Simpson has a funny story about sneaking on to Olympic Club as U.S. Open champ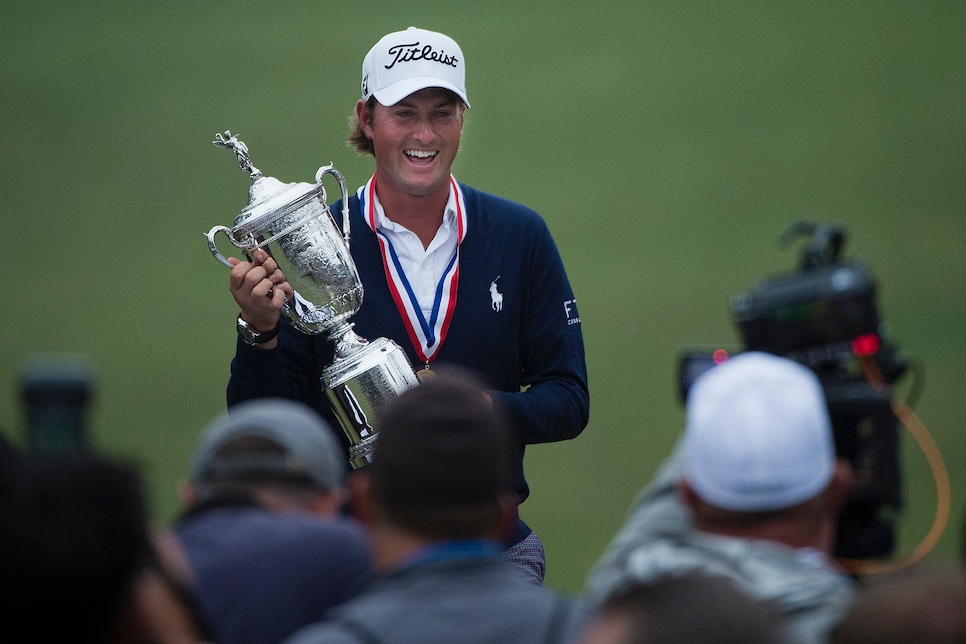 Winner Webb Simpson holds the U.S. Open trophy on the 18th green in 2012.
Paul Kitagaki Jr.
SAN FRANCISCO — This will be a nostalgic week for Webb Simpson. Nine years ago this month, he came from back in the pack on Sunday, shot 68 and seized the U.S. Open at Olympic Club for what is his only major victory in a seven-win PGA Tour career.
You'd think the 35-year-old would make it a point to get back to play Olympic every so often to relive his greatest professional week. Truth is, he has never played another round on the Lake Course, though he's visited a couple of times—just to get his fix and chow on the famous Olympic Burger Dog.
One of those culinary trips, however, did produce a good story. "You can't make this up," Simpson said, eager to share the tale on the phone recently.
In 2015, at the start of the week of the PGA Tour's WGC-Dell Match Play being held at nearby Harding Park, Simpson and a friend went to The Olympic Club to get a burger. It was a Monday, and the course was closed, which bummed them out, because Simpson wanted to at least visit the 18th green. There, on Sunday in '12, he got up and down from a horrendous lie in the greenside rough and beat Graeme McDowell and Michael Thompson by a shot.
Wouldn't it be cool if he could replicate it?
"We spot this golf cart on the range," Simpson said. "And I'm not kidding, there is a lob wedge and two range balls in back of it. So we sneak down to 18, drive down there, and I was able to re-enact the shot."
With his buddy videotaping it and doing commentary, he lined up the shot from the rough—and chunked it. "And he loses the U.S. Open by one shot!" his friend exclaimed, both of them breaking into laughter.
"I redid it," Simpson said with a chuckle. "That was a lot of fun."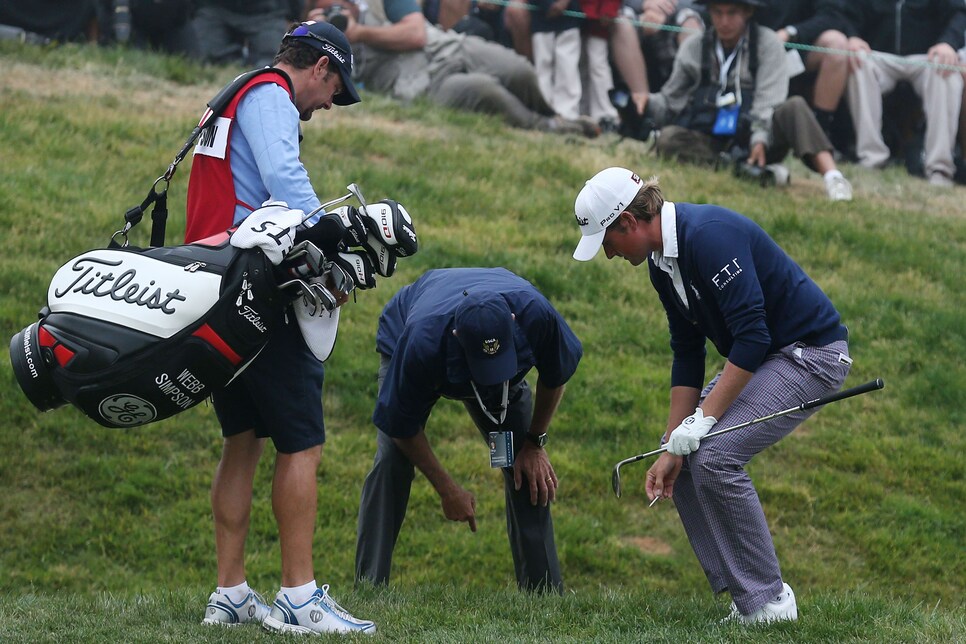 Webb Simpson and a USGA official examine his lie in the rough on the 18th green Sunday of the 2012 U.S. Open.
David Cannon
Simpson did some calls with reporters in the buildup to this week's U.S. Women's Open at Olympic because of his USGA ties and the fact that he played a role in how the Lake Course was set up this week.
Jason Gore, who works for the USGA as a player liaison, reached out to Simpson and his caddie, Paul Tesori, to have them run through their final round in '12. They talked about strategy and what clubs he hit into every green.
"I'm really interested to see how it plays," Simpson said. "I think for the women there are strength and weaknesses compared to the men. One of their strengths is accuracy. That is obviously going to pay dividends for them. Going into the greens, the biggest challenge is that they don't spin the ball as much, so it might be hard for them to hold the greens with longer irons and hybrids. Olympic is a long golf course, and they're going to have long shots in."
Simpson recalls the Sunday he won at Olympic as a surreal mix of calm and focus. He said his wife, Dowd, was at the course, pregnant with the second of their five children. Two shots off the lead going into the final round, he just wanted to make the most of the day.
"I wasn't tensed up," he said. "When I look back, I was a 26-year-old who had never contended in a major. I didn't expect to do anything crazy or special on Sunday.
"I played a really good round. I don't remember many rounds from my career, just moments. But I remember every shot. It's like that final round was yesterday. The feeling I had … the thought process. It's the most fun I've had on a golf course."