Voices
We followed Charley Hoffman to see how TPC Scottsdale fans felt about his PGA Tour call-out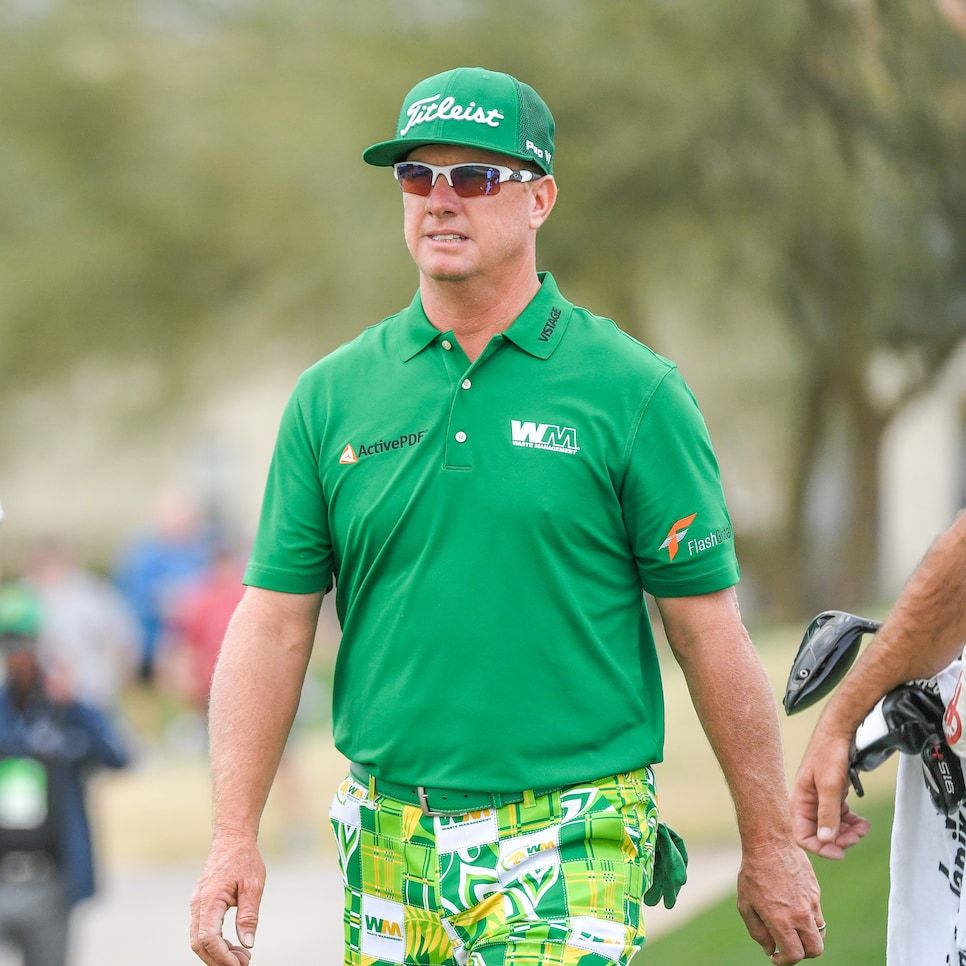 SCOTTSDALE — Charley Hoffman woke up to a firestorm. On Friday, he lit up the PGA Tour for what he deemed to be a botched ruling. Hoffman has done this before; tour pros often lament that the "amateurs" over at the USGA make the rules that govern competition at the highest level. "Can't play a professional event run by amateurs," Hoffman wrote on Instagram after the 2016 U.S. Open at Oakmont. "The PGA Tour staff is amazing week in and out. Hopefully one day we will separate ourselves."
Friday evening's rant, however, took it a step further. Apparently Hoffman no longer believes the PGA Tour is amazing week in and week out, for it was caught in the crossfire.
The incident happened at the 13th hole on Friday. Hoffman, whose primary sponsor is the title sponsor of this event, pushed his tee shot on the par 5 into a water hazard. He tried dropping his ball twice, but it rolled down a slope and crossed the hazard line twice. He then placed the ball, per the Rules of Golf, only to turn his back and have it roll down a hill back into the hazard. Hoffman thought he could replace the ball without a penalty. He was wrong, was penalized again, and blamed the USGA and the PGA Tour.
"No accountability at all out here," Hoffman wrote to his 61,000 Instagram followers. "No protection for the players at all."
And, the spiciest bit: "You wonder why guys are wanting to jump ship and go play another tour. Players need transparency, protection and consistency. We don't have that under the current governing bodies." He tagged a number of different accounts in the post including the Saudi International golf tournament, sponsored by the same investors as Greg Norman-led LIV Golf, which is reportedly putting preparing to launch a Super League that hopes to lure the best players in the world away from the PGA Tour with preposterous sums of money.
It didn't go over well. At least not on social media. The general consensus: Hoffman made quite the leap from complaining about a ruling to invoking an existential threat to the PGA Tour. The leap, he said, was "strategic."
A lack of accountability is not, it should be noted, the reason some of golf's biggest stars have flirted with the challengers. Hoffman claimed "it's a collection of things," but it's a collection of one thing. Money. Money is the reason, plain and simple. The Saudi league has reportedly offered Bryson DeChambeau nine figures to make the leap. Last week, Phil Mickelson told Golf Digest that the tour's "obnoxious greed" and monopoly over media rights has him looking elsewhere. Mickelson believes the tour is unfairly sitting on billions of dollars of digital content. Again, it's about the money. It should be noted that the only tour pros who came to Hoffman's support in the comments were, you guessed it, DeChambeau ("wholeheartedly agree") and Mickelson ("I feel ya."). Emiliano Grillo chimed in with his own message: Don't hit it there.
Hoffman, 45, isn't going to leave the PGA Tour like Mickelson and DeChambeau seem genuinely to be considering. Those guys are legitimate superstars who could bring attention to the league. Hoffman has enjoyed a very solid but distinctly unspectacular career that is closer to its end than its beginning. He's spent just one week inside the top 20 of the World Ranking but has still amassed more than $32 million in earnings on the PGA Tour. He's also been on numerous leadership boards and is currently one of four player directors on the PGA Tour Policy Board, with a term running through 2023. ("Look at yourself in the face," he said. "What can I do better as a player director, what can the executive committee do, executive directors do better to make sure that we are the best tour in the world?") Hoffman said he mentioned the Saudi tour to catch the tour's eye, and hopefully, get that rule finally changed. Toward that end, drawing attention, he succeeded. A credible challenger has given players significant leverage for the first time in years. They have a trump card, and Hoffman deployed it.
"We have a threat," he said on Saturday. "I mean, that's real. I mean, you can't hide under a rock and say it's not. And I, there's no way that I, it's never crossed my mind to go over and play for a competitor. If it came across in that Instagram post that I have been reached by [the Saudi-backed group], I have not been reached by them, it came across wrong. I added that so the media would catch it, so I would prove my point on the rules side.
"If I just griped about a rule, no one probably catches it. No one says anything."
The Twitterverse did not take it that way, instead reading it as a bogus justification for eventually leaving the PGA Tour. Fans know why the Saudi threat has legs, and it has nothing to do with rules. Lee Westwood, who said he has signed a non-disclosure agreement not to discuss specifics of his negotiations, deserves credit for his transparency on the issue, essentially saying that at 48 years old, he'd be silly not to accept a fat sack of cash. Westwood knows it's a money grab, and he knows that everyone else knows it's a money grab. Suggesting that players are being tempted by anything other than fat sacks of cash is an insult to intelligence.
"If you guys want to go to Saudi Arabia," tweeted Big Randy of the popular No Laying Up podcast, "just be big boys and say you want the money. But, holy hell, this s— ain't it."
Hoffman spoke to both the PGA Tour and the USGA on Friday evening. He fired up Instagram on Saturday morning to semi-walk back his comments. "I have nothing but respect for the PGA Tour! Sometimes you have to use a platform to make a point so the PGA Tour can continue to be the best place to play professional golf in the world."
This looked like damage control; Hoffman was about to tee off on Saturday at the WM Phoenix Open, easily the craziest and drunkest day in golf, and he was wearing bright green pants with the Waste Management logo plastered all over them. Surely he'd hear it from the fans all day. An easy target.
He did, but not as much as you might think. Hoffman pumped his first tee shot of the day out of bounds. He found the fairway with his third, sent one over the green with his fourth, then chipped to four feet with his fifth.
"HEY CHARLIE! THAT'S PROBABLY GOOD IN SAUDI ARABIA!"
Chirps like these proved to be the exception, rather than the rule. There was the occasional "TAKE THE MONEY AND RUN, CHARLIE!" but if you weren't paying attention, you might have missed them. He made it through the stadium-seating 16th relatively insult-free, happy to make his par and get out of there. Par, it turned out, was the best score he made all day. Hoffman played terribly, his eight-over 79 leaving him last heading into the final day.
"I won't have any tour to play on if I keep playing the way I did today," he said with a laugh. "No, I mean I, not really, I actually expected more [heckling].
"I just didn't play good. I got off to a bad start, hit the drive on [the first] that went out of bounds, I thought it was good, and just never got it going today. Was I thinking about what I said? Of course I was. I mean, could it have affected me? Maybe. I don't think, I wasn't emotionally—the fans were fine, it wasn't anything like that, I just didn't play a good round of golf and hopefully my point got across."
There are natural parallels between the Saudi league and soccer's proposed pan-European that never got off the ground due to sheer outrage from fan bases. They saw it for what it was, and they took to the streets to reject it. That's not going to happen in golf. European soccer fans feel a visceral tie to their teams. It's often tied up in the city's and their family's history. Even the staunchest Tiger stans don't compare. But any upstart league, especially one trying to unseat the hegemon, needs fan acceptance to survive. Saturday at the Waste Management is not exactly a representative sample of core golf fans, and it's impossible to know if a bunch of stars leaving for Saudi would trigger a similar response to soccer. Social media would lead you to believe it might, but social media is not real life. Saturday proved as much.