Bedlam
Showers in Scottsdale: Watch fans erupt as Sam Ryder makes an ace on the 16th at TPC Scottsdale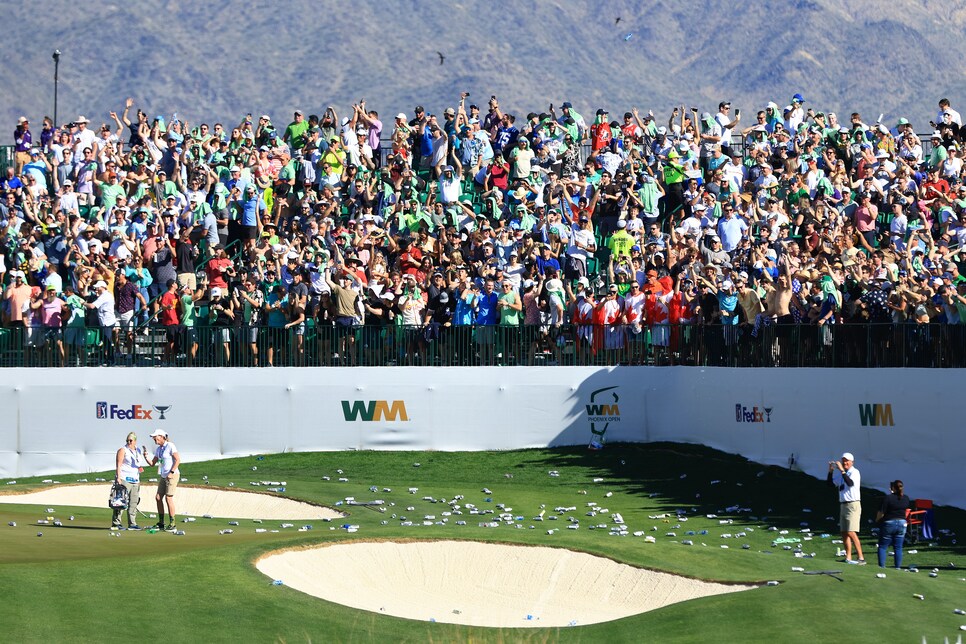 SCOTTSDALE — The forecast in Scottsdale did not call for showers, but the 16th hole at TPC Scottsdale had them anyway in the third round of WM Phoenix Open on Saturday afternoon. Sam Ryder made an ace on the famed stadium hole from 124 yards with a wedge, immediately stirring the crowd into an absolute frenzy, roars echoing throughout the property for almost five minutes straight.
Beer cans and miscellaneous pieces of garbage flew from all angles as fans jumped and shouted in celebration of the first ace on the 16th since Francesco Molinari's in 2015. Ryder's hole-in-one was the 10th on the 16th hole since the tournament was moved to TPC Scottsdale in 1987.
"I don't know how I could pick a hole over this one [to make a hole-in-one]" Ryder said. "I don't think there's any hole that has the electricity that this one has."
It was Ryder's first career ace on the PGA Tour. His last hole-in-one came in a Hooter's Tour event. The 32-year-old from Winter Park, Fla., moved to six-under after the 16th, finishing his third round at even par for the day.
"I was looking just out to the right [of the pin] and wanted to kind of come down around [Chris Kirk's] ball," Ryder said of the shot. "Maybe it was an accidental one-yard pull or something."
The aftermath of the epic moment involved a 25-minute clean-up process. Onlookers on the ground kept their backs to the grandstands to avoid straggling beer cans. Dozens of Waste Management volunteers scrambled to collect the trash as Brian Harman waited patiently on the tee to hit his shot.
"It was honestly amazing how quickly they were able to get everything up," Ryder said. "There was debris everywhere and it was such a fun exciting thing, I didn't want any kind of negativity to overshadow something that was really so much fun. But the crew did such a good job."