WM Phoenix Open
For Sahith Theegala, it's David vs. Goliaths at the WM Phoenix Open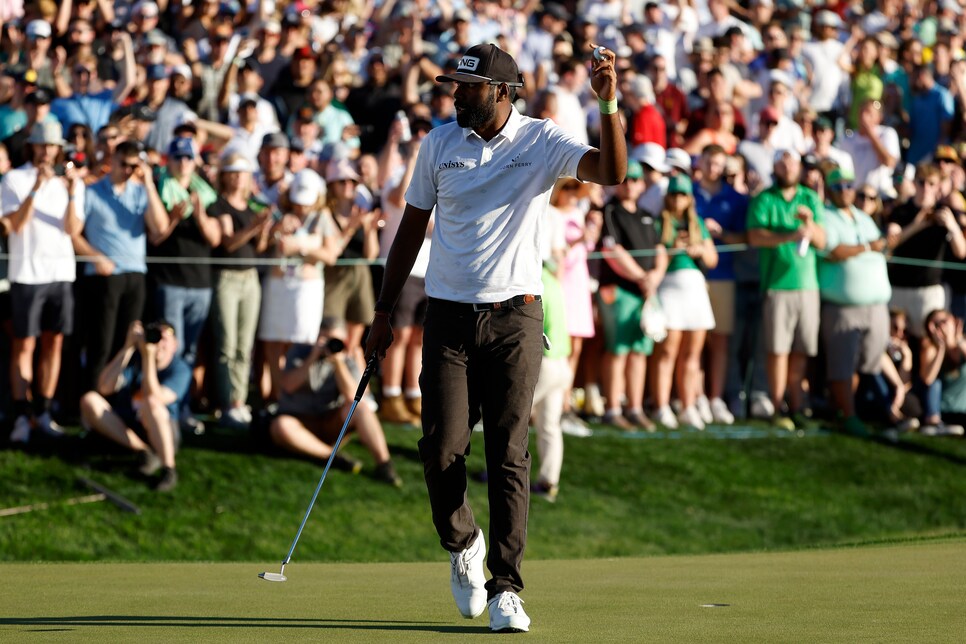 SCOTTSDALE — David's supposed to be smaller than Goliath, but Sahith Theegala isn't smaller than many people. The 24-year-old, 6-foot, 3-inch PGA Tour rookie has a (very noisy) mountain to climb Sunday if he's to win the WM Phoenix Open. No. 1 is never easy, especially at a tournament that drains energy like no other.
"I'm really exhausted right now," Theegala said after a gritty two-under 69 that'll see him sleep on the lead heading into the business round. He'd do well to get some rest, for a gaggle of experienced winners are nipping at his heels.
Brooks Koepka, one back, is quite enjoying being back in the spotlight. The tournament's defending champion won't have any sympathy for the kid. Scottie Scheffler, two back, wants desperately to remove himself from the best-player-without-a-PGA-Tour-win discussion. Talor Gooch, also two back, looks every bit the part of a player ready to make The Leap. Xander Schauffele, also two back, is running on fumes—he traveled 30 hours from Saudi Arabia to get here this week—but is also extremely overdue for another W. Patrick Cantlay, also two back, is playing the best golf of his life.
And yet, they're all looking up—pun very much intended—at Theegala, who seems to have a terrific head on his very broad shoulders. He certainly doesn't take himself too seriously. In college at Pepperdine, the former All-American used to hit intentional chunks and shanks to throw off his opponents. He still lives with his parents in Chino, Calif., because it's free and why the hell not? He's driven up to every West Coast swing event he's played in, racking up roughly 2,000 miles on his not-new Volkswagen.
Theegala is, literally, speaking, just happy to be here. PGA Tour players get into tournaments based on their priority ranking, and Theegala's in the recent Korn Ferry Tour graduate category. Because most of the big boys opted to play this week, only two recent KFT grads got in on their merits—Cameron Young and Hayden Buckley, and both needed 11th-hour withdrawals to get their Thursday tee times. Theegala, on the other hand, owes his spot to the courtesy of sponsors, who surprised him with an exemption at the Farmers Insurance Open just 13 days ago.
He said Friday that he had no expectations at all going into the week. Again, happy to be here—and ecstatic just to play alongside the guys he grew up watching.
"I'm still not fully over the fact that I'm playing with these guys, right?" Theegala said. "I think that's going to be a learning process that I need to get better with, because this is probably the strongest field I've played in so far this year and I was definitely a little bit star-struck. Even on the first tee I'm like, Man, I'm playing with Xander and Brooks? Like, are you kidding me?
"What an opportunity though, just to see them up close and they're great dudes and, yeah, pretty crazy."
Dream-like. Nothing wakes you up from a dream quite like a double bogey, though. Theegala's second shot on the par-4 second caught the lip of the bunker, and he had to hole a four-footer to make 6. He vented to his caddie, Carl Smith, after hitting two perfect shots at the par-5 third but getting an unlucky bounce and settling for three-putt par. The two-shot lead he began the day with had disappeared in a hurry.
"I mean I got to give a lot of credit to my caddie. I mean, it was real easy for me to get down there and we had a discussion about a couple shots on 2 and he's just like, Hey dude, you're playing great, man, like just keep doing what you're doing and have a good attitude. Like my attitude I feel like has been really great this week and I just stuck to it. That putt on 5, that par putt was definitely the turning moment for me."
Theegala played his remaining 13 holes in four under, including an up-and-down at the last after his second shot somehow settled between a spectators shoe and the ground. It wasn't the first time.
"Probably I hit it in the desert five times, I got my ball stepped on twice, got my ball picked up twice. Yeah. Very draining, for sure."
Koepka, Schauffele, Cantlay and Theegala all shared the lead at one point, but late stumbles from the Cantlay-Schauffele Ryder Cup duo saw them fall a few behind. Koepka looked set to drop one at 18 until he holed a 17-footer for par in front of a positively raucous crowd.
"It's been awhile [since I've been in] a final group, but I don't think there's any tournament that there's this many people," Koepka said. Fact check: true. "So I'm pretty sure every year that they're allowed full fans they just keep breaking a record, breaking a record for most people. So we'll see, we'll see how many people show up tomorrow. But today was wild."
With 11 players within three shots of the lead—Hideki Matsuyama and Max Homa are among the group at 11 under—and the American work week still operating on a Monday-Friday schedule, Sunday promises to offer similar pandemonium. Should Theegala close the deal, well, it's hard to think of a more impressive first victory. He's beginning to believe it's possible.
"These last couple rounds and last couple days really gave me a lot of confidence to tell me that, hey, I do belong up here."