News
The responsible fan's guide to watching Tiger Woods' son Charlie make his 'golf debut'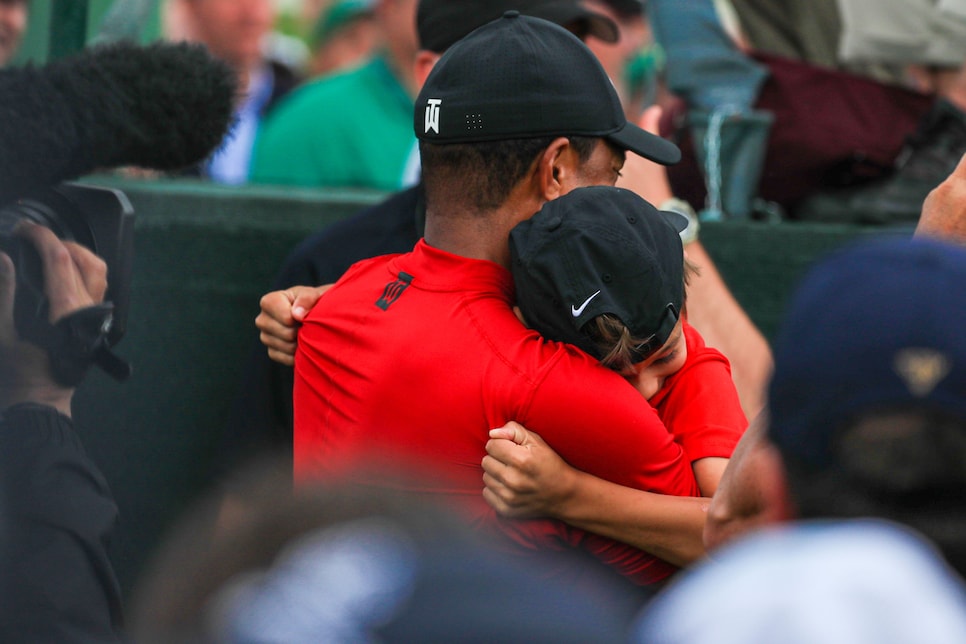 Photo By: Christian Iooss
I'm not worried about Charlie Woods. What he's got, he's got. Those Tiger genes aren't going away. Just as good, there seems to be no Daddy Dearest pushing him to be something he doesn't want to be. Tiger knows the pain that can come with fame, and so far he's made it clear that it's all up to Charlie how far he wants to push the golf thing.
So I'm settling back and watching. Maybe the kid can play. Looks like it now. But let's wait. Charlie's 11 years old and has won two junior mini-events. Next year, when his body changes, maybe he's a soccer midfielder. Couple years, he's a point guard. Soon enough, girls. To see a boy 11 years old and predict his future is silly. To think Charlie can follow in his dad's footsteps, oh, just shut up.
It's out there, that kind of wishful thinking for a second coming of Tiger. Especially after we've seen the Internet videos.
We've seen Tiger, the multi-millionaire off his yacht, carrying Charlie's bag in a tournament. … There's Tiger, an 82-time winner on the PGA Tour, studying Charlie's swing on the range. … Coincidence or not, there's video of Tiger hitting a range ball a micro-second ahead of Charlie's contact, father and son, one range slot apart, the clicks making music, the man and the boy finishing long, smooth swings, practically twins.
And soon comes a Tiger-Charlie pairing. They're teaming up at this week's PNC Championship, a fun event Dec. 19-20 in Orlando. They'll compete against 19 other major champions and a family member (such as Justin Thomas and Annika Sorenstam with their dads, Gary Player with a grandson, Lee Trevino with a son).
Wait. I typed "… practically twins." Charlie's 11 and beating up on kids who are 11. Tiger's 44 and has won 15 majors, 14 before Charlie was born. And I'm saying their swings are practically twins? I should know better. I should shut up. Still, you know the truth, and so do I. If Charlie's going to be on stage and dad's making it happen, they better get used to people expecting too much too soon.
History hasn't been kind to sons of the last century's greatest players who've also tried to play pro golf. There's Gary Nicklaus, with no one else even close. And Jack's son played only three seasons on the PGA Tour with minimal success. He had one top-10 finish, a playoff loss 20 years ago, and returned to amateur golf before joining the PGA Tour Champions in 2019.
We must dig into golf's pre-history, the 1860s, to find the only major champions whose sons also won majors. The Scotsman Tom Morris won four of the first eight Open Championships, then gave way to his son, Tom Jr. Between them, Old Tom and Young Tom won eight of the first dozen Opens, the last in 1872. Willie Park and Willie Jr. won five of the 19th century Opens.
On the PGA Tour, eight father-son combinations have won events: the Burkes and Kirkwoods, Heafners and Boroses, Geibergers, Stadlers, Tways and Haases.
The most famous father-son dynasties have been in other sports. The three Manning quarterbacks—the patriarch Archie with Peyton and Eli. Baseball's irascible Bobby Bonds giving us a better version of himself, Barry. Dell Curry filling the NBA's air with shooters Steph and Seth. Howie Long producing NFL linemen Cris and Kyle. All those automobile racers, Andrettis, Pettys, Earnhardts.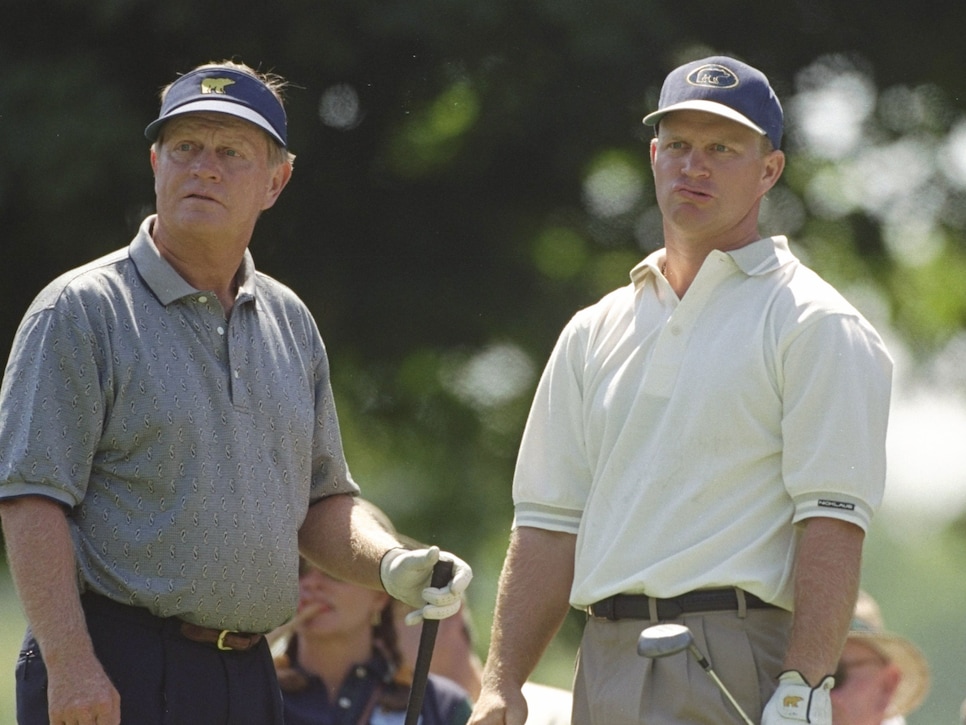 Jack Nicklaus (left) stands with his son Gary at the second tee during the 1997 U.S. Open.
David Cannon
No reason you should, but do you remember Petey Rose?
Son of Pete Rose, who had the most hits (4,256) in major league baseball history. Petey, 3 years old in the Reds' clubhouse, swatting at rolled-up sweat socks with a toy bat and yelling at the pitcher, "Hey, get this s—t over. The fish ain't bitin' today." Cup of coffee in the minor leagues and two base hits with the Reds. One locker over that day, silent and shy, there was "Junior," son of the unremarkable Ken Griffey. On his way to the Hall of Fame, Junior hit 630 home runs.
So who knows how a prospect will turn out? Genetics is a guessing game. There's the surely apocryphal story of the Irish writer, George Bernard Shaw, and the flamboyant dancer, Isadora Duncan. She proposed a meeting to create a prodigy of beauty and intelligence. "But what," Shaw said, "if the thing has my body and your brain?"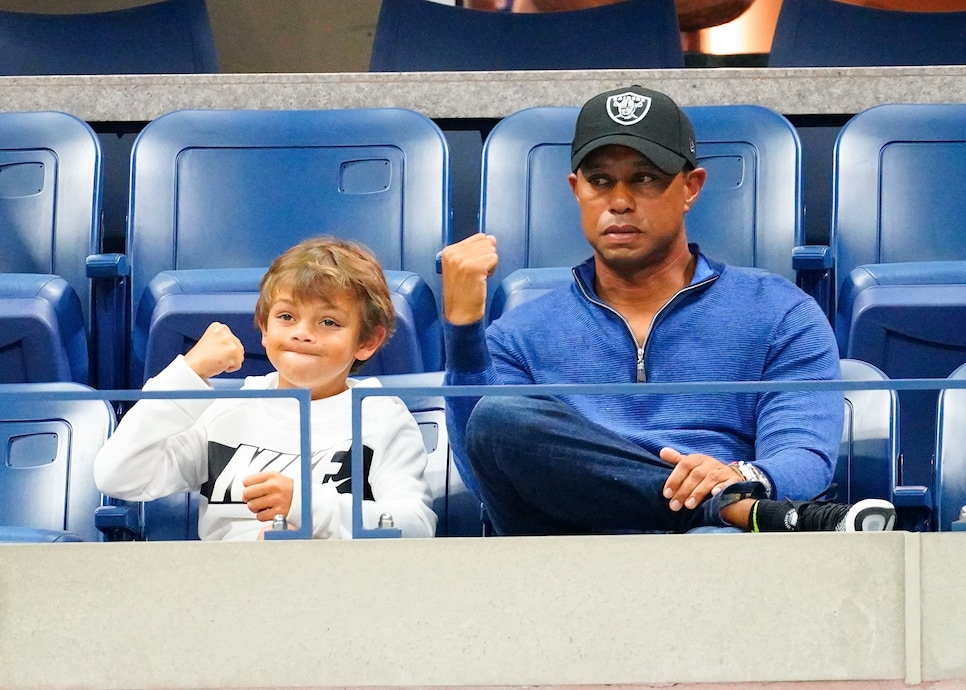 Managing expectations will be the trickiest thing if Charlie continues to follow his father and playing competitive golf.
Gotham
A generation ago, I read in newspaper's small print about a California kid with a memorable name, a kid 14 years old who'd been on the Mike Douglas TV show at age 2. I decided to keep track of this Tiger Woods, to see if he ever amounted to anything. Later came a cover of Sports Illustrated featuring a man-child out of Ohio named LeBron James, 13 years old. The headline announced, "The Chosen One." Really? C'mon, SI.
And here we are, those kids grown into icons. Maybe the truly great ones are truly great early and we see it and we know the proof will come. The young Tiger put on his bedroom wall a list of Jack Nicklaus' achievements and checked them off one by one. So far we've heard no such chasing-history stories from Charlie. Good. He's 11 years old. It would be nice to let him breathe for seven or eight years. Let him figure out who he wants to be.
What we know now is this: There'll be no second coming of Tiger, end of argument, case closed, period.
It will be fun enough to see the first coming of Charlie.