News
Tiger Woods in 2021: How much will he play, where will he compete and will his game be ready?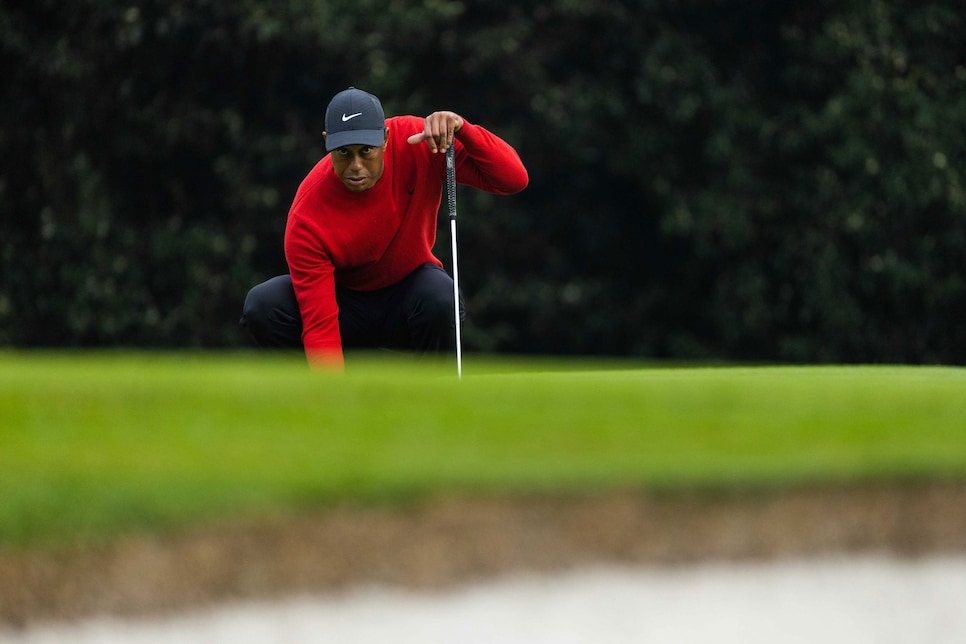 A balky back and the COVID hiatus meant Tiger's starts were few and far between in 2020. (Photo: Ben Walton)
Tiger Woods' expectations have softened—age, and injuries, and a bout with the chipping yips will have that effect. Despite what he may say at press conferences, Woods no longer expects to contend every time he tees it up. He wants to, but it's no longer a baseline. Because Woods doesn't just need his game to be in shape to compete with his younger peers. Approaching his 45th birthday on Dec. 30, he needs four good body days in a row, and that's anything but a guarantee. There are some weeks, like the U.S. Open at Winged Foot, where it just isn't going to happen for him. He knows that, and he's, however reluctantly, been forced to accept that.
And yet even by these gentler standards, 2020 was a disappointing year for Woods on the golf course. Because of a sore back and the COVID-19 hiatus, Woods took five months off from mid-February to mid-July and played in just nine events total. His lone top 10 of 2020 came in his first start of the year, at Torrey Pines in January, where he was never a serious threat to win. He was not a factor in the three major championships that were played, and he was statistically one of the worst putters on the PGA Tour.
"I haven't put all the pieces together at the same time," Woods said before the Masters, where he finished T-38 in his title defense, 19 shots behind Dustin Johnson's record 20-under winning total. "Whether it's, I've driven it well and hit my irons poorly. Or I've put the ball-striking together, and I haven't putted well. And then I've had it where I've putted it well and I've hit it poorly. It's just been … I haven't put it together at the same time."
This all leads to a natural wonder: What can we expect from Woods in 2021? What are the realistic goals for the 15-time major champ who is one victory away from standing alone as the PGA Tour's all-time win leader with 83 titles?
Truth be told, the question can be explored in two ways: Where and how much will he likely play and can he return to the form of 2018-'19 that saw him re-emerge as a world-class player and a champion. Below we try to address both.
Even in his prime, Woods didn't played much in comparison with the other tour pros. He has never played 25 or more events in a season, with his sweet spot around 21 events a year in his 20s and 18ish as he moved into his 30s. Now in his 40s and with a fused back, it's a constant push-and-pull between getting enough reps to stay tournament sharp and getting enough rest to be able to play tournaments. In that battle, health is always going to come out on top. In 2018, if you include the Ryder Cup, he played 20 events and has said multiple times that it took too great a physical toll. That's why his current ideal number is somewhere around 12-14 starts.
Woods intended to play in about that number in 2020 before COVID took everyone's schedule plans and tossed them in the trash can. So his early year plan from this past year is a good indication of how he'll start 2021.
It's almost certain his first start will come at the Farmers Insurance Open (Jan. 28-31), a tournament he has won seven times, and he's a lock for the Genesis Invitational at Riviera (Feb. 18-21), an event hosted by his TGR Live venture and benefiting the TGR Foundation. If he's healthy, he'll play in the Players Championship (March 11-14). And the last event he plays before the Masters will likely be the WGC-Dell Technologies Match Play (March 24-28), so long as he's still inside the top 64 in the World Rankings at the time (he's currently 38th, down from sixth at the start of 2020).
Apart from that, the rest of his pre-Augusta schedule is a mystery. You'd think he'd be eying the Arnold Palmer Invitational (March 4-7), which he has won eight times and gives him a great chance to grab the record-breaking 83rd title. The catch is it's the week before the Players, so it means starts in back-to-back weeks, something he's tried to avoid of late. And if he chooses to tee it up at Bay Hill, that will almost certainly mean he won't play the week before at the WGC-Mexico Championship, as back-to-back-to-backs are not his friend and that's always a taxing week given the altitude in Mexico City.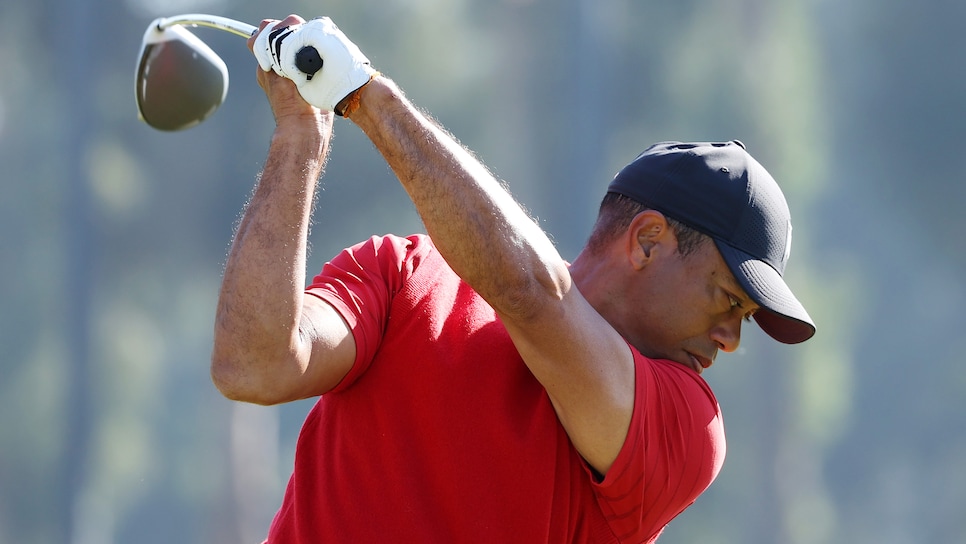 While he turns 45 later this month, Tiger's swing speed remains high and his ball-striking is still good enough to be considered elite, putting a record 83rd PGA Tour win firmly within his grasp.
Chris Trotman
So, if we had to guess, he will play five events before the Masters: the Farmers Insurance Open, Genesis Invitational, Arnold Palmer Invitational, Players Championship and WGC-Match Play Championship. He front-loaded his schedule in 2019 in an effort to peak for Augusta—he knows it's his best chance to win another major—and there's no reason to deviate from that strategy again for long as he's healthy.
After Augusta, it'll slow down. The only event that makes sense between the Masters and the PGA Championship at Kiawah's Ocean Course (May 20-23) is the Wells Fargo Championship (May 6-9), but that's a hard maybe. After the PGA, he'll likely stick to the normal plan and only play the Memorial (June 3-6) before the U.S. Open at Torrey Pines (June 17-20). It's likely his next start after the U.S. Open comes at the Open Championship at Royal St. George's (July 15-18). He is not anywhere near position to qualify for the Olympic tournament (July 29-Aug. 1) but, for what it's worth, he has said he'd be inclined to play if he qualifies.
The next possibility is the WGC-FedEx St. Jude Invitational (Aug. 5-8), which he skipped last year as it fell the week before the PGA Championship. Interestingly enough, Woods has never played a professional event in the state of Tennessee, and whether he breaks that streak will largely depend on how he's feel and whether he needs FedEx Cup points ahead of the playoffs, which begin two weeks later. As far as the FedEx Cup playoffs go, Woods will likely play in all three events so long as he's healthy and qualified. The same goes for the Ryder Cup—if he's wanted, he'll play.
The season then turns over to the 2021-'22 campaign, which Woods will likely start by returning to Japan for the Zozo Championship, which does not have an official date yet. And he'll finish the year at his foundation's Hero World Challenge, an exhibition in the Bahamas.
So, in summation, assuming his health holds up for the entire year, we'll estimate Woods' 2021 schedule include between 12 and 14 chances to win No. 83.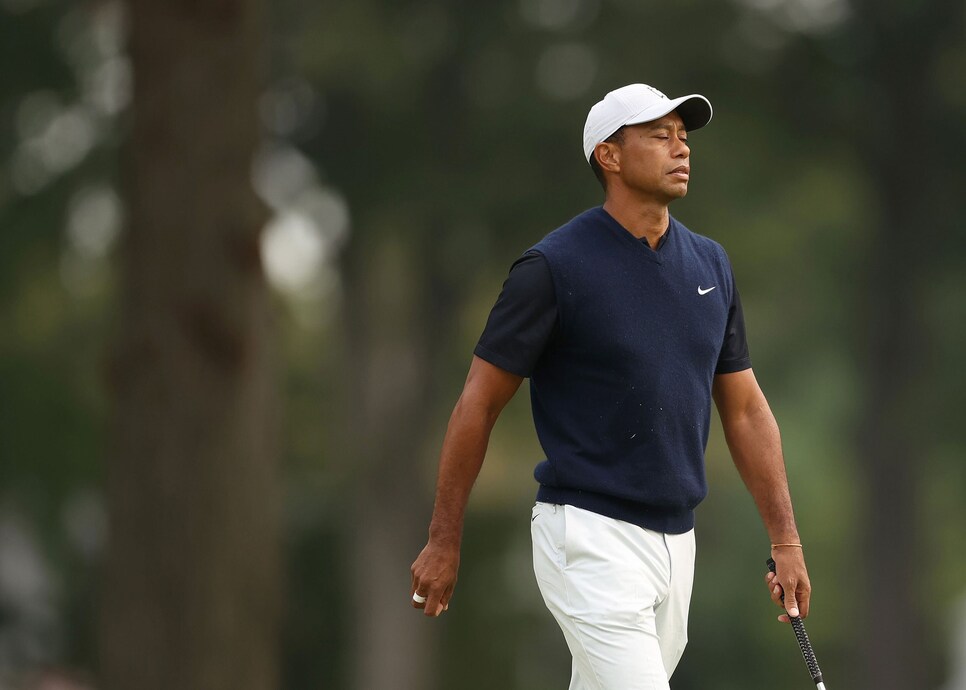 Consistency was the biggest issue for Tiger on the course in 2020. Trying to have all parts of this game working in a given week was a challenge.
Gregory Shamus
OK, we'd be lying if we had any grand insight into this. I was at every Woods' start this year, and only once—at Winged Foot—did it seem like he had no chance. His swing still has plenty of speed, and his iron play remains elite. The range sessions continue to be jaw-droppingly good, and the practice rounds tend to be similarly impressive. And he'd put together spurts—the first couple holes at the Memorial comes to mind, as does the five-birdie flourish on Sunday at Augusta and the breezy 66 at Sherwood. All this is to say: He still has all the shots necessary to win on tour. This isn't 2015, when he had basically no game. It's not like he's missing every cut. But for whatever reason, as Woods said in the quote above, he simply wasn't been able to hold it together for 72 holes.
Whether he'll be able to piece together rounds like he did in 2018-'19 is impossible to predict, but he absolutely needs to putt better if that's going to happen. Woods didn't play enough rounds to have an official strokes gained/putting ranking, but his average of -.634 per round fell right between No. 183 and No. 184, and there are only 194 players who qualified. He doesn't need to be anywhere near the top of that list—Dustin Johnson was 48th last year, and he did alright—but you can't be one of the worst putters on tour and expect to contend. Not when you're turning 45 on Dec. 30, and not when you don't have the distance advantage you had in your heyday.
It's easy to count Woods out, to look at his 2019 Masters victory as the swan song. But people were saying the same thing toward the end of summer 2019, when he did a whole lot of nothing. Then he got knee surgery, showed up to Japan and dominated. Surely we have learned not to write this man off after a slew of so-so results.