The Grind
Viktor Hovland's new royal title, golf's latest Cinderella story, and an NFL QB has a career round interrupted
Welcome to another edition of The Grind, where we're pretty sure whoever thought of daylight savings time didn't have two sick kids three-and-under. Talk about the longest day in history. Sunday seemed like it lasted longer than the PGA Tour's offseason. Seriously, what are we doing with this whole "fall back" thing? What a nightmare. Well, except for those lucky bastards who actually got an extra hour of sleep. In any event, we made it through, and we've still got enough in the tank to talk some golf. Let's get to it.
Viktor Hovland: Despite his driver snapping on the eve of the tournament and getting an all-time bad bounce during the second round, Hovland triumphed at the World Wide Technology Championship at Mayakoba. By four shots. What a star in the making. And what a piece of hardware: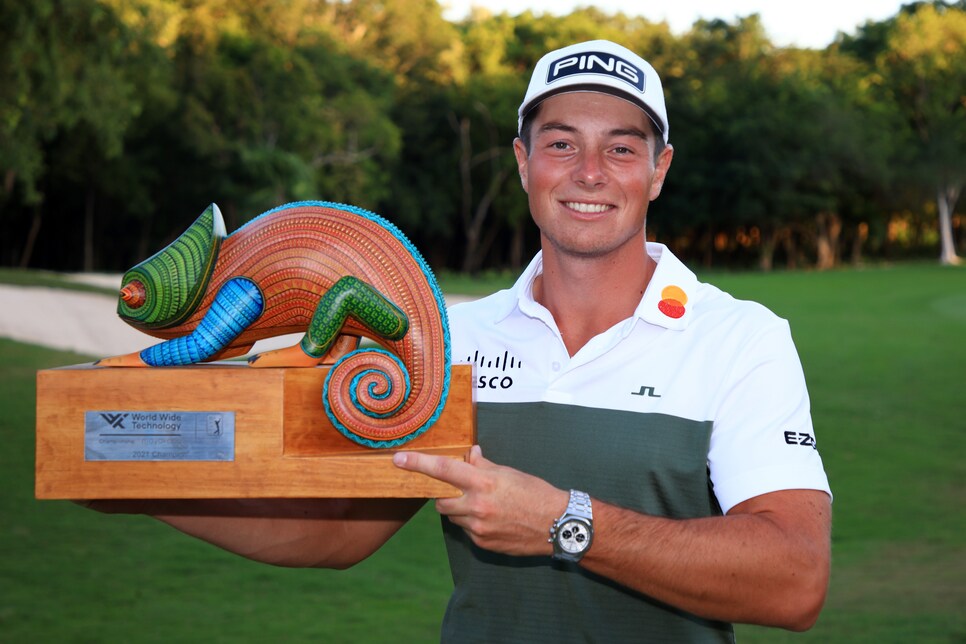 That thing rivals the famed rooster trophy and the Sanderson Farms Championship. Anyway, Hovland climbed into the top 10 of the Official World Golf Ranking with his third PGA Tour title, all of which have come in either Mexico or Puerto Rico. So all hail Viktor Hovland, King of Resort Course Golf!
A major victory for Viktor seems like it's just a matter of time—especially if they ever play one in a tropical paradise.
Steven Alker: Golf has seen its share of Cinderella stories through the years, but this is up there. After a career that included four wins on the Korn Ferry Tour and three failed stints on the PGA Tour, Alker turned 50 this summer and promptly Monday qualified for a PGA Tour Champions event. A T-7 got him into the next week, and after a total of six consecutive top 10s (Take that, Phil Mickelson), he played his way into the Charles Schwab Cup Playoffs. But as if that wasn't amazing enough, Alker finished T-4 in the first postseason event and then won the second one this past week at the TimberTech Championship, holding off Jim Furyk and Miguel Angel Jimenez in the process.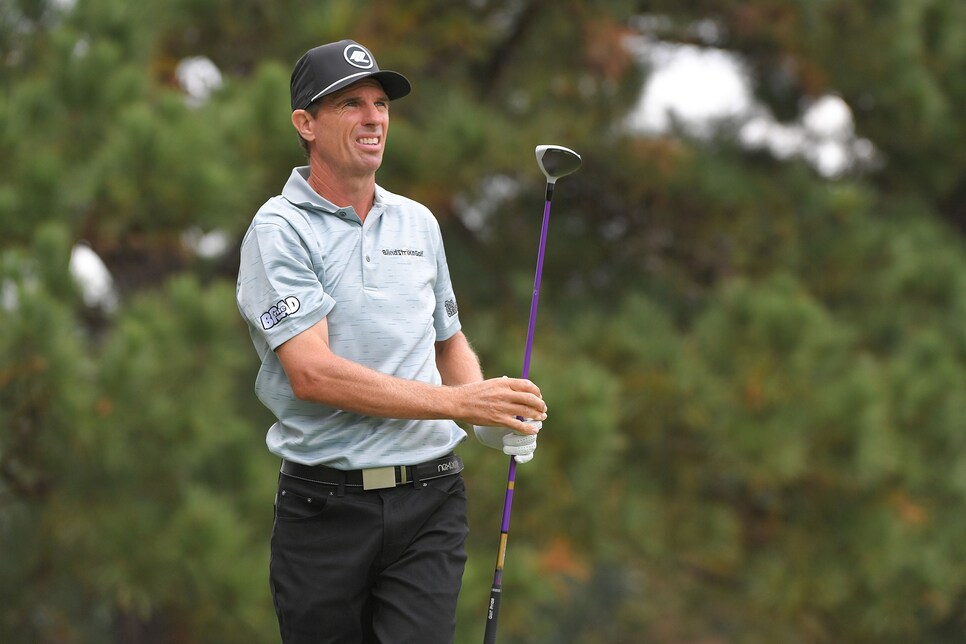 What a run. Alker has now made more money in nine starts on the PGA Tour Champions than he did in 86 PGA Tour starts. And he's inspiring a whole new wave of senior circuit dreamers.
Finding buried (equipment) treasure: Some lucky golfer got an all-time bargain when he found a Scotty Cameron putter that's going for as much as $600 on ebay in a thrift store for a buck: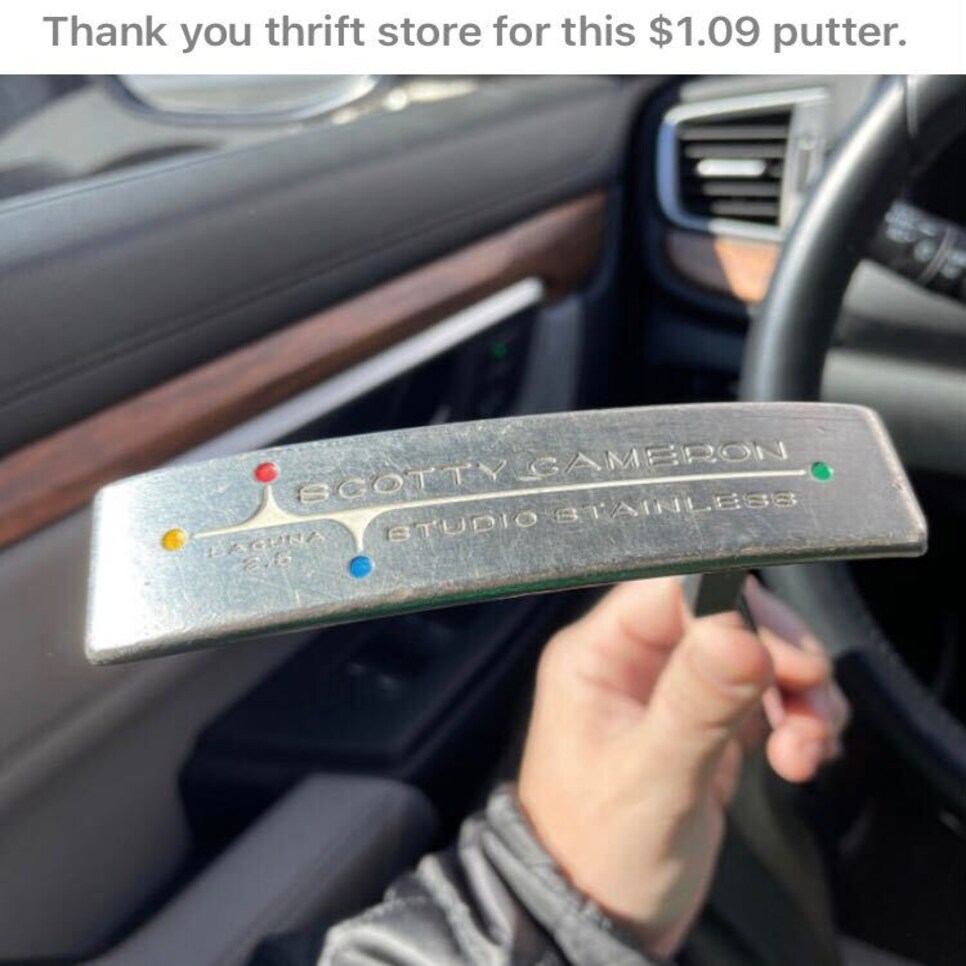 And I get all excited about a buy-two-get-one-soda-12-pack offer at CVS. Meanwhile, they overcharge so much that you basically come out even. But this? What an absolute steal. I need to start checking out thrift stores. The deals are better—and I'm guessing the receipts are shorter.
No Shot Tracker: So I was trying to follow my man Bill Haas on Friday as he climbed into contention and this was the only way to do it: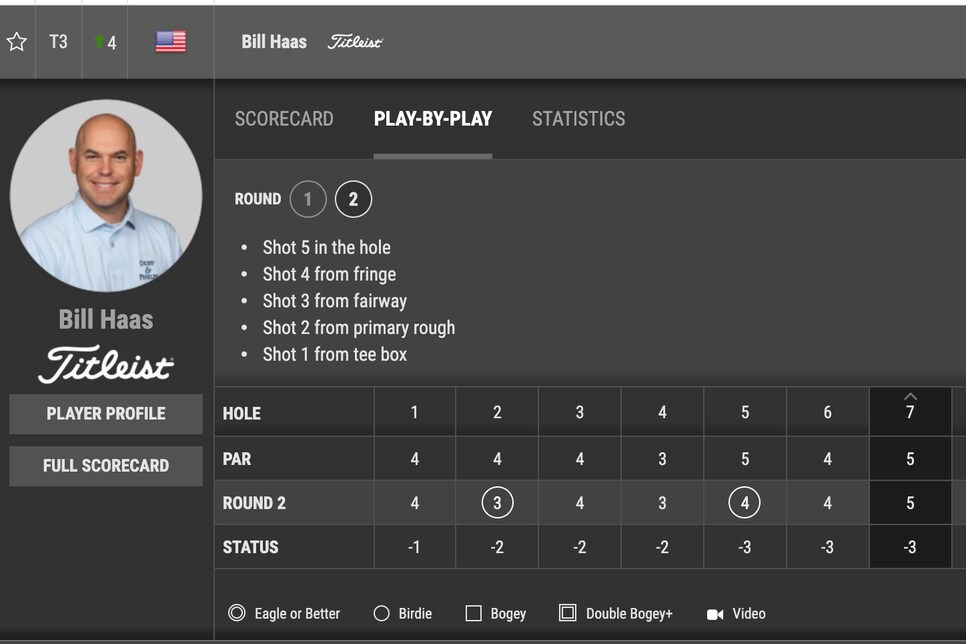 Look, I know Shot Tracker is a beast to set up and I'm sure it costs the PGA Tour, but if we're still not going to be able to see every shot live, we at least need this. Because "Shot 4 from the fringe" just isn't cutting it. And this happened a day after no cameras caught Chris Kirk's hole-in-one to start the tournament. If all these tournaments are supposed to matter—and every shot counts the same—golf fans deserve better. And yeah, I'm also ticked off because Bill tumbled down the leader board on Saturday while our beloved Wake Forest Demon Deacons blew an 18-point lead late to UNC. Please respect Bill and my privacy on that. OK, moving on. . .
Interrupted rounds: How about the saga of Blake Bortles? The former Jags star(?) got the call from Green Bay to be its backup QB amid this Aaron Rodgers COVID mess. We're sure it was a great call for the unemployed 29-year-old to get, but it couldn't have come at a worse time. You see, Blake, an avid golfer with a 9.5 handicap was absolutely cooking on the course at the time:
He was definitely headed toward a career round. That's rough. Also rough? Watching Jordan Love struggle like that while holding a clipboard.
Getting roasted by your own kid: Apparently, Trevor Immelman's kid has jokes!
You'd think having a green jacket would get you a little more respect in your own house, but such is the life of a parent.
The PGA Tour heads to Texas for the Hewlett Packard Enterprise Houston Open, AKA the one that was called the Vivint Houston Open for one year, AKA that one that was called the Shell Houston Open for many years before that, AKA the one that used to be held the week before the Masters. The European Tour and LPGA Tour begin their final two-week stretches of the season, and Golf Digest's annual Seitz Cup—pitting the company's employees by age—takes place on Tuesday. And the daggers are flying:
Yes, I'm on the old team. Again. Sigh.
Random tournament fact: Not only did Carlos Ortiz technically capture the only Vivint Houston Open last year, he did so by holding off Dustin Johnson and Hideki Matsuyama. And he's coming off a runner-up in Mexico. Just saying. . .
RANDOM PROP BETS OF THE WEEK
—Whoever bought that Scotty Cameron will stop three-putting now: 1 MILLION-to-1 odds
—Carlos Ortiz will win in Houston this week: 100-to-1 odds (actual odds)
—No matter what happens this week, Carlos Ortiz will be telling his grandkids about that win: LOCK
Thanks to Golf Channel's Shane Bacon asking his Twitter followers, "What's the nerdiest golf thing you collect when you play new/cool courses?" we discovered that someone out there actually collects divots. Yep, divots. And here's the (Amazing? Creepy?) photo to prove it:
Yep, that's a winner alright.
VIRAL VIDEO(S) OF THE WEEK
Colt Knost and Amanda Balionis risked life and limb to surf down a giant sand dune in Dubai:
Frank Nobilo and Rich Lerner were also there, but didn't seem to partake in the sand surfing. Smart move, guys. Giant sand dune surfing seems like more of a young person's game.
THIS WEEK IN PUBLIC DISPLAYS OF AFFECTION
The LPGA's Austin Ernst posing with her new pride and joy:
A LAMBO?! And I thought that dude getting a deal on the thrift store putter had a good day. This has to be the best prize ever given for a hole-in-one.
"Tequila. Does that count?" —Justin Thomas when asked what his favorite Mexican food is. Interesting answer, JT. This might just start another "Is a hot dog a sandwich?" debate.
Congrats to Thomas Pieters on ending a two-year-plus winless drought on the European Tour by claiming the Portugal Masters. Not surprisingly, he didn't snap any clubs over his knee during the week in which he played so well. . . . Congrats to World No. 1 amateur Keita Nakajima on winning the Asia-Pacific Amateur. The 21-year-old will tee it up at next year's Masters where Hideki Matsuyama will be defending champ. Japan golf. So hot right now. . . . And, finally, according to digital sports business publication Sportico, golf accounts for three of the four richest athletes (Tiger Woods, Arnold Palmer and Jack Nicklaus) in history. Golf! And Phil Mickelson ranks No. 11!
As if you needed another reason to get your children to play golf instead of football.
RANDOM QUESTIONS TO PONDER
Where's the nearest thrift store?
Why didn't I play more golf as a kid?
Why is daylight savings time still a thing?