European Tour
Why Thomas Pieters was understandably emotional after winning the Portugal Masters
There was a crack in his voice as Thomas Pieters spoke behind the 18th green at Dom Pedro Victoria Golf Course. It wasn't born out of anger or frustration, something the 29-year-old from Belgium has been known to display during his pro career. No, this this was a softer, more meaningful sound as he soaked in what he'd just accomplished—a two-shot triumph at the Portugal Masters.
"It felt like a long time between victories," Pieters said after a final-round 68 gave him a 19-under 265 total. "I worked so hard. I felt like I deserved one, but it's never easy."
It had been a while since the now five-time European Tour champ last won, nearly 27 months to be precise. In the meantime, questions arose whether the former NCAA champion and Ryder Cupper might have seen his career peak too soon. He'd become a father, and still had lots of talent and promise, yet not so much to show for it.
But on Sunday in Vilamoura, Pieters hung tough even when there were moments when disappointment looked like the ultimate outcome. He shook off an opening-hole bogey with a chip-in eagle on the fifth hole and played steady down the stretch even when he felt like he was battling his swing.
Tied at 18 under with Nicolai Hojgaard and Matthieu Pavon Pieters found the fairway on the par-5 17th hole, giving him a chance at reaching the green in two. He then watched as Pavon (who had taken an early lead but made a disastrous triple-bogey 8 on the 12th hole) knocked his second shot on the hole into the water. It's not the visual Pieters was hoping forr, but he stood over his 5-iron and hit his best shot of the week, his ball landing 20 feet from the hole.
Up ahead, Hojaard proceeded to make a bogey on the 18th hole, his only blemish on a closing 64. Two putts for birdie while Pavon made bogey (the Frenchman shot a 70), and Pieters had a two-shot lead that he finished off with a par on the home hole.
"It was one of my better 5-irons I hit. The feeling you get when you hit that shot is amazing. That's why I play golf."
Pieters was 67th in the world in early 2020, but struggled to find his game upon returning from the COVID-19 restart that summer. He'd consistently make cuts, but wasn't contending, falling to 131st in the world with only one top-10 finish between then and September's BMW PGA Championship, when he recorded the first of two straight T-9s.
Rounds of 68-64-65 gave him a share of the 54-hole lead with Pavon, but that didn't ease any nerves come Sunday. "I was struggling a bit with my swing. I wasn't really trusting it the way I did the first three days. I was kind of busy with that in my mind, not really the scores," Pieters said.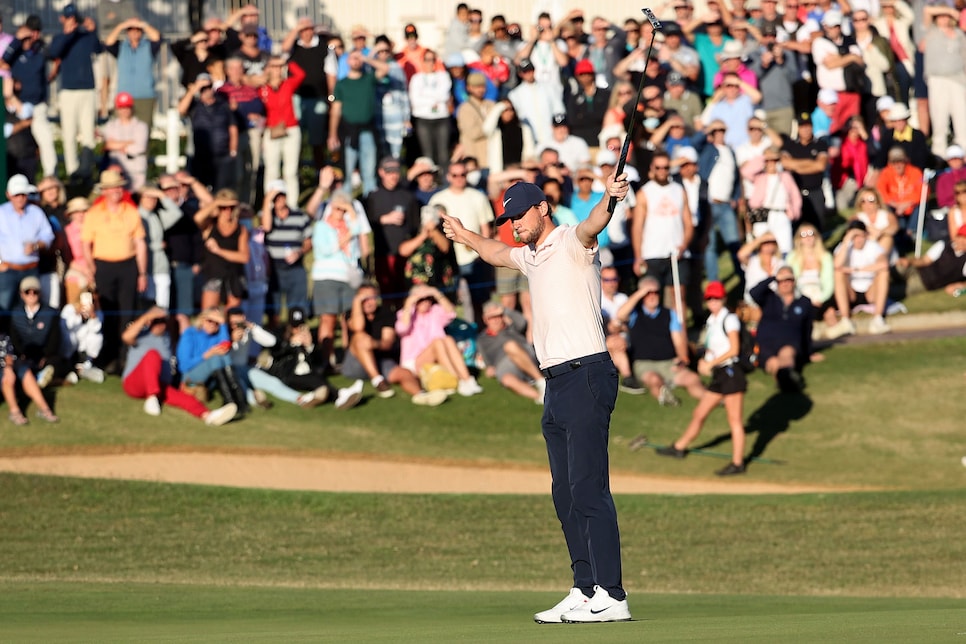 Thomas Pieters makes his par putt on the 18th hole to secure his two-shot win.
Warren Little
The win, worth €237,810, should return him to the top 75 in the World Ranking and lifts him to 29th in the Race to Dubai points standings, ensuring a spot in the European Tour season finale for the seventh straight season.
"I was going into this week and next week with my back to the wall," Pieters said. "I had nothing to lose but everything to gain. I've never missed the end of the Race to Dubai and really didn't want to miss it. I didn't care if I finished first, second or third. I just wanted to get there, but winning is amazing."