U.S. Women's Open
Pebble Beach a major winner, Rose Zhang's star quality and 3 other takeaways from U.S. Women's Open week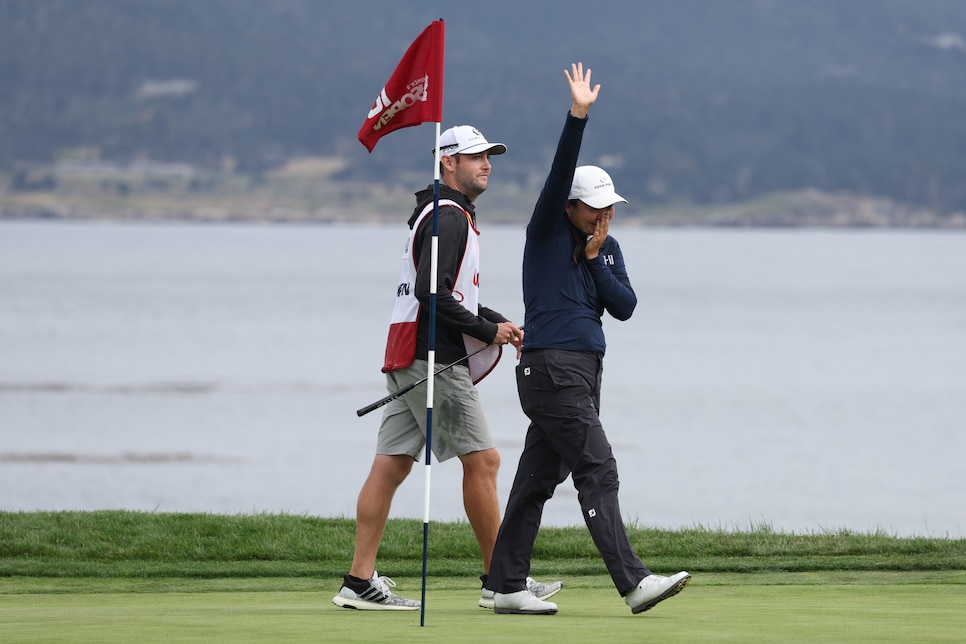 Allisen Corpuz celebrates with caddie Jay Monahan after winning the 78th U.S. Women's Open.
Harry How
PEBBLE BEACH — On the Monterey Peninsula, and particularly at Pebble Beach Golf Links, everything just feels better when the sun shines. The changing shades of blue and green in the water are more stunning. The sand on the beach looks whiter, the grass on the course greener.
For the first two days of the first U.S. Women's Open played on this historic seaside locale, the mood was dampened somewhat by the clouds that refused to give the sun a peak until it was about time to set. It's not overstating to say it was gloomy, and the play seemed to mirror that at times, with some of the world's best players looking cold and glum.
That all changed when Saturday dawned with bright skies and the prospects for a memorable weekend. Pebble Beach truly emerged as the wondrous golf jewel it is, each turn on the course more stunning than the next (as the drones so masterfully captured), and the players responded with their finest golf.
Allisen Corpuz, an accomplished amateur and second-year LPGA player who, on the outside at least, seemed almost too meek to make a huge statement, did exactly what you need to do in a U.S. Open. She steadily and without disaster shot 71-69 on the weekend, bleeding the resolve out of her chasers, including final-group playing partner Nasa Hataoka, who led Corpuz by one at the outset and ended up six shots behind her.
The golf got more compelling as the weekend went on. We should always remember that Hataoka took her lead with a stunning Saturday 66, and that Charley Hull on Sunday missed a birdie putt for 65 that would have tied her with Tiger Woods and Gary Woodland for the lowest round in U.S. Open history at Pebble.
And, finally, as Corpuz stood on the 18th green with the trophy, the first woman to hoist the prize on this shoreline, the sun shone on her face, just as everybody envisioned.
In this case, Pebble Beach won, too.
The expectations for the week were incredibly high, and both the players and course rose to the occasion. A winning score in the mid-single-digits under par seemed reasonable, and Corpuz did even better at nine-under 279. She left the rest to scuffle at finishing in red numbers, with only seven players pulling that off.
It was by no means a blood bath, and that's exactly as the USGA hoped. The setup, with nasty rough for the women's game but manageable yardages and green speeds, drew nearly universal praise, other than maybe some quibbles with most of the par 5s not being reachable in two. But considering that's seen virtually every week on the LPGA, that extra challenge was absolutely necessary for the national championship.
The biggest buzz beforehand was how this first U.S. Women's Open at Pebble Beach, shown in primetime on the east coast, might attract fans and viewers who hadn't connected with the women's side of the game. On-site, the event drew 45,000 spectators over five days, including 11,000 on Saturday. The USGA was happy with that, as it was with the overnight ratings for Thursday's first round on USA Network. The average total viewership over six hours was 367,000—making it the most-watched first round of the Women's Open since Pinehurst in 2014 and 119 percent better than Thursday last year at Pine Needles.
The television-ratings numbers for Friday aren't expected to be released until Monday, and the weekend numbers should be out on Tuesday. But the USGA's belief is that they will be among the best in the history of the event.
Other takeaways from the week:
The Rose Zhang factor is real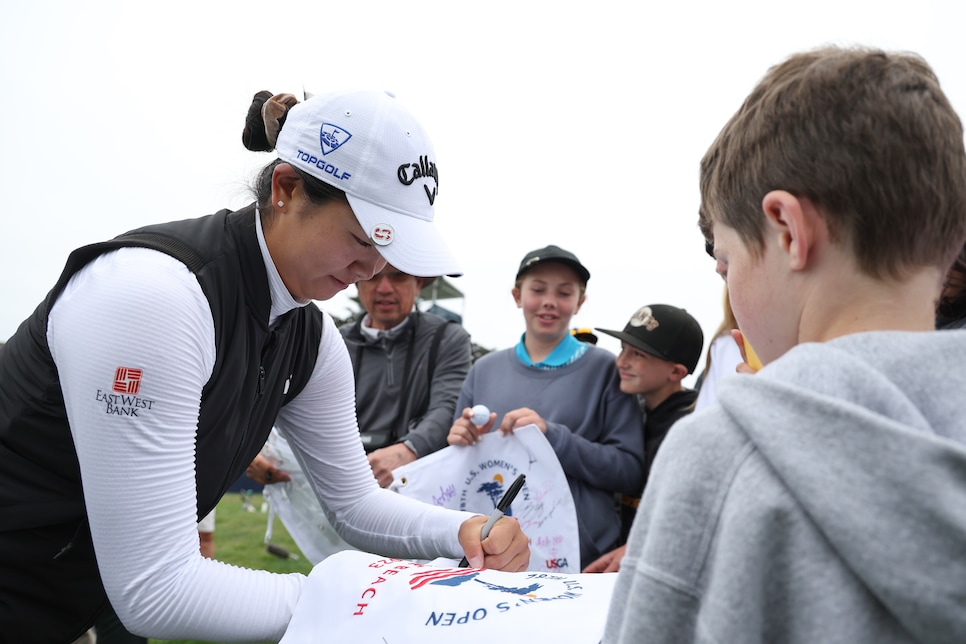 Rose Zhang signs her autograph for a young fan prior to the 78th U.S. Women's Open.
Harry How
We could chalk it up somewhat to the fact that Rose Zhang went to college 90 miles north of Pebble Beach at Stanford, but the large galleries that followed her—by far the most for any player during the week—say something much more. Zhang has become the "it" player on the LPGA after opening her professional career with a victory at Liberty National and contending into Sunday in the KPMG Women's PGA Championship earlier this month.
Pebble is not an easy walk, but parents dragged their little ones, or put them on their shoulders, to follow Zhang from hole to hole, probably so they could say that the saw her before her popularity truly exploded. At least it feels that way, with Zhang not winning, but once again showing that all of her top-level amateur success will translate beautifully on the pro circuit.
Zhang wasn't able to create a true buzz at Pebble because she opened with a 74, got somewhat back into the mix with a 71 but fell back again with a 72. Eight shots off the lead heading into Sunday was a bit too much to ask, even after she came from six back at Liberty National, and Zhang closed with another 72 to finish at one-over 289.
Still, that's now a win, and T-8 and T-9 in subsequent majors in Zhang's first three pro starts. Happily for women's golf, this is just a palate cleanser for what we're going to see for weeks and months to come.
A caddie and husband's big payday
It's definitely a unique arrangement. Jennifer Kupcho is one of the top players on the LPGA and her husband, Jay Monahan, is the caddie for Corpuz. Monahan never saw himself as a fulltime looper, but then Corpuz needed him in a pinch at the end of January 2023, and they have been a team ever since.
That's all well and good, but how about when the husband is the first to be part of a major championship win? While Monahan figures to make about 10 percent of Corpuz's winnings—or $200,000—Kupcho didn't make the cut at Pebble and was paid only $8,000 by the USGA for expenses.
"This is obviously incredible, but I think it's going to take a while to settle in," Monahan said on the edge of the 18th green after he'd accepted a sliver plate from USGA CEO Mike Whan. "I felt like since I started working with Allisen I've been pretty lucky. She's a joy to work for and a great player. She's had a few close calls now, and to see her get over the hump today was remarkable."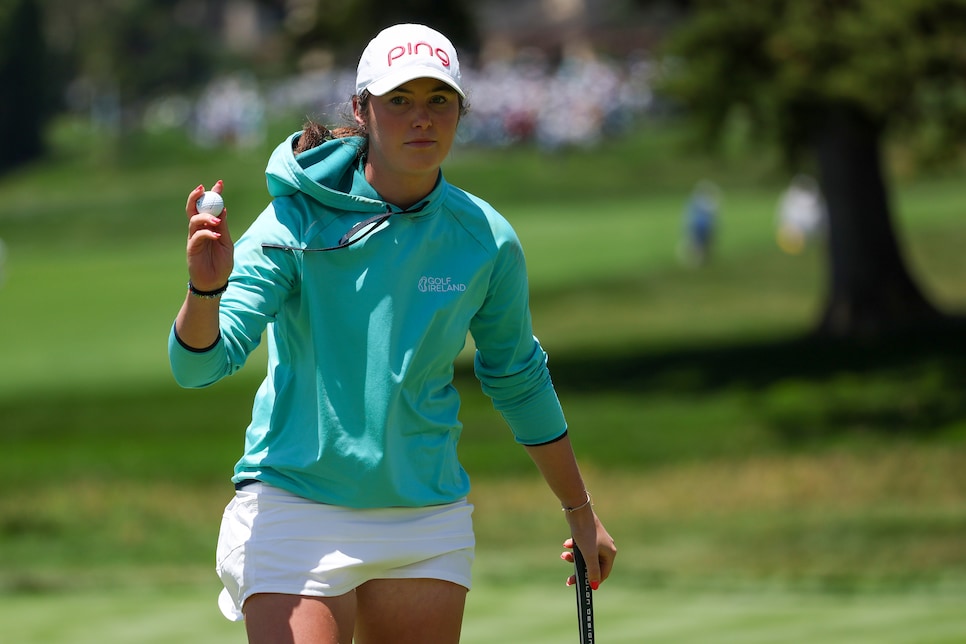 Amateur Ãine Donegan waves after making par on the second green during the third round of the 78th U.S. Women's Open.
Harry How
The breakout "discovery" of the week was Irishwoman Aine Donegan, an upcoming junior at LSU whose early play—she opened with a 69—and good-natured interviews (and playful brogue) won many hearts. Even when Donegan closed with a 77 on Sunday while battling an illness to finish with a nine-over total, she was exuberant on the 18th green, waving an irish flag and shedding a few tears.
This is a woman who completely took in stride making a quintuple-bogey 9 on the eighth hole in the third round.
"I couldn't have asked for a better week," Donegan said. "My goal was to make the cut."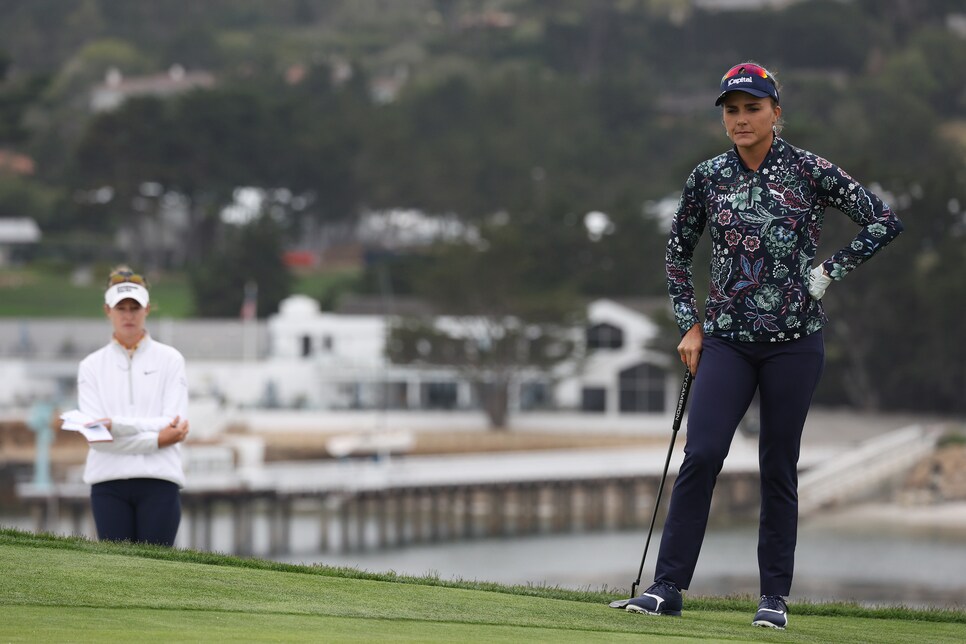 Lexi Thompson stands on the sixth green during the second round of the 78th U.S. Women's Open.
Harry How
Lexi Thompson has lived for nine years with the question of when she would win her second major. But at only 28 years old, she now seems to be facing a more existential crisis about her golf.
When Thompson dejectedly walked off Pebble Beach's 18th green on Friday, with no shot at making the weekend after shooting 74-79, she left behind big questions about where she goes from here. She still is ranked 13th in the world, but that's a precarious position, considering that the 11-time tour winner has played only seven times in 2023 and missed four cuts.
Worse for Thompson, she is ranked 137th in the CME Globe season race after the U.S. Open and a long way to making the top 60 who'll compete in the November's Tour Championship.
The top 100 in the CME standings earn their tour cards for next year, and with Thompson possibly not among them, she will have the options to use her tournament winner status or career money list exemption. She's 10th all-time.
The question is: What's her desire to play at this point? She has spoken of no injuries, but her play has continued to be mediocre. Maybe she's reached the burnout stage, or is it just too many disappointments in majors that have taken their toll. She coughed up the 54-hole lead in the 2021 U.S. Women's Open at Olympic Club and twice finished top-four in majors last season, including losing a two-shot lead with five holes to play in the Women's PGA.
Maybe the time comes when it's all just too much to care so deeply about. We're not saying that's the problem, but the rest of the season might provide more answers.