Rules
U.S. Women's Open champ Allisen Corpuz was one more slow-play time away from a penalty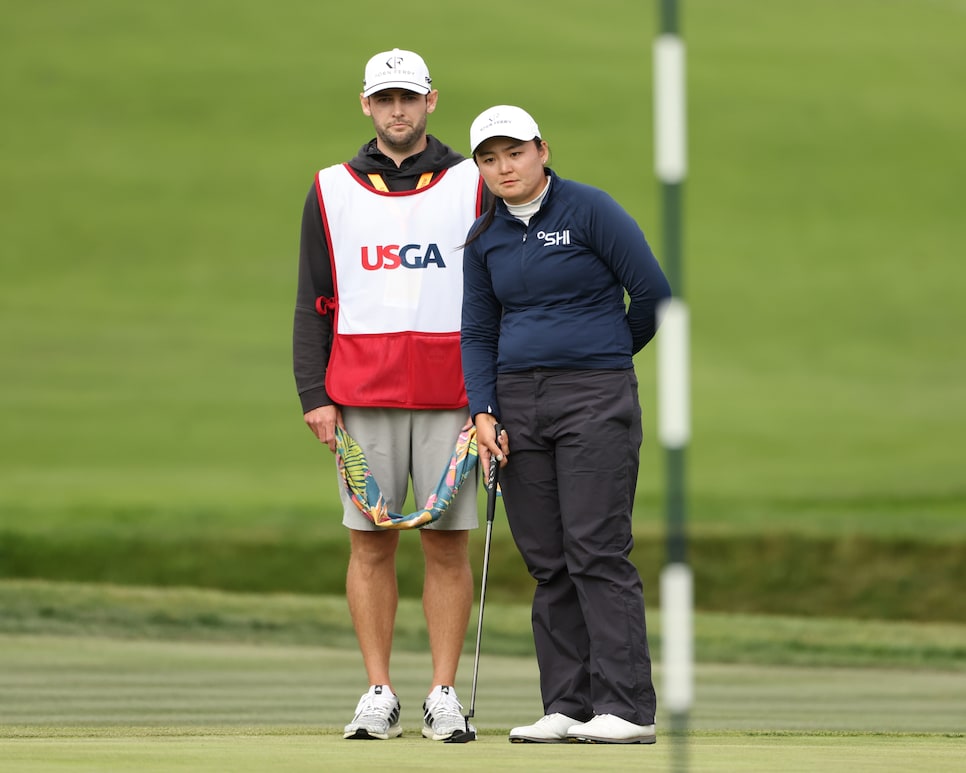 Allisen Corpuz and caddie Jay Monahan prepare for her putt on the 16th green during the final round of the 78th U.S. Women's Open.
Ezra Shaw
PEBBLE BEACH — It was the last thing Allisen Corpuz needed as she was trying to win the U.S. Women's Open. On the 13th hole at Pebble Beach during Sunday's final round, the leader and her caddie, Jay Monahan, were told before they reached the green, a 60-foot birdie attempt awaiting, that they were on notice for slow play because Corpuz was deemed to have taken too much time preparing for her second shot.
Because it was a second warning for Corpuz on the day—the first coming at the 11th when Monahan said he had to go to the restroom—a rules official informed her that if she incurred another slow time, she would be assessed a one-stroke penalty. That came as a shock to the pair because the LPGA fines players for slow play but doesn't penalize them shots.
At the time of the second warning, Corpuz was only two strokes ahead of playing partner Nasa Hataoka.
"That was probably the most stressful moment of the day," Monahan said after the final round.
It all turned out just fine. Corpuz didn't let the situation rattle her. She two-putted 13 for a par, and with birdies on 14 and 15, the Hawaiian pulled away with a three-under-par 69 to win the 78th U.S. Women's Open by three shots over Charley Hull and Jiyai Shin.
Corpuz, 25 and a second-year player on the LPGA, said she has experienced instances in the past of being on the clock and had let it get to her, rushing herself and hitting poor shots.
"I told myself [on Sunday], that's just kind of how the course plays sometimes," Corpuz said. "You have a tough hole, you fall behind. I just told myself we'd catch up later and just stay calm, just keep doing everything at the same pace.
"I know I'm not a slow player," Corpuz later added. "I think in that particular shot I just backed off because the wind died down."
Monahan said that after they finished the 13th, he hustled ahead to the 14th tee to make sure they were ready to hit when Corpuz got there. He acknowledged that they were behind on the pace. Kathryn Belanger, a USGA rules official appearing on the NBC broadcast, said that the final twosome had gotten back into position on that hole and they weren't put on the clock again for the remainder of the round.
"It's tough," he said. "You're trying to win a U.S. Open on a very hard golf course and you don't want to rush. Typically, it's a fine for us, but when suddently they tell you we're going to stroke you if it happens again, that's raises the stress level."