Payday at Pebble
U.S. Women's Open 2023: Here's the record-breaking prize money payout for each golfer at Pebble Beach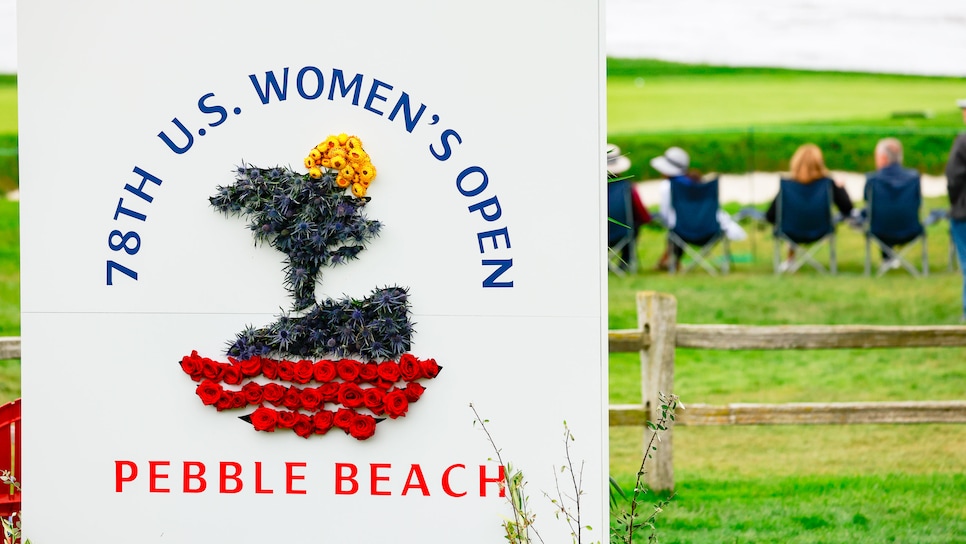 Two years ago, the U.S. Women's Open's purse was $5.5 million. This week, the prize money payout at Pebble Beach Golf Links was an impressive $11 million, a literal exponential rise that speaks to what the USGA thinks of women's golf and its flagship women's championship.
"I remember last year, maybe a year and a half ago when we announced going from a $5½ million purse to a 10. Somebody said to me, what do you think that will do women's golf? I said, I don't know what it'll do for women's golf, but I'm pretty sure a couple years from now we're going to be talking about higher purses across the board, and that's where we are."
Indeed, just two weeks ago, the KPMG Women's PGA Championship bumped up its overall prize money payout by $1 million to $10 million, the sixth straight year it's has increased.
Indeed, here's a breakdown of the prize money payouts for the other four women's majors. With the AIG Women's Open and Evian Championship still to come, there's an expectation that both will also increase their prize money payouts to some degree.
KPMG Women's PGA Championship: $10 million
AIG Women's Open: $7.3 million (2022)
Evian Championship: $6.5 million (2022)
Chevron Championship: $5.1 million
As for the winner's payday in the Women's Open, newly crowned champion Allisen Corpuz earned a record $2 million, the largest payout in women's golf history, after shooting a closing three-under 69 to take the title by three shots. Even if you don't make the cut at the U.S. Women's Open, you still walked away with a nice return: $8,000 for all pros who qualified for the championship.
As we noted a year ago, what's interesting to note is that the overall purse for the U.S. Women's Open didn't pass $8,000 until 1963, the 18th year of the championship. And a winner of the major didn't make $8,000 until 1975.
Here's a historic look at the prize money payouts in the championship for context about this year's historic payday:
YEAR: WINNER, OVERALL PURSE, WINNER'S SHARE
1947: Betty Jameson, $7,500, $1,200
1965: Sandra Spuzich, $20,000 $4,000
1975: Sandra Palmer, $55,000, $8,044
1978: Hollis Stacy, $100,000, $15,000
1990: Betsy King, $500,000, $85,000
1995: Annika Sorenstam, $1 million, $175,000
2000: Karrie Webb, $2.75 million, $500,000
2014: Michelle Wie, $4 million, $720,000
2017: Sung-Hyun Park, $5 million, $900,000
2019: Jeuong Lee6, $5.5 million, $1 million
2022: Minjee Lee, $10 million, $1.8 million
On Saturday, the USGA officially released the overall prize money payout breakdown for the golfers who made the cut a Pebble Beach. Here are the payouts for each place.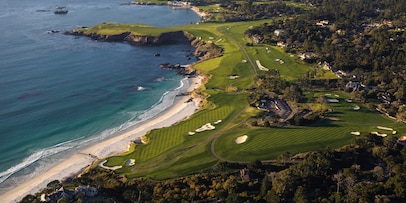 Not just the greatest meeting of land and sea in American golf, but the most extensive one, too, with nine holes perched immediately above the crashing Pacific surf—the fourth through 10th plus the 17th and 18th. Pebble's sixth through eighth are golf's real Amen Corner, with a few Hail Marys thrown in over an ocean cove on the eighth from atop a 75-foot-high bluff. Pebble hosted a successful U.S. Amateur in 2018 and a sixth U.S. Open in 2019. Recent improvements include the redesign of the once-treacherous 14th green, and reshaping of the par-3 17th green, both planned by Arnold Palmer's Design Company a few years back—and the current changes to the iconic eighth hole. Pebble Beach hosted the Women's U.S. Open for the first time in 2023.
View Course
Win: Allisen Corpuz, -9, $2,000,000
T-2: Charley Hull, -6, $969,231
T-2: Ji Yai Shin, -6, $969,231
T-4: Nasa Hataoka, -3, $482,136
T-4: Bailey Tardy, -3, $482,136
T-6: Ayaka Furue, -2, $369,403
T-6: Hyo Joo Kim, -2, $369,403
8: Hae Ran Ryu, E, $313,713
T-9: Rose Zhang, +1, $272,355
T-9: Maja Stark, +1, $272,355
11: Ally Ewing, +2, $237,993
12: Brooke M. Henderson, +3, $220,050
T13: Hannah Green, +4, $167,641
T13: Min-Ji Park, +4, $167,641
T13: Grace Kim, +4, $167,641
T13: Aya Kinoshita, +4, $167,641
T13: Minjee Lee, +4, $167,641
T13: Xiyu Janet Lin, +4, $167,641
T13: Sei Young Kim, +4, $167,641
T-20: Yuka Saso, +5, $106,269
T-20: Ruoning Yin, +5, $106,269
T-20: Carlota Ciganda, +5, $106,269
T-20: Lizette Salas, +5, $106,269
T-20: Angel Yin, +5, $106,269
T-20: Andrea Lee, +5, $106,269
T-20: Hye-Jin Choi, +5, $106,269
T-27: Jeongeun Lee6, +6, $77,779
T-27: Patty Tavatanakit, +6, $77,779
T-27: Gaby Lopez, +6, $77,779
T-27: In Gee Chun, +6, $77,779
T-31: Gemma Dryburgh, +7, $67,595
T-31: Leona Maguire, +7, $67,595
T-33: Aditi Ashok, +8, $50,093
T-33: Pajaree Anannarukarn, +8, $50,093
T-33: Ruixin Liu, +8, $50,093
T-33: Gabriela Ruffels, +8, $50,093
T-33: Benedetta Moresco, +8, Amateur
T-33: Mao Saigo, +8, $50,093
T-33: So Mi Lee, +8, $50,093
T-33: Mina Harigae, +8, $50,093
T-33: Lydia Ko, +8, $50,093
T-33: Azahara Munoz, +8, $50,093
T-33: Amy Yang, +8, $50,093
T-33: Perrine Delacour, +8, $50,093
T-45: Aine Donegan, +9, Amateur
T-45: Bronte Law, +9, $35,208
T-45: Celine Boutier, +9, $35,208
T-48: Cheyenne Knight, +10, $29,283
T-48: Amari Avery, +10, Amateur
T-48: Chisato Iwai, +10, $29,283
T-48: Marina Alex, +10, $29,283
T-48: Jodi Ewart Shadoff, +10, $29,283
T-53: Linn Grant, +11, $24,562
T-53: Da Yeon Lee, +11, $24,562
T-53: Miyu Sato, +11, $24,562
T-53: Haeji Kang, +11, $24,562
T-53: So Yeon Ryu, +11, $24,562
T-53: Dottie Ardina, +11, $24,562
T-59: Albane Valenzuela, +12, $23,133
T-59: Emma Spitz, +12, $23,133
T-59: Monet Chun, +12, Amateur
T-59: Lindy Duncan, +12, $23,133
T-59: Brittany Lang, +12, $23,133
T-64: A Lim Kim, +13, $22,230
T-64: Haruka Kawasaki, +13, $22,230
T-64: Haru Nomura, +13, $22,230
T-64: Nelly Korda, +13, $22,230
T-68: Kana Mikashima, +14, $21,553
T-68: Ashleigh Buhai, +14, $21,553
70: Nanna Koerstz Madsen, +15, $21,215
T-71: Jenny Coleman, +16, $20,876
T-71: Minami Katsu, +16, $20,876
73: Moriya Jutanugarn, +19, $20,538
74: Charlotte Thomas, +22, $20,312