U.S. Women's Open
Lexi Thompson has a huge chance at overcoming a lot of heartache on Sunday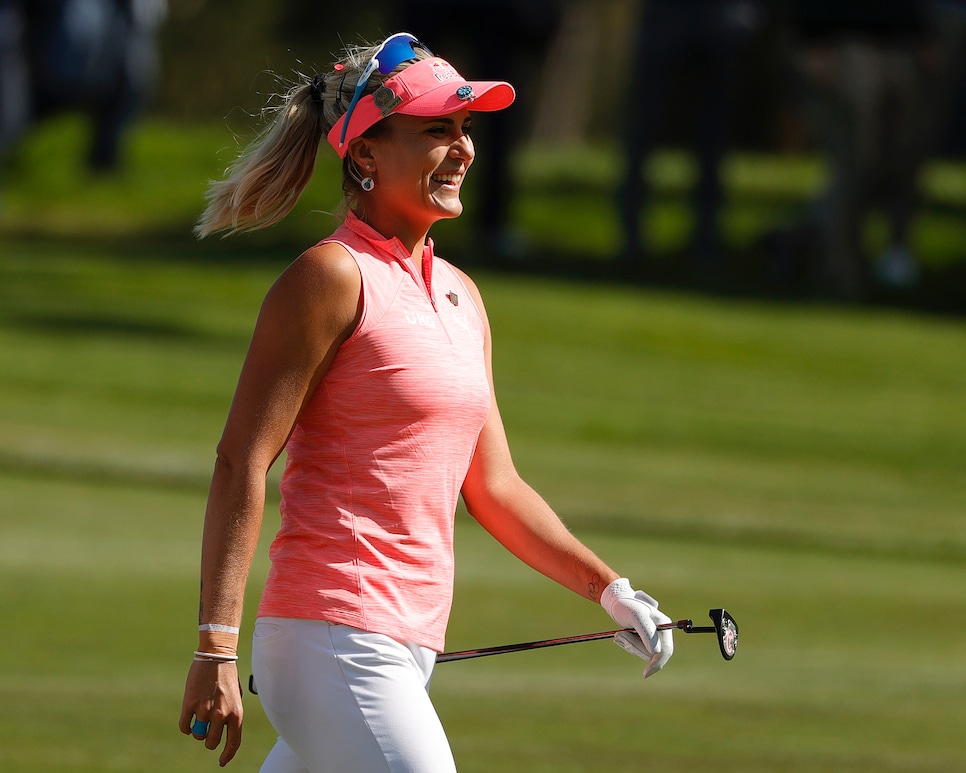 Lexi Thompson walks on the 11th hole during the third round of the 76th U.S. Women's Open.
Ezra Shaw
SAN FRANCISCO — For Lexi Thompson, signing autographs was more important than signing her scorecard. She walked up the short hill from the 18th green on Saturday at The Olympic Club to cheers and a proposal. "Marry me Lexi!"
Players usually hustle to scoring to get their signature on the card, maybe slapping a few hands along the way. But to the delight of a couple of young girls along the rope line, Thompson stopped and signed their visors. The smiles, from both the golfer and the kids said it all. This would be a day they'd remember.
A seemingly loose and happy Thompson played about as carefree a championship round as anybody ever could on Saturday in the 76th U.S. Women's Open. She turned in the only bogey-free card of the week on the Lake Course with a five-under-par 66, and that put her at seven under and one stroke ahead of 19-year-old Yuka Saso (71) and four in front of 17-year-old amateur Megha Ganne (72) and former U.S. Women's Open champion Jeongeun Lee6 (73).
The enthusiastic cheers for Thompson that were heard around the 18th green would figure to only grow louder on Sunday for the 26-year-old whose popularity is augured by the sympathy for her failures and heartaches. Though her 11 LPGA Tour wins put her in the upper echelon of her peers, she has made 51 previous starts in majors, with only one win, in the 2014 ANA Inspiration.
The last six and a half years have seen a string of major close calls and disappointments—none more devastating than at the 2017 ANA, when a television viewer's email resulted in a four-stroke penalty for Thompson and an eventual playoff loss to So Yeon Ryu.
"I haven't played to my standards … and I just realized that I needed to change my mindset," said Thompson, whose last tour victory came in the 2019 ShopRite Classic. "It was only hurting me. Obviously, I needed to work on some technical things in my game and everything. But the mental side, I think, was really getting to me. I was just taking it way too seriously and thinking that [being] Lexi depended on my score.
"It's really hard for me to not think that, but I just got into a state—I'm going to hit bad shots and it is what it is. I can manage to get up and down or do what I can."
On Saturday, Thompson helped herself by hitting nine of 14 fairways, and she had her best ball-striking day of the tournament, finding 13 greens. But it's her putting that was key, with only 27 rolls required after needing 29 in the first two rounds. Thompson worked late into the afternoon with her dad on the putting green after the second round.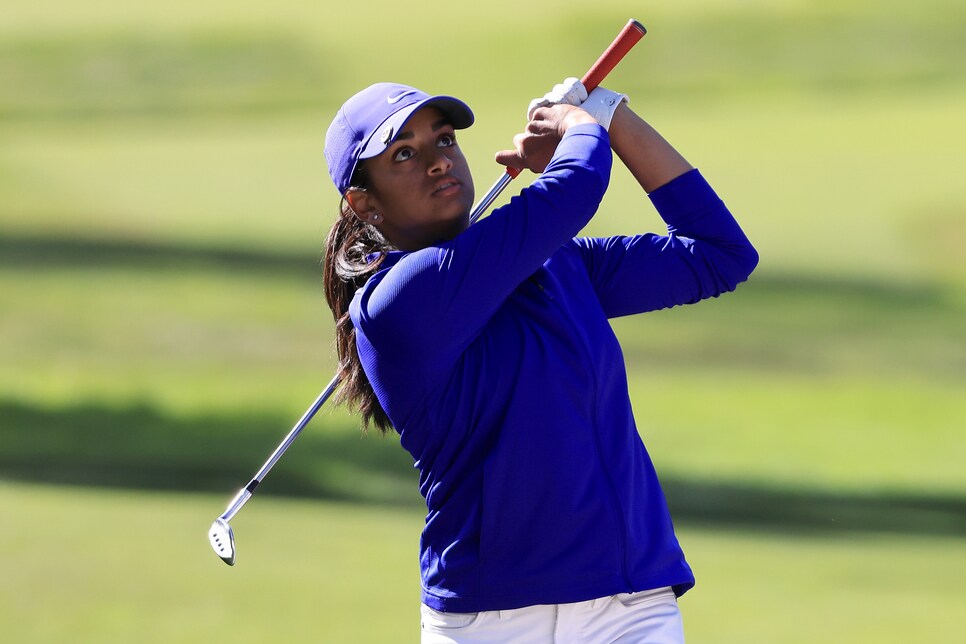 Megha Ganne hits an approach shot on the 13th hole during the third round of the 76th U.S. Women's Open.
Sean M. Haffey
"Golf is a crazy game," she said with a laugh. "It's an up-and-down thing. I knew if I gave myself birdie opportunities and just really trusted my stroke."
Two of the three players chasing Thompson know little of what it's like to have toiled this long to have a Sunday chance to win a major. Saso, a two-time winner on the LPGA Tour of Japan, is playing in only her second major, while Ganne, a high-schooler from New Jersey, is competing in her third U.S. Open but has never experienced anything like this opportunity.
Saso, whose 71 on Saturday was her highest score of the week, bogeyed three of her last six holes, including making a 5 at the 18th that knocked her out of a tie for the lead.
In a rare occurrence because the tee times are earlier than normal on Sunday, the field will play in threesomes, and that put Ganne in the final group, which she will no doubt relish. Ganne said she's become good friends with Saso and offered, "If I wasn't playing, I would be rooting for Yuka to win."
Without her best stuff, Ganne grinded to a one-over score and hardly looked the worse for it, raising her arms and exhorting the crowd at 18 to cheer. Don't let her outgoing demeanor fool you. Ganne very much believes she can be the youngest U.S. Women's Open champion in history.
"You can't really come into a tournament expecting to play well if you don't deep down know that you got a shot to win it," Ganne said. "I think people who say, 'I just want to play well' … I guarantee you all 156 people in this field have thought about winning this championship and they just don't say it because they want to seem humble. But, yeah, it's been down there and hopefully I have a chance tomorrow."