Olympic Style
How Team USA's Olympic golf uniforms may have influenced play
*All products featured on Golf Digest are independently selected by our editors. However, when you buy something through our retail links, we may earn an affiliate commission.*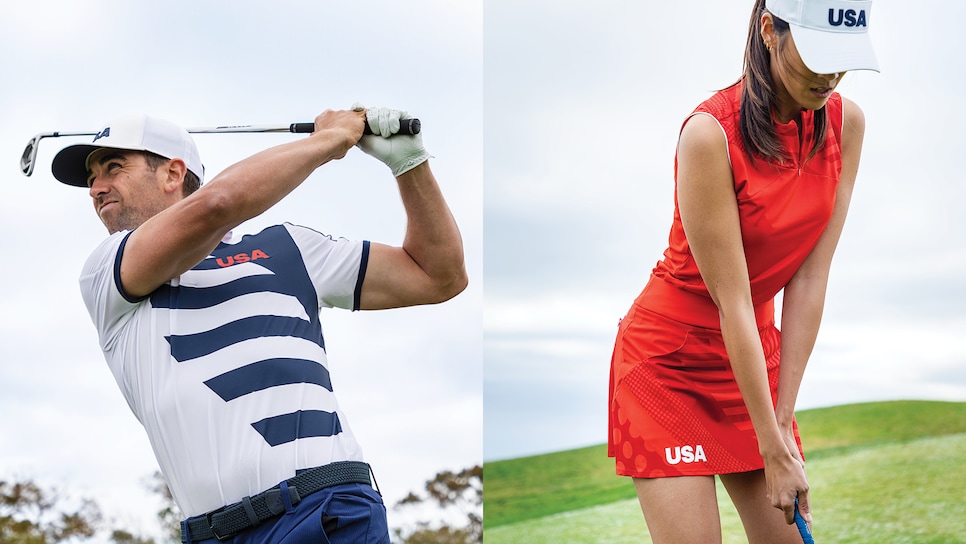 Adidas partnered with Tokyo-based artist Hiroko Takahashi to design the custom uniforms (which are also available to purchase on the Adidas site) for the Olympic Games, with the men's and women's competitions that ran from July 29 through Aug. 7. Takahashi, who is known for creating synergetic designs that evoke natural elements through geometric patterns and motifs, dreamed up four coordinating looks for each day of play.
RELATED: A look at the stylishly patriotic USA Golf uniforms unveiled ahead of the Olympics
The result is a sartorial festival in red, white and blue—packed with bold monochrome and restrained stripes. The uniforms were worn by every member of Team USA, including gold medalists Nelly Korda and Xander Schauffele. Each day's outfit spoke to one of four elements recalled in this Japanese saying from a preeminent warrior urging athletes to be "as fast as the wind, as quiet as the forest, as daring as fire, and immovable as the mountain."
RELATED: How to watch the 2021 Olympic men's golf tournament on television
To understand how the uniforms may have influenced Team USA, Karen said fashion psychology has two focuses: the perceiver and the wearer. In her analysis of uniforms for team golf, she concentrated on how the clothes might influence performance, as well as how they might be interpreted (albeit subconsciously) by Team USA's rivals.
"The reality is, they're wearing these uniforms to represent the United States of America," Karen said. "But the perception is what is happening before awareness."
Here are her main takeaways:
1. An athletic-forward design inspires security
"Tighter fabrics make you feel more in control," Karen said. "If you're feeling anxious, they make you feel like you can actually harness that anxiety into something else. Something healthy." Alternatively, looser fabrics can have the reverse effect, she said. All of these pieces hug the figure tightly, while still leaving space for move-ability and breathability. Even the navy women's skirt has form-fitting red shorts winking from below.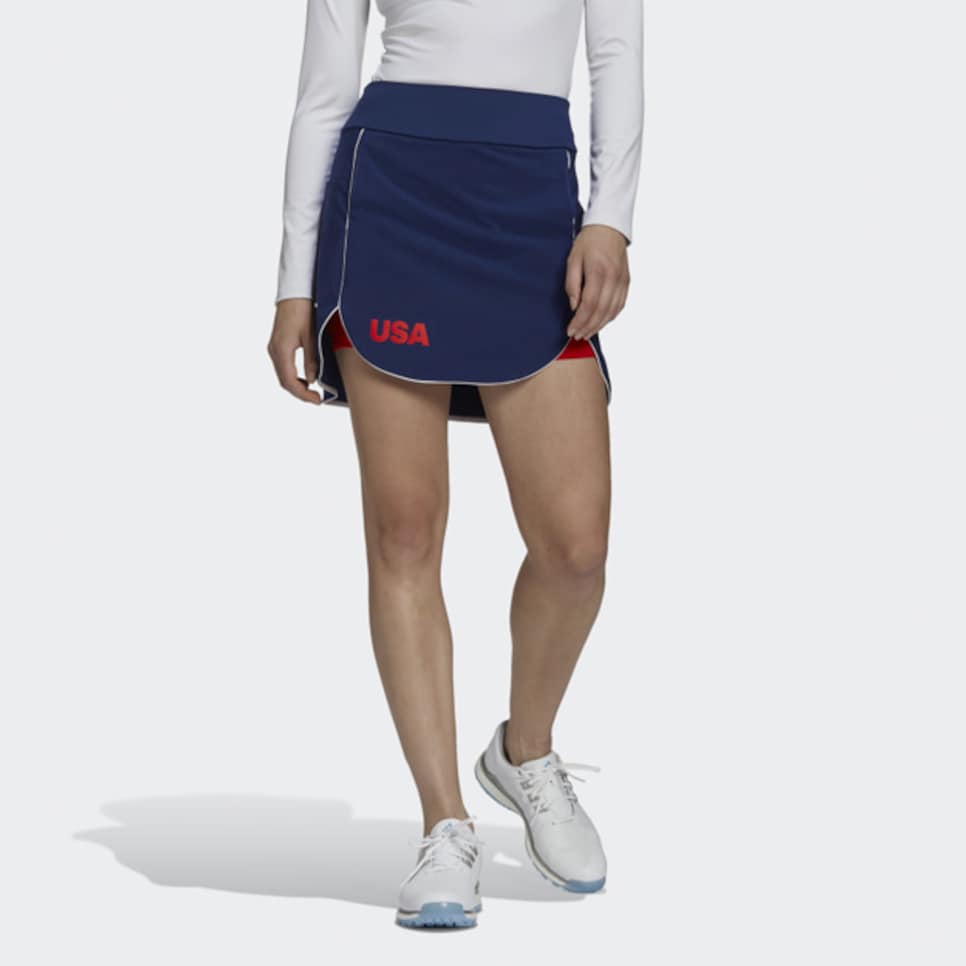 USA Graphic Skort
Warm weather and open fairways call. Show your support for Team USA in this adidas golf skort. Read the green and follow through with ease thanks to its stretch feel and built-in shorts. Front and back pockets add utility for keeping tees or small items within reach.
$80
|
adidas United States
2. Stripes have deeper meaning
We bet you've never thought about stripes as deeply as Karen has. In her research, Karen realized that stripes are predictable patterns—adding a hint of visual intrigue and remaining classic without being too distracting. "People who wear stripes have an uncanny ability to multitask," Karen said. "They can do multiple things at once."

Takahashi herself has also expressed a love for the linear. She said she "designed the USA Golf uniforms with links of circles and lines, imagining the powers of individuals coming together as one and spreading into infinite possibilities." While we might not all be able to juggle as many balls as we would like, it makes sense that professional athletes, who have to navigate so many competing physical and mental pressures, would be up to the challenge of handling a stripe.
RELATED: Olympics golf odds: The men's and women's favorites and longshots to win a gold medal in Tokyo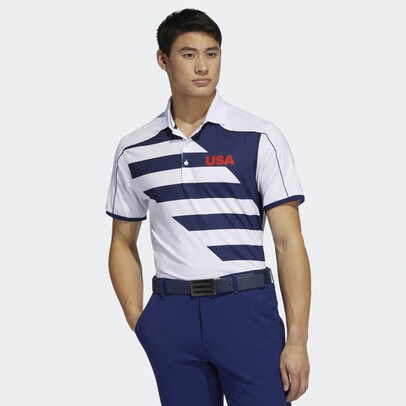 USA Polo Shirt
Shave strokes in patriotic style as Team USA swings for the green in Tokyo. This adidas golf polo shirt shows your support for the red, white and blue. Let the light, breathable fabric keep you cool. Read the green without distraction.
$85
|
adidas United States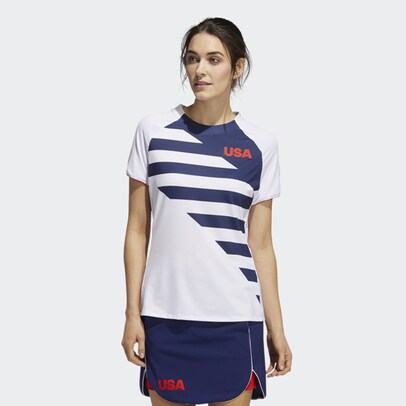 USA Printed Golf Shirt
Shaving strokes takes focus. This adidas USA golf shirt keeps you feeling dry and comfortable through the heat of the day. Its stretch fabric manages moisture and fights odors so you can focus on your swing. Put your Team USA pride front and center with a graphic on the chest.
$75
|
adidas United States
3. "This is what it means to be a female playing golf; this is what it means to be a male playing golf."
The first thing Karen noticed when Adidas unveiled the uniforms was that they were somewhat "polarizing" in that they lacked a gender-neutral mentality. This, she said, strayed from so much of what we're seeing in fashion and on the runways today, where there's a strong preference and inclination toward unisex, androgynous silhouettes and designs. Though the men and women's outfits are highly coordinated, there's no mistaking whose is whose.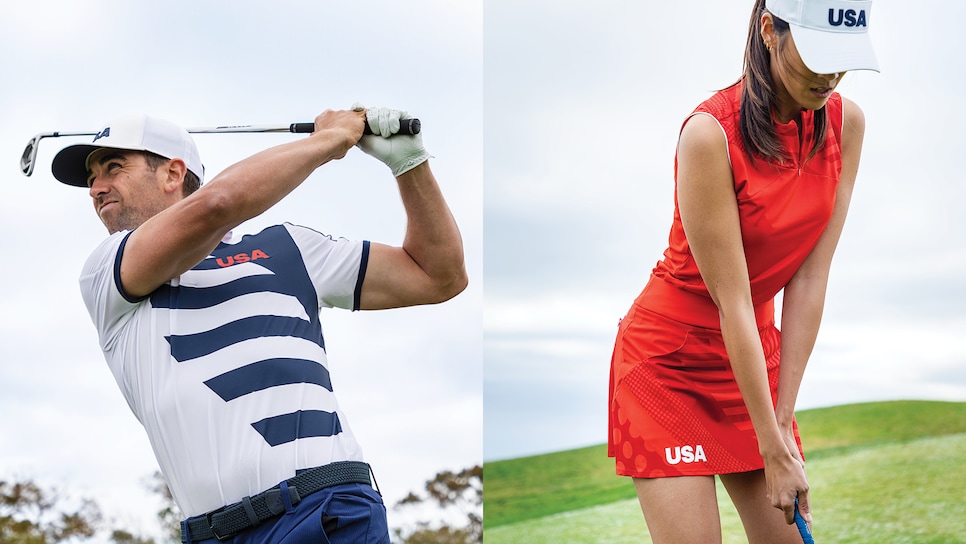 4. Don't mess with a woman in red
A study conducted by the University of Rochester found that men were more attracted to women in red (women's behavior was unchanged when shown photographs of women in red versus other colors). Karen pointed to pop culture as an example. "Women in red elicits or provokes attraction," she said. "A woman in red is very powerful."
Other studies surrounding the psychology of red have focused specifically on sports. One study, which was actually conducted at the 2004 Olympic Games in Athens, found that wearing red led to more gold medals. In close competitions, one factor that seemed to tip the scale was a red get-up. Why? Red is an evocative color, Karen said, which can increase feelings of competition, stamina and strength. It is also visually overpowering and can be intimidating for the opponent. "High energy, red, power. Studies have shown it's usually the person in red who will dominate whatever sport they're in," Karen said. "On a biological level, we're stimulated by red—the perceiver and the wearer."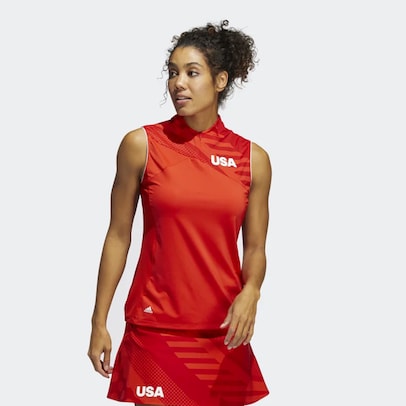 Printed Mock Sleeveless Polo Shirt
Warm days are made for golf. Show your support for Team USA on the course in this adidas sleeveless golf polo. It keeps you feeling dry and comfortable under the sun with the freedom to swing without restriction. Head for the clubhouse feeling fresh after a full round.
$70
|
adidas United States