Big but not so bad
Olympic Club wasn't quite as mean as feared to start U.S. Women's Open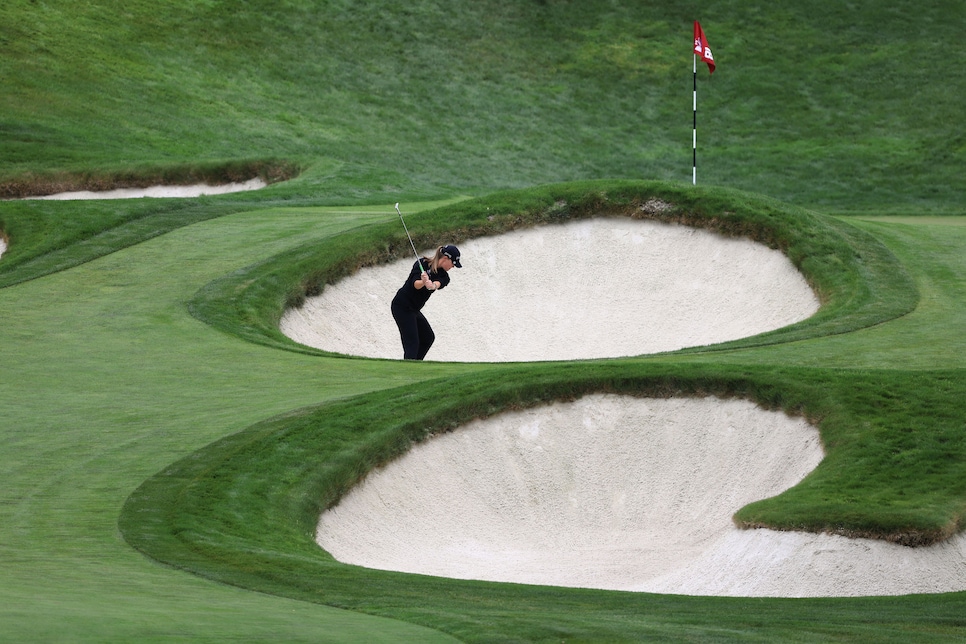 Jennifer Kupcho hits from the bunker on the 18th hole during the first round of the 76th U.S. Women's Open.
Sean M. Haffey
SAN FRANCISCO — For any player sitting in a hotel or rental home on Thursday morning, checking the scores in the first round of the U.S. Women's Open, one circumstance must have produced a queasy feeling. Danielle Kang, the sixth-ranked player in the world, suffered a triple-bogey 8 on the par-5 16th—and she managed that with a chip-in. A snowman with no putts.
Kang bogeyed the following par-5 No. 17, too, and the 2017 KPMG Women's PGA champion was three over for her first nine holes, though she recovered to shoot two-over 73.
Uh oh. That seemed to be an ominous sign that The Olympic Club's Lake Course was going to be every bit the monster that some predicted in the buildup. However, a funny thing happened on the way to complete disaster: The golfers more than held their own.
Yes, there were the ugly holes and scorecards inked with way too many doubles and triples—there were 18 scores posted of 80 or higher by the afternoon (Canadian Megan Osland withdrew after shooting 90)—but it ultimately didn't look like much different than other national championships that the USGA has cooked up. The scoring average on the par-71 layout was 75.17 and 15 players broke par.
"Level par should be winning this thing, in my opinion, or close to level par," said Mel Reid, who did far better than that by shooting four-under-par 67. "I love how tough it is. I think it makes you think, makes you create a strategy. You can't bomb it everywhere. You've really got to think where your misses are.
"This is exactly how a U.S. Open should be," she said. "This is an unbelievable golf course. As soon as I rocked up here, I thought, this is the kind of golf courses we want to play."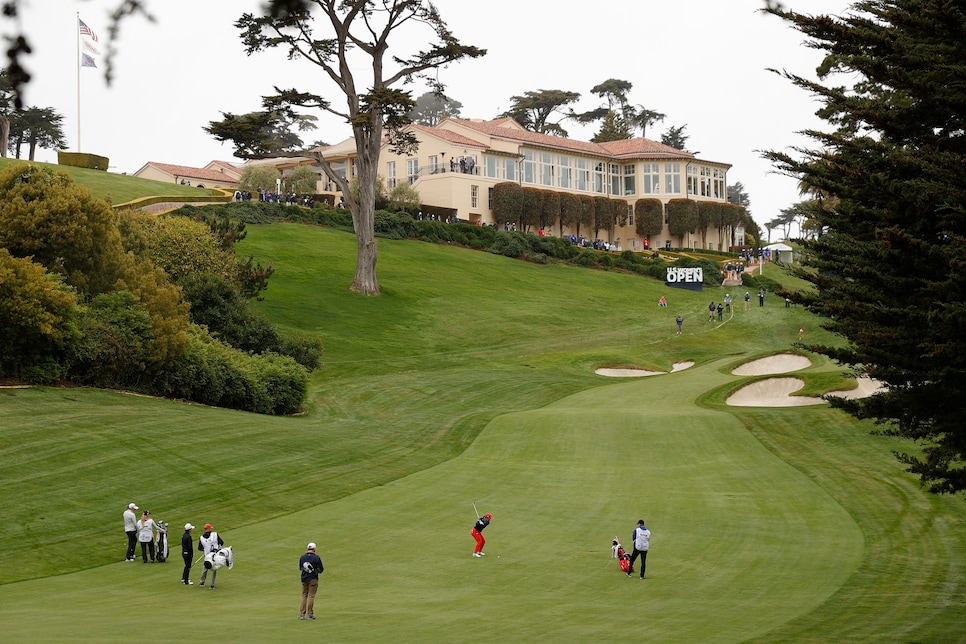 Tsubasa Kajitani of Japan hits an approach shot on the 18th hole during the first round of the 76th U.S. Women's Open.
Ezra Shaw
There were fears that the rough would be far too penal for the women, who don't have the clubhead speed of their male counterparts. But after practice rounds on Monday that brought some concern for players, the USGA cut the rough on Tuesday, and it now seems at least manageable now at 2¾ inches.
There were plenty of times when players didn't advance the ball far out of the deep stuff, and Jessica Korda briefly grabbed her left shoulder in pain when she blasted a shot out of the rough on 18. But there were other instances of heroics. Nasa Hataoka holed out a wedge shot from the rough for eagle on the seventh hole, and Angel Yin had an eagle-birdie finish to shoot 68.
Yin recalled making birdie from the rough at the par-4 ninth, but also arrived to a brutal lie on another hole. I was like, 'Oh, my wrist hurts just by looking at it,' " she said with a laugh.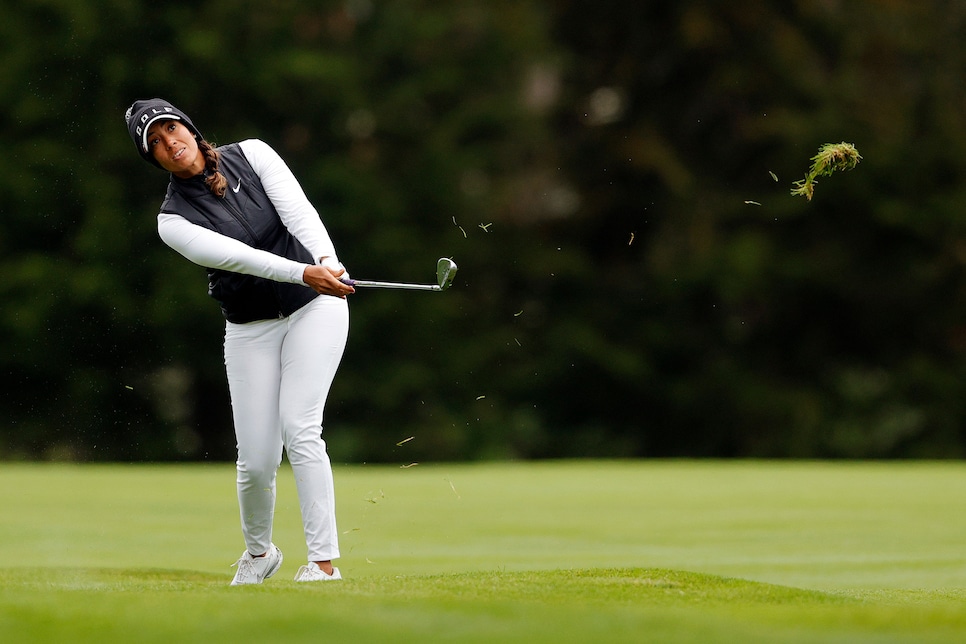 The rough at the Lake Course was still plenty gnarly, as Cheyenne Woods found out on the fifth hole during the first round.
Ezra Shaw
One other significant factor in the scores was that the USGA moved up the tees on some holes, so the course played "only" 6,362 yards.
"Honestly, I thought it played way easier today," said Jennifer Kupcho, who shot 70. "They moved a lot of tees up, and I don't think I had more than a 7-iron into a par 4."
Easier? Maybe that's just what the USGA wants to hear to make it harder in Round 2.