Major Style
Nike to release purple U.S. Open-inspired Jordan Retro G golf shoes
*All products featured on Golf Digest are independently selected by our editors. However, when you buy something through our retail links, we may earn an affiliate commission.*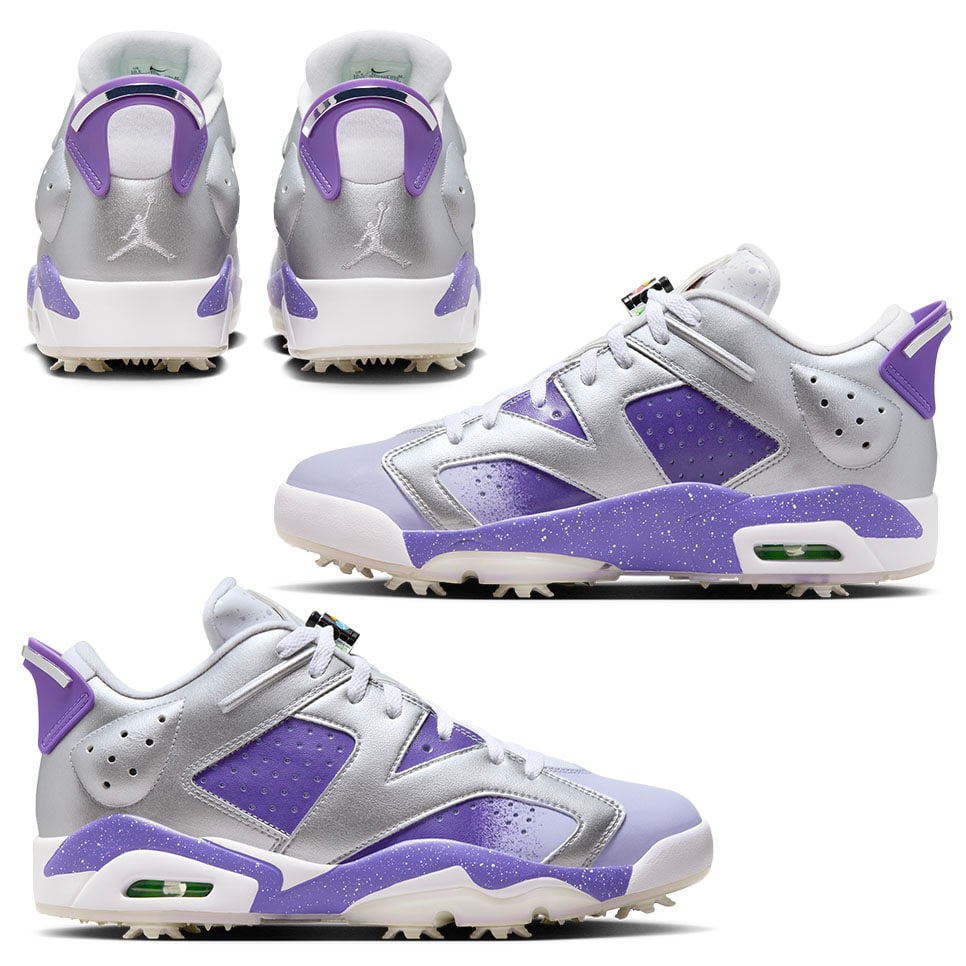 Coinciding with the U.S. Open this week at Los Angeles Country Club, Nike announced a highly anticipated collector's shoe inspired by the event—part of its ongoing series of major-themed drops that consumers, sneakerheads, and golf aficionados have come to look forward to almost as much as the tournaments themselves. These retro lavender spikes emanate speed and grit while also striking a summery, cool vibe to match the event and the greats who will compete at it. The shoe retails at $220 and will be available June 16.
As Nike and Jordan designers are known to do, within the colorful golf design lies further nods to the host venue and the history of the popular shoe. A translucent plastic sole and visible "Air" call to mind the sleek athleticism and kitschy aesthetics of the 1990's, when the original shoe came to be a staple for basketball players, popularized and named after a young Michael Jordan.
A silver coating glosses the tops of the shoes, speaking to the decadent, high-class style of the City of Angels where the third major of the year will take place. On the soles, lavish purple script reading "Jordan" and "Golf" add a playful hint of graffiti-cool to the look. Neon green insoles add a street style flair to the design. And on the outsoles, spikes—that read almost as summertime wildflowers—offer grip and traction for serious play. Adding comfort and stability, the shoe features Nike's lightweight foam midsole technology to sustain long wears and is water-repellant for those days the course demands it.
The shoe can also trace its design inspiration to Michael Jordan's love for German sports cars, particularly the Porche 911. The red-and-white colorway of the original Air Jordan 6, debuted in 1991, is the most recognizable version of shoe and a close match to the bold red sports cars he preferred. The shoe has seen many iterations in its 24 years of popularity, and this purple version feels fitting for the Hollywood backdrop of golf's third major of the year.
RELATED: These are the best Michael Jordan golf stories we've ever heard
In this modern and golf-focused rendition, a molded heel tab reminiscent of the one Jordan requested in 1991 to protect his Achilles tendon, as well as two holes on the shoe's tongue, all speak to the earlier designs—and athletes—that have brought the sport and shoe to its reign today.