Masters Style
Masters 2023: Our favorite golf shoes that celebrate Augusta and the first major of the year
*All products featured on Golf Digest are independently selected by our editors. However, when you buy something through our retail links, we may earn an affiliate commission.*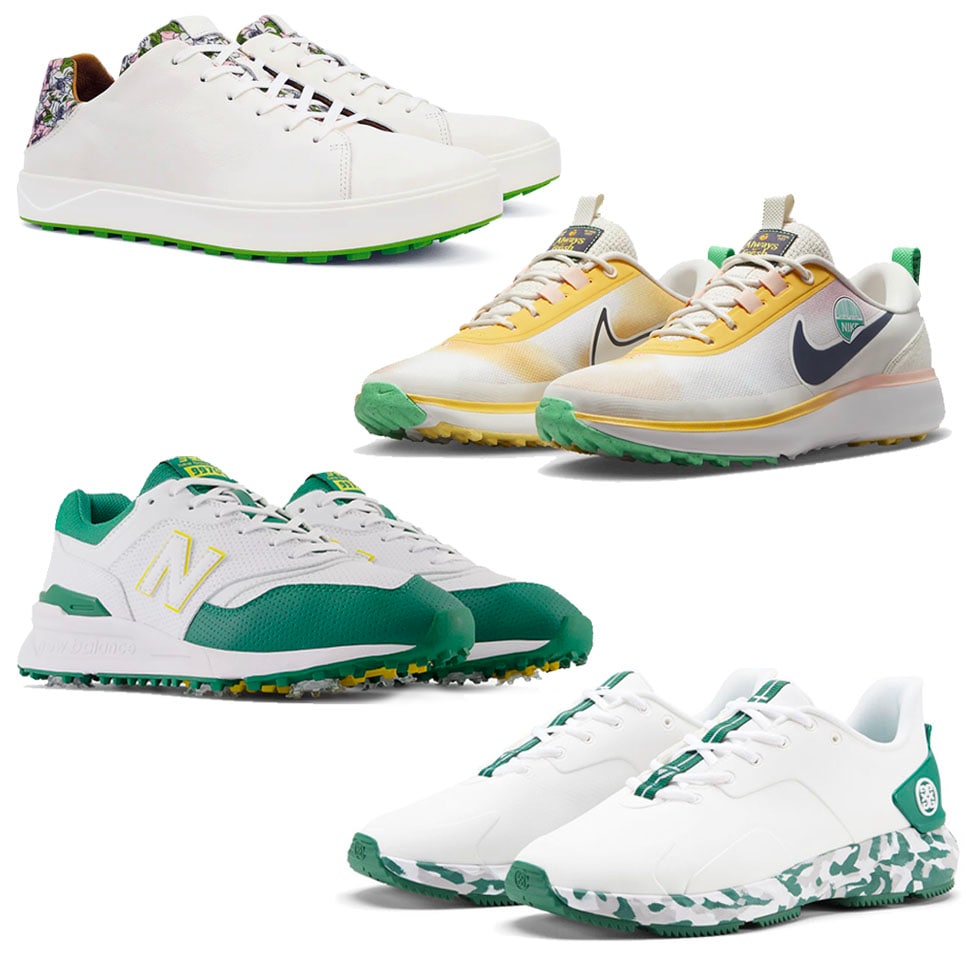 Masters week is finally here. To celebrate the first major of the year, many brands release special-edition versions of their most popular products with subtle nods to the tournament. From green and yellow colorways to patterns inspired by the iconic flowers at Augusta, these golf shoes will bring Masters week energy and style to your return to the golf course this spring.
RELATED: The best men's golf shoes and the best women's golf shoes of 2023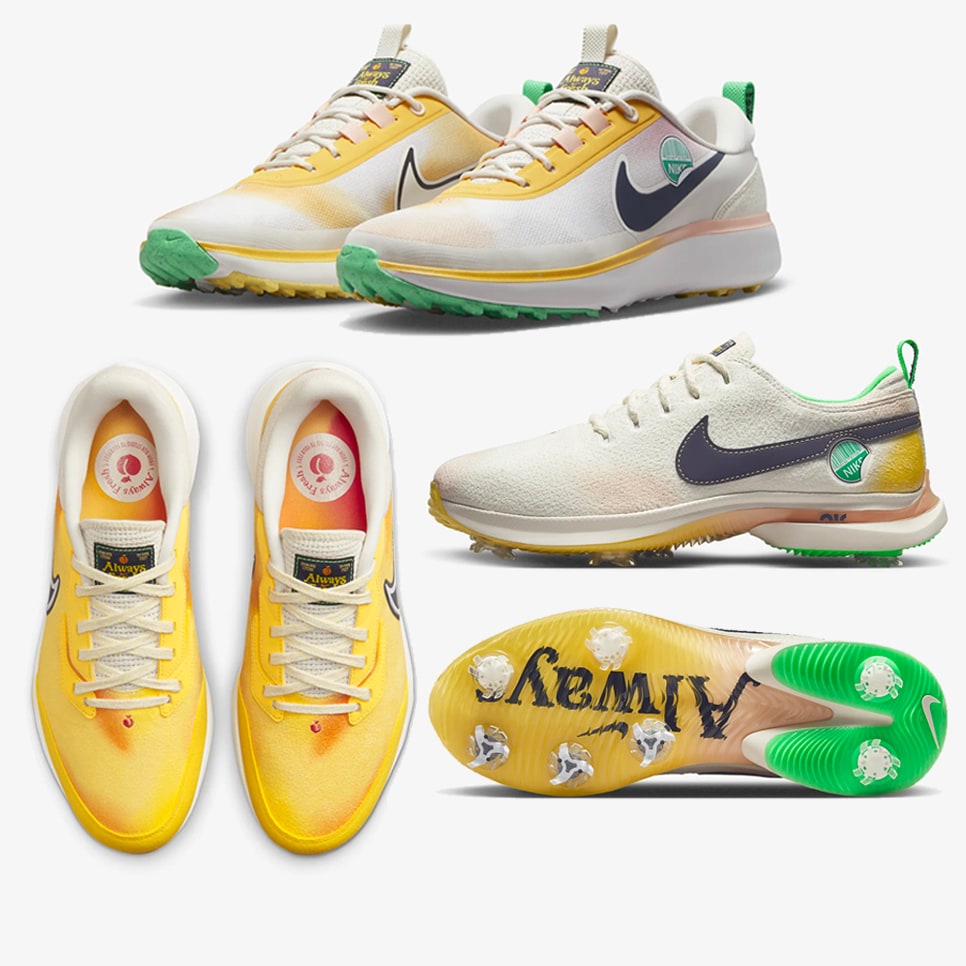 Nike NRG Golf Shoes
Nike released three limited-edition golf shoes ahead of the Masters that take inspiration from the trademark fruit of the Masters' home state—the peach. A "fuzzy" material covers the upper of each shoe that mix peachy tones with pops of bright green throughout the designs. Read more about Nike's Masters Week golf shoe releases here.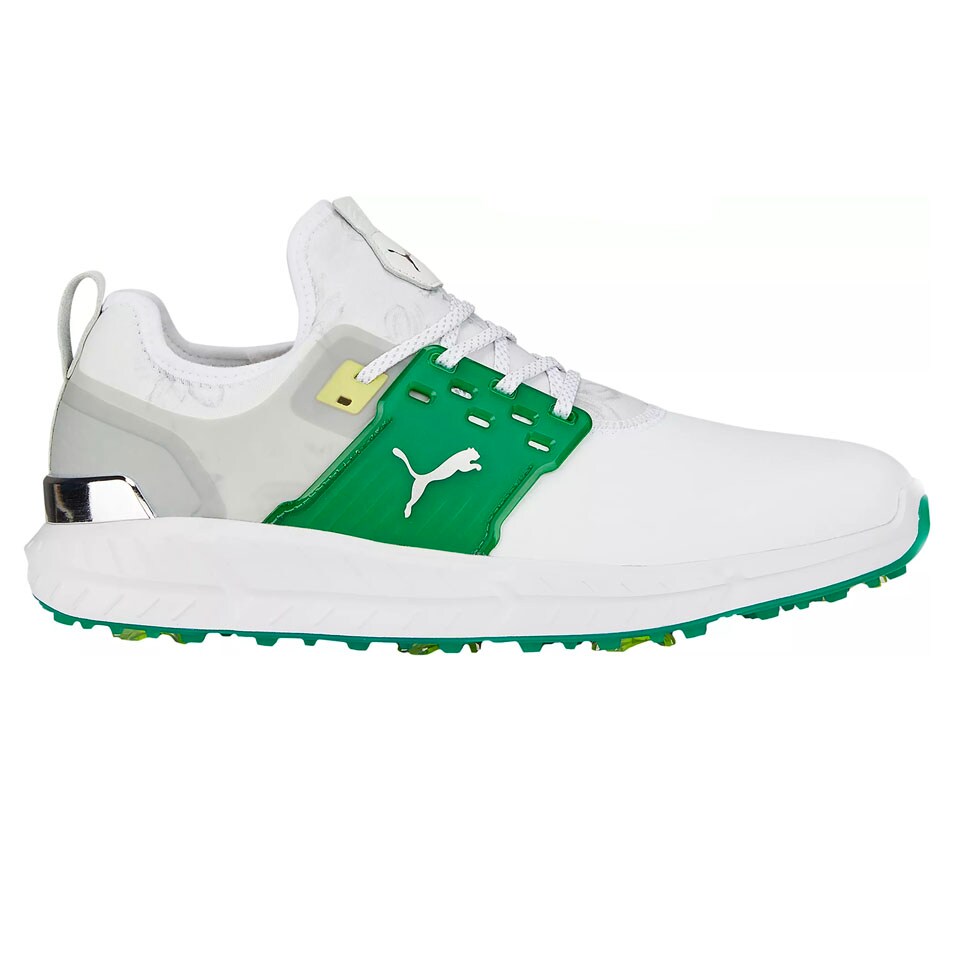 PUMA Men's IGNITE Articulate Azalea Golf Shoes
Covered in a subtle azalea print, these golf shoes from Puma's Verdant collection have a matching hat and golf shirt for those looking to go full tilt on the Masters-inspired look this week. It's a limited edition wrap on the brand's popular Ignite Articulate golf shoe that's built with more cushioning and support than most golf shoes on the market—without compromising the athletic stylish look.
$201
|
Dick's Sporting Goods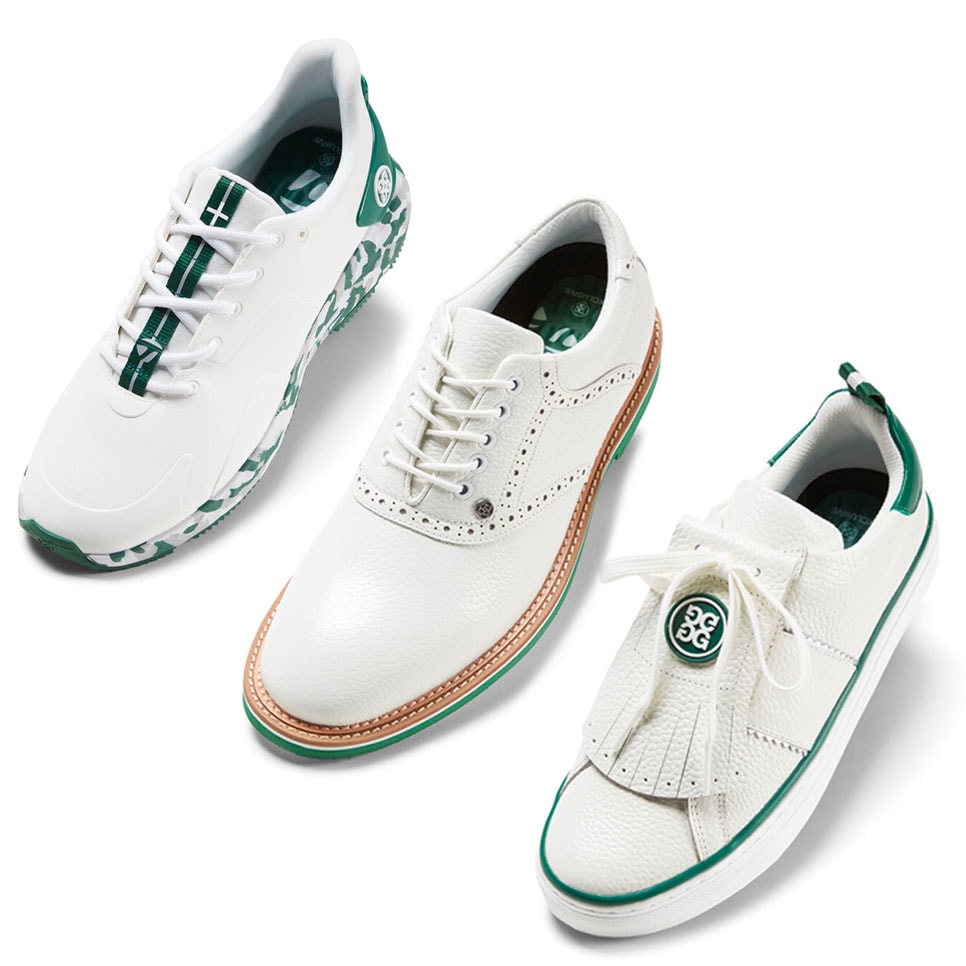 TaylorMade X GFORE Golf Shoes
TaylorMade typically has a full collection of stylishly green apparel and accessories around the Masters for the pros and the patrons watching the tournament. This year, TaylorMade teamed up with G/FORE on three golf shoes with stylish touches of green incorporated that will get any golfer in the Masters mood. On the men's side the MG4+ was given a green camo upgrade and the leather Saddle Galivanter has green lining the outsole and reads "TaylorMade" on the bottom of the shoe. For women, the Kiltie Disruptor balances edgy street-shoe styling with old-school golf footwear elements like a kiltie lace covering and a pebbled leather upper.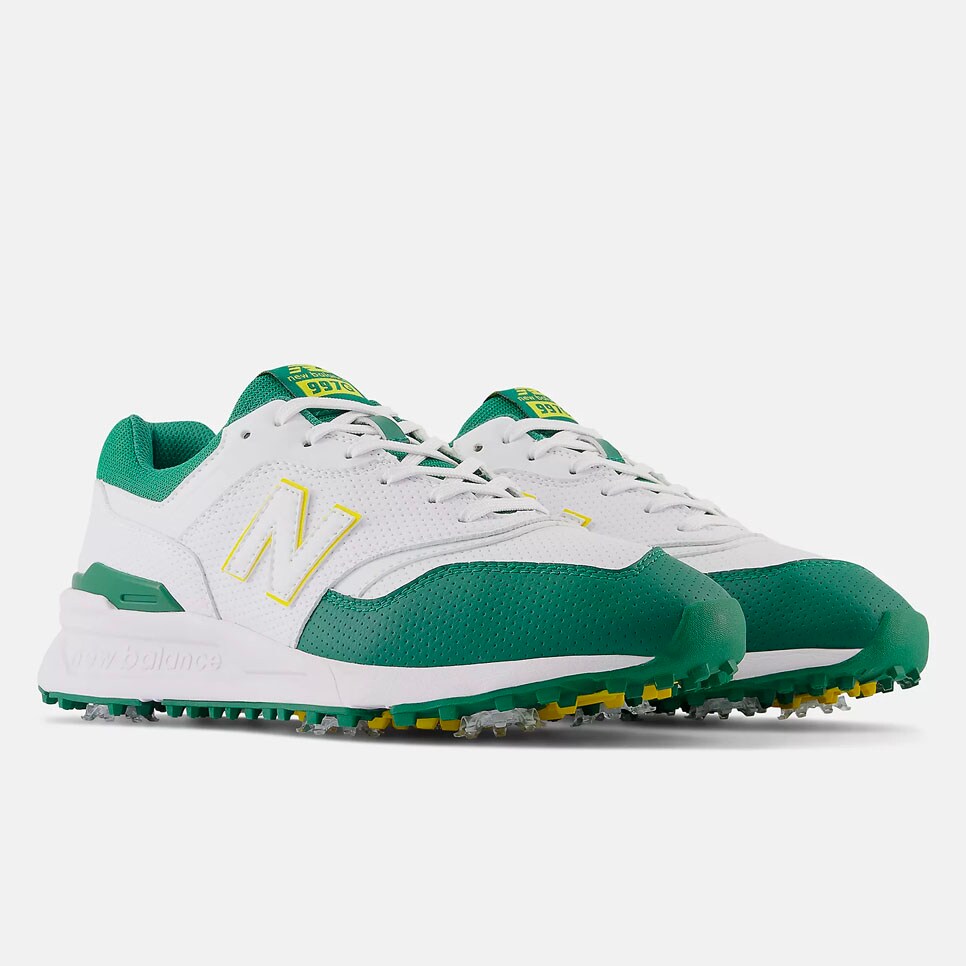 New Balance Men's 997 Golf Shoes
The retro New Balance 997 golf shoes got an Augusta-inspired upgrade with yellow and green details across the waterproof microfiber upper and spiked outsole. It's a low profile shoe with a lightweight construction and a simple design that's easy to match with. We'd pair this athletic shoe with joggers and a matching green golf shirt for a subtle-yet-to-the-point Masters look.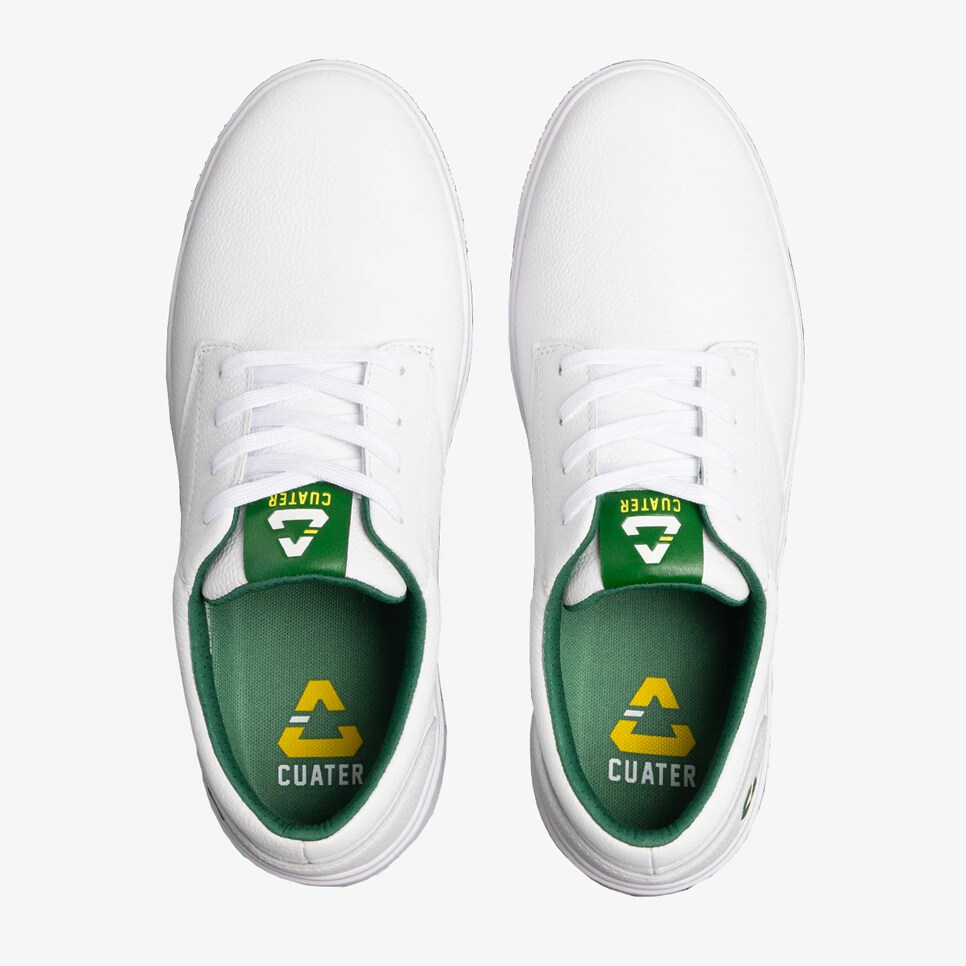 Cuater The Wildcard Mens' Golf Shoe
Another shoe on our 2023 list of best men's golf shoes, the Wildcard is an ultra-low-profile golf shoe that allows for full ankle mobility and has versatile enough styling to be worn on and off the course. The primarily white leather shoe is given the green and yellow treatment with hints of the color combo on the tongue, wrapping the inside of the shoe and around the hybrid spiked base.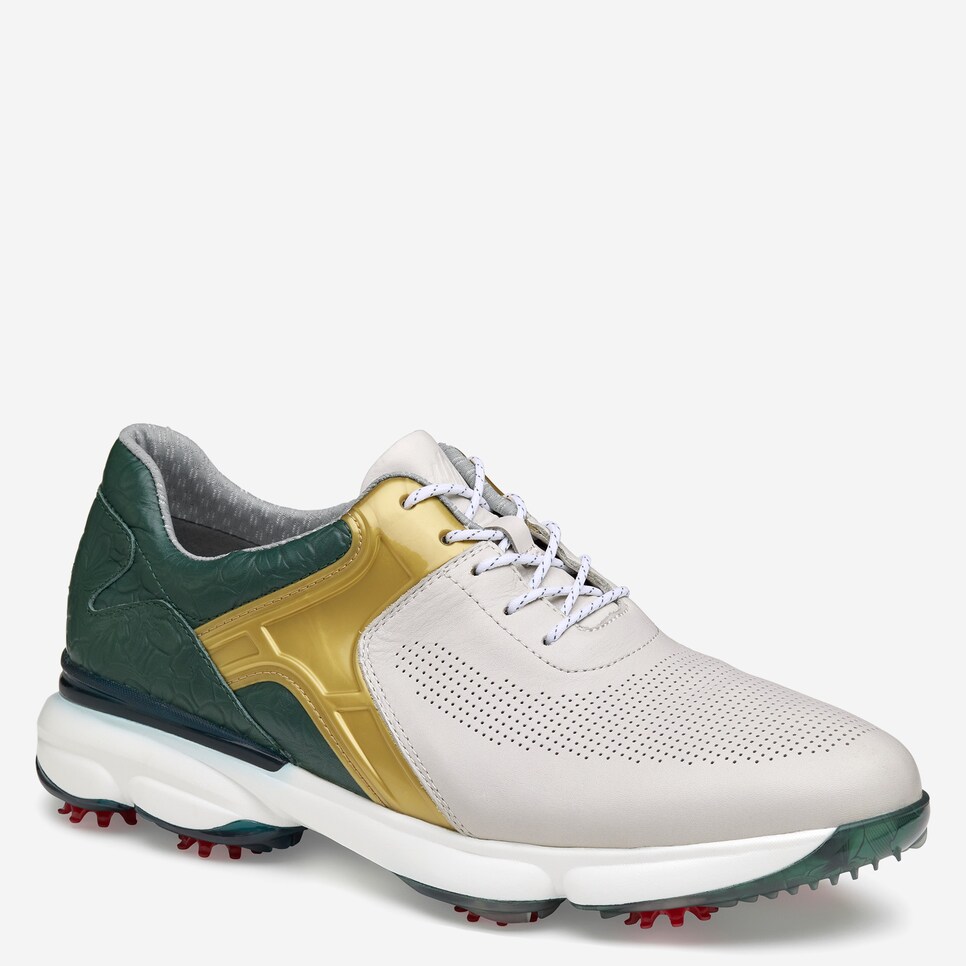 Johnston & Murphy XC4 GT2 Luxe U-Throat
The green azalea-stamped leather heel design is complemented by a gold wrap that adds style and stability to this spiked golf shoe. It's got a waterproof leather construction and versatile styling to be worn well beyond Masters week. 
More Masters-Worthy Golf Shoes to Consider: