Amateurs
How one current college star can secure his PGA Tour card this week in Detroit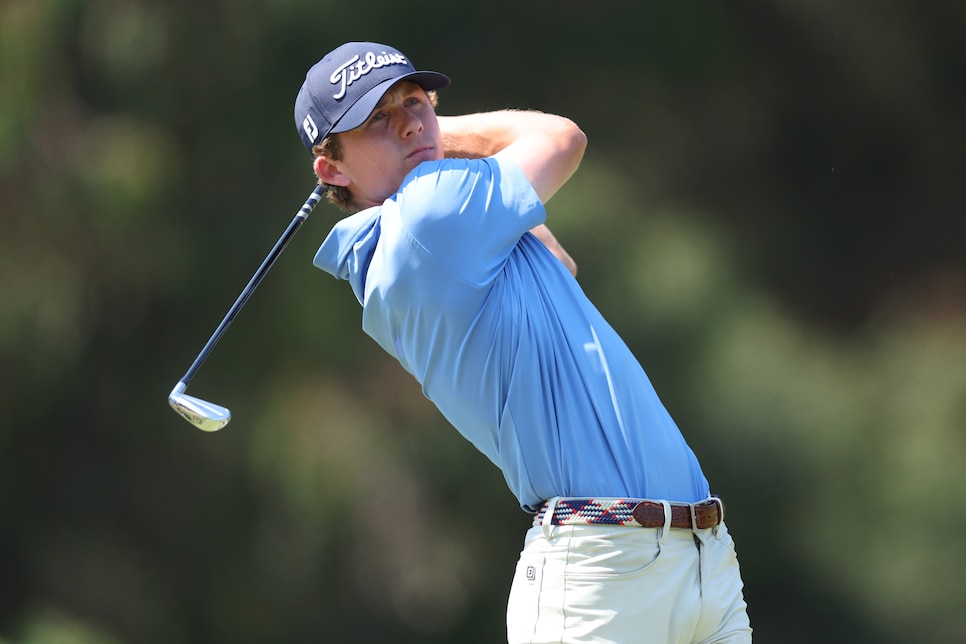 Amateur Gordon Sargent during the second round of the 123rd U.S. Open Championship at The Los Angeles Country Club.
Andrew Redington
Two weeks after finishing T-39 at the U.S. Open and earning low amateur honors, Vanderbilt standout and former NCAA champion Gordon Sargent is once again teeing it up with the world's best this week at the Rocket Mortgage Classic. And, like at LACC, Sargent has the opportunity to clinch his PGA Tour membership before starting his junior season this fall.
That's thanks to Sargent's standing in the newly created via PGA Tour University Accelerated program. Established last November, the program allows college undergrads to earn tour membership based on their finishes in top college, amateur and professional events. Eligible players must amass at least 20 "accelerated points" by the end of their third year of NCAA eligibility to then secure a full tour card. Points are awarded for a variety of achievements, including reaching the top five in the World Amateur Golf Ranking, winning top amateur events and making the cut in tour events, among others.
With his made cut at the U.S. Open earning him one point, Sargent now has 16 points, leaving him just four shy of tour membership. However, the 20-year-old from Birmingham, Ala., was named to the U.S. Walker Cup team last week, and when he tees it up at St. Andrews in September, he will earn two points, effectively bringing his current total to 18.
That leaves the world's top-ranked amateur just two points shy of clinching tour membership. A made cut at Detroit Golf Club would earn him one point, and if he finishes inside the top 10 this week, he would secure another point that would be final one needed to essentially lock up his tour card.
While hitting the 20-point threshold in September, Sargent could not accept his tour card until the end of the following school year in 2024. That's likely fine for Sargent, who in January told Golf Channel he planned to stay at Vanderbilt through his junior year, no matter when he reached the 20-point mark.
"You'd obviously be thinking about [accepting that PGA Tour card] because there's just so much that comes along with it, but at the same time, everyone tells you that college is the best time of your life," Sargent said. "But yeah, if I achieved it after this year, I'm still definitely going to come back for my junior year, and obviously things could change a little bit after that. But I don't think I'm ready to play professional golf right now.
"I can't even imagine traveling the world by myself playing professional golf at age 20. I'd rather just stay in college another couple years and get better. … And if you have a PGA Tour card waiting for you, it gives you a lot of freedom."
A freed-up Sargent could be an even more dominant force in the college ranks, considering he recorded 11 top-10s in 12 stroke-play tournaments his sophomore season, including three wins. His only finish outside the top 10 came in his title defense the NCAA Championship, where he finished T-40. The 20-year-old averages around 185 mph ball speed with the driver off the tee, and his distance has drawn praise from tour pros.
At the Masters earlier this year, Max Homa said, "He hits it 95 miles. He was so far by us it's crazy." In playing a practice round with Rory McIlroy and Brooks Koepka that week, Sargent was consistently 25 yards past them, according to our own Luke Kerr-Dineen.
Sargent will start his first round on Thursday in Detroit at 2:11 p.m. off the first tee alongside fellow bomber Brandon Matthews and former Louisville star Matti Schmid.