Water Under The Bridge
'I have that friend back': Sergio Garcia and Rory McIlroy's feud is over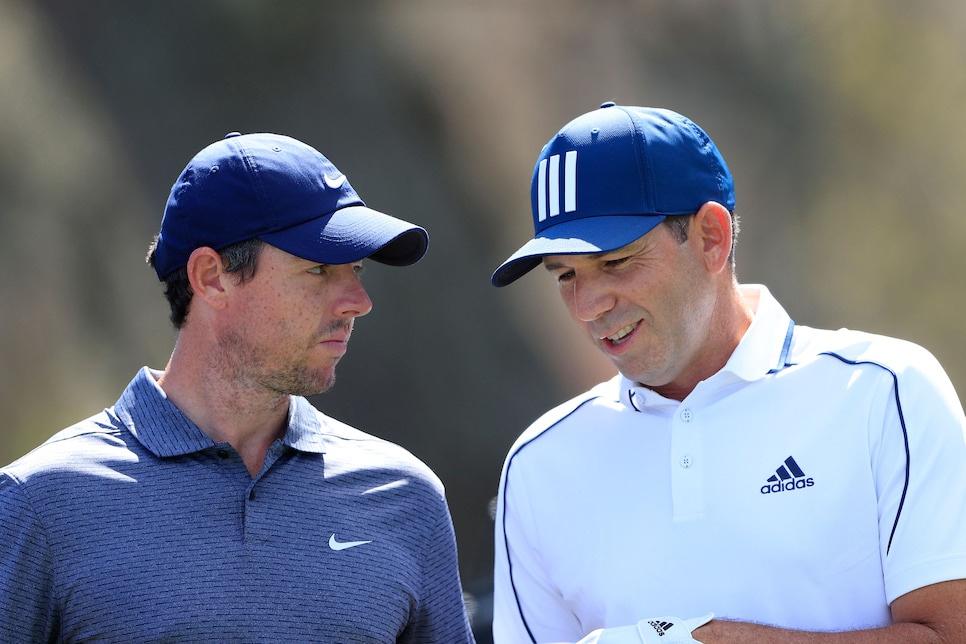 The framework agreement set to end professional golf's civil war was five pages long and full of legal parlance when it was revealed Monday. But two weeks ago, at the U.S. Open, an agreement to end the fallout between two players, Rory McIlroy and LIV Golf's Sergio Garcia, was established via a simple text message and a good old handshake.
McIlroy and Garcia, the 2017 Masters winner who left the PGA Tour in controversy last summer, endured a bitter feud that played out in public on several occasions. That included Garcia lamenting, in February during LIV's Mayakoba event, the fact that his once-strong friendship with McIlroy had broken down "because I decided to go to a different tour" while describing McIlroy as "lacking maturity." Last fall, the Northern Irishman said he had deleted Garcia's number after Garcia had messaged him during the 2022 Canadian Open "basically telling me to shut up about LIV."
But with the PGA Tour and DP World Tour entering into a partnership with Saudi Arabia's Public Investment Fund, which finances LIV, the former Ryder Cup teammates decided to bury the hatchet. At Los Angeles Country Club, four-time major winner McIlroy reached out to Garcia's wife, Angela.
"Angela and Rory said 'hi' to each other at the U.S. Open," Garcia, 43, said. "And there was a nice text from Rory to her. That kind of gave me the go-ahead to reach out to him.
"I had been thinking about it for a while, but I wasn't totally sure about it. And when I saw that reaction from him, he kind of gave me the go-ahead to get closer. We had a great chat. It was two friends that wanted to get back to that spot. That's the most important thing."
Garcia went through 36-hole qualifying for this month's U.S. Open because his Official World Golf Ranking had plummeted due to his new tour not offering points for its 54-hole, no-cut tournaments. At LACC, the former 11-time PGA Tour winner finished T-27. But Garcia still enjoyed the week in California given he was able to reconnect with McIlroy.
"The U.S. Open was a great event for me," Garcia said. "I finished 27th. Not only because of that, I feel like I played well. But more than anything because I gained a friend back, a friend I felt like I lost in the last year or so. We talked and we had a great conversation, and I feel like I have that friend back, and that to me means a lot. That's a very positive thing."
It's unlikely, however, that Garcia will join McIlroy on the European Ryder Cup team later this year. The DP World Tour runs the European team and Garcia has not paid a £100,000 fine for playing on LIV events in 2022 while also resigning his membership. While he may come to a compromise with the DP World Tour in future, it is already too late for September's Cup.