Carnage
U.S. Open 2022: This video of amateur Travis Vick watching his ball roll off a false front, leading to a 9, is NSFW
BROOKLINE, Mass. — Birdies, and even a few eagles, are dropping left and right on Saturday at The Country Club, which has remained quite playable even in some trying conditions. However, there is still some classic U.S. Open carnage out there, as soon-to-be Texas senior Travis Vick found out at the par-5 eighth.
Despite being the easiest hole on the course this week, the eighth has still produced a ton of big numbers, all thanks to the severe false front that contender Patrick Rodgers was so concerned about on Friday that he jogged a full 180 yards to mark his ball, thinking it might have had a chance to roll off before he got there. Vick didn't have to do any jogging on Saturday, his approach shot going over the green and leaving him with one of the most difficult chip shots on the course.
Rather than go at the hole, Vick smartly attempted to play it well right in the hopes of holding the green. Right idea, bad execution, as it turns out. Watch this cruel video of Vick's ball traveling all the way back down into the fairway, a full 75 yards from where he originally hit it (he was 12 yards from the hole):
Like we said, NSFW. This screenshot is legitimately painful to look at: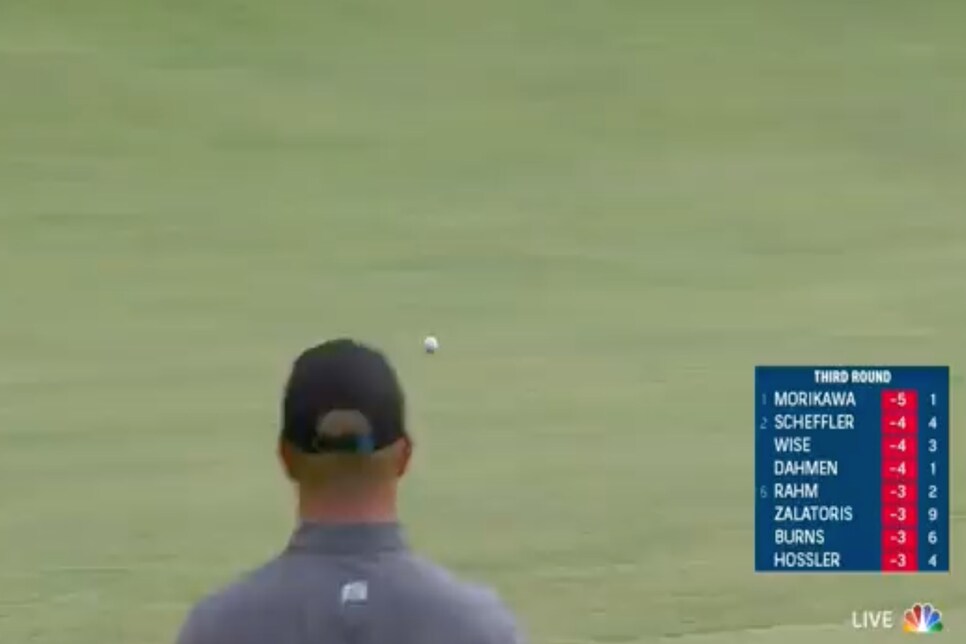 Cruel stuff. Unfortunately, things got way worse for Vick from there. His fourth shot rolled back off the front again, ultimately advancing just 15 feet. His fifth? Again, this time going backwards, five extra feet behind where he hit his fifth. His six went back over the green, and he hit his seventh to 30 feet and two-putted for a quadruple-bogey 9: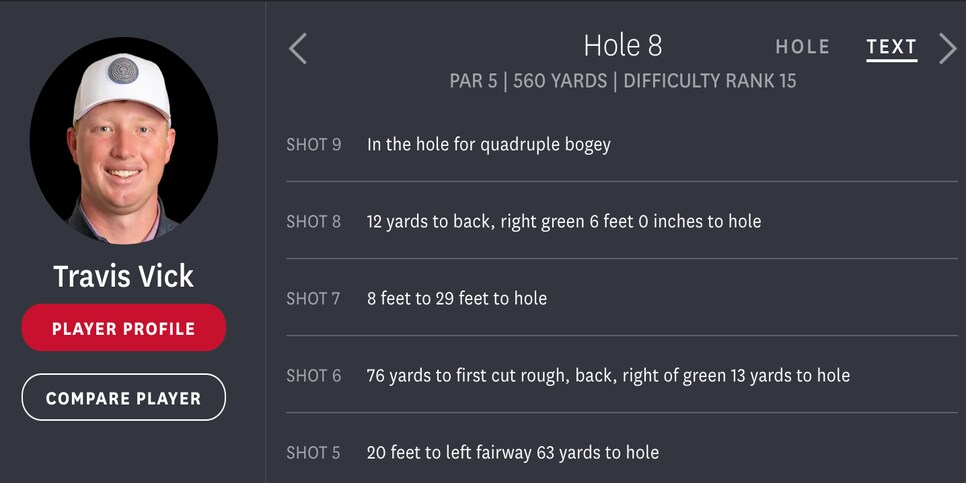 The disatrous hole was particularly brutal considering Vick, who still is running away with low amateur, was actually in the mix at even par, at the time within five of the lead. To his credit, he bounced back with two straight birdies at the ninth and the impossibly tough 10th. Serious grit from this legendary Longhorn.