FIRE PIT COLLECTIVE
U.S. Open 2022: A writer reflects on the pros and cons of his maiden U.S. Open experience
Editor's Note: This article first appeared in Fire Pit Collective, a Golf Digest content partner.
BROOKLINE, Mass. — Somehow I had worked my way into the front row. Phil Mickelson arrived dressed in black from head to toe; the KPMG hat and Callaway and Workday logos we had grown accustomed to over the years were gone. The press conference was contentious at times, sad at others and awkward a lot. I was squeezed between writers whom I have read my entire adult life. That included my boss, Alan Shipnuck, who wrote the book that culminated with the press conference we were all now a part of. What a week it was. My first major. My first media credential.
No surprise, but it was starkly different from the events I usually cover. Here are my pros and cons from a week spent at the 122nd U.S. Open.
Pro: The Phil presser I pinched myself many times during the week while thinking about what has transpired in the four years since I started the Monday Q account. The first one came during the Mickelson press conference. A Hall of Famer sporting his own logo, pausing for an awkward amount of time before each answer. And somehow I was 10 feet from him. It felt like a weird dream.
Con: The Phil Presser As I said in a tweet, I am used to covering players who don't have anyone to answer to. The players I cover shoot me straight, without fear of repercussions. No PR teams who coached Phil to say "respect" and "empathy" over and over.
Pro: Fans The Boston fans were subdued the first couple of days, but on Saturday, they made themselves heard. As the beers started flowing, it became entertaining to watch (from inside the ropes, #humblebrag). Trying to explain to his girlfriend about a drop Jon Rahm was taking, a guy slipped on a hill and fell. He lay on the ground laughing. A guy with the thickest Boston accent did slow donuts in the rental scooter while holding his Bud Light in the air. Security put a quick stop to that one. I loved it all.
Con: Fans I'm not used to kneeling (inside the ropes) so fans behind me can see. Hell, I'm not used to fans at all. At a Monday Q, there might be 20 fans; at the U.S. Open, 20 media members were waiting in line at the toilet trailer behind the media center.
Pro: The food in the media center Why is this not a con, you might ask? Because watching the crusty old veterans of the golf beat have a coronary over the menu options every day was endlessly entertaining. One legendary writer grabbed a chicken biscuit, got to his desk, slumped after opening it, walked immediately to the garbage can and angrily threw it away. Confession: I had seen all this from behind, so as I went to my desk, I casually inquired, "What's for breakfast?" He went on a three-minute rant about the food; it was hard to hold in my laughter. Writers huddled in groups to talk about the cuisine. We all get paid to cover golf; let's relax about the crusty buns.
Con: The food was pretty bad.
Pro: The media center It was so cool to be there; I enjoyed sitting at my work station more than being on the course. I talked with numerous media folks I have interacted with on Twitter but had never met in person.
Con: The media center I was at the frickin' U.S. Open, and yet sometimes I found myself watching it on TV from the comforts of the building. Shame on me.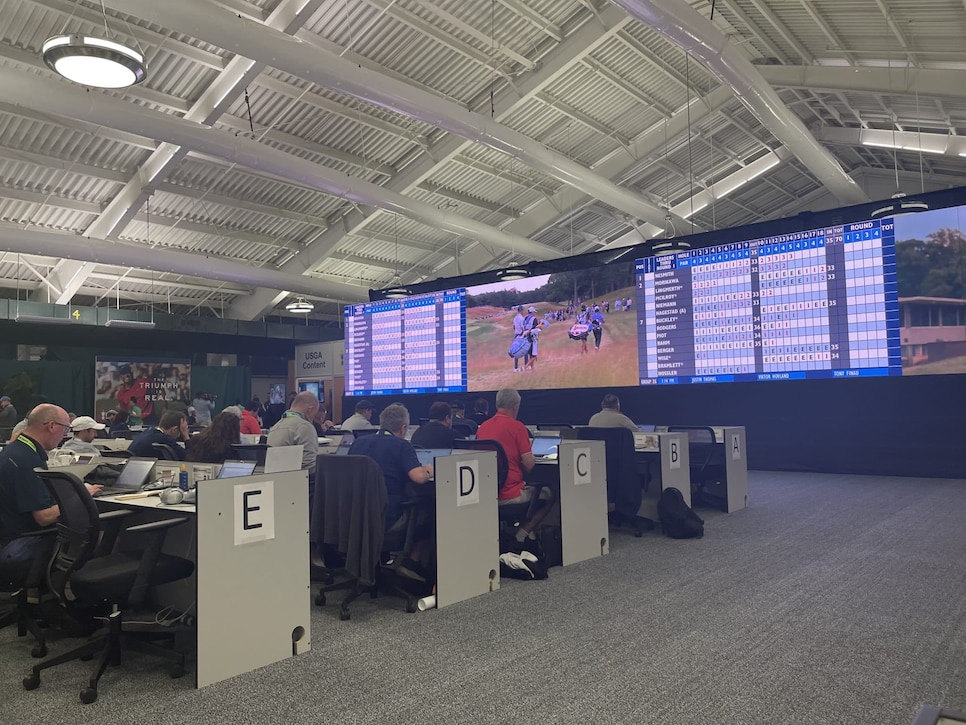 Pro: Talking golf I got to do a podcast with former U.S. Open champ Geoff Ogilvy and talked golf with former pro turned broadcaster Graham DaLaet, among others. I listened to two-time U.S. Open champ Curtis Strange and gave a brief speech to a group of reporters. It was heaven for a golf nerd like me.
Con: Not being able to talk golf with my dad There is no one I'd rather speak golf with than Pops, but dementia has robbed us of those conversations. I try my best not to feel sorry for myself about his health, but this week it sucked. I would have loved to call him from the Uber each night and tell him about all the fantastic experiences. I love you, Dad.
Pro: Meeting the Gannons Luke Gannon qualified for the Open. I loved getting to know him, his wife, Ellyn, and his parents and siblings. It is always great to put a face to the people behind the scenes, the ones who support these players chasing their dreams.
Con: Luke's struggles A 76-80 produced a missed cut and a trip back to the mini-tour grind.
Con: Calkins also missed the cut Sad face.
Pro: Qualifiers playing well MJ Daffue led by three at one point on Friday. Joel Dahmen shared the 36-hole lead and locked up a spot in next year's Open with a T10. Denny McCarthy made a Sunday run and finished T7. As did first-round leader Adam Hadwin, who got in the field as an alternate. They're both guaranteed to be in the field next year at Los Angeles Country Club. Hayden Buckley had the clubhouse lead for a while on Friday, and Nick Hardy got in the hunt. Buckley and Hardy finished T14.
Con: Lazy golf media The interview area is 107 steps from the media center (yes, I stepped it off), yet when it was announced Buckley was being brought to the podium, Kevin Price and I were the only writers who made the walk. Shame on all of you for not learning about players you might not know.
Pro: Morgan Trent I randomly ran into the former NFL cornerback outside my hotel on Friday morning. He could not have been more relaxed and, in fact, let me share his Uber to the course. He was there to follow Nick Hardy, whom he is friends with. We talked about golf and football, about Tiger and Larry Fitzgerald. It was a great ride.
Con: Trent graduated from Michigan. As a Michigan State grad, I have to hate him. Those are the rules. I didn't make them. I just follow them.
Pro: The FPC media desk location The desks of Andy Johnson, Brendan Porath and Will Knight were behind us. Andy's podcast was the first I was on more than three years ago, and it was a massive boost to what I was doing. He was especially helpful as I tried to figure out how to make this into a living. It was great to catch up with him and the rest of the Fried Egg gang.
Con: The FPC media desk location I am confident in my storytelling, but for good reason, I struggle with my writing. Knowing that scribes from The New York Times and the Los Angeles Times were sitting directly didn't do much for my confidence as I tried to put my reporting into words.
Pro: The golf course The place was amazing. Perfectly set up and in perfect shape, it was the star of the week. Bummer about the rain on Sunday; it would have been fun to watch a firm and fast Country Club.
Con: The golf course It's great to see a perfect course a couple of times a year, but I still prefer the middle-of-the-road muni that hosts a Monday Q.
Pro: My journey here Four years ago, my son was having brain surgery, and I left my restaurant job for what was going to be just a few months. I never went back to a full-time job until I was hired at the Fire Pit Collective last year, and this week I covered the U.S. Open. It is a dream come true. I never in a million years thought any of this could happen. Every time something like this week happens, I don't think it will get any better, but somehow it does. I am fortunate, and I can't thank you enough for supporting me. As I have said many times, the day I don't appreciate things like being at the U.S. Open is the day I need to hang it up. What a fantastic journey I have been on.
Con: Who am I kidding? There is no con to that. What a ride.