FIRE PIT COLLECTIVE
U.S. Open 2022: After nearly skipping final qualifying, Luke Gannon played his way into the U.S. Open with a back nine to remember
Editor's Note: This article first appeared in Fire Pit Collective, a Golf Digest content partner.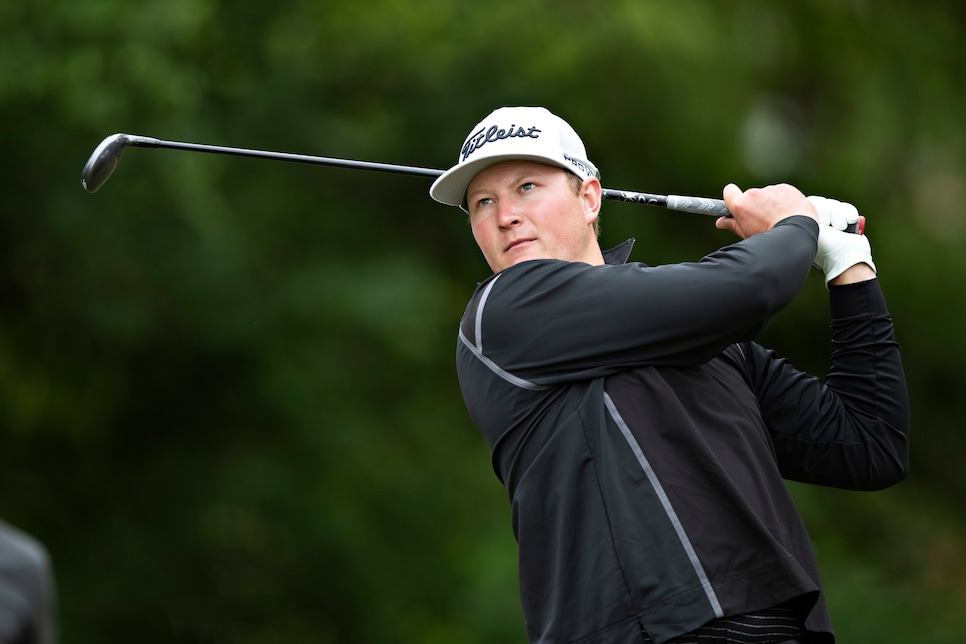 BROOKLINE, Mass. — Luke Gannon didn't pick up a golf club until he was 13. He was hardly recruited, averaged almost 77 in his first two years of college golf and worked as a janitor at his church to keep his dream alive. If not for a candid conversation with his wife, Ellyn, he might not have even gone to final qualifying for this year's U.S. Open. On Thursday, Gannon will tee it up at The Country Club in Brookline, Mass.
The U.S. Open is made for dreamers like Luke Gannon. It is what makes this championship unique. There is nothing like it in sports. An accountant, a club pro or a mini-tour grinder can produce three good rounds (18 at local qualifying and 36 at the final stage) and play his way into one of the four biggest events in the game.
Gannon grew up in Wichita, Kan., with a passion for baseball. No one in his family played golf. One summer day when he was 13, he and his brother were bored, so they went to play at the Wichita State University course. Gannon quickly fell in love with the game. Playing nine holes after school became routine, and by his freshman year of high school, he was often breaking 80. Although he improved each year, college recruiters weren't knocking down his door, even after he averaged 71 as a senior.
Enter Adam Tannehill, a member of the United Methodist Church, where Luke's father, Jeff, was the pastor. Because he didn't play golf and he knew Tannehill was a former mini-tour player, Jeff asked his parishioner to take his son out for a round. Tannehill remembers Luke arriving at the course with a set of clubs from Wal-Mart. However, it wasn't long before Tannehill saw vast improvements, and when Luke was a junior, he offered to help in the recruiting process, sending emails and videos to coaches all over the country. One Division I school responded.
Justin Fetcho, the golf coach at Southern Illinois, remembers the first time he saw Gannon. The high school match he attended would get rained out, but after witnessing just a few shots, Fetcho had seen enough. "I was sold on the young man he was," Fetcho says, "and I figured he might come in with a little chip on his shoulder."
Maybe that's because nothing had come easily. Hard work and helping at church were instilled in the Gannon children from Day 1. Luke was 13 when he started as a janitor at the church, working 20 hours a week. "Stripping wax off of floors is really hard," he says of the job he held for 10 years. "I wouldn't recommend doing it." The work ethic his parents instilled in him never left, even during his college years. When he returned home for a break, he went back to mopping floors and setting up for funerals, among other things. He was saving every penny in hopes of chasing his dream of playing on the PGA Tour. Even after turning pro, he would work for two weeks, then take two weeks off to play events.
The struggles were real when Gannon arrived in Carbondale. He failed to earn a spot on the five-man travel team for the first two events, but what happened next validated to Fetcho that he had made the right choice in recruiting Gannon. While the Salukis were on the road, Gannon went to work, just as did for all those years at the church. He played his way onto the travel team. Although he averaged almost 77 as a freshman, he had helped change the team's attitude. Southern Illinois developed into a scrappy, hard-working team. The Salukis won the Missouri Valley Conference title, the first in program history.
Gannon improved each year at Southern Illinois; as a senior, he clipped six shots off his average score from his first season. Fetcho calls Gannon a "lead by example" guy. He was almost always the first player in the gym or on the range — and one of the last to leave. He never won an individual event, but he believed he had shown enough potential to explore a career in professional golf. Again he leaned on Tannehill, this time to navigate the mini-tour scene.
It was an inauspicious beginning. In 2019, Gannon headed to St. Louis for his first pro event, a Monday qualifier. He was in the last group of the day, paired with PGA Tour veteran Andrew Loupe. It was a blustery day, and on the 1st hole, Gannon got "the worst nose bleed of my life." Blood streamed onto the shirt he had purchased for his professional debut, then onto his pants and all over the green. With no chance to qualify, Loupe withdrew on the 9th hole. Gannon played alone until he joined the group ahead of him. He introduced himself by explaining why he was covered in blood. He signed for a 75, missed qualifying by a mile and was covered in blood. And work beckoned. He was due back at church the following day. Welcome to pro golf, kid.
Life isn't necessarily glamorous for the spouse of a mini-tour grinder either. Ellyn Gannon knows this all too well. She works as a nanny to pay the rent on the couple's small apartment in Mahomet, Ill. "When he is on the road at a tournament, he has a job to do," she says, "so I don't bother with some of the things that happen daily. If he and I need to discuss issues, it's because it's important."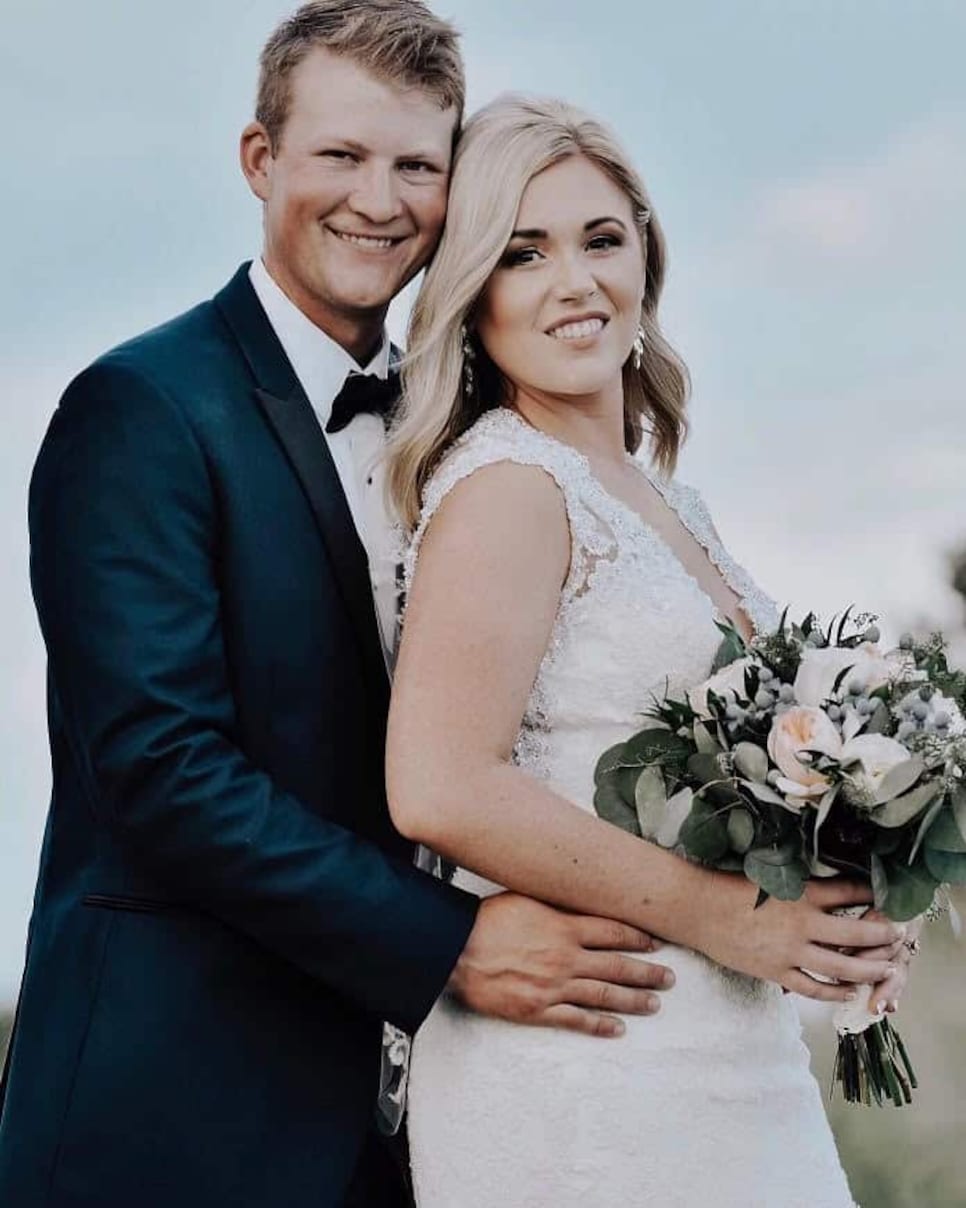 Luke contemplated skipping final qualifying for the U.S. Open. Money is always a consideration for a mini-tour grinder, and hotel rooms in San Francisco, the site of his final qualifying, can be expensive. Gannon had just missed the cut at the first Canadian Tour event by five strokes and was struggling with his game. "If I could have gotten a refund on my flight [to San Francisco], I probably would have withdrawn," he says. But when he phoned home, Ellyn decided it was time for one of those heart-to-heart conversations.
"I told him we didn't spend time apart for him to be half-in," she recalls. "It was either be all the way in or stop playing. I knew he could qualify. I believe in him so much."
Luke got on the plane for San Francisco.
The Olympic Club has hosted the U.S. Open five times, and last year the U.S. Women's Open was played there for the first time. Although the setup for qualifying wasn't U.S. Open tough, it was by no means easy. Gannon came to the final nine of the 36-hole qualifier five strokes over what would be the qualifying number. He was a long shot to get through, especially after missing a six-footer for birdie on the 10th hole. After a quick check of scores on his phone, Gannon knew he needed to do something special over his last eight holes. Then he dialed in his wedge game.
He hit a wedge to 10 feet at the par-5 11th and made birdie. At the next he hit a wedge to six feet and converted again. Pars on 13 and 14 slowed the momentum, and when Gannon checked the scores again on the 15th tee, he figured he needed at least three more birdies. He made a sweeping 25-foot putt that fell dead center on the 15th, then hit a wedge to almost tap-in range on the 16th for another birdie.
The 17th hole at the Ocean Course at Olympic is a well-bunkered, slightly uphill par-3 with a tricky green. Playing more than 200 yards into the wind, it would hardly be described as a birdie hole. Luke hit a 5-iron to 12 feet. The putt fell in perfectly.
A gritty par on the exacting finishing hole led to a tortuous hour-long wait to see if his 36-hole total of 6-under par (68-68) would be good enough. Back in Illinois, Ellyn was pacing. She had grown accustomed to going about her day when Luke played, but with access to live scoring and knowing Luke was in the hunt, she couldn't sit still. Ellyn was out for a walk when her phone rang. She was standing on a beautifully lit bridge, and the song she walked down the aisle to was playing on her headphones. It was the stuff of Hollywood movies. Luke Gannon was headed to the U.S. Open. In fact, he needed those three late birdies. One fewer would have dropped him into a 3-for-1 playoff for the last spot.
According to Ellyn, there was a good reason Luke was reluctant to travel to San Francisco: He was almost broke. He had received a sponsor's exemption to the Korn Ferry Tour event in Wichita, which is being played the same week as the U.S. Open. A guaranteed start. The chance to deposit some money into the bank account. "He was putting all his eggs in that basket," Ellyn says of Open qualifying. "If he didn't do well, that might have been the end of his playing days."
Instead it's off to Brookline, Mass., for the 122nd playing of the U.S. Open. Luke will be grinding, just as he has done going back to those days at the United Methodist Church. Ellyn will be pacing, this time outside the ropes. No doubt about it, the Gannons are all in.