It's easy to be nostalgic about a historically rich venue like The Country Club in Brookline, Mass., where Francis Ouimet famously won the 1913 U.S. Open and where America's Ryder Cup team rallied under Ben Crenshaw to stun Europe in 1999, to name just two epic events. For NBC golf broadcaster Gary Koch, however, his sentimentality runs deep about the private club in suburban Boston—in fact it is second nature, ingrained into him from memories stretching back more than 50 years.
When the 122nd U.S. Open begins Thursday, no one will surpass Koch in first-hand experience at The Country Club as both a player and broadcaster. Koch and his cohort, Roger Maltbie, both competed in the 1968 U.S. Junior Amateur at The Country Club as well as the 1988 U.S. Open, where both missed the cut while Curtis Strange outdueled Nick Faldo in an 18-hole playoff.
Koch, however, does his California-born colleague one—or maybe two—better. Koch was medalist in the '68 Junior before losing in the first round to a San Diego player named Steve Brown in the Round of 64. (Maltbie failed to reach match play.) Five years later, after redeeming himself by winning the 1970 U.S. Junior, Koch returned to The Country Club as a member of the U.S. Walker Cup team.
Later, of course, Koch was on the ground for NBC when the U.S. team overcame a 10-6 deficit to overwhelm Europe in the 1999 Ryder Cup, a record comeback since equaled by the Europeans in 2012. He also worked the 2013 U.S. Amateur, the coming out party for England's Matt Fitzpatrick.
"I don't know many sports where you can say you were involved, so to speak, in competition at a certain place going back more than 50 years now," Koch, 69, said by phone from his home in suburban Tampa, Fla. "Obviously, I'm not competing like I was years ago, but I am still involved in the competition because I'll be helping to present the competition. So yes, there certainly will be a sense of, you know, bringing back some very good memories, no question. I've kind of been around that place a lot of times in a lot of different capacities, so this week is certainly personally gratifying."
Koch was 15 years old when his parents, who both worked, put him on an airplane with his high school teammate Eddie Pearce—the eventual winner—bound for a part of the country he'd never seen and a golf course that left him agog. (He wasn't the only one; Crenshaw, who also was in the field in '68, said his initial experience at The Country Club that year ignited his interest in golf history and course design.)
"The first time I saw the place was just jaw dropping for a kid coming from Florida with everything dead flat and water everywhere, palm trees everywhere," Koch said. "So, yeah, it was eye opening for a young golfer. It was incredible.
"It was literally the first competitive golf that I had ever played anywhere but the southeast," he continued. "The first thing that stood out were the greens. Those things were like putting on pool tables. I thought, you should never miss a putt. I learned how to putt on crappy old Bermudagrass greens. Also, I'd never played a golf course with blind shots. I had never played a golf course with as many uneven lies, and there were rock outcroppings all over the place. It was a totally different experience."
With rounds of 73 and 72, one over par, Koch was medalist among 64 players who made the cut. The course was so hard that 162, 18 over par, qualified for match play. That player was Brown, who dismissed Koch, 4 and 3. "I probably got a little cocky," said Koch, who stayed to watch his C. Leon King High School teammate Pearce, who like Koch went on to play on the PGA Tour, take the title.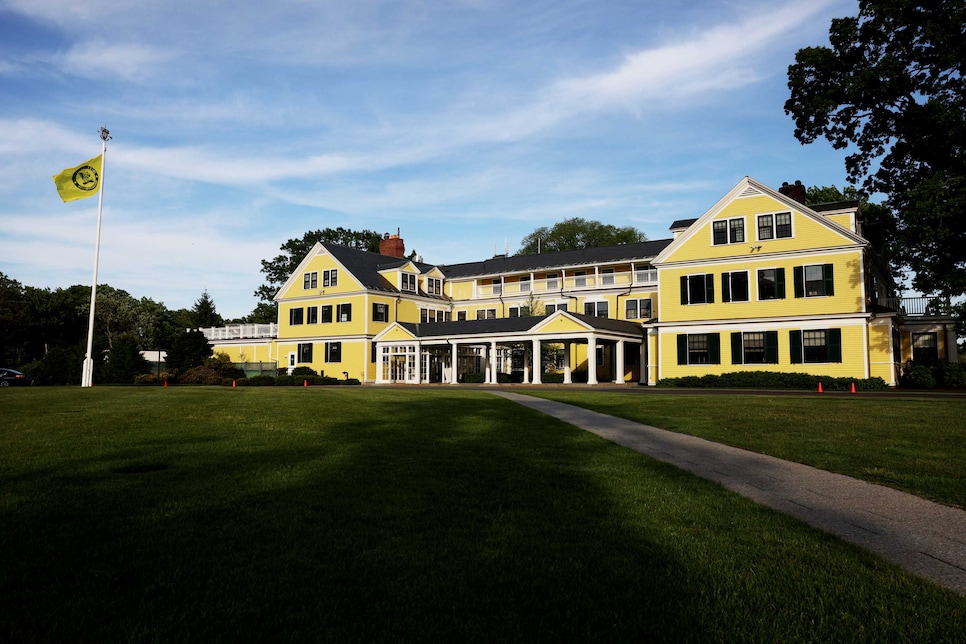 Koch, who won six times on the tour, continued to make an impression as an amateur, winning the Florida Open in '69 and in his final U.S. Junior in 1970 beating 15-year-old Mike Nelms, 8 and 6, for his lone USGA title. In 1973, he added the Trans-Mississippi Amateur to earn a selection on that year's Walker Cup team.
The U.S. won the 1973 Walker Cup, 14-10, and Koch went 1-1-2 for the home squad. The captain that year was Jesse Sweetser, a contemporary of Bobby Jones, who was 71 years old when he led the American team. He didn't know the players, among them future British Open winner Bill Rogers, but he knew The Country Club. He had won the U.S. Amateur there in 1922, beating Jones in the semifinals, 8 and 7—the worst defeat of Jones' career in a championship he won five times—and Charles "Chick" Evans in the final, 3 and 2.
Koch tells the story that Sweetser might have known the course, but he didn't know much about traversing the Boston area.
"I'm in the lobby of the hotel getting ready to go out to the course and he's in the lobby, so he goes, 'Come on, I'll drive you out.' Well, he got lost," Koch recalled, starting to laugh. "I mean, getting to Brookline is not easy anyway. There's a lot of two-lane roads and they run all over the place. This was before GPS and cell phones and everything else, so we're stopping about every 15 minutes to ask where it is. Finally, we get there."
And Sweetser, one of only 13 men to win a U.S. Amateur and British Amateur, has a sweet recollection. "We pull up and drive through the entrance, and the 16th hole is just to the left as you're driving in, the par 3," Koch said. "He stops the car, and he looks over and says something like, 'That's the hole where I ended the match against Bobby Jones to win the U.S. Amateur. And I kinda went, 'Holy sh--.' That was pretty cool."
Later, of course, Koch learned that Sweetser had closed out Evans on that hole. Still a cool story.
Koch's competitive story at The Country Club ended with a missed cut at the 1988 U.S. Open, one month after his last tour title in Las Vegas. He would play in the championship four more times, the last in 2001 when he made it through sectional qualifying. Meanwhile, he turned to broadcasting in 1990 with ESPN and joined NBC in 1996. At the 1999 Ryder Cup, he covered the first singles match, when Tom Lehman beat Lee Westwood to kick off the U.S. rally, and he was on the 18th green when Payne Stewart conceded a 1-up win to Colin Montgomerie when their match had no bearing on the outcome.
"I interviewed Payne on the green. That probably was the last interview he did, except for maybe that one at Disney before he passed away," Koch said solemnly. Stewart, who won the '99 U.S. Open earlier that year at Pinehurst, died in a Learjet crash a month after the Ryder Cup.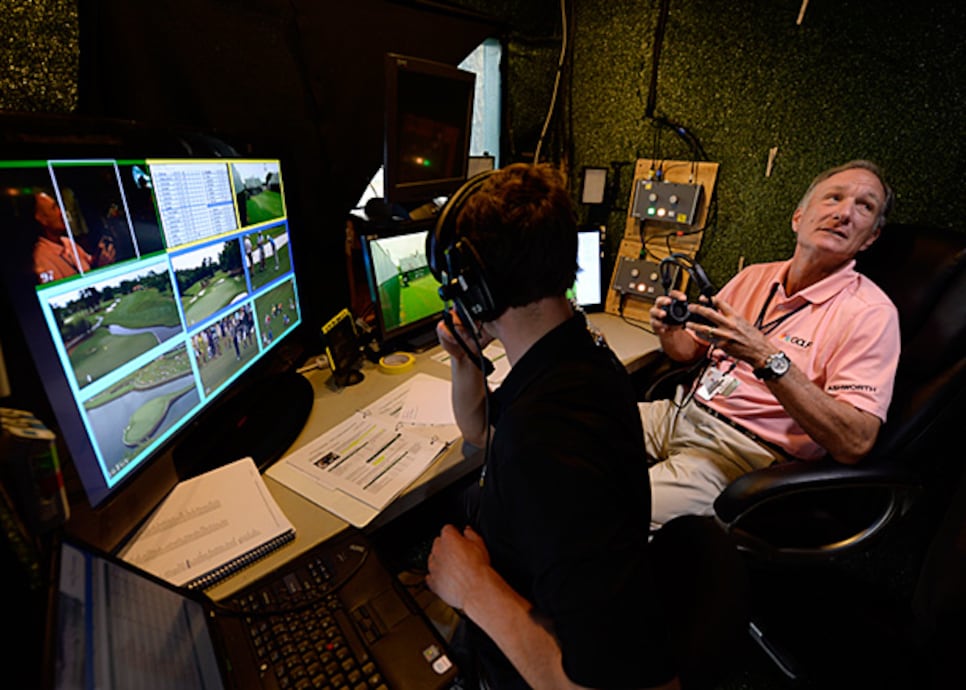 Koch can't predict how many more U.S. Opens he will cover for NBC. But he has thought about it. "My television career is probably coming to an end here at some point. I mean, I don't know exactly when, but it, it can't be too far off," he said.
Which makes this year's U.S. Open a particularly notable one. A stroll down Memory Lane can be enjoyable, and certainly it will be useful, too. The course has changed, and just to make sure that he is prepared, Koch recently chatted with course architect Gil Hanse, who oversaw the renovation of The Country Club. Bunkers have been moved, greens enlarged. But the footprint remains on that same small tract where Koch has put down many of his own footprints.
His personal history is intertwined with the many events held at that iconic venue. Of course it will be special.
"I'm sure I'll think about a lot of things that have happened there that I have been a part of, maybe share some of those memories," Koch said. "All these years later it's still a pretty amazing place to me."