Video Series
U.S. Open 2022: Four qualifiers chase the dream of making it to The Country Club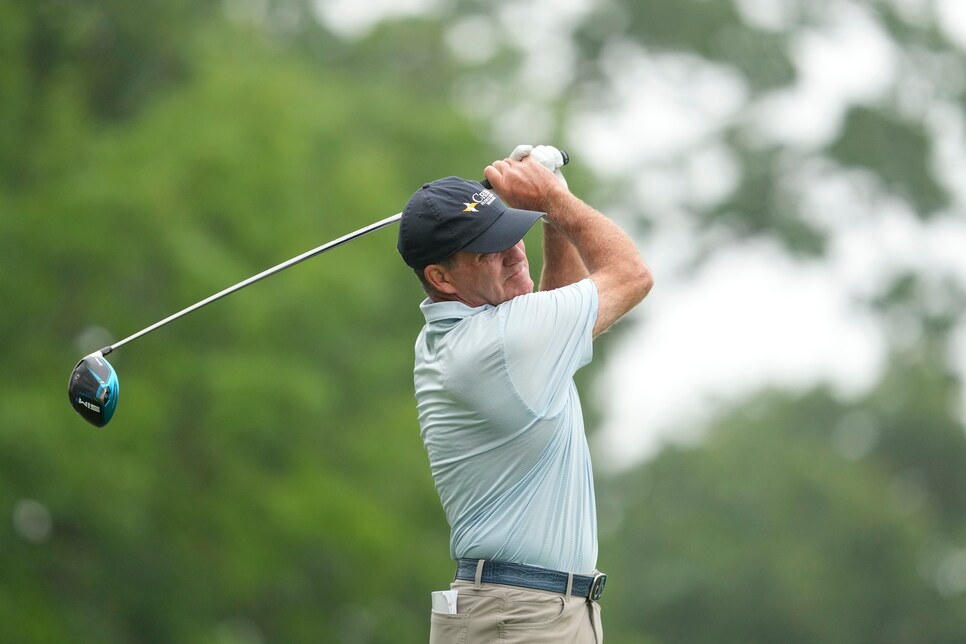 It's finally U.S. Open week, where 156 players from all over the world will compete for the third men's major championship of the year.
When whittled down to one sentence like that, it seems quite simple. But for many, the process of getting to The Country Club in Brookline, Mass., was an arduous journey that began several weeks ago.
Sure, the championship will feature all of the best players in the world. It'll feature Phil Mickelson and Dustin Johnson and Bryson DeChambeau, who all received nine-figure guarantees to leave the PGA Tour. But it'll also feature Keith Greene, a mini-tour veteran who has made a total of $656 on PGA Tour-certified tours in his career. It'll feature college kids, mini-tour pros and another journeyman, 57-year-old Fran Quinn who is giving it one last go. It is the most diverse, most meritocratic tournament in the world. The reason for that: It's a true Open. And that's built on the qualifying process.
There were 8,800 entries for this year's U.S. Open, the sixth-highest total in championship history. From there, 530 players from 109 local qualifying sites advanced to final qualifying. Those 530 joined players who were already exempt into final qualifying and that total increased to 871. Sixty-seven players advanced from 11 final qualifying sites and joined 89 fully exempt players to make up the final field.
Apart from being professional golfers, Mickelson and Greene have virtually nothing in common. Lefty is one of the all-time greats—six majors, 45 PGA Tour wins, hundreds of millions in career earnings. Greene, on the other hand? He's been a professional for six years. Been grinding away on the mini-tours. And yet, this Thursday at the U.S. Open, both will start at even par. Both will play the same golf course. They will be equals.
The Path To Brookline: Brandon Wu
If it's possible to be a seasoned veteran of U.S. Open Qualifying at age 25, Brandon Wu is just that. The PGA Tour Rookie has been here four times before and has experienced both the rush of success and the disappointment of defeat. Which will it be in 2022?
Mickelson is exempt into the field thanks to his victory at last year's PGA Championship. But Greene, he played his way in. That's a thing you can do for the U.S. Open. All you need to start the process is to be a professional or have a low enough handicap.
"This is a dream man," Greene, with tears in his eyes, told Golf Channel shortly after qualifying last week. "It doesn't even feel real right now. I'm just gonna soak it in with some of my friends here."
Before going further, it's time to brush up with a brief history lesson. The U.S. Open dates back to 1895, and for the first 18 years, there was no qualification process. There weren't exemptions, either. If you signed up to play in the U.S. Open, you could play in the U.S. Open. As more wanted to enter, the USGA started holding pre-qualifiers. First they were at the same golf course, held on the two days before the actual U.S. Open. Then it was three days. Starting in 1924, to handle an influx of entries, the USGA started holding regional qualifiers around the country. This was the beginning of the modern U.S. Open qualifying process.
There are two layers of U.S. Open qualifying: local and final qualifying. Local qualifying is 18 holes. Final qualifying is 36 holes, and it's often referred to as Golf's Longest Day. To get into local qualifying, you must be a professional or have a handicap index lower than 1.4. That's it. More accomplished professionals, and the best amateurs, will be exempt into final qualifying, but they're in the minority.
"I want people to come to any USGA event and know it's bigger than anything they've ever played in," said Jason Gore, the USGA's senior director of player relations. "I want it to feel big.
"It's not just here, take your hotdog and go. It's when you see that flag flying, you know you're in for either a test or people that really, truly care and love the game."
The most recent guy to make it through both stages of qualifying and win the U.S. Open was Orville Moody in 1969. It doesn't happen often, which makes sense—the tournament is usually won by one of the top touring professionals in the world. Even if it's won by an "outsider" like say, Lucas Glover in 2009, or Michael Campbell in 2005, those guys were both tour pros who didn't have to play in local qualifying. So yes, it's rare for someone to get through both stages and get the trophy.
The man who came closest, most recently was at Pinehurst No. 2 in 2005. His name? Jason Gore.
This Cinderella story, however, did not have a happy ending. Gore was three shots off the lead, tied for second place, heading into the final round. He would go on to shoot 84 and finish 50th. It actually was not the first U.S. Open he'd played in. Back when he was 23, Gore made it through both stages of qualifying to play the 1998 U.S. Open at The Olympic Club, where he had an awesome driving-range experience with a legend.
"I had no idea what the U.S. Open was about," Gore said. "I saw it on TV, but then I walked into The Olympic Club and I'm hitting balls on Monday and up comes this guy and he puts his bag down, turns around and crosses his arms and says 'let's see it, kid!' And it's Tom Watson. And he's just standing there, hadn't done anything, turn around and it's just like oh my gosh. I don't know, it was probably like a 3-iron that I hit, and just striped it and he goes, 'have a great week.' And then he just turns around and starts hitting balls. And I'm like, that's Tom Watson."
That's the goal when you sign up for local qualifying: find a way to earn yourself a spot next to your idols. Well, that's the goal for most.
There have been random cases of people slipping through the cracks, or gaming the system, to enter qualifying. John Eckert finished last in his fantasy football league and the punishment was playing in a U.S. Open qualifier. The 27-year-old plays once a month and shoots in the 90s. But he turned professional, and anyone can become a pro at any time. He signed up for a local qualifier at Oakwood Country Club in Kansas City and shot 112.
There were 14 players who shot 100 or higher this year in local qualifying.
One player who didn't have to worry about shooting anything near 100 was Danny Woodhead, who played 10 seasons in the NFL, playing for the Jets, Patriots, Chargers and Ravens. Woodhead retired on March 13, 2018 and distinctly remembers his retirement goal.
"I remember the day after I retired, I looked at the Nebraska amateur tournaments and I was like alright that's what I'm going to do, I'm going to try to get good at golf," he said.
The Path To Brookline: Mark Purrington
U.S. Open qualifying is full of "regular Joes"—some of whom play well enough in Local Qualifying to make it through to the Final Stage. Mark Purrington, a 35-year-old Tour services rep and drummer from Massachusetts, is one of them.
He succeeded. Woodhead and his partner qualified for the U.S. Amateur Four-Ball at Chambers Bay last year. On his own ball this year, he successfully made it through local qualifying at Omaha Country Club by shooting even-par 71. He advanced to the final qualifier at Springfield Country Club in Ohio and failed to advance but shot a respectable 77-73.
One of the more interesting final qualifying stories came at Century and Old Oaks Country Clubs in Purchase, N.Y. Chris Gotterup and Caleb Manuel advanced but there was an eight-way playoff for the final three spots.
The playoff included a deliciously diverse group. There were three mini-tour pros, one of whom was from Iceland. You had the No. 1 junior in the country, 18-year-old Ben James. You had a former U.S. Junior Amateur champion Michael Thorbjornsen, who's currently a stud on the Stanford men's team. You had Korn Ferry Tour player Brandon Matthews, who might be the longest hitter in pro golf. You had former U.S. Amateur winner and PGA Tour card-holder Kelly Kraft. And, rounding out the group, you had 57-year-old journeyman pro Fran Quinn.
Quinn is from Worcester, Mass., less than an hour from Brookline. He had to get through a local qualifier just to get into final qualifying. And now, after walking 36 holes he had a chance to play one final major in his hometown.
Thorbjornsen birdied the second playoff hole to get through. So did Matthews. And so did Quinn.
"It's great," Quinn said. "Honestly, to go play The Country Club in our backyard. It's my last one I'll ever play."
Quinn likely won't make the cut at Brookline. But it doesn't matter. He played his way into a tournament against Rory and Scottie and Collin and the rest of them, and no one can take that away from him. Another guy unlikely to make the cut is Keith Greene, the aforementioned mini-tour pro who was in tears after qualifying. There's a chance this ends up being the highlight of his career. But that's OK. It's better than having no highlights.
"There's a guy at our club here that didn't have much of a professional career, but he played in a U.S. Open. And everyone's like 'yeah, he played in a U.S. Open,'" Gore said. "You might've made 3 cents playing golf. You might've lost $100,000 playing golf. But you introduce him and it's like, this guy played in a U.S. Open."
Here is a look at those we documented:
Anthony Brodeur (Columbus, Ohio): A 27-year-old Canadian who plays on PGA Tour Canada this year. His father is Hockey Hall of Fame goaltender Martin Brodeur, who played for the New Jersey Devils during his illustrious career. Anthony began playing golf at age 7 and played on both the golf and hockey teams during college at the University of Ottawa. He tied for 26th place in PGA Tour Canada Q-School in mid-February to earn conditional status.
Chris Francoeur (Columbus qualifier): A 23-year-old amateur from Amesbury, Mass., about 50 miles north of Brookline. He played at the University of Rhode Island from 2017-2021, but when he received an extra year of college eligibility because of COVID-19, he transferred to Louisville and played there this past season. For the Cardinals he played in five events, posted 11 rounds of par or better and had a 71.0 stroke average.
Mark Purrington (Purchase, N.Y., qualifier): A 35-year-old employee at Acushnet, which operates Titleist and FootJoy. The company headquarters are in Fairhaven, Mass., 60 miles south of Brookline. He's played on mini-tours and in section PGA events for years, and has even caddied at times in the past. He's also a musician and spends time as a drummer in a band that plays weddings on the weekends.
Brandon Wu (Dallas qualifier): A 25-year-old Stanford graduate who has played in two U.S. Opens (he tied for 35th in 2019 at Pebble Beach) and is going through the U.S. Open qualifying process for the fifth time. He was awarded his Stanford diploma behind the 18th green at Pebble after the final round of the 2019 U.S. Open. He's a PGA Tour rookie this year after earning his card via a 16th-place finish on last year's Korn Ferry Tour points list. He tied for second place at the Mexico Open at Vidanta and tied for third at the Puerto Rico Open.
The remaining two episodes will run this week.