FIRE PIT COLLECTIVE
U.S. Open 2022: Is Brookline ready for the mini-tour legend who has never seen a party he didn't like?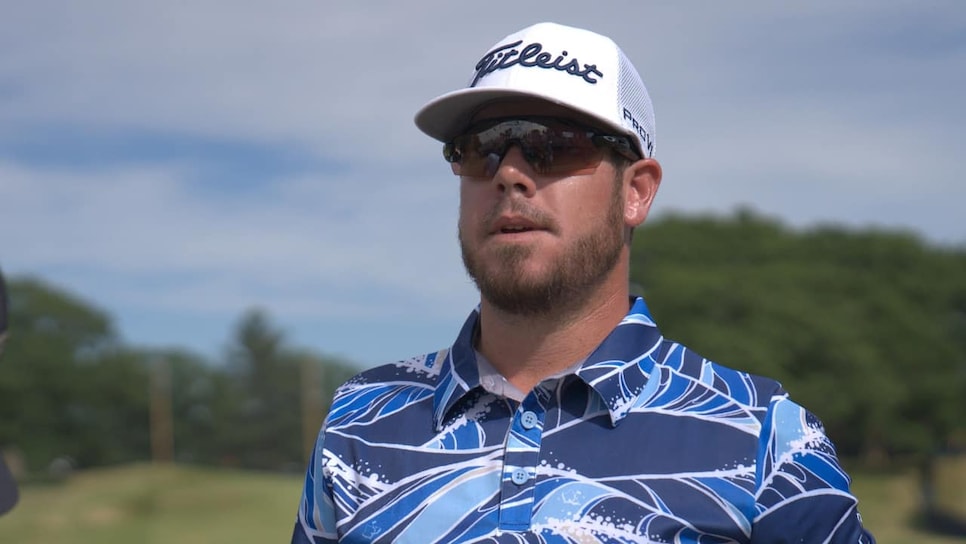 BROOKLINE, Mass. — It's 3 a.m. in Yankton, S.D., and the Cockatoo Gentlemen's Club is rocking. The Dakotas Tour is in town for its annual stop, the final round is the next day, yet half the field is still in the house. Among the carousers is tournament leader Brady Calkins, whose tee time is a mere six hours away. A few hours later, looking for a caddie to help him get through the round, he would call a player who had missed the cut. "Get here," Calkins says. "I'm fucking shaking, I'm so hungover. I'll give you a thousand dollars if I win."
The offer was accepted, and the fill-in caddie found a player who "was shaking, but somehow the club back went smooth." Calkins birdied the 17th hole to pull into a tie for the lead. His tee shot at the last settled behind a tree, but he punched a wedge to 15 feet, then buried the putt to get into the playoff. He birdied the first playoff hole to win.
Add the tale to the long line of stories about mini-tour legend Brady Calkins, who on Thursday will tee it up at the 122nd U.S. Open.
Calkins grew up in Chehalis, Wash., a small, blue-collar burg in the western part of the state, the kind of town where barstools are filled with guys whose hands are covered in dirt or grease from an honest day's work. A city where no punches are pulled, where hard-working people enjoy a few beers at the local watering hole before heading home and starting the same routine the next day. Calkins's father, Kelly, was a mechanic, and his mother, Julie, was a hairdresser.
"Copenhagen is fucking $17 here [in Boston], so everyone that is coming in [from Chehalis] has brought cans," says Joe Blaser, Brady's cousin and caddie, when asked how much chew his man goes through. "We probably have 25 cans at the hotel. Since a can costs $7 back home, everyone has brought a log (a roll of multiple cans) out here for us."
They have come in support of the mini-tour legend. As I walked with Calkins during a Wednesday practice round, he said hello to a group along the ropes, his lip and cheek filled with his beloved Copenhagen. That's when I discovered they were from Chehalis. The pride of seeing Calkins on golf's biggest stage was evident. "He is unapologetically Brady," one hometown fan says. "He represents Chehalis. The whole town is pulling for him."
His parents divorced when he was young, and Calkins lived with his mom. His golfing life began at Riverside Golf Club, a 6,100-yard municipal course. In a town of 7,000, word spread quickly about Brady's game. He became a pretty good stick, and by high school was beating most everyone in the area.
"Darts. I'll fucking kill you in darts," Calkins says when asked about his best bar game. Austin Abbott, the pro at Riverside, has been working with Calkins since high school. "That is what makes him so good," Abbott says. "He wants to crush everyone in everything."
After graduating high school, Calkins played at Spokane Community College. He decided school wasn't for him and barely lasted a year. But two weeks after school started the following year, he realized he had made a terrible mistake. He called the golf coach begging for a way to enroll. It was too late, he was told. "I was in a bad spot," Calkins says. "I drank multiple days in a row." One day his mom sat him down. "There was no talking," he says. "It was all yelling. She told me to get my shit together or move the fuck out of her house." Brady Calkins turned pro that day in his mother's kitchen.
She didn't abandon her son, however, arranging for a place for him to live in California. A friend of his father's gave Calkins half of a room to call home. The friend's six-year-old son was his roommate, the room divided by a sheet held up by a rope.
His first pro tournament was on the Golden State Tour, a long-running mini-tour in California. It was a one-day event at El Camino Golf Club, a 6,800-yard course in Oceanside. It was cold, rainy and windy. Calkins shot a two-over 74 and walked in confident he would earn a check. Then he looked at the scores; there were two 63s, four 64s and a bundle of 65s. He beat six players. "I thought I was good, and I was fucking terrible," he says. "I had no business being out there."
"When I was 23 and 24, I would just need to stand in the shower, take some aspirin, and I would be ready," Calkins says about his routine of getting ready for tournament rounds after a long night of drinking.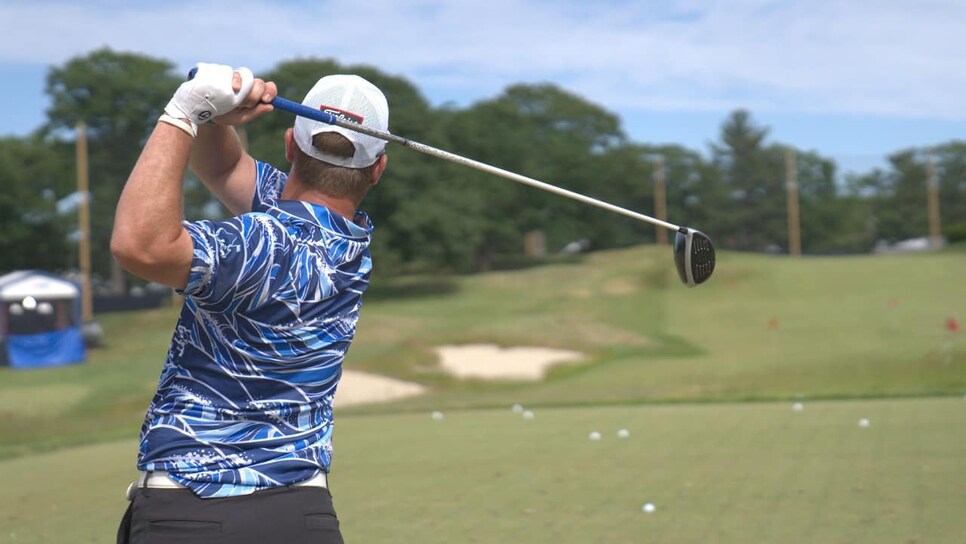 Calkins quickly grew tired of sharing a room with a 6-year-old. So he decided living in his car was a better option. He did that for a few weeks, staying overnight in shopping center and grocery store parking lots until he found a room to rent in the basement of a house. It cost $450 a month and was "a shithole." Living in the basement of a stranger's house, working at a cart barn and eating mostly fast food wasn't exactly what Calkins envisioned when he dropped out of Spokane Community College.
Soon after this low point, his dad started working in Alaska, and he sent his son money to help him get back to playing. Calkins began to work on his game, and it slowly started to turn around. One day, in the Desert Horizons Open, one of countless mini-tour events, something clicked. After opening with a 73 in a two-day event, his confidence grew and the game felt different. He fired a bogey-free 67 and earned the biggest check of his career. Over the next five years, he didn't miss a cut in a mini-tour event — 132 consecutive starts.
"Double Jack and Coke, we call it the post-round special," Calkins says of his drink of choice. "Sometimes it's Jack on the rocks, heavy on the rocks; it depends what I shot."
The Dakotas Tour is one of the best mini-tours in the country. It runs from June through August. Low entry fees, communities that support the events, long-term owners and good payouts are among the reasons why the tour has flourished for so long. It has produced mini-tour legends such as Tim Ailes and Andre Metzger. For the last few years, Calkins has been the sheriff in town.
Calkins has missed only three cuts in 44 starts on the Dakotas Tour over the last three years, with three wins and 20 top-three finishes. He has made more than $230,000 during that span, his legend growing along the way. There was the night in Iowa when he shut down the bar after the first round, and on almost no sleep the following day, shot a course-record 62. "He had to be still drunk," one player told me. Calkins won the three-day event by six and collected a $9,250 check.
Now he is at The Country Club, having claimed co-medalist honors at final qualifying in Bend, Ore., after shooting a pair of 4-under 68s. He turned in a clean round in the afternoon, with two birdies and an eagle. The morning round? Not so much. It featured four birdies and four bogeys on the front before he made four birdies during a bogey-free back nine. As I walked with Calkins, I thought about how refreshingly honest he was and how everyone in his gallery loved him. He is playing for an entire community. Groups of people from his hometown have flown across the country to watch him play.
"I worked construction one Spring before the Dakotas Tour, 14 hours a day, it totally fucked up my body, but I was making like $65 an hour, so I couldn't say no." The job entailed fixing an area under a bridge near Chehalis. "I was the new guy, so I got all the grunt work, it sucked, and we worked till dark every day." In order to fit in some practice, Calkins would take his clubs with him each day. During the crew's lunch break he would sneak off to a field near the construction site and pound balls in his work boots.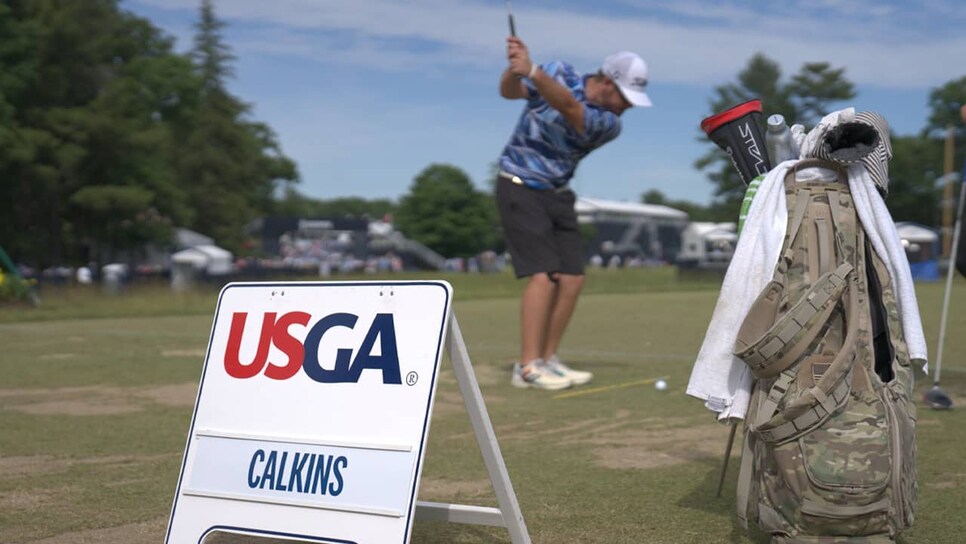 His mother and father are here, the three of them together for the first time in years, all for Brady. "I'm so proud of him," his mom told me. "He struggled at times, there were some dark times, we didn't have any money, but he made it." She knows Brady isn't perfect but said over and over again how proud of him she is.
Don't you like his style? Fine. Think he shouldn't party during tournaments? You are probably right. But we beg for athletes to be honest and authentic and Calkins is precisely that.
He is unapologetically Brady. He is playing in the U.S. Open.