FIRE PIT COLLECTIVE
U.S. Open 2022: A tee-time snafu and Phil Mickelson practice round: Former janitor gets his U.S. Open shot
Editor's Note: This article first appeared in Fire Pit Collective, a Golf Digest content partner.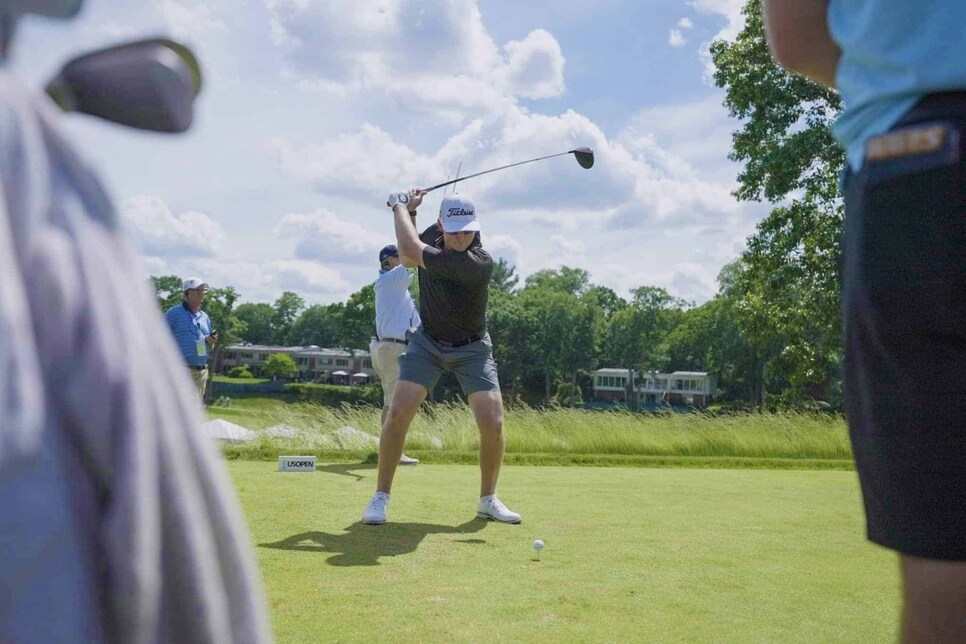 BROOKLINE, Mass. — On Sunday, Luke Gannon played The Country Club in preparation for the 122nd U.S. Open. It was the first time he had seen the course. The plan was to play 18. When he got to the 10th tee, a distance figure in the middle of the fairway waved him up. It was Phil Mickelson. So began the work week of a little-known mini-tour player who is making his first appearance in the national open.
"He was very nice," Gannon said of his time with Mickelson, "but I left him alone." They exchanged some small talk, but not much else. Afterward, Gannon talked about how cool it was to play with a Hall of Famer. It is one of the beauties of the U.S. Open: a former janitor playing a practice round with a six-time major champion.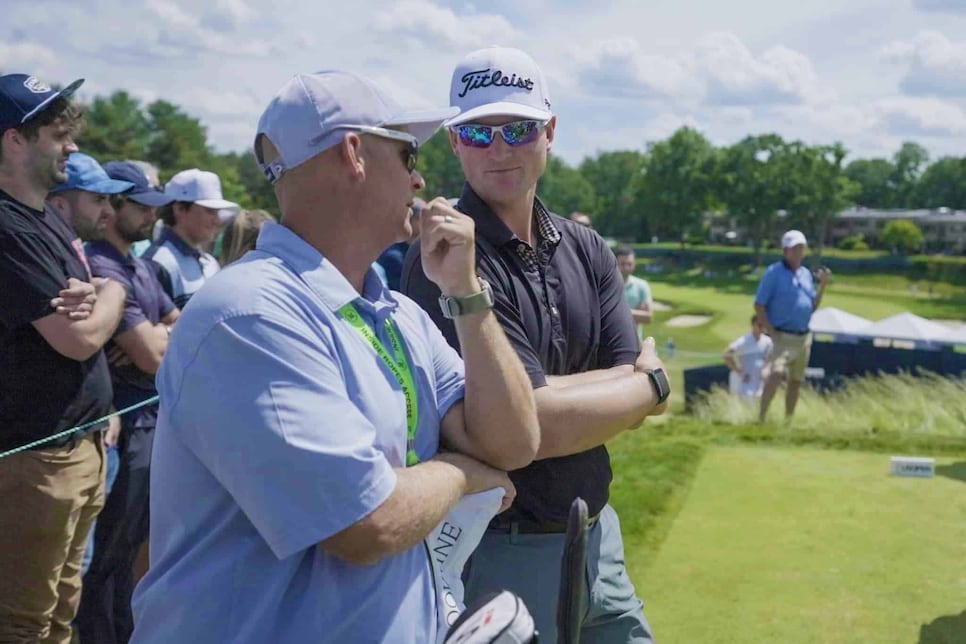 Gannon hired Perry Gammon, who caddies on the Champions Tour, for the big week.
One potentially awkward moment was avoided. "Luckily, my shirts weren't done yet," Gannon said. Fire Pit Collective is chronicling Gannon's journey this week, and he will wear shirts with the Fire Pit Foundation logo on his sleeve. The logo was being added on short notice (shoutout to Ink'd), but the shirts had not yet arrived. As you're probably aware, my colleague Alan Shipnuck wrote a book about Mickelson that has generated a little conversation.
On Saturday, Gannon traveled from his home in Illinois to his suburban Boston hotel, the Homewood Suites which, due to Open-week gouging, is charging $350 a night. With a long week ahead, he is focused on being fresh come his 8:57 a.m. Thursday tee time. Gannon played 18 hole on Sunday and is sticking to nine per day the rest of the week.
"I just wanted to see the course and play," he said of his Sunday round. He would devote the next three days to mapping the greens and doing more strategizing.
Gannon has hired a professional caddie for the week. He reached out to Perry Gammon, who normally works for Rod Pampling on the Senior Tour. Gannon carries his bag at most of the mini-tour and Monday Qs he plays, but the few times he has taken a caddie, he usually has turned to a friend. "I decided this is the biggest week of my career," he said. "I thought it was worth investing in a pro caddie."
On Monday, I found Gannon on the course and saw he was sporting a staff bag. "Nice that you get free stuff when you get to a Tour event," I told him. Actually, his brother, Drew, had purchased the bag for him. He wasn't going to let his younger sibling tee it up at the U.S. Open using a carry bag, with a broken strap, no less.
That's not to say Gannon didn't take advantage of the situation. He made the equipment-trailer rounds, scoring a pair of FootJoys, a 3-iron and a wedge, even though he admitted he had recently acquired new wedges. You have to grab the freebies when you can; this stuff isn't being handed out on the tours Gannon typically plays.
On Monday, Gannon played the front nine with his good friend Sam Stevens, another player who got into the Open through qualifying. As they made their way around The Country Club, I noticed how much they discussed each hole. They talked strategy off the tee on the reachable par-4 5th and what kind of shots they would play around the green, among other things. For a qualifier who doesn't know many players in the field, it was nice to have a friend to chat with and share the experience. They were joined by six-time European Tour winner Thorbjorn Olesen and PGA Tour veteran Andrew Putnam. Olesen didn't say much as he was busy with an intense coach, who shadowed his every move. Putnam was friendly and made the usual small talk during delays. The sign carried by the standard-bearer had only two names on it: Putnam and Olesen. It was an indication of Gannon and Stevens's status in the game.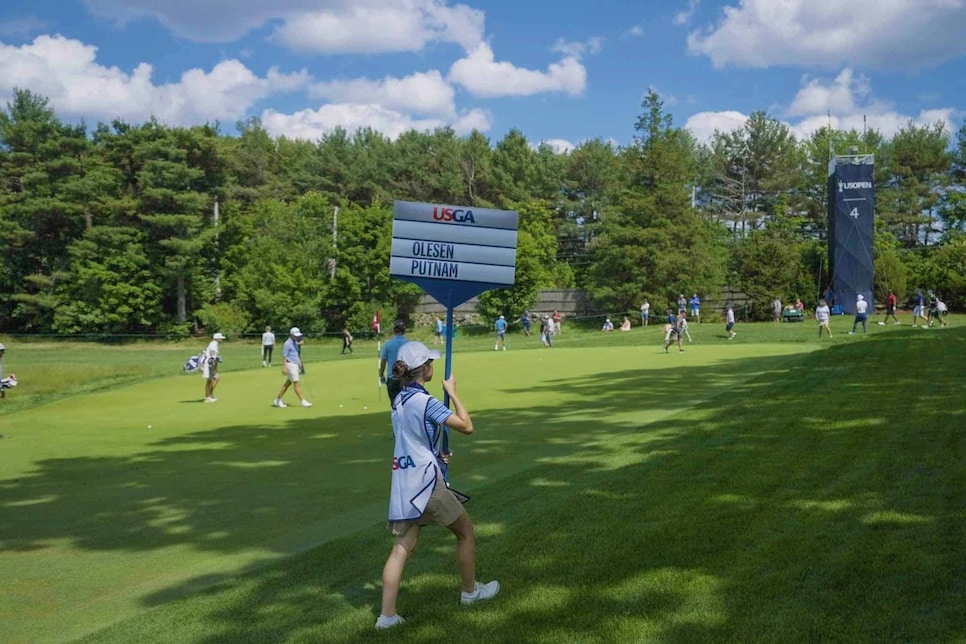 Gannon and Sam Stevens played a practice round Monday, but not according to the standard-bearer.
Practice rounds are often dreadfully slow; in a major, they can be torturous. Gannon's group went out just after lunch. They hit their tee shots at the 2nd hole 40 minutes after starting and completed their nine holes in three hours and 15 minutes. "I was going to try and play 18, but it gets dark after eight hours," Stevens quipped early on. Because the rough around the greens is so thick, players hit numerous shots from spots. After three chips or putts from a particular area, Gannon would take out his yardage book to mark the break and make notes.
His day ended with some work at the range and a trip to the airport in his courtesy car, a Lexus, to pick up his wife, Ellyn.
I met Gannon at the range on Tuesday morning, and after finishing his warmup, he headed to the 10th tee for his nine holes of work. One problem: He wasn't on the tee sheet. Not for 1 p.m. anyway. Denny McCarthy, whom Gannon had arranged to play with, was also confused. They were informed that even if they intended to play only the back, they should have booked a time off the 1st tee and estimated when they would have made the turn. So they contemplated heading to the 1st tee to see if they could squeeze in.
Then McCarthy, who is playing in his third U.S. Open but his first since 2016, yelled to Gannon that they may, in fact, be able to go off the back. The only issue was that his caddie, Gammon, was already on his way to the 1st tee, a good 500 yards ahead of us. Gannon ran to catch him.
Back on the 10th tee, the starter continued to deny McCarthy's request to start without a tee time. A compromise was finally reached. The 8th tee is connected to the 10th; Gannon and McCarthy would be allowed to start on 8 because there was a morning tee time off the front that was empty. Crisis averted.
Less than 48 hours until Luke Gannon tees it up in the biggest tournament of his life. He will continue to study, knowing the toughest of tests awaits.