Quiet Confidence
U.S. Open 2022: Jon Rahm's name being near the top is already scaring some of his competitors, and rightfully so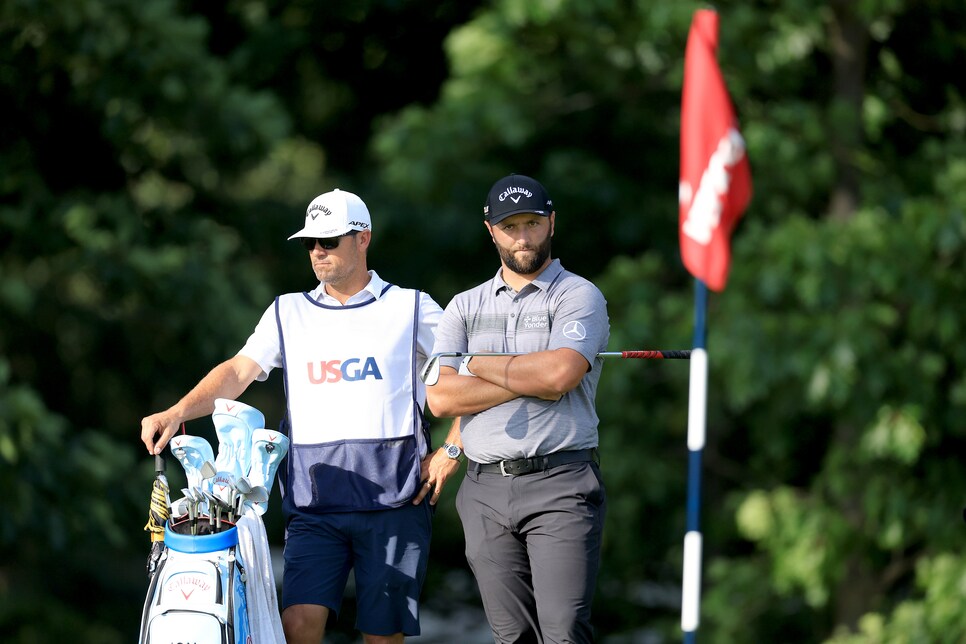 BROOKLINE, Mass. — He's doing exactly what the best ones do. Halfway through his first—but surely not his last—defense of a major championship, Jon Rahm sits T-3 and one-shot back on a tightly packed leaderboard. Along with those of Morikawa (co-leader) and McIlroy (T-3), the close proximity of the burly Spaniard's surname will be concerning to all of those with high ambition over the weekend. Beating men ranked second, third and seventh in the world under the severest pressure on a course getting firmer and faster is a job for big boys only.
Matthew NeSmith, T-7 at three under par, is well aware of the potential intimidation that lies ahead over the next two days.
"You come down the stretch and keep doing what you're doing, and all of a sudden you look at the leaderboard and you're in third place with names like McIlroy and Rahm, guys who have been there and done that before," he said. "It's like 15 years ago when people would crumble with Tiger. They're like, 'Oh, no, here it goes.'
"It's being afraid to succeed because you don't know if you're quite ready for it. And it's something that we don't really know until we get there."
Which won't be a problem for Rahm. He has already been there and succeeded—at Torrey Pines exactly a year ago. And there was a contented air of confidence about him as he faced the media to discuss his three-under 67. Anything is possible in golf, and especially a U.S. Open where the punishment for waywardness is so severe. Based on what we've seen so far at The Country Club, Rahm is going nowhere. Someone other than himself will likely need to beat him over the next 36 holes.
The things he has done well so far—controlling his ball and placing his approach shots in the correct spots on the severely sloping putting surfaces—are only going to get more important.
"I'm very satisfied with today's round," he said. "I played good golf, the key moments making some good par putts to keep the round going, all with some length to them. Even though I bogeyed one [he started on the 10th], finishing the last eight holes as good as I did was very important. I'll go into tomorrow with a lot of confidence."
There was plenty more positivity to come, too. Not only is Rahm comfortable with the traditional U.S. Open setup in evidence this week, his appreciation of this storied venue—"It's true living history on this course. You're taking steps on holes that so many greats have in the past"—had him almost purring with pleasure.
"A setup like this, where you have some rough to deal with, really puts a premium on all aspects of the game," he said. "The more I play this course, the more I like it. It's such a unique design. You have options off the tee, and you can really pretty much choose whatever you want. That's why you have on the leaderboard so many players that hit it different lengths off the tee.
"You have holes like 17 where you can be as aggressive or as passive as you want," he continued, clearly warming to his theme. "On holes like seven you can push it as far down or as far back as you want and give yourself a chance. That's what makes it so much fun, especially with a U.S. Open setup. Yes, having length is always going to be an advantage. But it gets neutralized a couple times."
Going forward, Rahm was never going to tip his hand too much given the level of competition he is sure to face over the weekend. It will be "more of the same" in rounds three and four.
"I think the leaderboard will have very little to do with my strategy," he said. "If I'm two back on Sunday when I get to 17 I might hit driver. Even then it will still depend on pin location, wind, and how I am feeling. I can't really tell you. So I don't foresee my strategy or what I've done so far to change much, unless the wind changes completely. I'm somebody who gets to the tee, sees the pin, feels the wind, then makes a decision. I don't go out there with a plan for every hole already."
Which, of course, sounds like a pretty good plan in itself. Art before science.