FIRE PIT COLLECTIVE
U.S. Open 2022: The march to 72 and the defining challenge of the U.S. Open
Editor's Note: This article first appeared in Fire Pit Collective, a Golf Digest content partner.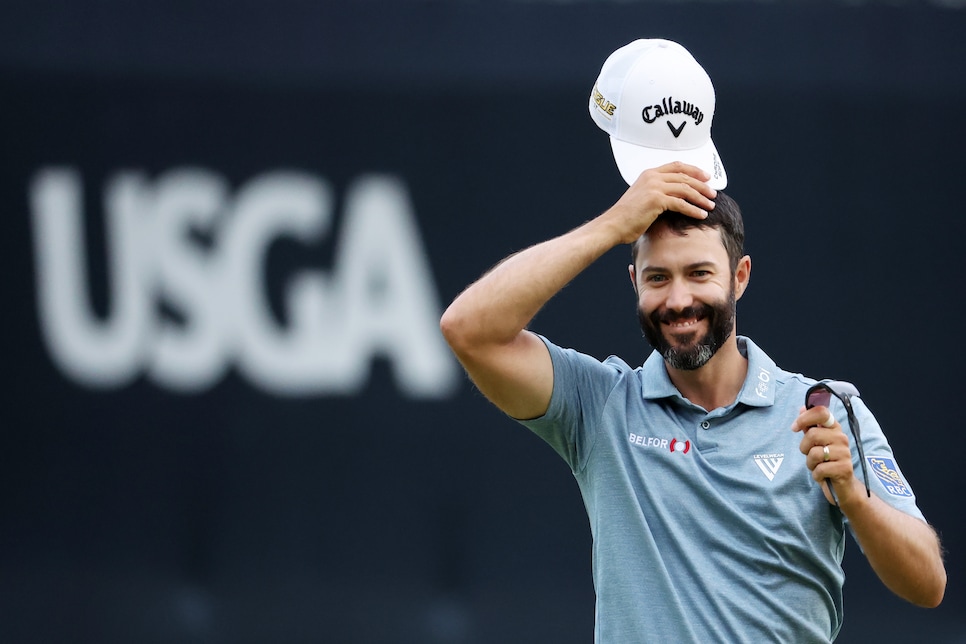 BROOKLINE, Mass. — The Thursday night air was cooling and the first-day leader, Adam Hadwin, was coming in to talk to the gathered reporters. Yes, a first-round 66. "There's still 54 holes," he said.
An obvious insight and also the most important one: The greatness of tournament golf is that march to the 72nd hole. If you make the 36-hole cut—Phil Mickelson did not make the 36-hole cut here at the U.S. Open—then your work week ends when your ball settles in the bottom of the 72nd hole.
No, this is not a commentary on the no-cut, small-field, 54-hole events on the LIV Golf schedule. Or if it is, only by implication. By the way, if you want to see Phil Mickelson in person, get yourself to Pumpkin Ridge in Portland at the end of the month. He and 47 other players are guaranteed 54 holes there. Most senior tour events are 54 holes too.
I was talking to Billy Andrade the other day. He was playing in the Senior PGA at the time, where he made the cut by two shots and finished dead last. But he played four rounds. "Yeah," he said, "One of three all year." Three senior events with full fields, a 36-hole cut and four rounds. It was a lament. He came of age as a pro playing 72-hole events.
Mito Pereira knows all about that march to the 72nd hole. Maybe you were watching on that Sunday night at last month's PGA Championship at Southern Hills. He doubled the last, missed the playoff by a shot, took it like the solid young man that he is, played four rounds the following week at Colonial and shot himself a tidy first-round 70, finished T7.
"It's four days," Mito told me on Thursday night. "It's stressful. It's tough. We don't run around, like they do in soccer. It's a mental game, for four straight days."
Four straight days, 18 holes per day. You have to finish, just as, in baseball, you have to get that 27th out. I don't view tournament golf as entertainment, and I don't view the players as performers. They play a game and compete at a sport that puts stress on every aspect of your being.
Arnold Palmer knew all about that. (See: the 1966 U.S. Open.) Ed Sneed knows all about it. (See: the 1979 Masters.) So does Jean van de Velde. (See: the '99 British Open.) See numerous tournaments, majors and non-majors, featuring Greg Norman and Phil Mickelson and Jack Nicklaus, who had 19 second-place finishes in Grand Slam events. The king of the march to 72 is Tiger Woods. Ask Rocco Mediate. (See: 2008 U.S. Open.) Mediate is an expert on the subject. Now he's on the senior tour. I pay attention to the senior tour about three times a year: the Senior PGA and the two Senior Opens.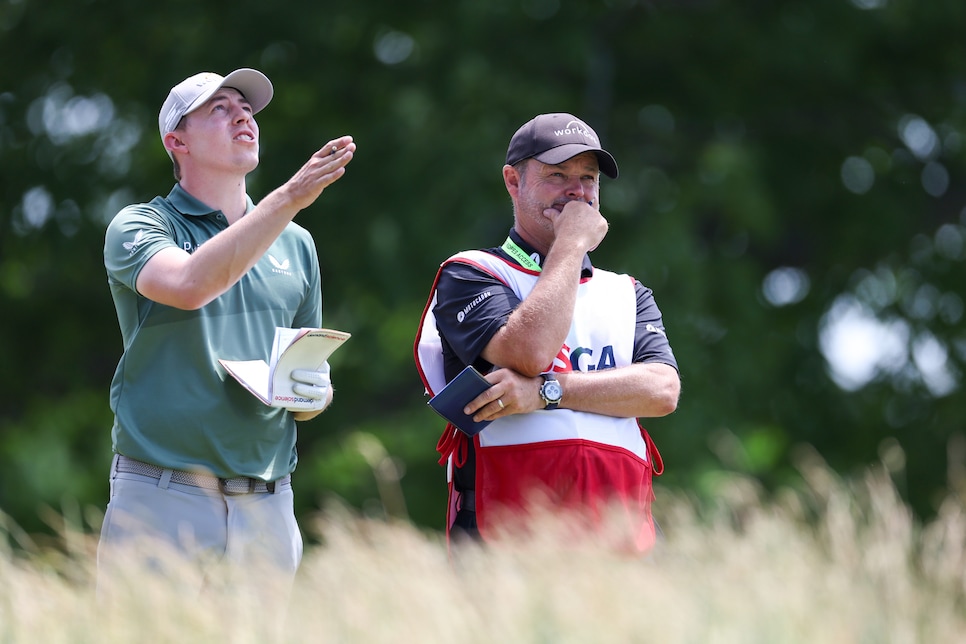 Matthew Fitzpatrick, the Englishman, won the 2013 U.S. Amateur here at The Country Club. That of course is a match-play event. After his first-round 68 on Thursday, I asked him about the march to 72.
"I think 72 holes is more of a marathon," he said. "I believe that it [identifies] the best golfers. I think when you play in a major championship, that's what you want. The regular Tour events, could they do with a shakeup? Sure. More match play. Maybe more team stuff. It would be more enjoyable. I think it would be more interesting for people to watch. But I think when it comes to big tournaments like this, 72-hole stroke-play is where it's at."
Where it's at! (I got two turntables and a microphone.) Well said, young man. Where it's at indeed. Later, Fitzpatrick noted the almost intense patience with which Woods played 72-hole events, his steady, extraordinary and methodical climb to the bottom of the 72nd hole.
Or, as Hadwin, the cerebral Canadian golfer put it, "The idea being you just put yourself in a position to have a chance to win on the back nine on Sunday. That's really the whole goal. Everything we do leading up to that is trying to get there. A 66 at a U.S. Open to take the first-round lead is incredible. It's amazing. It's something nobody can ever take away from me. But there's lots of golf left. I've missed cuts from this position before. I think the best rises to the top over [72] holes. Guys play well for one day. But can you prove it over four? We're going to find out."
A reporter from Canada, Adam Stanley, was listening to Hadwin intently. Young Stanley has an interesting tattoo on his lower right leg, an image borrowed from one of the most iconic 72nd-hole moments in the history of championship golf, Ben Hogan's second shot on 18 at the 1950 U.S. Open at Merion. In that era, the U.S. Open was four rounds with the last two played on Saturday. The shot set up a two-putt par that meant Hogan was part of a three-man, 18-hole playoff, which he won the following day. (If this year's Open goes to a playoff, it'll be two holes, aggregate score.) The approach shot was played with a 1-iron, Hogan said. Herbert Warren Wind once told me it was 2-iron bent to a 1.5 iron, "but if Hogan says it's a 1-iron, it's a 1-iron." Stanley has that tattoo as a tribute to his late grandfather, a Hoganophile. It is also, Stanley said, a tribute to grit, Hogan's and his grandfather's.
"Four days identifies the most worthy champion," Stanley said. "It is a march. A slow march. That's part of golf's charm."
I agree with that and then some. I'll see Adam Stanley's charm and raise him will all the chips I have: that march to the 72nd hole, the actual bottom of the hole? That's why we watch. Thursday/Friday is the first act. Saturday is the second. Sunday is the third. The third and final act. Everybody's squirming. Tournament golf.