FIRE PIT COLLECTIVE
U.S. Open 2022: What it's like to have a friend as a U.S. Open contender
Editor's Note: This article first appeared in Fire Pit Collective, a Golf Digest content partner.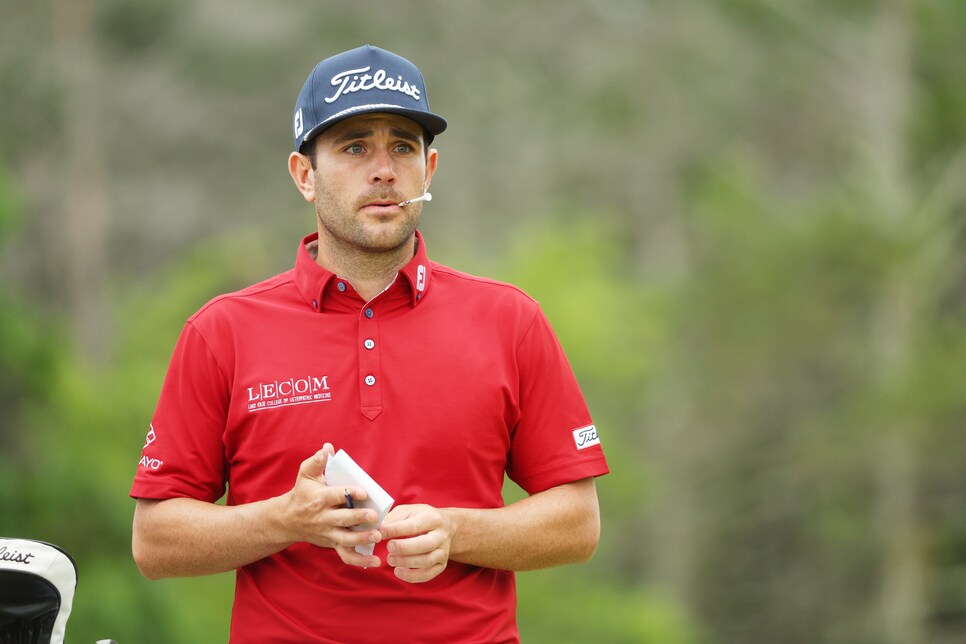 I awoke on Thursday morning to an Instagram message from Callum Tarren. He had commented about a video of my toddler wildly playing a harmonica while I strummed chords on a guitar. "What a duo," the message read. It was around 6:30 a.m. in Scottsdale, where I live. Callum had teed off nearly three hours earlier at The Country Club in Brookline, Mass., so I immediately opened the U.S. Open leaderboard and found his name: 1 over through 11 holes. Pars are good, I reminded myself, and Callum had made eight of them. An unspectacular but steady start. I put down my phone and got my little harmonica player out of his crib.
An hour later, I checked the scores again while on the putting green at a Phoenix golf course. Callum had birdied the 5th and the 7th holes and then eagled the 8th. (He started on the back.) He was leading the U.S. Open. Yes, it was early. Sure, half the field hadn't teed off. But in that moment I was inspired and deeply proud of a friend who has logged a lifetime worth of miles chasing professional golf around the world. Callum's play inspired me to spend the day working on my own game while thinking about how deeply conflicted Callum had been at the end of last season on the Korn Ferry Tour.
I remember the final regular-season event on the Korn Ferry Tour in Omaha, Neb. I dropped a few balls next to Callum and rolled a few putts while we chatted. Callum has a laid-back demeanor. He is practical and rational and has a brilliant sense of humor. On this day though, he was distracted. He drew closer, and the conversation became more serious. The Englishman with movie star looks and a soccer player's build spoke with a quiet intensity. Callum was wrestling with potentially the most difficult decision of his life. His fiancee, Ashleigh, was due to deliver the couple's first child at any moment. The two had struggled through two miscarriages in the previous year. He desperately wanted to be with Ashleigh for the birth. However, Callum was tantalizingly close to the coveted top 25 on the KFT season-long points list. Players who finished the regular season inside that number would earn their PGA Tour card, and with one strong week, Callum could achieve his dream. If he didn't finish in the top 25, he would still qualify for Korn Ferry Tour Finals — a three-event postseason with 25 PGA Tour cards on the line — but whether he could get back in time after the birth was another question. Callum had chased his dream around the world through great challenges and discomfort. Knowing my wife and I had welcomed our first child the previous year and that I had been on a similar golf journey, he asked for my opinion.
It was an impossibly difficult and personal decision. I told him if given the choice between one or the other, there wasn't a right or wrong answer; he'd have to make a choice that he and Ashleigh could live with. It undoubtedly wasn't a helpful answer. I was looking at it as a binary choice. Callum and the golf gods wrote an entirely different script.
Callum played the Omaha event with the understanding he might have to leave at a moment's notice. With the guilt of possibly missing the birth of his daughter on his mind, he played poorly. He missed the cut on Friday, Aug. 13 and immediately flew back to England. Callum made it just in time, as Asheligh's contractions started on Sunday. Their beautiful daughter, Sofia, was born on Monday evening. Callum returned home the following day as a glowingly proud, if not exhausted new dad, and he took his unpacked bag directly back to the airport. There was a flight he could catch, and barring delays, he'd be back just in time for the first KFT Finals event. He landed in the dark on Thursday morning in Boise, Idaho, with a first-round noon tee time. In a whirlwind of emotions cutting across time zones, Callum tied for 26th. He backed up the unlikely performance by contending in the following week in Columbus, Ohio, en route to a tie for fourth. Callum had locked up his PGA Tour card. As he walked up the final hole at the Ohio State Scarlet Course, he saw the cameras descending upon the final green and knew he had done it. It felt dreamlike and inexplicable. And yet his indirect journey to this moment had prepared him perfectly.
When Callum was leaving his hometown of Darlington in northern England for Radford College in Virginia in 2010, he felt melancholy. Tears welled up as he arrived at the airport. This would be his first time away from home, and it was weighing on him. He couldn't have known how routine a trip across an ocean would become. Callum had a respectable college golf career, but no one would have mistaken him for someone who one day would share the lead at the U.S. Open. He graduated with a business degree in 2014 and returned home, where he started diligently working on his golf game. He wanted to play professional golf but didn't have the financial backing to give it a dedicated shot. The following summer, he began playing with fellow countryman and Walker Cupper Michael Skelton. A revered golf savant in the UK whom Callum admired, Skelly was headed to qualifying school at the PGA Tour's new development series, PGA Tour China. It sounded like a joke at first. Skelly is an eccentric and lovable character, one part philosopher, one part mad scientist. His goal in professional golf was to qualify for a U.S. Open, arrive on the 72nd hole with the lead and then walk off the course. No explanation, no interviews, no more public appearances. He would simply disappear into infamy. It was poetic insanity. Callum was initially skeptical of Skelly's plans to go to China, but after some research, he decided to follow his friend across the globe.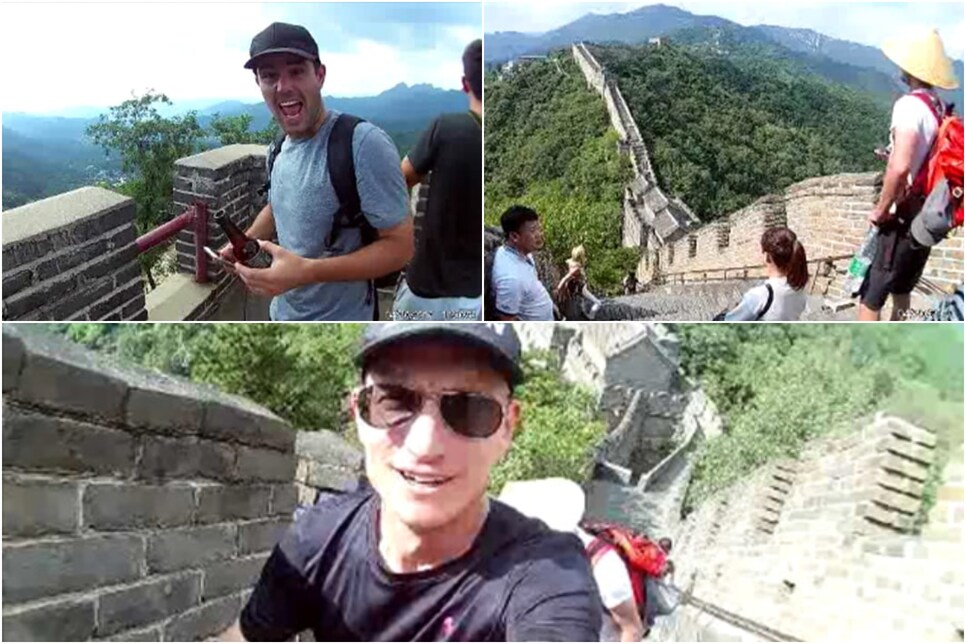 It was in Kunming, China, where I met the inseparable pair. During and after Q-School, our small band of foreigners became a traveling fraternity, facing all the strange and unpredictable challenges of navigating a foreign country together. Callum and Skelly were the entertainment, always bringing lively conversation and laughs to the unfamiliar landscape. We barnstormed from Sichuan to Shanghai and many points in between. We spent a week on the North Korean border, on a golf course so narrow it caused one player to quit the game. We hiked the Great Wall of China and took a luge thousands of feet down a mountain. Meanwhile, we honed our games in the constant rain and wind and on demanding courses. Callum improved steadily. He could call upon multiple swing speeds and flights with his driver, and he found the middle of his iron faces with impressive repetition. As more putts began falling, it was clear he would eventually emerge from the group and advance to the next level. He won the Order of Merit in 2018 and advanced to the Korn Ferry Tour.
After an uninspiring opening season on the Korn Ferry Tour, where he finished 82nd on the money list, Callum went to KFT Q School at Orange County National in Orlando. He played the final seven holes of his opening round in 7 over and shot 75. In one year, he had gone from the top of PGA Tour China's Order of Merit to the bottom of a Q School leaderboard. He left the course that day on the verge of tears and feeling broken. He called home to his coach, who simplified the goals for the week. If Callum could focus on the shot at hand, the coach reasoned, he would shoot 66. And if he could do that, he was capable of following it up with two similar rounds and he'd still earn tour status. The goal was simple and achievable. Callum scorched the course over the following three rounds, shooting 66-68-65 to regain his KFT status.
"Who knows what would have happened if I had missed at Q School," Callum said. "I took a lot of confidence from that finish." He built on that momentum, continued his steady improvement and became both a PGA Tour card winner and a dad.
As a first-time father and Tour player, you want to be in two places at once. It's especially difficult when your family is on a different continent from where you're competing. During the fall series on the PGA Tour, Callum was learning to be a PGA Tour player and a new father. His golf results were unsurprisingly disappointing. When I saw him at the AT&T Pebble Beach Pro-Am in February 2022, he had missed his first seven cuts. After he missed his eighth that week, I saw him sitting in his courtesy car looking distraught.
"Your time is coming, man. I promise. Hang in there," I said in a futile attempt at reassurance. He tried to crack a smile. As I walked away, I saw his head drop.
Three weeks later, in his next start he made his first cut and finished T30 at the Honda Classic. I started seeing more social media posts of Ashleigh and Sofia at tournaments. Callum made six of his next nine cuts, highlighted by a T5 at the Puerto Rico Open.
Callum qualified for the U.S. Open in Ontario, Canada, making six birdies and no bogeys in his afternoon 18. He finished second, one stroke behind Jonas Blixt. After the first round at The Country Club, he is again in second, one shot behind Adam Hadwin. Callum has traversed the globe in a glorious and grueling adventure. A major influence in his golf life aspired to arrive on the 72nd hole of the U.S. Open and simply disappear. Callum's Thursday began with him watching a video of my son and me playing music together. Now my friend is making music of his own, and I hope the notes he's playing ring true through the final putt on Sunday.