FIRE PIT COLLECTIVE
Ask Alan at the U.S. Open: Rory's grind, the Sunday setup and the Keegan lovefest
Editor's Note: This article first appeared in Fire Pit Collective, a Golf Digest content partner.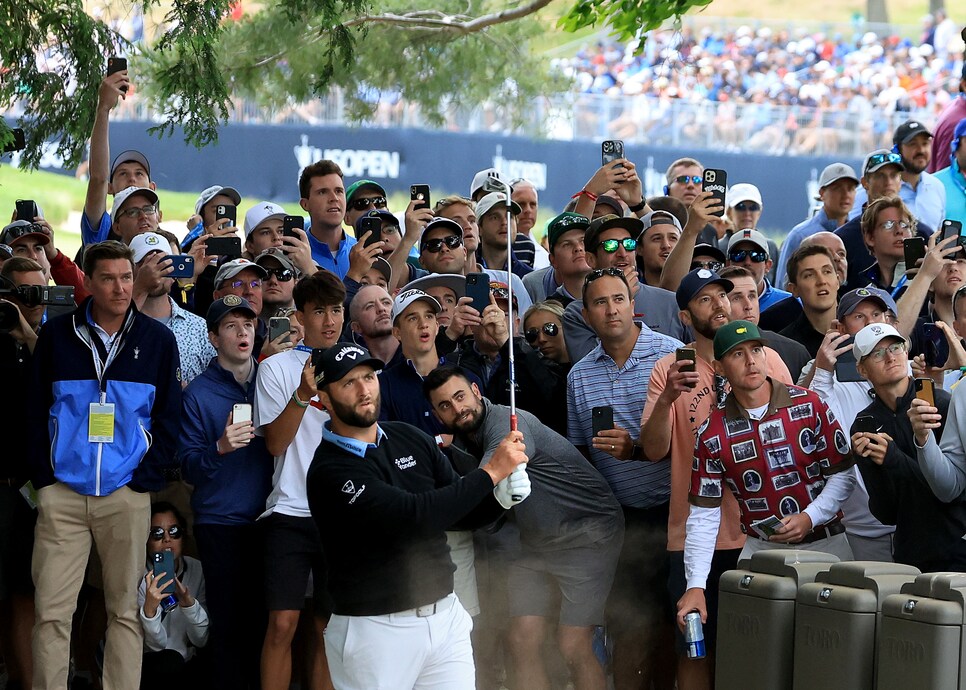 After watching Jon Rahm make an absolute mess of the 18th hole to close out Saturday's third round of the U.S. Open, it's clear you can spend strokes very quickly out there. The 54-hole lead is four under, and I think the winning score could be two under, or even one under. It's going to be cold Sunday, there will be wind and the course is going to play very, very tough. So let's say anyone who's two over or better is in this fight, but they're going to have to play their butt off.
Do you think they'll soak the course tonight or let it continue drying out? @JesseReed78
The USGA has been a little benevolent so far; the setup has been a little benign. There is universal praise for this course, which means it's probably just a little too fair. It's time for the USGA to really put its foot on the neck of the players. I hope there's not a drop of water put on this golf course overnight—it should be tough and brutal and mean. Here's hoping.
Which would be the more intense (read: loudah!) rooting interest, Rory or Keegan? @PeteViles
Everyone loves Rory. He has become the moral compass of golf. But Keegan Bradley is Boston to the bone. He's pandering to the crowd, he's playing to them, and I think on Sunday, Keegan is the people's choice. Even his twitchy weirdness adds to the drama because he's like a cat on a hot tin roof. So I think Keegan's the guy for the Boston crazies.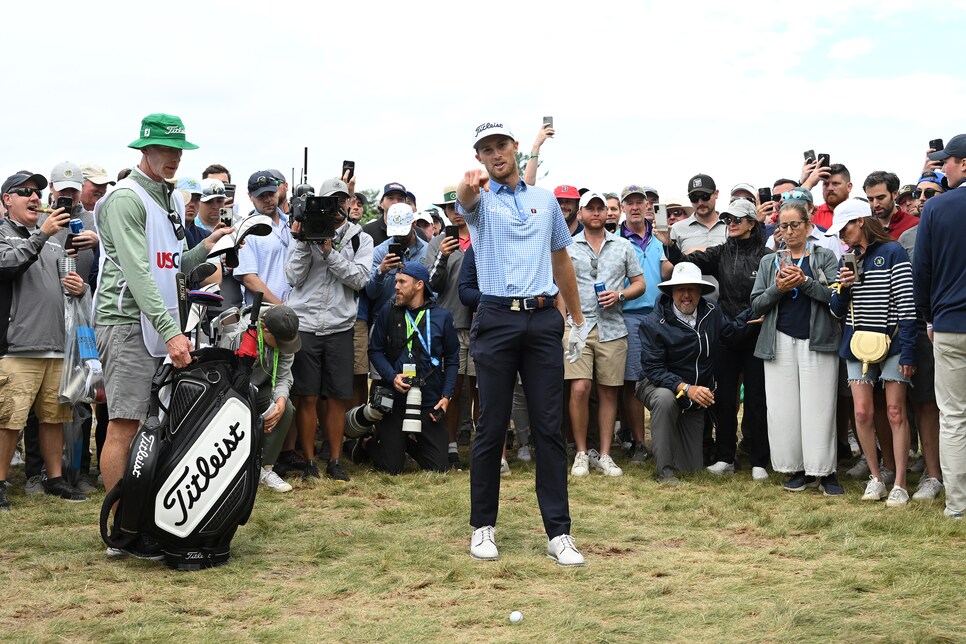 What's more likely, multiple majors for Zalatoris or him turning into Rickie Fowler, part two? @HeavySvenB
I mean, Rickie Fowler has had a sneaky OK career—I think Zalatoris would probably be fine with five wins and a Players. But Zalatoris has already become a big-game hunter with his fine play at seemingly every major, as the tough setups accentuate his supreme ball-striking. Given how often he contends, I feel like he's going to pick one off. And if you can win one, you can win two. So I'm going to say he's going to be around for a long time contending in the most important tournaments.
Unlike FIGJAM, will you accept a two-part question? Is Rahm also finding some extra juice, much like Rory is, with the LIV defections, and what constitutes a "civilized dinner" at an Italian joint? @DeeFnCee
Jon Rahm is a very old world personality, he's very black and white. No doubt he's a little upset about what's happening with his colleagues and he feels like he's fighting for the future of the PGA Tour, and I do think that righteousness gives him a little extra energy. The "civilized Italian joint" is a reference to a tweet I posted about my dinner with Michael Bamberger on Friday night. It was a beautiful evening. It was warm, we were sitting outside enjoying good conversation, good people-watching and good food. Aaron Wise rolled up in his tournament car, his bride popped out and grabbed some food from the same spot. His sketchy play today was not due to a lack of carbs, I'll say that.
JT is annoyed that his honesty probably cost him a stroke, maybe two, to say nothing of what it did to him mentally. Are there players with reputations among their peers one way or the other about how they handle close calls with rules officials? @_the_real_k_man
On the PGA Tour, the players' collective attitude is that the rules are there to help you and you need to bend them as hard as you can without breaking them to your benefit. So there is no doubt that other players, presented with the same scenario as Thomas, might have pushed harder to get a favorable ruling. But I'm a little annoyed by JT's whining—either you do the right thing or you don't, but don't be asked to be patted on the back. It's like Bobby Jones said, "You might as well congratulate a guy for not robbing a bank." I mean, give me a break. The way Thomas handled the situation was a little disappointing.
Alan, I'm sure you're on site, but do you have any idea how much of a disgrace the TV coverage is? @tschu_22
Yes, I do, thanks to all of you. I haven't paid close attention to the coverage because I am out walking a lot or typing on my computer, but yes, I can hear your voices loud and clear. It's a shame because it's such a great tournament on a super-charming venue. Why is the presentation of golf so uniformly bad from network to network, from streaming platforms to cable? You guys deserve better.
OK, Alan, is the 11th hole as cool as it looks? @dogrin
Definitely. It has instantly become one of the great short little par 3s in golf. It's visually incredible with a super cool green. I love everything about it.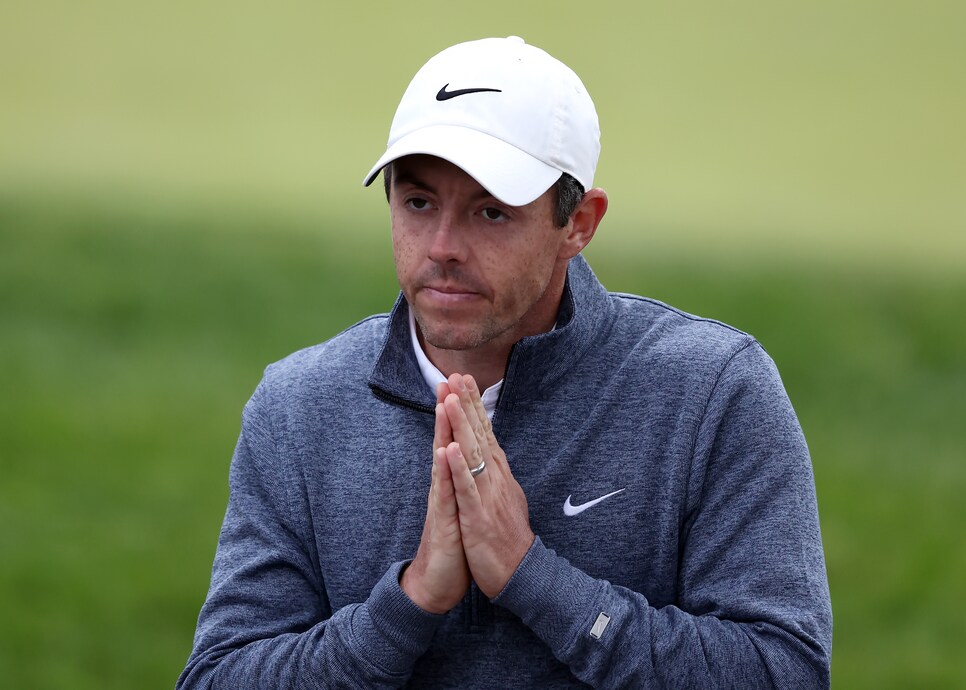 Temperatures in the 50s tomorrow—what do you think about Rory's chances? @misterdomer
It's going to be a grind out there. I think Saturday was one of the most impressive rounds I've ever seen Rory McIlroy play. He had nothing. He was fighting his swing. But he scrambled like a mofo, making an insane number of one-putts, some great up-and-downs and some quintessential U.S. Open bogeys. It was a quite a display. There have been plenty of times in his career that McIlroy did not have that grind and that grit; if he wins this thing I think this third round is going to be remembered as one of the best of his career because he could have shot 80, but instead he kept himself in there. So hats off to Rory. I have a sneaky feeling this is going to light a fire and he's going to play a hell of a round on Sunday. If I had to pick a favorite, I'm saying Rory McIlroy.