Watch Party
U.S. Open 2022: 5 things to watch for early during Sunday's final round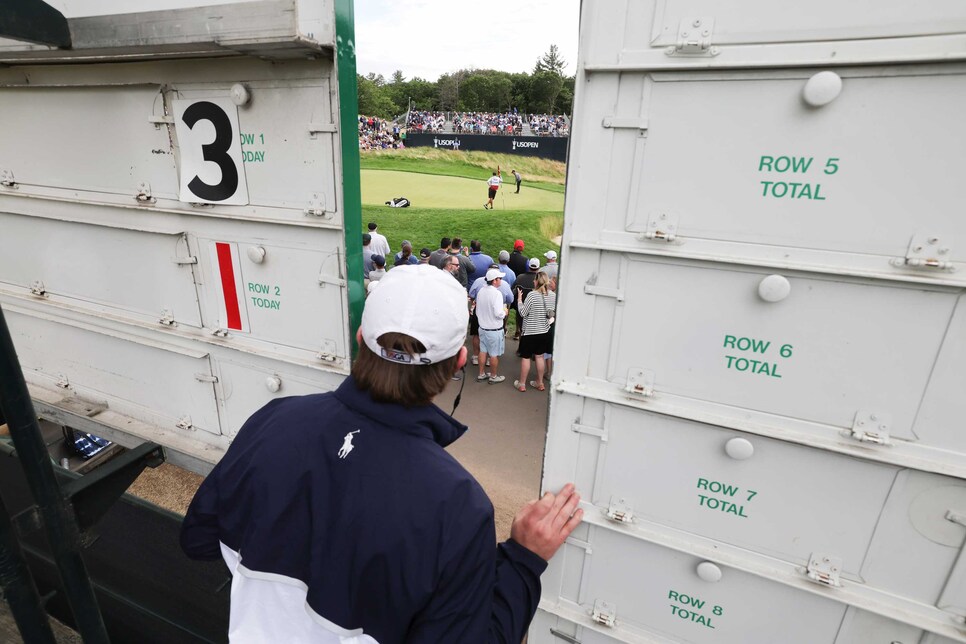 A volunteer follows the play on the 12th hole during the third round at the 2022 U.S. Open.
Jeff Haynes
BROOKLINE, Mass. — It's a leaderboard ripe with intriguing storylines, on a golf course that keeps getting feistier with the major championship pressure getting dialed up to Sunday. If you're not looking forward to the final round of the 122nd U.S. Open at The Country Club, we don't know what will get you fired up.
But what exactly should you be looking forward to? Or more specifically looking for? We've identified five things to moinitor early on Sunday prior to the leaders teeing off so that you're properly prepared for what is setting up to be a dramatic final 18 holes.
Players, officials and fans have been blessed with an extended stretch of dry weather outside of Boston, the last measurable precipitation coming on Monday. That's allowed the USGA staff to boast a relatively firm and fast setup at The Country Club (they have been applying a decent amount of water at night to keep the course from getting too baked out). But overnight and in the morning the course got .3 inches of rain and Sunday's forecast calls for a 20-percent chance of rain. If it comes, it's not expected to be enough to stop play (no thunder is in the forecast) but might be enough to take a little fire out of the course and give players the chance at some more birdie looks.
Yet that might be offset by Mother Nature's other whims. Beyond the raindrops, temperatures are expected to be even cooler than on Saturday, with the morning wave playing in mid-50s and the afternoon high reaching 66 degrees. There will be some breeziness, but nothing too substantial. Yet it might look more like they're playing a British Open than a U.S. Open.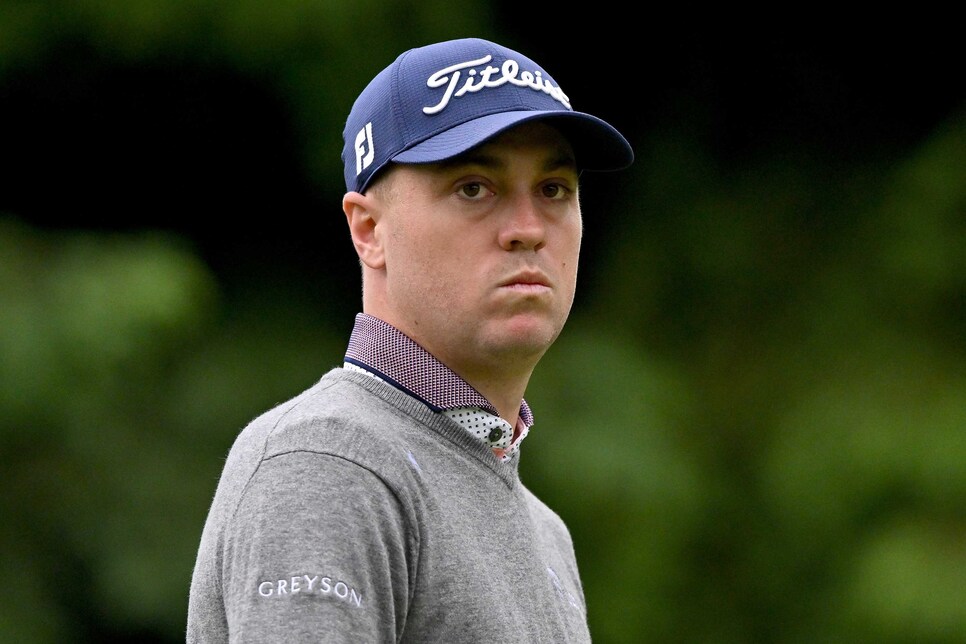 At last month's PGA Championship Justin Thomas began the final round at Southern Hills seven shots off the pace, but clawed his way back into contention and an eventual playoff win. Well, guess who is seven strokes off the pace entering the final round at The County Club? JT, that's who.
Thomas tees off at 12:17 p.m. with Cameron Tringale, nearly 2½ hours before the final pairing of Will Zalatoris and Matt Fitzpatrick. He was frustrated to no end on Saturday by a tough break on a ruling from a drainage opening that let to a bogey on the fourth hole and could potentially serve as motivation on Sunday. If he can get off to a hot start and start a steady climb back into contention, Thomas is a name that can put a little fright into the crowded leaderboard.
Through the first three rounds of the U.S. Open, Nos. 1-4 have played more than a stroke harder than the rest of the course according to USGA stats. Players have made birdie or better on these holes 6.4 percent of the time. So if you notice anybody posting red numbers early, they're getting an extra jump on the rest of the field. And if you notices a group in the early wave having early success, it's a trend that the leaders might want to pay attention to as they decide their strategies.
USGA course setup chief John Bodenhamer teased the media on Wednesday ahead of the championship that the par-3 11th, returning to the championship layout for the first time since the 1913 U.S. Open won by Francis Ouimet, might play less than 100 yards one day this week. But that day never arrived as the USGA officials put the hole six steps on and five off the left but set the tees back to 119 yards.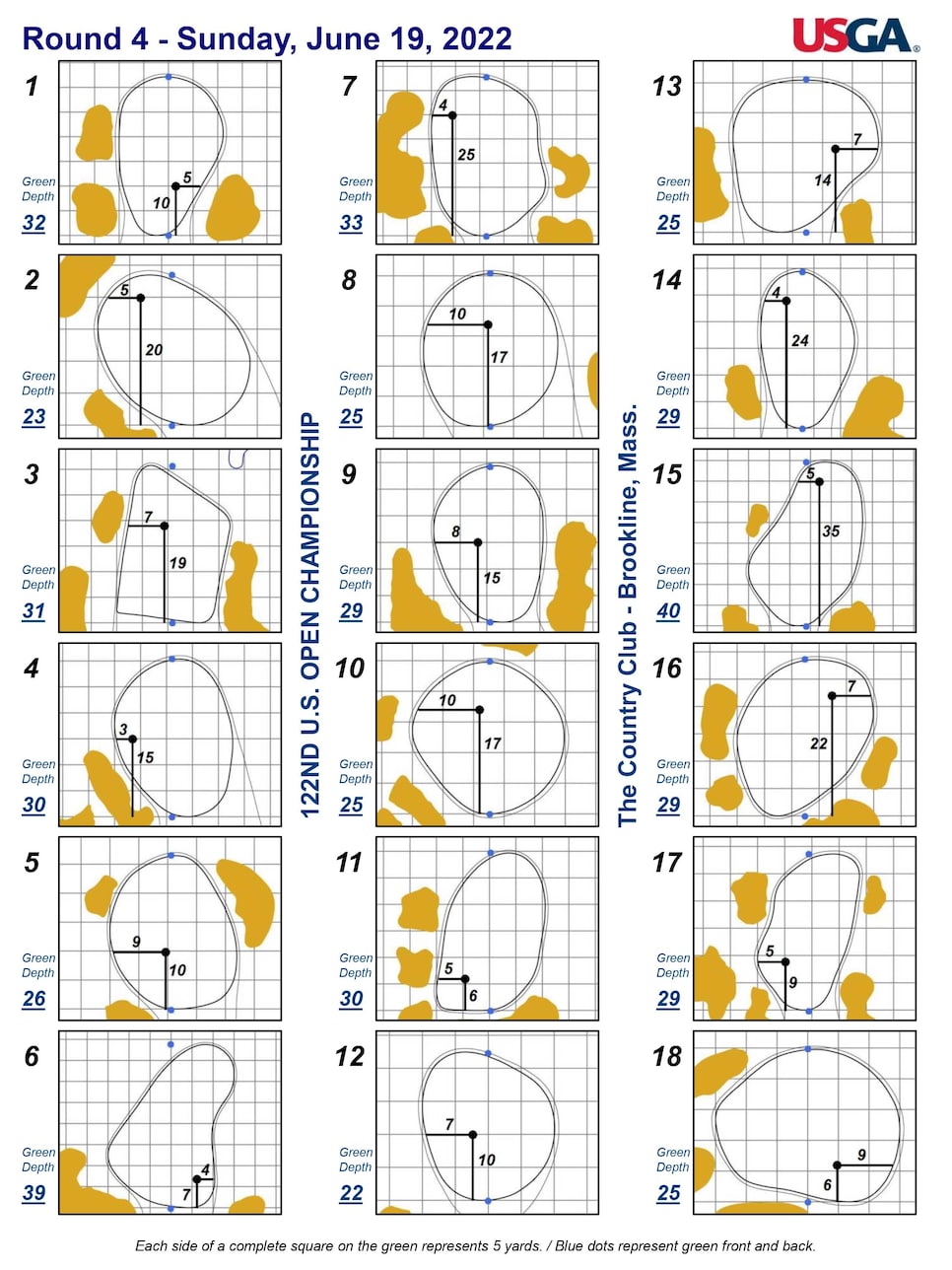 The wee downhill hole was the ninth toughest on Saturday, thanks for a back hole location. You probably won't see many players aim for the pin on Sunday. The 11th is supposed to be a breather between the brutal par-4 10th hole (the toughest hole on Saturday) and equally difficult par-4 12th hole (fifth toughest), but most pros will be happy to move on with their par.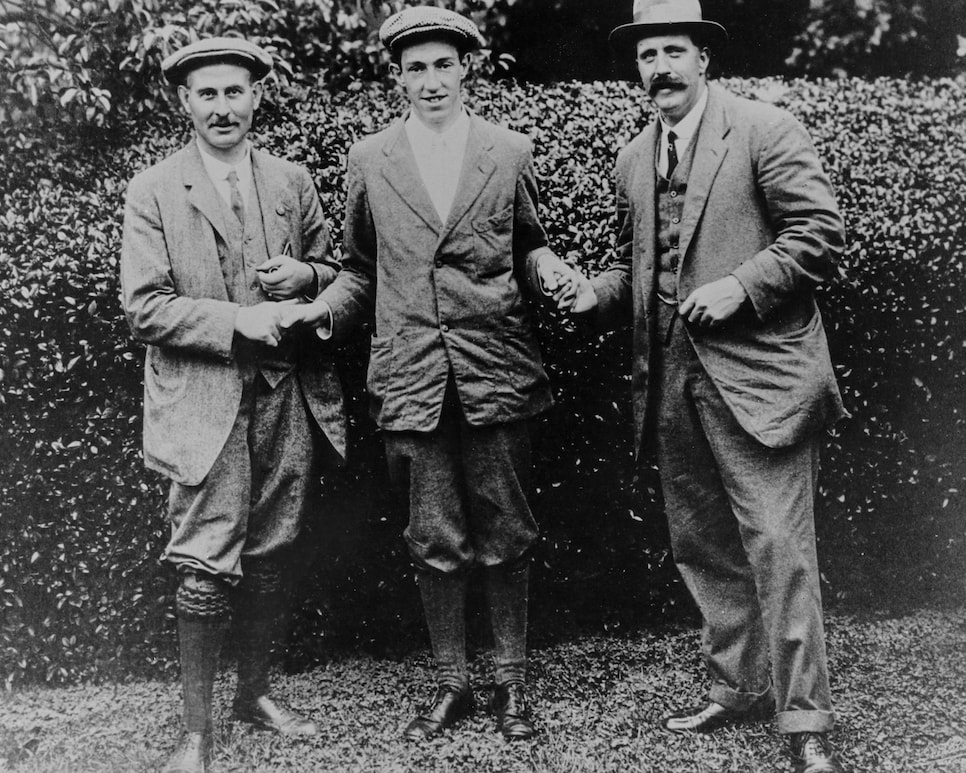 Harry Vardon, Francis Ouimet, Ted Ray pose for a photo at the 1913 US Open. (Photo by PGA of America via Getty Images)
PGA of America
In the three previous U.S. Opens held at The Country Club (1913, 1963 and 1988), a winner could not be decided after a mere 72 holes, each requiring a playoff to crown a champion. Amateur Francis Ouimet played 36 more holes to beat Harry Vardon and Ted Ray; Julius Boros needed 18 to top Arnold Palmer and Jacky Cupit; and Curtis Strange beat Nick Faldo in an 18-hole playoff, too.
As if that history wasn't foreboding enough, the U.S. Open hasn't had a playoff since Tiger Woods beat Rocco Mediate in 2008, the longest stretch in U.S. Open history without an extended finish.
The good news if, indeed, things are knotted after 72 holes on Sunday: The USGA employees a two-hole aggregate playoff now rather than another full 18 holes. The golfers will play the first and the 18th on Sunday evening, low score wins the event. If there's still a tie, then those remaining play the first and 18th in a sudden-death rotation until there's ultimately a winner.