FIRE PIT COLLECTIVE
Ask Alan at the U.S. Open: Rory's ascendance, Monahan's next move and all the LIV drama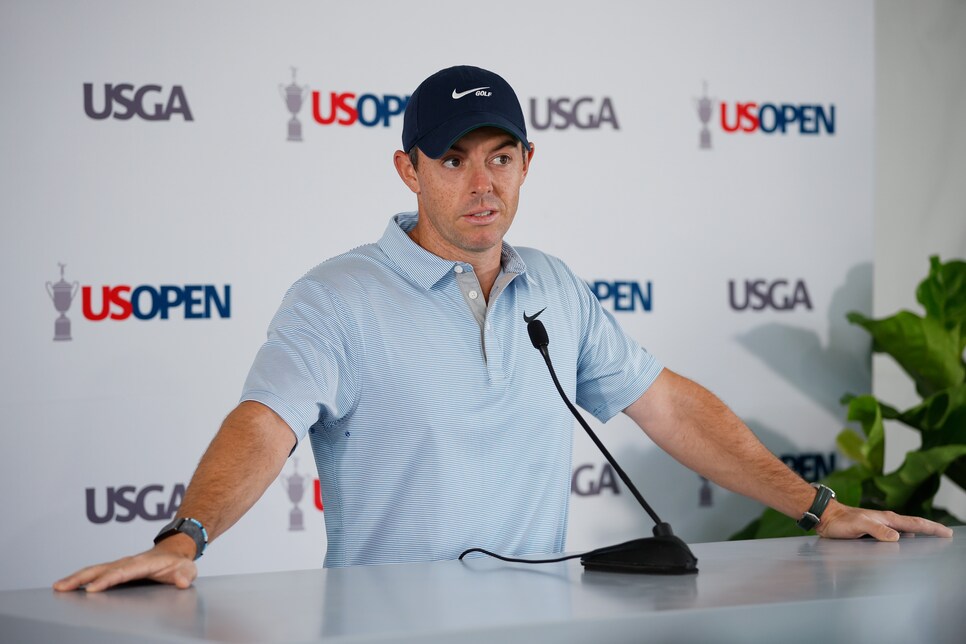 I would say he's the moral compass. He's almost like the big brother, or the school principal. He has a lot of roles. He might be the CEO. I'm sure a lot of business is going to float Rory's way; anecdotally, the Tour is trying to steer deals to him as a thank you for his diplomacy. Maybe he'll be the next commissioner. Right now, he's definitely the man.
Everyone knows I'm a Pebble Beach homer, but because there's an annual Tour event there, I think it loses a little specialness as an Open venue. So I'm going to say Oakmont. Absolute monster, with so much history. Every hole is like a kick in the teeth—it's just an incredible golf course.
Can we replace the President's Cup with PGA vs. LIV? Monster ratings for the Rory/JT vs. Phil/DJ four-ball match. @jeffvalois
This is the best idea I've ever heard. I mean, this would be a blood feud. I fully endorse this.
The shaping of the fairways and the cut looks pretty silly from the clips that have been posted so far. Do we think they will do another Winged Foot and cut the grass on a Wednesday? @hendygolf
Well, it's the U.S. Open: the fairways are supposed to be anorexic. It is very tight, very twisty, very claustrophobic. It's true the USGA sometimes will soften as setup as the week goes on and they're getting, shall we say, player feedback. But you know what? I hope they keep it as hard as possible. I love the setup right now.
Do you think the Tour will consider making the Players a major in response to LIV? @DonMagrane
The tour does not have that power or authority. That belongs to the gatekeepers, the most important people in the game: the sportswriters. We decide what's a major. I'm kidding, sort of, but here's no committee, there's no process; it is by consensus and more or less the fans and the reporters are going to decide that the Players will never be a major. So the answer is no.
How close are we to a Real Housewives of LIV YouTube series, starring Ashley Perez and Paulina? @FakePoulter
Well, if you saw Ashley's announcement that her husband, Pat, was going to be playing on the LIV tour, you know this would be a must-watch. She's a very, shall we say, colorful personality. Paulina has very little to say but she would definitely be fun to watch. It's incredible there has never been a Real Housewives of the PGA Tour reality show on any platform, but maybe LIV will take the reins on this. I fully endorse this as well.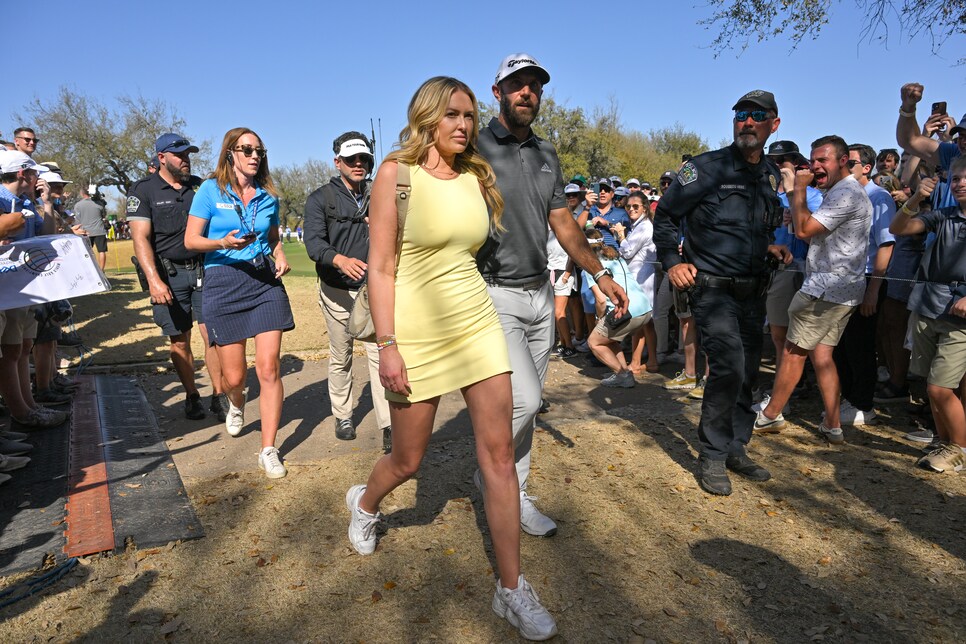 We shall see. It's definitely hot here. They're going to have to keep some water on the greens, or they're going to get fried. But again, this is the United States Open. You're supposed to push the players to the breaking point, physically, spiritually, emotionally. So it is an extremely fine line between messing up the setup and perfecting it. Sometimes the USGA is right on the edge, but I like it that way. It's supposed to be hard. It's the Open. So I hope they keep pushing it just a little bit.
Winning score at Brookline this week? @eclayxc
How do you think the fans will treat the LIV Benedict Arnolds? @BRGolfer
Strong pull. It's going to be quite a litmus test because golf Twitter isn't real life, and I'm not sure how much the casual sports fan who maybe only watches a couple of tournaments a year is even tuned into these details. I think Boston fans are happy the Open's here. They want to celebrate it; it's a feel-good event. I think there'll be mild heckling, but is anyone really that fired up about Taylor Gooch? I mean, is Kevin Na going to arouse so much passion? I doubt it. So a few barbs perhaps, but I think it'll be mild.
Does the phrase, "the enemy of my enemy is my friend" now apply to you and Rory? And will your relationship take on a Maverick and Iceman bond, like the conclusion of the original Top Gun when you guys take down LIV together? @HofSpillane
Well, Rory is clearly an advocate for the Tour. I'm an impartial observer, although obviously I got mixed up in this whole thing somehow. But I would definitely make a buddies' movie with Rory. That would be a blast. Unlike Mav and Ice, I have to keep my shirt on, though. That's my only ask.
How many Pat Perez-Kevin Chappell-Ben Crane type players does the LIV tour end up picking off this year and signing them up to the dark side? @TheGhostOfHogan
Haven't heard Ben Crane's name in a long time. But yes, LIV wants to get these mid-level Tour players because it creates momentum. They bring their world ranking positions and that makes it that much harder for OWGR to deny points to the LIV series. If you have a lot of guys who are in the top 200 or 150 or 100, there's weight to that, and the Perezes come fairly cheap. So, LIV is going to scoop up as many as possible and bump out some of the randoms. They actually made the first LIV event kind of fun, but it sort of undermined its credibility.
I think the Tour should adopt a shotgun start just for the first two rounds. Wouldn't it make playing conditions more equitable and better for broadcasting/TV viewing? Seems very simple and doable. @pjvaska
The numbers don't work because a typical Tour events is 156 players. You'd have to have two foursomes on every hole, plus some. And if you think slow play is a problem now, that would be untenable. LIV is only 48 guys, so a shotgun works. But the PGA Tour's mandate is to create playing opportunities for its members. So that would never happen. Now you could do it at a WGC, which is a small field. And I do kind of like everyone on the course at the same time because sometime now if you sleep in, you might miss your favorite player's round. So there is something pleasing about it, but for everyday Tour events it is simply not possible.
Could Jay Monahan have performed any more poorly during his softball-fest with Jim Nantz? @MattNeedsOTP
No, he could not. It was terrible. The problem is Jay thinks he's going to win a moral argument, but the players have already voted with their feet and their pocketbooks: they are going to follow the money. Most of these players made their peace with dirty money a long time ago. They play in China. They play in Saudi Arabia already on the Euro tour. They play in Dubai. They play in Qatar. This is not a big deal for the professional golfer, who by definition plays golf for money. So that's a losing argument for Jay. He keeps hammering it, but he's already lost that debate. And it shows how out of touch he is. His only option now, I believe, is to cut a deal and bring the Saudis into the fold. Push those tournaments to the fall, where you can improve the Tour product, because that's a slow time of year. The top players will get off their couch because they want the Saudi money. The Tour gets to hold onto its membership, and you have a chance to build a unified global schedule. It makes perfect sense to me. Now, to make it work, Monahan would have to swallow some pride, which he seems loathe to do. He's taking this all very personally, as you saw in the interview, but this is just business, Jay. It's time to be a more cagey businessman.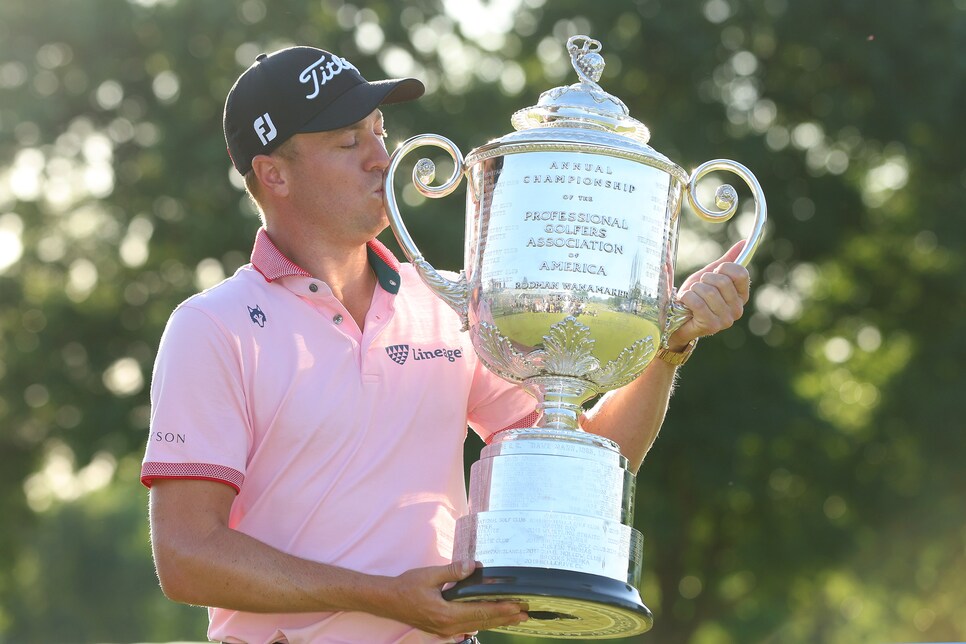 Where can I put down an exacta on Rory and JT coming in one and two on the PIP giveaway? @Elpulpo8888
Yeah, we already know that's a slush fund for Monahan to buy the loyalty of the superstars, using all these shadowing metrics they don't even really make public. So yeah, I think that's a very good bet. I would take that one.
I haven't even thought about it until now. I'm going to say Dustin Johnson, just for the sheer anarchy of it all. I choose chaos.