U.S. Open
U.S. Open 2022: These three from the Lee Elder Internship class are among the rising stars at The Country Club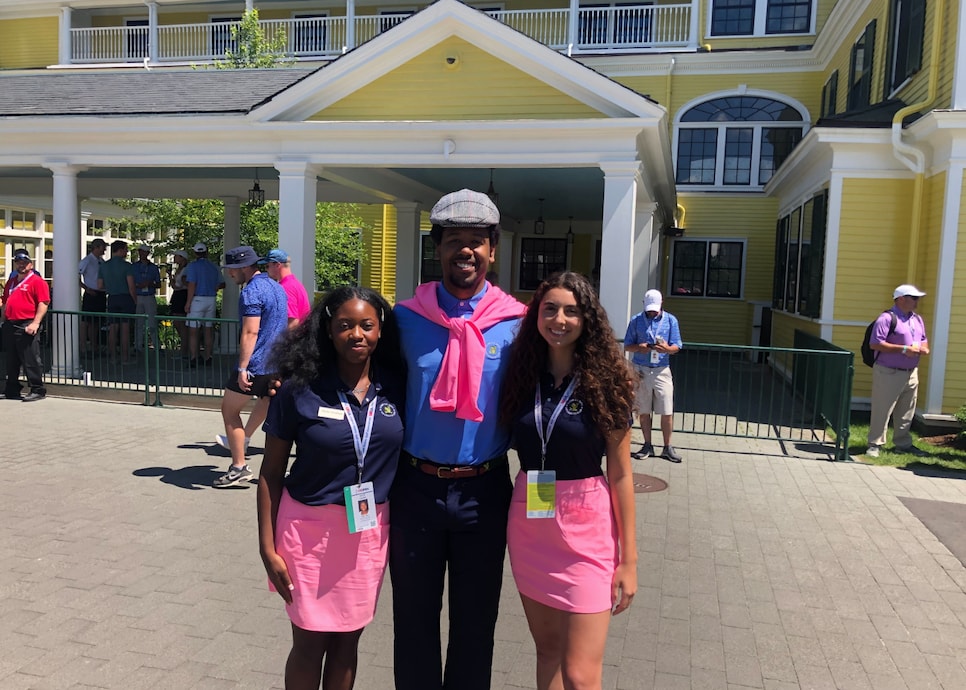 BROOKLINE, Mass. — Ask any fan or media member to rattle off the names of the young, rising stars this week at the U.S. Open and you'll hear the usual suspects Will Zalatoris, Cameron Young, Collin Morikawa, Viktor Hovland. For good reason. All are expected to be forces in the sport for years.
But among some of the most impressive young talent on property this week is a trio of college students who won't actually be teeing it up on Thursday at The Country Club, but may just end up being forces in the sport themselves some day.
Skylar Graham, Cristina Santiago Espinet and Yordan Villalon are on site as members of the inaugural Lee Elder Internship program, a dedicated, hands-on career training program with a focus on advancing diversity, equality and inclusion in golf that will run through the end of the week. Graham, Santiago Espinet and Villalon are three of the 25 college and graduate students who made it through a rigorous application process and were selected out of 200 applicants to be a part of the first-of-its-kind program, which is giving those from underrepresented communities unprecedented access to everything that goes into this week's championship.
Graham, a 20-year-old from Compton, Calif., will begin her junior year at the University of Southern California in the fall. There, she's the president of the club golf team, which she says is "a great way for me to be a leader on my campus, but also to do something I love and continue to network with people who love what I love too." She began watching golf when she was 6 years old, and she played on all the junior circuits in California growing up and then throughout high school.
"What I've taken away from this [week] is not only are we needed in this industry—people of color, people like me who come from underprivileged backgrounds, from small black and brown communities—that we're not only needed but we're wanted here," said Graham. "And that we've been embraced and welcomed and people want to see us in these positions and that the positions are available. It's been incredible, and we've only been here for four days."
Santiago Espinet, who was born in San Juan, Puerto Rico and grew up in various countries overseas like Spain, where she spent six years, is already making moves this week. One of the projects for the interns was to identify an area where golf could be more diverse and inclusive, and after presenting she was selected as one of five finalists who will then present that issue to USGA CEO Mike Whan and co-owner of the Boston Celtics, Dr. James Cash. She couldn't go into full detail on what the issue (and the solution) she raised was, but the gist of it was making golf more inclusive in the Hispanic community.
"Being able to share my idea with executives and people who want to hear them and implement them to progress the game of golf is an incredible opportunity," Santiago Espinet said. "This program alone has exceeded my expectations. It's been unbelievable."
Villalon, one of 10 men in the program, was born in Cuba and emigrated to America with his family in 1999 when he was just 5 years old. He just graduated from nearby Lasell University in Newton with his MBA, and he hopes this program will help him continue to polish his project management skills. Getting a behind-the-scenes look at the business side of the U.S. Open, which is the program's main goal, should help him do just that.
"We're showcasing everything that we do," said USGA Chief Champions Officer John Bodenhammer. "The business of golf around a U.S. Open, and to inspire them into careers around the U.S. Open. Not just playing careers. Some of them are fine players, but the business of golf and how we conduct a U.S. Open.
"It's an investment in the future. And we plan to continue that as we go forward in future U.S. Opens."
The man who made this all possible, other than Lee Elder, who passed away this past November, is one Elder's close personal friends, Macey Russell, who proposed the idea along with The Country Club to the USGA. Russell and Elder met in 1992 and they began playing in celebrity golf tournaments together in the Boston area to raise money for charity. Russell, listed as one of the "Best Lawyers in America" in his corporate law field, also did some legal work for Elder along the way. The two grew close enough that Russell was on the first tee when Elder was an honorary starter at the 2021 Masters.
"[Lee and I] had been talking about what to do to make golf more diverse and inclusive over the years," Russell said. "It was always something he talked about. Back in the old days, the mid-90s, we had gatherings that included Charlie Sifford and Calvin Peete. Fast forward, as Lee was getting older, Charlie Sifford had passed away, Calvin Peete had passed away, now the conversations were more real.
"And so we had those conversations at both Pebble Beach when he won the 2019 Bob Jones Award, and then again in 2021 at the Masters when Lee was an honorary starter. At that point he was on oxygen. We started talking and I said 'What do you want to do?' and he said well you have to do something. I said, well I have some ideas, and Lee wanted me to run with them. But he knew from spending a lifetime in the game of golf, not just on the course but behind the scenes, there were very few minorities. So we spent some time talking about it over the summer and the fall, and here we are."
Here is an internship program that Russell hopes continues to grow, though he believes two things still need to change for golf to continue to make advancements with diversity and inclusion. First, these internships need not be cost-prohibitive for minorities and people of color, which is why The Country Club and the USGA covered the costs for all 25 interns. Second, now that these interns will gain valuable experience to put on their resume, they'll have a much better chance at getting into the industry when that resume hits the desk of those doing the interviewing.
"We can't have people saying 'oh, she's a really nice person, but we have 10 other people here who have experience in the business of golf, and she doesn't. So why should I select her over someone else?'" Russell said. "Now, when they submit their resume, not only will they have internships on it, but they'll have 'the Lee Elder Internship at the USGA' on it."
It's no wonder Russell is recognized as one of the nation's leaders on diversity and inclusion in his legal profession. His work, and Elder's, could change the lives of Graham, Santiago Espinet and Villalon, in addition to the other 22 interns on hand this week.
"I remember when I received the phone call, I cried on the phone," Santiago Espinet said about being selected. "It was after my class too and I was in my car, and I just remember feeling so honored because this sports industry is so competitive, especially for the career I want to go into. Being chosen for something like this just makes you believe in yourself, that you're capable and worthy of being here."
"I feel an incredible sense of responsibility being here," added Villalon. "Walking through The Country Club and reflecting on times when it was inconceivable for any of us to be here. I feel honored and humbled that people paved the way and overcame to become who they are now. I'm extremely motivated, and I can't wait to double and triple the impact in my community."
For Graham, being selected meant all the work she did on her golf game growing up was not in vain. It made her realize the game was going to continue to be a part of her life going forward, even though she believed the game would be in her rearview mirror after college.
"I would have never expected to have an opportunity like this," Graham said. "Normally you just graduate and you move on and I thought that maybe golf would be in my peripheral, and maybe I'd just be a fan, but now I can see myself being in a leadership position. And I've had executives from the USGA tell me that they want to see me back here, and I'm so excited for next year with the U.S. Open coming to LACC, and the possibility of me being an intern with the USGA to do that because of this internship. I see a clear path for myself."
As for what's next for these three, they are all, not surprisingly, aiming high. Santiago Espinet wants to become the first Puerto Rican-born NBA sideline reporter. Graham plans to get her Masters in business, then hopes to become a leader in the golf industry. Villalon says he wants to continue devoting all of his time, resources and energy to continue to push for more diversity and inclusion in sports.
If this trio is any indication, Elder and Russell's vision is already well ahead of schedule.