News
U.S. Open 2018: Why the pros are wearing white ribbons at the U.S. Open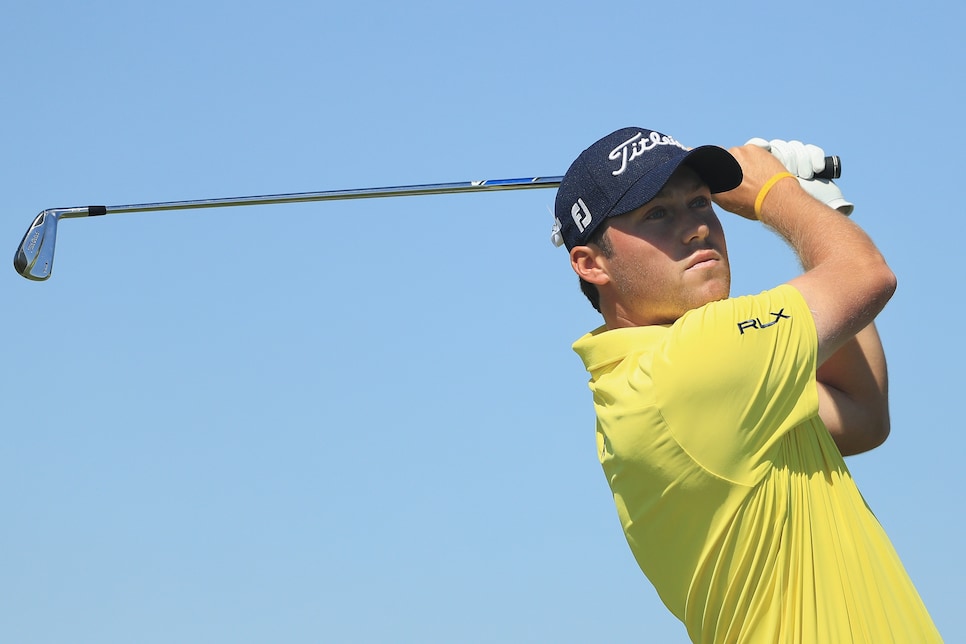 You might've noticed pros at the U.S. Open on Thursday, notably Justin Thomas and Russell Henley, wearing white ribbons on their hats. What's the story behind the ribbons, and why were players wearing them? The story goes back to one of the most historic golf-rich families in New York, and a young participant at Shinnecock who has a connection to that family.
PGA Tour pro Marc Turnesa, who won the 2009 Shriners Hospital for Children Open, has perhaps the family with the deepest golf lineage in history. And with his father, Mike, dying last month from lung cancer, and his uncle, Jimmy (his father's brother), currently in home hospice care also with Stage 4 lung cancer, Turnesa asked his fellow pros to raise awareness for lung cancer this week at Shinnecock. So far, they've obliged.
Another pro, Mike Miller (above), who qualified to tee it up in his second U.S. Open this week, grew up in Westchester County, N.Y., and also shares an uncle with Turnesa. So the connection to New York golf, and the legacy of the Turnesas, made it appropriate to support the Turnesas' cause at the top-ranked venue for golf in New York, Shinnecock Hills, in Southampton, N.Y.
Here's the note that Turnesa left in the locker room this week, explaining the ribbons:
On behalf of myself, Mike Miller, and my family I would like to offer these white ribbons to support lung cancer awareness.
My father, Mike Turnesa, was diagnosed with lung cancer and passed away suddenly last month. Mike Miller and I share an uncle, Jimmy Turnesa (my father's brother) who also was diagnosed with stage four lung cancer and is currently in home hospice care.
The Turnesas have been a prominent name in golf around the world but specifically in the New York area for nearly a century. These ribbons promote lung cancer awareness and are also a tribute to two great men and their battle with this awful disease.
Thank you all for your support. Good luck this week!"
There were seven golfing Turnesa brothers—Marc's grandfather, Mike, and great-uncles. Jim Turnesa won the 1952 PGA Championship, John Turnesa Sr. won 15 PGA Tour events, and Willie Turnesa, the only one not to turn pro, was one of the best amateurs of his time, winning the 1938 and 1948 U.S. Amateur and 1947 British Amateur. Phil, Frank and Doug were teaching pros; Joe, Mike and Jim joined the tour. His grandfather lost by one shot to Ben Hogan at the 1948 PGA Championship.
Turnesa told our Tim Rosaforte in Golf World in 2009: "The most asked question I get is, 'Do you feel any pressure with the Turnesa name?' " Marc says. "The answer is no, if anything, I feel like I have an advantage, it's in the blood, there's got to be something to it. To come from a family of seven golfing brothers, six professionals, the other the highest-level amateur, then to have my father be a pro, there's got to be something to it."