News
U.S. Open 2018: Dustin Johnson handles the wind at Shinnecock, grabs share of Day 1 lead at one under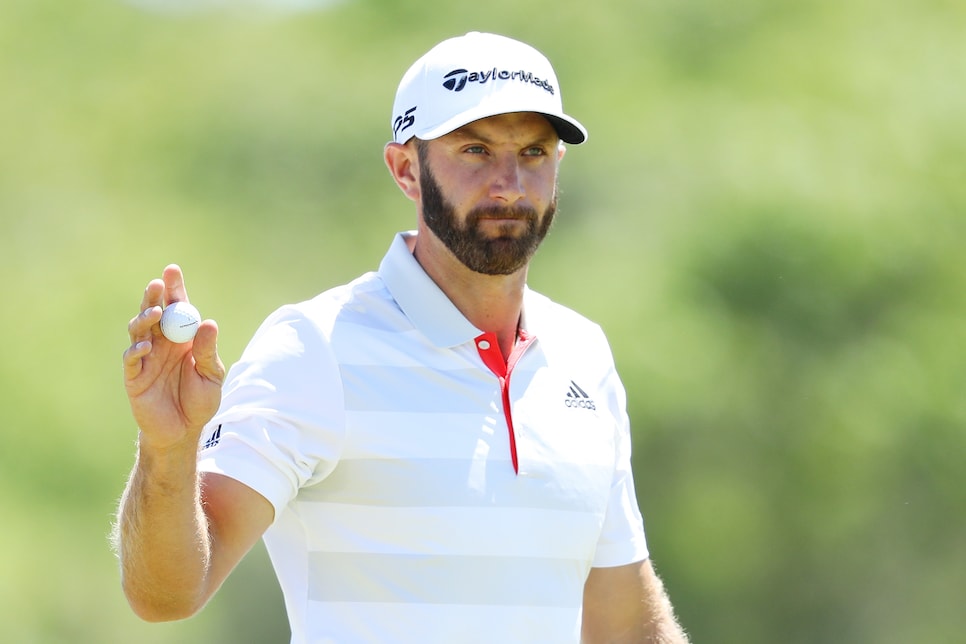 SOUTHAMPTON, N.Y. — Among the top 10 players in the Official World Golf Ranking in the U.S. Open field, just one posted a round under par on Thursday at Shinnecock Hills. If you went with the chalk pick, you'd be right.
On a brutal day on Long Island, Dustin Johnson stood strong, carding a one-under 69 on a course he had not seen before Monday. He's tied for the lead with Ian Poulter, Scott Piercy and Russell Henley, the only four men in the 156-player field to break par.
"I'm very pleased with the round," Johnson said. "Anything under par on this golf course is very good, especially in the conditions we have today. I felt like, you know, from start to finish, it was very difficult."
Playing alongside Tiger Woods and Justin Thomas, Johnson was the only one of the trio to provide any highlights, none better than his hole-out for birdie from a green side bunker at the par-4 eighth. That shot came two holes after Johnson caught a huge break at the par-4 sixth, where former PGA champ turned TV commentator Rich Beem accidentally stepped on his ball in the thick rough and DJ was given a helpful drop.
"Well, there was [a volunteer] standing there, they watched it bounce in there, and he kind of just stood on the hill and waited for all of us to come up," he said. "You would think he would go and at least mark kind of the spot where it was.
"Probably should have never even had to come to that. But, yeah, it was—obviously, it was nice for him to find my ball. Even though I did get to drop it. I still played the same kind of shot that I would have played if he wouldn't have stepped on it."
After turning in two-under 33, Johnson made birdie at the par-3 11th to get to three under. Bogeys at the 12th and 14th brought him back to the pack, but with more wind in the forecast in the coming days, it's still a great place to be as the rest of the field has to play catch up.
"Tomorrow is still going to be another difficult day," Johnson said. "Every day out here is going to be difficult. It's going to take the same kind of focus, and I'll have to shoot the same kind of quality golf shots if I want to shoot another good score."
Poulter, who went off in the morning wave, looked as though he may defy the odds and post a low number, turning in two-under 33 with birdies at the par-4 third and the treacherous par-3 seventh. Even after making his first bogey of the round at the 10th, the Englishman rebounded, making another birdie at a difficult par 3, the 157-yard 11th that played far longer than 157 yards with the buffeting winds. It was a par-3 performance he knows he'll have trouble matching any of the next three days.
"To post that number today, very pleased, and I played very well, hit some great shots," Poulter said. "Seven, 11 were obviously highlights of the day. I think, to play those two par 3s in four shots was a big help to, obviously, posting 1 under par."
At the 13th, Poulter hit a wayward drive that found the thick left rough, a spot that brought a big number into play, especially after he hacked it out and left it in a fairway bunker just 100 yards away. From there he played a deft 50-yard shot that came spinning off the green and back into a green side bunker, where he displayed the resolve we've come to know from Poulter and got up-and-down for bogey. He closed with five straight pars, including another impressive sand save at the par-3 17th.
"Scrambling when you are out of position on this golf course is also key, and I did that well," Poulter said. "I limited the mistakes."
Henley was one of the very few to reach three under on Thursday, recovering from a bogey at the par-3 second with an eagle at the fifth (his first ever in seven U.S. Open appearances) and birdies at the seventh and eighth holes. Shinnecock's back nine gave him a bit more trouble, as he made double bogey at the par-4 10th and bogeyed the last to come in at two-over 37. While he's never had a top 10 in a major, the three-time tour winner knows he can play with anybody.
"I feel good. I also know I've got a lot of golf to play," Henley said. "But I do feel good about my game. I've beaten all these guys before. I've won out here on tour. Haven't won a major yet. But I believe in my game, and I just try to stay patient."
Piercy, who walked off the course during Wednesday's practice round frustrated with his game, hit 11 of 14 fairways and just nine of 18 greens, but still managed three birdies against two bogeys to grab a share of the lead.
The lone man at even par is Jason Dufner, who has just one top 10 in 17 major championship starts since his victory at the 2013 PGA Championship. His position on the leader board through one round is proof that Shinnecock fits no particular player, as Dufner ranks outside the top 50 in every strokes-gained category on the PGA Tour this season.
Seven players are at one over, including Justin Rose and Henrik Stenson, who are each in search of a second major championship.