News
U.S. Open 2018: Traditionalists, you got your wish. The U.S. Open is a brute once more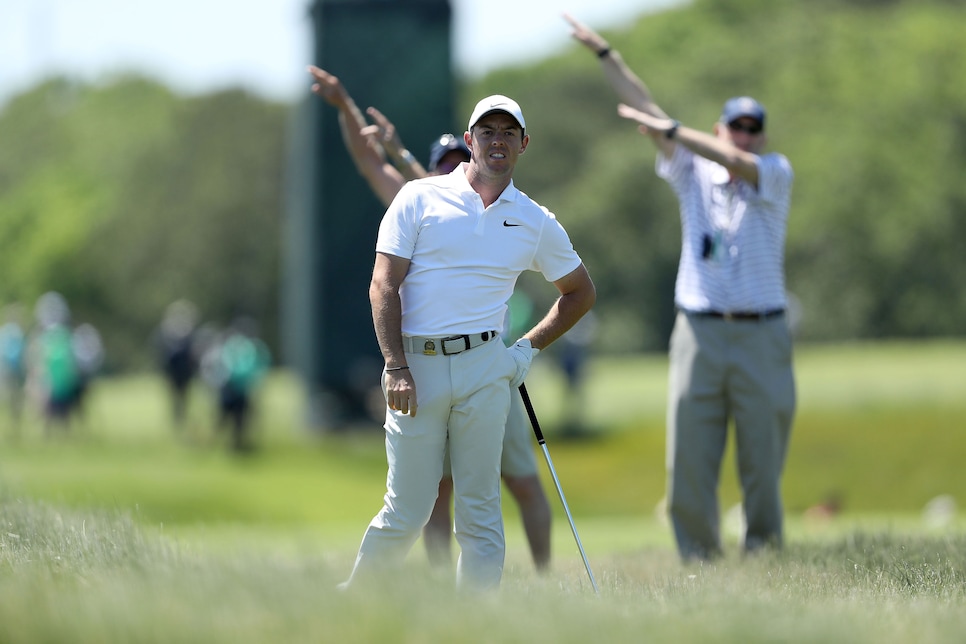 Photo By: David Cannon/Getty Images
SOUTHAMPTON, N.Y. — There won't be any 63s in this U.S. Open. The winning score will NOT be 16 under par. Which, whether they admit it or not, is a relief to officials at the USGA.
So long Erin Hills. Welcome back Shinnecock—windy, brutish Shinnecock.
"We don't really think about score," Mike Davis, the USGA's CEO, said on Wednesday. "We just worry about how the golf course plays."
On Thursday, Shinnecock Hills played hard. Really hard.
The glamour group of the morning wave—Rory McIlroy, Jordan Spieth and Phil Mickelson, winners of 12 majors—combined to shoot 25 over par. Mickelson's 77 made him the low man in threesome.
All three, generally among the most media friendly players in the world, declined to answer questions from the media when their five-hour-plus nightmare finally ended.
They were probably too tired to talk.
"It's brutal out there, just brutal," said Charles Howell III, who was one of the morning's low finishers at one-over-par 71. "You get a crosswind on this golf course and it's extremely difficult. But the USGA did a great job today. Hard as it was, the setup was fair. They didn't let the greens get too fast. I was a little nervous about that starting out when I saw the wind. But they didn't let the greens get too fast, and that gave us a chance."
Howell is one of the nine survivors of the infamous Sunday finale here in 2004 who are playing this week. He was one of 28 players who failed to break 80 that day, shooting 83.
"I've still got some scar tissue from that," Howell said. "It was nice to get another crack at this place and play a lot better."
A lot of players will want a crack at this place again after Thursday. Or, maybe not.
"It was exhausting out there," said Bill Haas, who shot 76. "Nothing unfair, it was just that if you made a mistake you paid for it—which is what you expect at a U.S. Open."
The final stats for the day help provide context to the carnage. The day's scoring average finished just north of 76.1, with only four players posting scores in red numbers, matching 69s for Scott Piercy and Ian Poulter in the morning, Dustin Johnson and Russell Henley in the afternoon.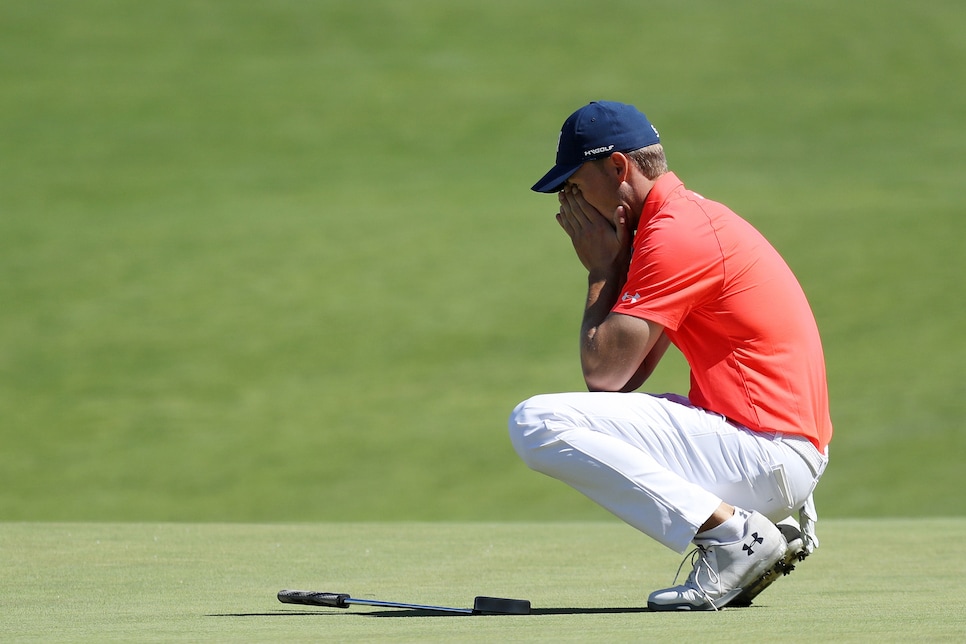 After the debacle of 2004, USGA officials were very careful with green speeds. Shinnecock's greens are always firm, and they're also quite slopey. Knowing that and what the weather report was like for Thursday—and, presumably the rest of the week—Davis understood that the USGA's un-official motto, "firm and fast forever," needed to be adjusted to "firm and reasonably fast," for now.
McIlroy, who simply couldn't find a fairway all day (three-of-14 fairways hit) said earlier in the week that Davis had told him the greens probably wouldn't be any faster than 12 on the Stimpmeter. That was apparently the case, although many players said judging the speed of the greens was difficult.
"You're putting uphill into the wind, you need to really hit it," said Patrick Reed, the Masters champion who shot a respectable 73 but pronounced himself unhappy with his round. "Then, if you're putting it downhill with the wind, you still better hit it but you better be really, really careful."
Careful was the word many players used to describe the way they needed to play—and the way the USGA needs to approach the course set-up the rest of the week.
"This was right near the top when it came to playing in a tough wind," Poulter said. "This course would be difficult with no wind. When it blows like this, well, that's really tough."
Or, as Reed put it, "When the wind blows like this, 20 to 25 miles an hour with gusts to who knows what, if you aren't spot on, you're in trouble."
Piercy's 69 wasn't that surprising, given that he finished tied for second at Oakmont two years ago and has a reputation as one of the best ball-strikers on tour. What was surprising, according to him, was how well he played, given that he was so disgusted with himself on Wednesday that he walked off the course after four holes. He went home and studied some of his better swings from the past on Instagram and came out today hoping for better. He got it.
What was perhaps most stunning about the day were the multiple meltdowns in the Mickelson-Spieth-McIlroy group. Spieth started with a three-putt bogey on No. 10 and followed it up with a one-putt triple bogey at the par-3 11th.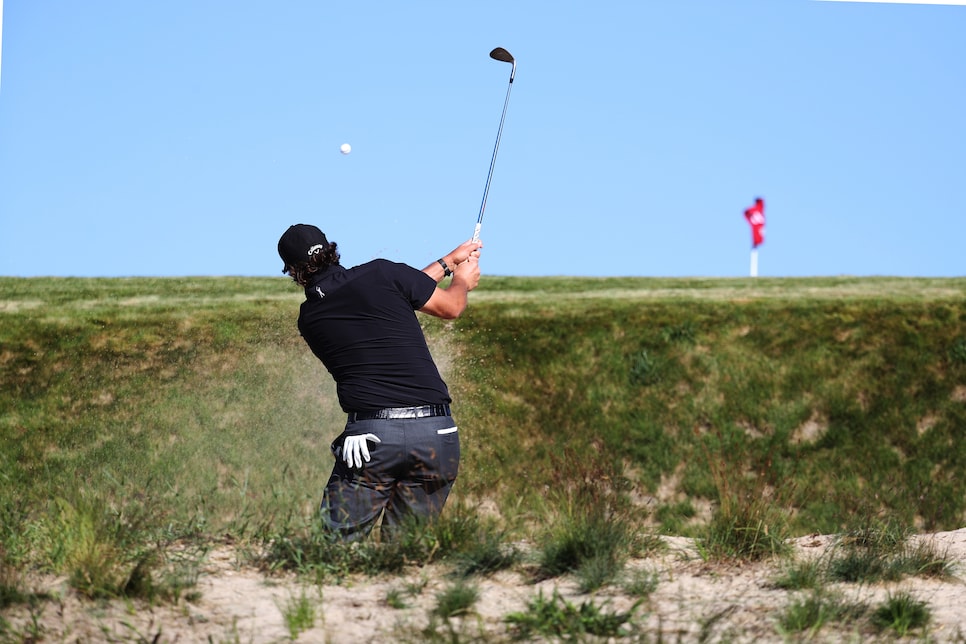 McIlroy made three 6s during a four-hole stretch on the back nine—double-bogeying 13 and 14 and then bogeying the par-5 16th. On the 14th, his drive found the deep rough and his second shot moved about two feet as he tried to gouge it out of the high grass. By the time he finished nine holes, he'd shot a seven-over-par 42. He started the front nine with another double-bogey 6 and was 10 over par through 11 holes, before "rallying," to actually get to eight over before two late bogeys ruined his chances to break 80—which is what he shot.
Mickelson managed to avoid any big numbers, but made eight bogeys and just one birdie all day.
The afternoon's marquee group—Johnson, Tiger Woods and Justin Thomas—fared better but wasn't without its stumble. In his first U.S. Open since 2015, Woods started with a triple-bogey 7 on the opening hole and struggling on the back nine to shoot a 78, while Thomas shot a frustrating 74 despite hitting 12 of 14 fairways..
"You know there's nothing unfair about the golf course," said Harold Varner, who shot a nine-over-par 79. "If you keep it in the fairway, you can score. If you don't, you won't. I just hit too many balls in the rough. The two guys I played with kept it in the fairway and look how they scored."
Varner's partners in the first group were Piercy and Matthew Pavon, who shot 71.
Someone asked Varner if playing the golf course Thursday was hard work. He laughed. "Hard work?" he said. "I'm playing golf. The volunteers out there searching for my golf ball were the ones working hard."
Poulter's 69 was a bigger surprise than Piercy's, given his U.S. Open record. He's played in the event 12 times and his best finish was a T-12 in 2008 and he hasn't played in an Open since 2015, when he finished T-54 at Chambers Bay.
"Nice to have a good start in a U.S. Open given my record here," he said. "But it's one round. There's a long, long way to go."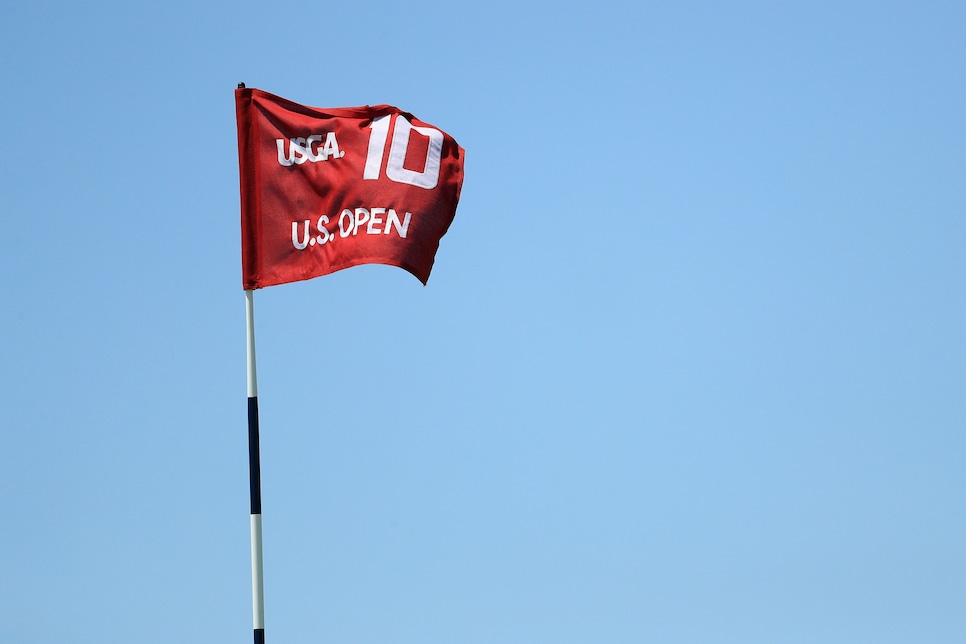 Mike Ehrmann/Getty Images
Piercy knows that, too, but just being here is a big deal for him. He didn't know officially until Sunday night that he was in the event, having to wait and see if an alternate spot from Sectional Qualifying would open up because the USGA always reserves extra spots for players who jump into the top 60 in the World Ranking the last week before the championship.
Three spots remained open, and Piercy officially got the call Sunday night that he was in.
"I'd been keeping track [of the rankings] during the week," he said. "So I kind of unofficially knew I was going to get in."
Piercy said the best he's ever hit the ball in his life was was at Oakmont when he tied for second with Jim Furyk behind Dustin Johnson. Like everyone else in the field, he knows after Thursday he will have to hit it at least that well to have a chance to get to Sunday evening's finish line.