News
Marquee group of Jordan Spieth, Rory McIlroy and Phil Mickelson a collective 25-over par in first round of U.S. Open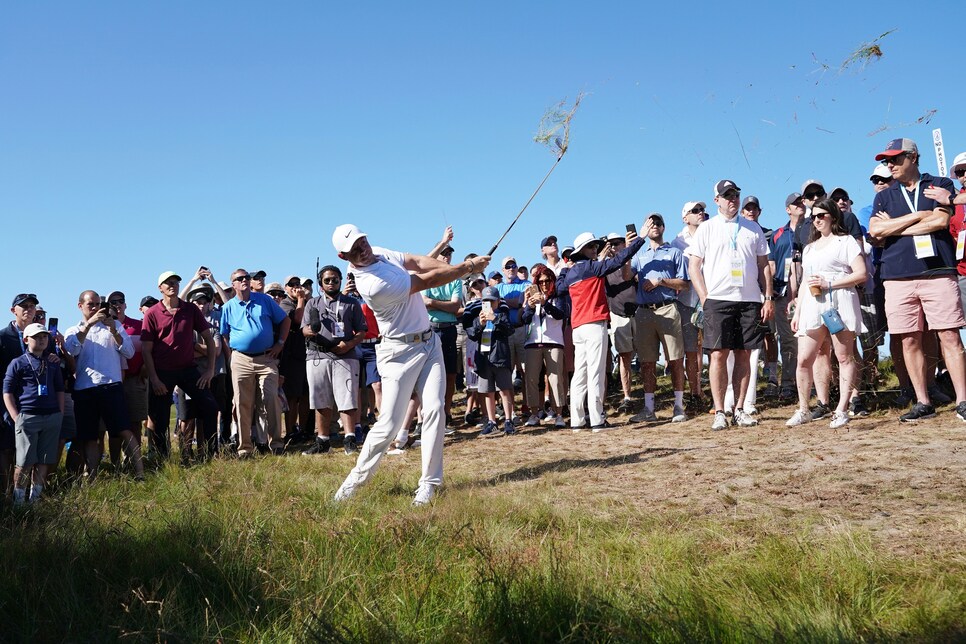 SOUTHAMPTON, N.Y. — They were hardly alone of course. But even on an opening morning of tee-to-green carnage at the 118th U.S. Open, a cumulative total of 25-over par was hardly what was expected of the so-called "marquee group" comprising Jordan Spieth (78), Rory McIlroy (80) and Phil Mickelson (77). All three multiple major champions struggled to come to terms with the combination of wind, firm greens and thick rough that turned Shinnecock Hills into Shinnecock Hell for so many of the 156-strong field.
The problems started early. On the 10th hole - their first - Spieth three-putted for bogey, Mickelson needed three to get down from over the green and also dropped a shot and McIlroy missed from maybe five feet for what would have been a morale-boosting birdie. Then things got even worse. After only four holes, Mickelson was already three-over par -- and the best of the bunch. By then, Spieth had made a triple-bogey six on the short 11th, eventually holing from five feet to do so, and McIlroy had dropped four shots in three holes after passing up that early birdie opportunity.
In conditions that were certainly difficult, but far from brutal, the general level of play continued to decline. Which is not to say the rough was not challenging and, in places, all but unplayable. After missing the 12th green by maybe five yards to the right, Mickelson arrived to find a spotter had marked the position of his ball. Or so he thought. Despite the presence of a little green flag, the pair spent another couple of minutes relocating said ball.
"You got to find it man," said a clearly agitated Phil. "Get in there and find it."
Even after the spotter did his duty, Phil wasn't finished. After walking up to the green to survey his shot he returned and momentarily "lost" his ball again. He then decided to call for a ruling.
"I can't see the ball when I swing," said Mickelson to the arriving rules official. "Is there a rule that allows me to see the ball?"
Four holes later, Mickelson burned another shot when his 70-yard pitch -- a sickening head-high screamer -- was bladed over the putting surface. On that same hole, McIlroy, having hit one shot no more than three feet in the rough right of the 14th fairway, needed two to escape a bunker and matched Mickelson's bogey. It was the third of four sixes McIlroy would make during a round in which he accumulated only five pars.
Still, amidst all of the nonsense, Spieth had steadied. Four over-par after two holes, the Open champion played his next seven holes in level par. A notable effort. And, by the end, the 24-year old Texan was the only one of the group who took any time to speak to the media. While all three had knocked back official requests for their time and comments, Spieth did stop briefly outside the player hospitality unit to say a few words.
Clearly, the 11th hole was still on his mind. In sand off the tee, he had blasted his recovery over the putting surface, from where he needed two chips to get back on the green.
"It was just blah," he said. "It wasn't fun; it wasn't not fun. It was just blah. I was okay after the 11th. The wind kinda stopped when I hit my bunker shot there. I didn't want to be below the hole so I played the aggressive route. And it hurt me. You just can't do that in the U.S. Open. When you're put of position you have to just try and give yourself a chance for a par and make bogey at worst.
"If I'm upset with anything it is with the decision I made on that bunker shot. I was trying too hard to get the stroke back I lost on the previous hole. So I was four-over through two and trying to figure out how to shoot four-over on the day."
Asked about the course set-up, always a controversial topic during U.S Opens at Shinnecock, Spieth was more circumspect. But only slightly.
"There were certainly a few pins that I wondered why they hadn't put them two paces closer," he said. "They found a found a lot of flat spots on the crests of ridges. You couldn't get it close. But if you were playing well and hitting it to the right spots you could make pars. But overall it was just very difficult to control the ball off the tee and get it where you wanted it in this wind."
The most prominent emotion was, understandably, disappointment. Professing to have been striking the ball "beautifully" earlier in the week, Spieth had clearly expected more of himself.
"I thought that if I could shoot even on the back and get in at four-over I would be very much in the golf tournament," he sighed. "But I caught a couple of tough breaks and a couple of tough numbers. I didn't hit the ball very well either. I got a little off in the wind today. Hopefully I'll be better tomorrow."
He -- and his two partners in calamity - will need to be.