News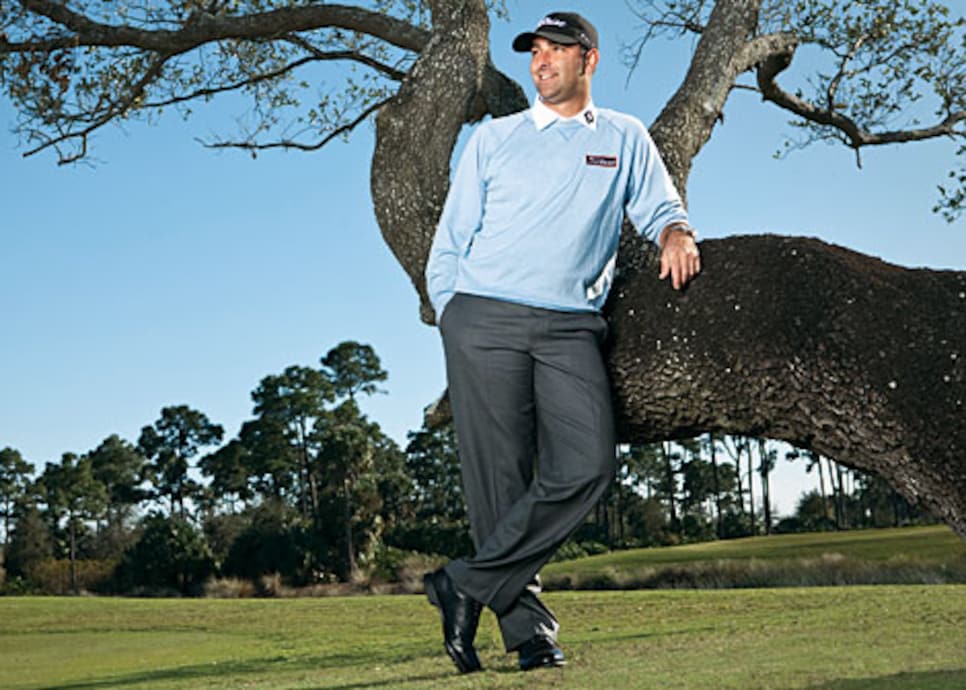 deep roots: Turnesa is an honorary member at Florida's Old Palm GC, but his story begins with a New York family that was immersed in the game.
The scene was breakfast at the Bay Hill Club and Lodge, early in the week of the 2008 Arnold Palmer Invitational. Palmer was waiting on his eggs when PGA Tour rookie Marc Turnesa, who was awarded a sponsor's exemption into the tournament, walked into the room and was introduced to The King.
Turnesa, hat in hand and feeling a little star-struck, simply listened. "I felt the energy around him because he's such a big figure I've seen so many times," Turnesa recalls 10 months later. "When he was speaking, I was half in shock, but I'm pretty sure what he said was, 'You have a great family. I knew your grandfather, and if it wasn't for your family, you wouldn't be here.' "
Turnesa took it as a show of respect. Palmer knew almost all of the seven golfing Turnesa brothers—Marc's grandfather and great-uncles. Palmer knew Jim Turnesa won a PGA Championship, how they all competed against the likes of Ben Hogan, Byron Nelson, Sam Snead and other war-time greats, and how Willie Turnesa, the only brother not to turn professional, was one of the game's great career amateurs, perhaps second only to Bobby Jones. But in the Bay Hill locker room Marc Turnesa slipped in almost unnoticed, just another gracious guest filling out the Monday pro-am.
"I told Marc [he has] to remember he represents seven guys who, other than Willie, didn't have an education." says Joe Turnesa Jr., Marc's 76-year-old second cousin and the son of Joe Turnesa Sr., who won 15 PGA Tour events. "They came from parents who couldn't read and write, who [when] they died were still married to the same girls. None of them left their wives. [He has] a responsibility to carry on in the memory of those guys. Marc has a legacy, and he's responsible for that."
He's trying to make the most of that responsibility. Turnesa started 2008, his rookie season on the PGA Tour, slowly and struggled with those expectations through the summer, missing 13 cuts in 22 starts. At the Stanford St. Jude Championship he was two shots off the lead entering the final round, but he made an 8 on the first hole, shot 77 and finished T-37. He had success in the fall, with a T-2 in the Viking Classic—Turnesa came to the 71st hole with the lead, then hit a 7-iron into the water and eventually lost a playoff to Will Mackenzie—and a win in Las Vegas three weeks later. He is off to a typically slow start in 2009, but instead of worrying about keeping his card or playing with other struggling pros off the Nationwide Tour, he has a two-year exemption on the PGA Tour.
His four-year rise from club cleaner to tour winner would make his ancestors proud. In 2005 Turnesa spent the winter picking the range and working the cart room at Jonathan's Landing in Jupiter, Fla. He played the Gateway Tour, developing the reputation of a nice guy who couldn't close. He finally qualified for the Nationwide Tour in 2007 where, in a foreshadowing of last fall's success to come, he won the Miccosukee Championship on the next-to-last week of the season to jump inside the top 25 on the money list and advance to the PGA Tour. Those who remember his struggles enjoyed the scene last October on the 18th green at the TPC Summerlin in Las Vegas: Turnesa, with showgirls on each arm and a big cardboard check with his name on it, interacting with the event's host as winner of the Justin Timberlake Shriners Hospitals For Children Open. "That was the most nervous I was all week," Turnesa says.
Steve Marino, who played mini-tours with Turnesa, was there at the final green to greet him, pouring a beer onto Turnesa's head and arranging for a suite at the Bellagio for the victory party. Marc's father, Mike Jr., flew out from New York Saturday night and was there for the celebration. By the end of the year, his son had a first- and second-place finish to his credit and $1.3 million in earnings—at 30, a very good first season in the bigs.
To start the 2009 season, Turnesa took his mother to Kapalua for the Mercedes-Benz Championship. One month later he was paired in the Buick Invitational with Padraig Harrington and Camilo Villegas, his practice partner at Old Palm GC in Palm Beach Gardens.
Between tour events Marc and his father met one morning on the first tee at Old Palm, where Marc is an honorary member, for a game against Raymond Floyd and his son, Robert. It gave Marc a chance to reflect on his 12 months on tour. "I'm sure I take it for granted sometimes, but yeah, every once in a while I've got to pinch myself because I've got it pretty good," Marc says. "If it wasn't for my family, who knows what would have happened? My great-grandfather came over here; it was a lot different back then, and if he only knew what it was like now, he wouldn't believe it."
Vitale and Anna Turnesa emigrated from a farming town just east of Naples, Italy, to New York City in 1904. According to family legend, Vitale walked 28 miles from Manhattan to Elmsford, N.Y., where a cousin had a plot of land. During that trip Vitale learned that Fairview GC was being built, and he took a job on the construction crew. That led to a job as head greenkeeper and a home next to the course. The Turnesas were old-school Italians, right down to a shrine in the living room.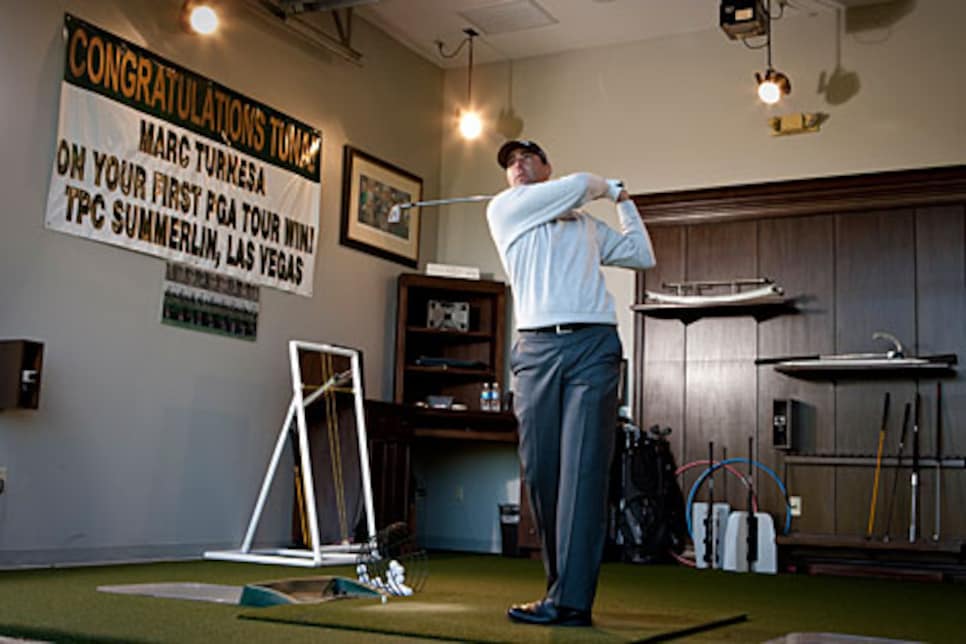 "His property was triangular-shaped," remembers Joe Jr. "There was a little barn in back that became a garage, and a narrow angle up to the top of property, where there were trellises for the grapes. There were chickens all over the place. You have to understand, these were devout Catholics, with holy pictures all over the place. It's amazing they never had a fire, with all the candles burning."
Vitale and Anna had nine children, seven boys and two girls. Much to Vitale's chagrin, all the boys grew up to be golfers (see sidebar). Phil, Frank and Doug became teaching pros; Joe, Mike and Jim joined the tour. The six oldest brothers pooled their resources and sent Willie, their youngest brother, to Holy Cross. According to the February 1959 issue of Sport magazine, when Vitale got word that Willie had won the 1938 U.S. Amateur at Oakmont, beating Pat Abbott in the final, Vitale responded, "Why shouldn't he win? All he does is play golf."
Willie went on to win the 1947 British Amateur and a second U.S. Amateur in '48. "They called him 'Willie the Wedge,'" says Joe Jr. "When he won the Amateur at Oakmont in '38, they used the same wide-toothed rakes that Jack Nicklaus has been experimenting with [at Muirfield Village in the 2007 Memorial], and he was 13-for-13 getting out of those bunkers in the final."
Mike Jr. has memories of his grandfather drinking coffee and eating cornflakes every morning before tending to his sons' gardens, growing plum tomatoes in his backyard. "You didn't have to go shopping in those days," he says "You just ate it right out of the ground."
While never wealthy, the Turnesas became famous among the celebrities of their era. When Mike died in 2000 at age 93, Mary, his wife of 60 years, told The New York Times that all the boys slept in the same bed and wore holes in the living room rug from practicing their game. Not allowed to play Fairview, the fields around the house became "Turnesa Country Club." Later the family was befriended by Ed Sullivan, Babe Ruth, Bob Hope, Bing Crosby and Dean Martin. Hope once dined on one of Mama Turnesa's pasta dinners.
Around Westchester, the Turnesas were friends with the Harmons, whose patriarch was 1948 Masters champ Claude Harmon. Mike Jr., felt the weight of his family's name and never made it on tour. He was crushed when a young Butch Harmon beat him in the final of the 1961 Met Junior, 8 and 6. At 63, he now splits time between Rockville Center Links on Long Island, where he is head pro, and his son's apartment in Jupiter. As a third-generation Turnesa, Marc's father felt the pressure of being too closely connected to his ancestors. Born in 1978, Marc, who won the Met Junior in 1994, never felt that. "The most asked question I get is, 'Do you feel any pressure with the Turnesa name?' " Marc says. "The answer is no, if anything, I feel like I have an advantage, it's in the blood, there's got to be something to it. To come from a family of seven golfing brothers, six professionals, the other the highest-level amateur, then to have my father be a pro, there's got to be something to it."
At 6-foot-1 Marc has the height of great-uncle Joe, the mannerisms of his grandfather Mike Sr., and the touch of Willie (Marc was T-18 in putts per GIR and T-41 in scrambling in 2008). "My dad was a gentleman, everybody loved him," says Mike Jr. "Nobody had anything bad to say about him, and that's what I hear about Marc."
Growing up in a golf environment at Long Island's Rockville Links, Marc Turnesa remembers a picture on his father's wall of the participants of the first Masters, with great-uncles Joe, Mike and Willie in the field. He has a distant memory of being at Knollwood CC in Elmsford, where his grandfather was the pro, watching Mike and his Uncle Willie knock the ball around in their later years. He was a well-decorated junior coming out of the Met Section PGA, and after two years at the University of South Florida, transferred to North Carolina State. His roommates, Carl Pettersson and Tim Clark, went on to PGA Tour careers while Turnesa moved to Florida to develop his game.
Their apartment in Raleigh was the typical college crash pad. Clark skipped his senior year to play the Nationwide Tour but would come home to party and watch the big-screen TV he won at a tournament in Canada. Carl would awake early but sit on the couch all morning while Marc, usually awakened by Pettersson, went to class and earned his degree. They had a black Lab named Stinky, and Wolfpack golf coach Richard Sykes laughs today when he says, "There was no way you'd want to go anywhere near that place."
Sykes remembers Turnesa as a hard-nosed young man who was in between swing thoughts and theories during the early part of his time on campus. By the end of his college career, Turnesa had become, "a pretty good college player," said Sykes. Today Sykes uses Turnesa as an example to his players of late development that can lead to a tour career.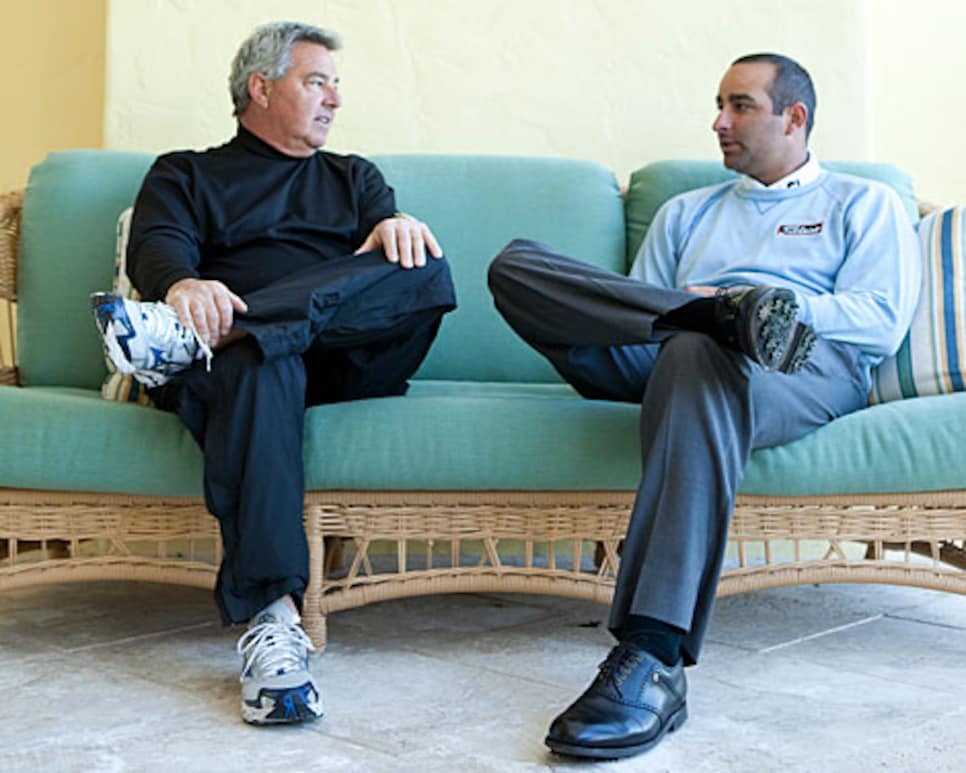 "Marc was a good college player who had a nice swing and never did as well as he should have," says Pettersson. "He learned to play after he got out of school, really, playing mini-tours. He's a great example of somebody getting better every year. I remember being out here for a couple of years, and he was talking about hanging it up."
In Florida, Turnesa became friends with Robert Floyd and Marino, along with a character from the mini-tours named Dominic Gatto, who gave him a nickname ("Tuna") right out of "The Sopranos." Another Gateway Tour friend turned club pro, Rod Curl Jr., son of the former tour player, is both his teacher and usually part of the dinner group.
"[Marc] had so many opportunities to win on the Gateway Tour, and he never did," says Marino. "He could never close the deal, and who knows why?"
The invitation to Palmer's tournament is automatic this year, and the family name, along with the rich Turnesa tradition, is being carried on. As with Vitale Turnesa's garden, Marc's career just needed a little cultivating.