News
U.S. Open 2018: 2018 U.S. Open Local and Sectional Qualifying Results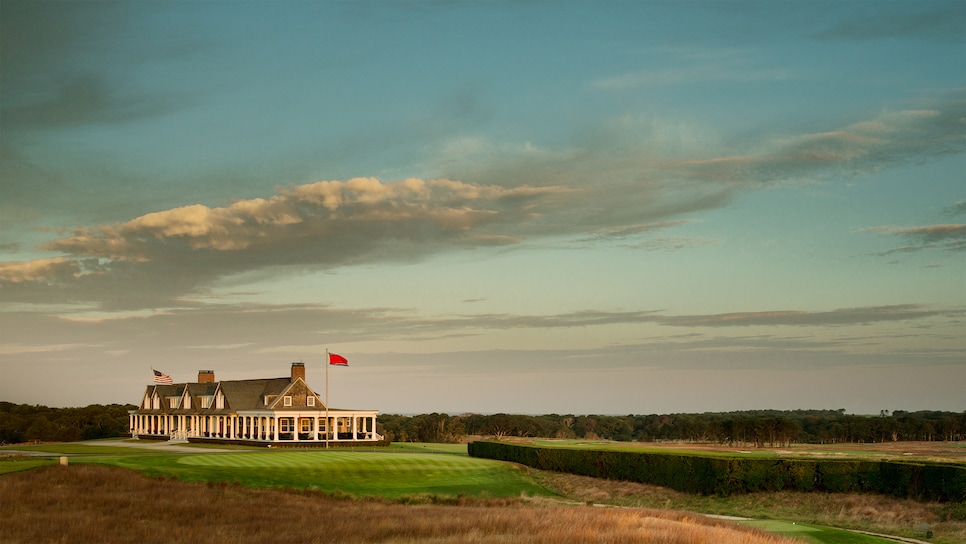 The road to the 2018 U.S. Open is officially underway after the USGA accepted 9,049 into this year's national championship. To be eligible, a player must have a Handicap Index of 1.4 or lower, or be a professional. Only 54 of these players are exempt all the way to Shinnecock Hills, with the remaining players needing to play their way into the championship via local and sectional qualifying.
There are 112 courses hosting 18-hole local qualifiers that will be contested in 45 states and Canada from April 30 to May 17. Those who advance them it it up in a 36-hole sectional qualifier, being held at 11 different sites on June 4 (with one additionally qualifier in Japan on May 21).
The U.S. Open will be played June 14-17 at Shinnecock Hills Golf Club, in Southampton, N.Y.
Just two players—Ken Venturi (1964) and Orville Moody (1969)—have won the U.S. Open after qualifying through local and sectional play. In 2017, 21 players advanced through local and sectional qualifying.
U.S. Open Sectional Qualifying Schedule/Results
May 21, Japan Memorial Golf Club, Hyogo Prefecture, Japan
Shota Akiyoshi, Japan, 69-65—134
David Bransdon, Australia, 63-72—135
Wenchong Liang, China, 69-67—136
Alt-Rikuya Hoshino, Japan, 66-71—137
Alt-Hideto Tanihara, Japan, 67-70—137
June 4, Walton Heath Golf Club (Old and New Courses), Surrey, England (111 players/14 spots)
Andrew Johnston, England, 65-69—134
James Morrison, England, 67-67—134
Matthew Southgate, England, 67-68—135
Richie Ramsay, Scotland, 65-70—135
Scott Gregory, England, 67-69—136
Ryan Fox, New Zealand, 65-71—136
Tom Lewis, England, 68-69—137
Matthieu Pavon, France, 68-69—137
Matt Wallace, England, 67-70—137
Jason Scrivener, Australia, 69-68—137
Dean Burmester, South Africa, 66-71—137
(a) Kristoffer Reitan, Norway, 69-69—138
Thorbjorn, Olesen, Denmark, 67-71—138
Paul Waring, England, 64-75—139
Alt 1-Ryan Evans, England, 69-70—139
Alt 2-Aaron Rai, England, 73-66—139
June 4, Lake Merced Golf Club & The Olympic Club (Ocean Course), Daly City, Calif. (86/5)
(a) Chun An Yu, Tempe, Ariz., 65 (OC)-70 (LM)—135
(a) Shintaro Ban, San Jose, Calif., 67 (OC)-69 (LM)—136
(a) Franklin Huang, Poway, Calif., 69 (LM)-68 (OC)—137
(a) Rhett Rasmussen, Draper, Utah, 66 (OC)-71 (LM)—137
Sung Joon Park, Irvine, Calif., 67 (OC)-70 (LM)—137
Alt 1-Edward Olson, Aptos, Calif., 70 (LM)-68 (OC)—138
Alt 2-(a) Tim Widing, Cambria, Calif., 70 (OC)-68 (LM)—138
June 4, The Bear's Club, Jupiter, Fla. (48/3)
(a) Luis Gagne, Costa Rica, 68-70—138
Richy Werenski, West Palm Beach, Fla., 71-69—140
(a) Tyler Strafaci, Davie, Fla., 71-70—141
Alt 1-Nathan Stamey, Canton, N.C., 70-71—141
Alt 2-Cristian DiMarco, Winter Park, Fla., 68-73—141
June 4, Ansley Golf Club (Settindown Creek Course), Roswell, Ga. (43/3)
(a) Garrett Rank, Canada, 71-71—142
Michael Hebert, Atlanta, 70-72—142
Roberto Castro, Atlanta, 74-69—143
Alt 1-(a) Bryce Hendrix, Greensboro, N.C., 76-67—143
Alt 2-Gene Sauers, Savannah, Ga., 73-72—145
June 4. Woodmont Country Club (North Course), Rockville, Md. (53/4)
Sebastian Munoz, Colombia, 67-69—136
Timothy Wilkinson, Jacksonville, Fla., 68-70—138
(a) Cole Miller, New Tripoli, Pa., 70-69—139
(a) Mickey DeMorat, Merritt Island, Fla., 70-71—141
Alt 1-Chase Wright, Carmel, Ind., 74 67—141
Alt 2 -Billy Hurley III, Annapolis, Md., 72-69—141
June 4, Canoe Brook Country Club (North & South), Summit, N.J. (81/5)
Cameron Wilson, Rowayton, Conn., 69 (N)-66 (S)—135
Calum Hill, Silver City, N.M., 67 (S)-68 (N)—135
Mike Miller, Brewster, N.Y., 66 (S)-70 (N)—136
(a) Stewart Hagestad, Newport Beach, Calif., 70 (N)-66 (S)—136
(a) Theo Humphrey, Greenwich, Conn., 65 (S)-72 (N)—137
Alt 1-Mark Hoffman, Canada, 72 (N)-65 (S)—137
Alt 2-(a) Ryan Davis, Berkeley Heights, N.J., 67 (S)-71 (N)—138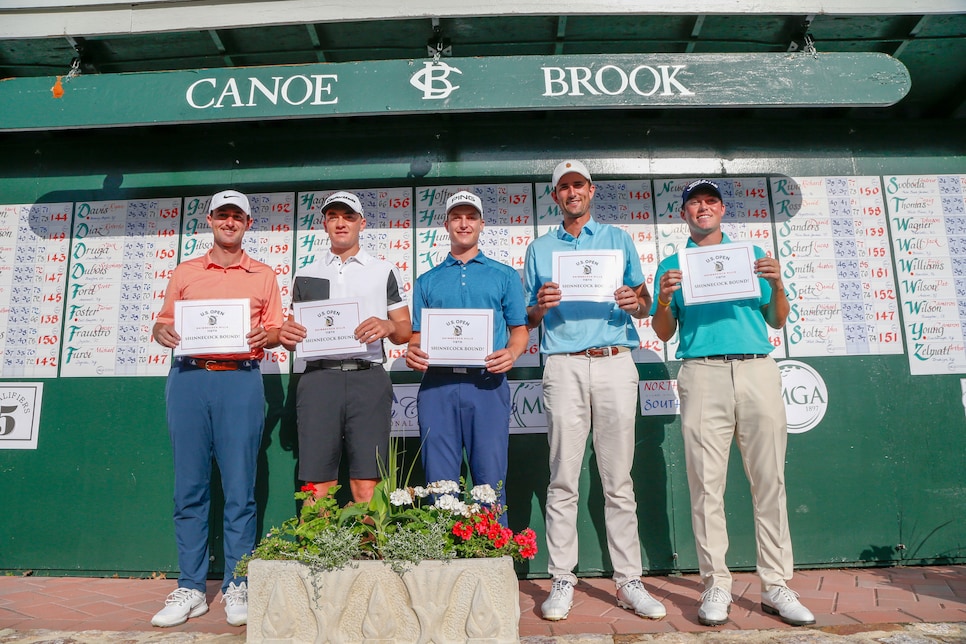 June 4, Brookside Country Club & Lakes Country Club, Columbus, Ohio (120/14)
Sungjae Im, South Korea, 67 (L) -68 (B)—135
Shane Lowry, Ireland, 68 (L)-67 (B)—135
Keegan Bradley, Woodstock, Vt., 66 (B)-70 (L)—136
Brian Gay, Windermere, Fla., 68 (B)-68 (L)—136
Michael Putnam, University Place, Wash., 73 (B)-64 (L)—137
Shubhankar Sharma, India, 69 (B)-68 (L)—137
Russell Knox, Ponte Vedra Beach, Fla., 66 (L)-71 (B)—137
Patrick Rodgers, Avon, Ind., 70 (B)-67 (L)—137
William Zalatoris, Plano, Texas, 70 (L)-67 (B)—137
Harold Varner, Gastonia,N.C., 66 (L)-72 (B)—138
Ollie Schniederjans, Alpharetta, Ga., 67 (L)-71 (B)—138
Aaron Baddeley, Australia, 69 (L)-69 (B)—138
(a) Ryan Lumsden, Scotland, 68 (B)-70 (L)—138
Adam Scott, Australia, 66 (B)-72 (L)—138
Alt 1-Ted Potter Jr., Ocala, Fla., 69 (L)-70 (B)—139
Alt 2-Kevin Tway, Edmond, Okla., 66 (L)-73 (B)—139
June 4, Springfield Country Club, Springfield, Ohio (65/5)
(a) Will Grimmer, Cincinnati, Ohio, 66-69--135
Dylan Meyer, Evansville, Ind., 68-68--136
Brian Stuard, Jackson, Mich., 66-71--137
David Gazzolo, Riverside, Calif., 69-69--138
(a) Timothy Wiseman, Corydon, Ind., 68-70--138
Alt 1-Corey Conners, Canada, 69-69--138
Alt 2-David Lutterus, Australia, 65-74--139
June 4, Portland (Ore.) Golf Club (81/4)
Lucas Herbert, Australia, 66-64—130
Christopher Babcock, Shoreline, Wash., 68-65—133
(a) Sulman Raza, Eugene, Ore., 71-66—137
Michael Block, Mission Viejo, Calif., 69-68—137
Alt 1-Max Greyserman, Boca Raton, Fla., 67-71—138
Alt 2-Brett Lederer, Lakewood, Calif., 71-67—138
June 4, Ridgeway Country Club & Colonial Country Club (South Course), Memphis, Tenn. (117/11)
Sam Burns, Shreveport, La., 62 (R)-66 (C)—128
Mackenzie Hughes, Canada, 66 (R)-67 (C)—133
Steve Stricker, Madison, Wis., 68 (C)-65 (R)—133
Lanto Griffin, Blacksburg, Va., 65 (C)-69 (R)—134
(a) Braden Thornberry, Olive Branch, Miss., 66 (R)-68 (C)—134
Tyler Duncan, Columbus, Ind., 69 (C)-66 (R)—135
Scott Stallings, Knoxville, Tenn., 68 (C)-67 (R)—135
Sebastian Vazquez, Mexico, 66 (R)-69 (C)—135
Eric Axley, Knoxville, Tenn., 66 (C)-70 (R)—136
Matthew Jones, Australia, 68 (C)-68 (R)—136
Aaron Wise, Las Vegas, 66 (C)-70 (R)—136
In playoff for alternate spots (8 a.m. Tuesday):
Bronson Burgoon, The Woodlands, Texas, 69 (C)-67 (R)—136
Joel Dahmen, Scottsdale, 67 (R)-69 (C)—136
Scott Piercy, Las Vegas, 70 (C)-66 (R)—136
Seamus Power, Huntersville, N.C., 71 (C)-65 (R)—136
Xinjun Zhang, China, 68 (C)-68 (R)—136
June 4, Shadow Hawk Golf Club, Richmond, Texas (52/3)
(a) Jacob Bergeron, Slidell, La., 64-69—133
(a) Philip Barbaree, Shreveport, La., 68-65—133
Chris Naegel, Wildwood, Mo., 69-65—134
Alt 1-(a) Blaine Hale, Dallas, 69-65—134
Alt 2-Dillon Rust, Edmond, Okla., 65-70—135
U.S. Open Local Qualifying Results
April 30, Marietta C.C., Kennesaw, Ga. (132 players/8 advance)
Michael Hebert, Atlanta, 67
(a) Andy Ogletree, Meridian, Miss., 67
Tyson Alexander, Gainesville, Fla., 67
Sung An, Duluth, Ga., 68
Mark Silvers, Thunderbolt, Ga., 68
Nick Sherwood, Albany, Ore., 69
Shea Sylvester, Roswell, Ga., 69
(a) S.M. Lee, Dacula, Ga., 69
Alt-(a) Bryson Nimmer, Bluffton, S.C., 69
Alt-(a) Turk Pettit, Sugar Grove, N.C., 69
April 30, Gleneagles C.C., Plano, Texas (132/8)
(a) Aaron Guanlao, Haslet, Texas, 66
(a) Braden Bailey, Groves, Texas, 69
(a) Turner Hosch, Dallas, 70
(a) Blaine Hale, Dallas, 70
Mark Walker, Frisco, Texas, 71
(a) Drew Jones, Decatur, Texas, 71
Jared Jones, Houston, 71
Justin Bates, Lewisville, Texas, 71
Alt-(a) Pierceson Coody, Plano, Texas, 72
Alt-Andrew Buchanan, Los Altos, Calif., 72
May 1, UNM Championship G.C., Albuquerque, N.M. (44/3)
Will Collins, Rapid City, S.D., 71
(a) Gustavo Morantes, Albuquerque 71
(a) Chandler Smith-Stetson, Albuquerque, 71
Alt-(a) Tiger Lee, Hong Kong, 74
Alt-Anton Salome, Sorocco, N.M., 74
May 3, Robert Trent Jones Golf Trail at Silver Lakes, Glencoe, Ala. (77/4)
Daniel Mazziotta, Fort Myers, Fla., 65
Connor Godsey, Jacksonville Beach, Fla., 67
Matthew Fast, Hattiesburg, Miss., 68
Raoul Mendard, Canada, 69
Alt-Kevin Lucas, Folsom, Calif., 71
Alt-Jared Bettcher, Auburn, Ala., 71
May 4, The Club at Admirals Cove (North/West Courses), Jupiter, Fla. (83/5)
Sunny Kim, Palm Beach Gardens, Fla., 68
Albin Choi, Palm Beach Gardens, Fla., 68
Oscar Fraustro, Mexico, 69
Eric Cole, Delray Beach, Fla., 71
Sean Kelly, Staten Island, N.Y., 71
Alt-Peyton White, Davidson, N.C., 71
Alt-(a) Alex Vogelsong, Palm City, Fla., 72
May 6, Ka'anapali G.C. (Royal Course), Lahaina, Hawaii (33/2)
Samuel Cyr, Makawao, Hawaii, 67
(a) Chris Stutts, Kihei, Hawaii, 70
Alt-David Havens, Kihei, Hawaii, 71
Alt-Garrett Okamura, Wailuku, Hawaii, 72
May 7, Alpine C.C., Highland, Utah (90/5)
Brandon Kida, Layton, Utah, 66
(a) Connor Howe, Ogden, Utah, 67
(a) Rhett Rasmussen, Draper, Utah, 67
Randall McCracken, Salt Lake City, 69
Todd Miller, Provo, Utah, 69
Alt-Seokwon Jeon, Draper, Utah, 69
Alt-(a) Peter Kuest, Fresno, Calif., 70
Sam Greenwood/Getty Images
May 7, The Founders G.C., Sarasota, Fla. (73/4)
Sebastian Mark, Bradenton, Fla., 66
(a) Andrew Alligood, Saint Johns, Fla., 67
Dudley Hart, Naples, Fla., 67
(a) Claudio Correa, Chile, 69
Alt-(a) Priyanshu Singh, Tampa, Fla., 70
Alt-Adam Hogue, Lakewood Ranch, Fla., 70
May 7, Weston G. & C.C., Etobicoke, Ontario, Canada (77/4)
Taylor Pendrith, Canada, 69
(a) Tyson Turchanski, Canada, 70
Stephane Dubois, Canada, 70
Nick Kenney, Canada, 71
Alt-James Seymour, Canada, 72
Alt-(a) Thomas Code, Canada, 72
May 7, The Club at Comanche Trace (Valley/Hills Course), Kerrville, Texas (92/5)
Ben Hargis, Amarillo, Texas, 66
(a) Mitchell Meissner, San Antonio, 66
Nathaniel James, Fort Worth, 67
KC Lim, San Antonio, 67
Blake Pugh, Southlake, Texas, 67
Alt-(a) Blake Harwell, San Antonio, 68
Alt-(a) William Paysse, Temple, Texas, 68
May 7, Great River G.C., Milford, Conn. (75/4)
Patrick Langan, Stamford, Conn., 69
Michael Ballo, Stamford, Conn., 70
Ross Kronberg, Tequesta, Conn., 70
John Martinchek, Vernon, Conn., 71
Alt-David Pastore, Greenwich, Conn., 71
Alt-Geno Giancola, New Britain, Conn., 72
May 7, Muskegon (Mich.) C.C. (78/5)
Matt Harmon, Grand Rapids, Mich., 69
(a) Kaleb Johnson, Naples, Fla., 69
(a) Kyle Mueller, Athens, Ga., 69
(a) James Piot, Canton, Mich., 69
(a) Dan Ellis, Lansing, Mich., 70
Alt-Eric Wohlfield, Grand Haven, Mich., 70
Alt-(a) Zachary Robbins, Grand Rapids, Mich., 70
May 7, Spring Lake (N.J.) G.C. (70/4)
(a) Jack Wall, Briele, N.J., 68
Roberto Diaz, Mexico, 69
(a) Chris Gotterup, Little Silver, N.J., 70
(a) Michael Stamberger, Brielle, N.J., 71
Alt-Daniel O'Rourke, Milford, N.J., 71
Alt-(a) Brian Whitman, Tinton Falls, N.J., 71
May 7, Old Warson C.C., St. Louis (103/6)
(a) John Augenstein, Owensboro, Ky., 66
(a) Dylan Meyer, Evansville, Ind., 68
Wesley Hunter, Mobile, Ala., 70
Kyle Weldon, Ballwin, Mo., 70
Jay Williamson, St. Louis, 70
(a) Grant Milling, Bloomington, Ill., 71
Alt-(a) Andrew Pranger, St. Louis, 71
Alt-Kevin Kring, Springfield, Mo., 71
May 7, Canyon Gate C.C., Las Vegas (68/4)
(a) Harry Hall, England, 69
Wyndham Clark, Las Vegas, 70
Gipper Finau, St. George, Utah, 70
Joel Kijowski, Las Vegas, 70
Alt-Taylor Montgomery, Las Vegas, 71
Alt-Eric McCardle, Oak Harbor, Wash., 71
May 7, Fort Washington G. & C.C., Fresno, Calif. (56/3)
(a) Alex Lee, Sacramento, Calif., 66
Joseph Bramlett, San Jose, Calif., 67
Nick Delio, Valencia, Calif., 67
Alt-Neil Bautista, Bakersfield, Calif., 68
Alt-Jeff Freund, Carmel, Calif. 68
May 7, Walnut Creek Golf Preserve, Westminster, Colo. (84/5)
(a) John Murdoch, Laramie, Wyo., 68
Steven Kupcho, Westminster, Colo., 69
(a) Trevor Olkowski, Grand Junction, Colo., 69
(a) Josh Seiple, Castle Rock, Colo., 69
Zahkai Brown, Golden, Colo., 70
Alt-(a) AJ Ott, Fort Collins, Colo., 70
Alt-Anthony Aguilar, Arvada, Colo., 70
May 7, Tonto Verde G.C., Scottsdale, Ariz. (78/5)
Andre Metzger, Scottsdale, 63
Nicolas Paez, Phoenix, 66
Brian Cooper, Pittsburgh, Pa., 68
Matt Lee, Scottsdale, 68
(a) Michael Martin, Scottsdale, 68
Alt-Patrick Stolpe, Scottsdale, 69
Alt-Ken Tanigawa, Phoenix, 69
May 7, Essex County C.C., West Orange, N.J. (144/8)
Max Greyserman, Short Hills, N.J., 66
(a) Gen Nagai, Japan, 67
(a) Ryan Davis, Berkeley Heights, N.J., 69
Brian Mackey, Chestnut Ridge, N.Y., 69
Pat Wilson, Andover, N.J., 69
(a) Cameron Young, Scarborough, N.Y., 69
(a) Lloyd Jefferson Go, Philippines, 70
(a) James Nicholas, Scarsdale, N.Y., 70
Alt-Brett Jones, Basking Ridge, N.J., 70
Alt-Tyler Hall, Wayne, N.J., 70
May 7, LPGA International (Rees Jones Course), Daytona Beach, Fla. (62/4)
(a) Gordon Neale, Dove Canyon, Calif., 68
Bill Anderson, Deltona, Fla., 69
Jeff Dennis, Jacksonville, Fla., 69
(a) Joseph Pagdin, England, 69
Alt-Brody Fischer, Grand Rapids, Mich., 70
Alt-(a) Samuel Uhland, Jacksonville, Fla., 70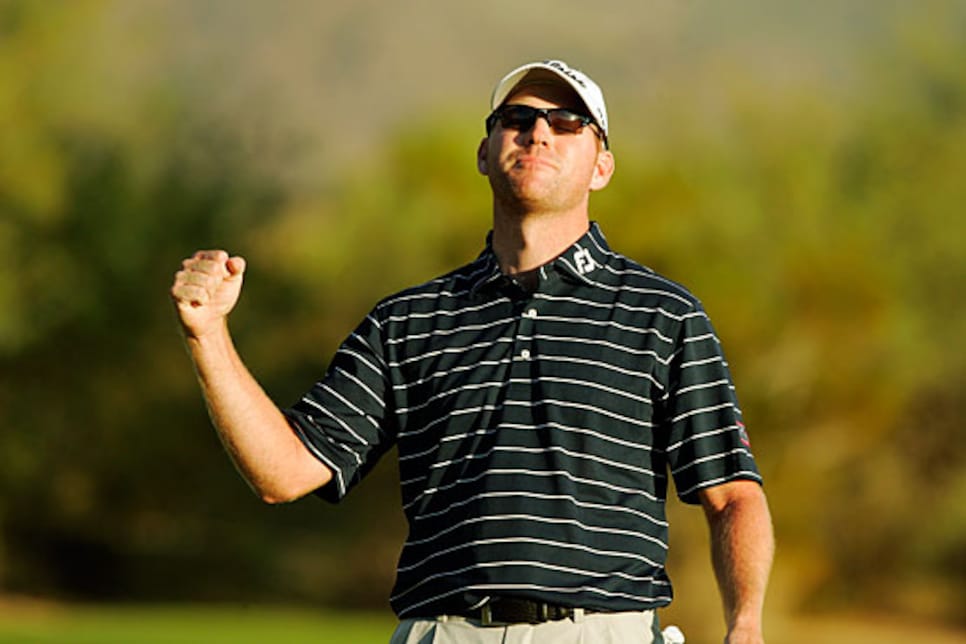 May 7, Westwood G.C., Houston (131/8)
(a) Joshua Gliege, Eagle, Idaho, 64
Mark Hubbard, Denver, Colo., 65
Andrew Lister, College Station, Texas, 65
Edward Loar, Rockwall, Texas, 67
Troy Matteson, Leander, Texas, 67
Connor Peck, Ankeny, Iowa, 67
(a) Grant Schroeder, Montgomery, Texas, 67
Michael Whitehead, Houston, 67
Alt-(a) Mario Carmona, Mexico, 68
Alt-Wesley Short, Austin, Texas, 68
May 7, Ravenwood G.C., Victor, N.Y. (57/3)
William Gaffney, Buffalo, N.Y., 68
Brett Cairns, Canada, 69
Jeff Urzetta, Pittsford, N.Y., 69
Alt-(a) Matt Lemay, Canada, 69
Alt-(a) Sean O'Hara, Canada, 71
May 7, South Bend (Ind.) C.C. (73/4)
(a) Sam Triplett, Scottsdale, 66
(a) Michael Makris, South Bend, Ind., 67
(a) Grant McKay, Las Vegas, 67
(a) Miguel Delgado, Kentfield, Calif., 68
Alt-(a) Timmy Hildebrand, Carmel, Ind., 68
Alt-Justin Matthews, Scottsdale, 69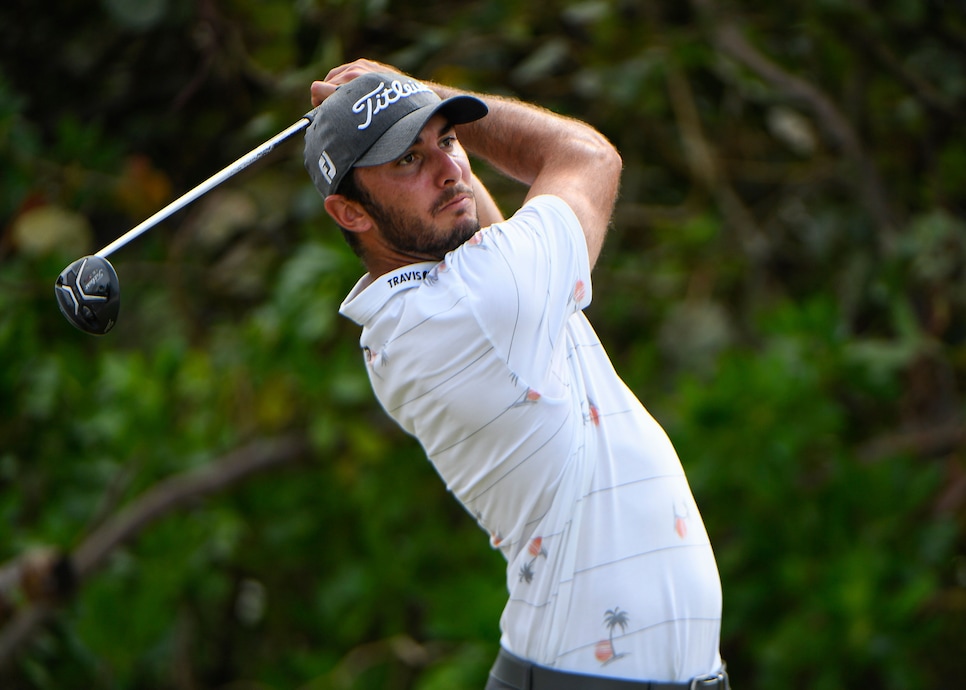 May 7, Indian Ridge C.C. (Grove Course), Palm Desert, Calif. (83/5)
David Rose, Canada, 66
Max Homa, Long Beach, Calif., 67
Jerry Chen, Rancho Cucamonga, Calif., 68
Michael McCabe, Moorpark, Calif., 68
Casey Komline, Dorset, Vt., 69
Alt-(a) Alexander Yang, Carlsbad, Calif., 70
Alt-(a) Clint White, Houston, 70
May 7, Lago Mar C.C., Plantation, Fla. (72/4)
Evan Beirne, North Haven, Conn., 65
Mike Welch, Quincy, Mass., 67
(a) Tyler Strafaci, Davie, Fla., 67
Robert Geibel, Pembroke Pines, Fla., 68
Alt-Kristian Caparros, Hollywood, Fla., 68
Alt-Fernando Figueroa , El Salvador, 68
May 7, Cog Hill G. & C.C. (Dubsdread Course), Lemont, Ill. (90/5)
(a) Rob Wuethrich, Bloomington, Ill., 69
(a) Ryan Lumsden, Scotland, 70
(a) Dylan Wu, Medford, Ore., 70
(a) Ethan Farnam, Crystal Lake, Ill., 71
(a) Brian Ohr, Wheeling, Ill., 72
Alt-(a) Trent Wallace, Joliet, Ill., 72
Alt-(a) Ben Sattler, Liberty Township, Ohio, 72
May 7, Southampton C.C., Southampton, N.Y. (92/5)
(a) Matthew Lowe, Farmingdale, N.Y., 66
Timothy Hegarty, Briarcliff Manor, N.Y., 67
Michael Furci, Sayville, N.Y., 68
Lucas Cromeenes, Metropolis, Ill., 69
(a) Darin Goldstein, New York, 69
Alt-Jason Caron, Greenlawn, N.Y., 69
Alt-Rob Corcoran, Melbourne, Fla., 70
May 7, Riverside G. & C.C., Portland, Ore. (94/6)
Christopher Babcock, Shoreline, Wash., 68
(a) Sulman Raza, Eugene, Ore., 69
(a) Derek Baade, St. Joseph, Mo., 70
David Bradshaw, Harpers Ferry, W.Va., 71
Jesse Heinly, Bend, Ore., 71
Charlie Kern, Seattle, 71
Alt-Adam Rubin, Lake Oswego, Ore., 71
Alt-Chad Fribley, Tualatin, Ore., 71
May 7, Meridian Valley C.C., Kent, Wash. (102/6)
(a) Noah Woolsey, Pleasanton, Calif., 66
(a) Zack Overstreet, Issaquah, Wash., 68
Keith Bennett, Stowe, Vt., 69
Devin Carrey, Canada, 69
Christopher Evans, Shelton, Wash., 69
(a) Jacob Koppenberg, Bellingham, Wash., 69
Alt-(a) Yechun Yuan, Seattle, 70
Alt-Kurt Valley, Renton, Wash., 70
May 7, Hidden Creek G.C., Egg Harbor Township, N.J. (72/4)
Vince Covello, Philadelphia, Pa., 67
Alexander Hicks, Cape May, N.J., 68
Mark Miller, Chestnut Hill, Pa., 71
(a) Erik Brubaker, Delmar, Md., 72
Alt-(a) Kevin Smith, Wallingford, Pa., 72
Alt-(a) Daniel Charen, Langhorne, Pa., 72
May 7, Stonewall Resort (Palmer Course), Roanoke, W.Va. (28/2)
Ben Kohles, Cary, N.C., 71
Frank O'Connell, Lorton, Va., 71
Alt-Bo Hoag, Columbus, Ohio, 72
Alt-Kenneth Hess, Parkersburg, W.Va., 72
May 8, Yocha Dehe G.C., Brooks, Calif. (84/5)
(a) Evan Knight, Novato, Calif., 67
Tyler Raber, El Macero, Calif., 67
Elliott Paylor, Vacaville, Calif., 68
(a) Jeff Wilson, Fairfield, Calif., 68
Ryan Williams, Sacramento, Calif., 68
Alt-Kyle Ward, Tuttle, Calif., 68
Alt-Timothy Bordeaux, Tacoma, Calif., 69
May 8, The Club at Ruby Hill, Pleasanton, Calif. (84/5)
(a) Brandon Wu, Scarsdale, N.Y., 66
(a) Matthew McCarty, Scottsdale, 69
(a) Derek Ackerman, Half Moon Bay, Calif., 69
(a) Alex Chin, Pleasanton, Calif., 70
(a) Franklin Huang, Poway, Calif., 70
Alt-Dodge Kemmer, San Mateo, Calif., 70
Alt-(a) Jonathan Keane, San Francisco 71
May 8, Beechmont C.C., Cleveland, Ohio (103/6)
Luke Moser, Canada, 67
Austin Graham, Rancho Mission Viejo, Calif., 67
Derek Gillespie, Canada, 68
Jaysen Hansen, Solon, Ohio, 68
Nathan Tarter, Akron, Ohio, 68
Chase Wilson, Zanesville, Ohio, 69
Alt-(a) Cade Breitenstine, Akron, Ohio, 69
Alt-(a) Fred Allen Meyer, Nicholasville, Ky., 69
May 8, Andalusia C.C., La Quinta, Calif. (85/5)
Spencer Fletcher, Los Altos, Calif., 68
(a) Raymond Navis, Palm Desert, Calif., 68
Scott Heyn, Stevenson Ranch, Calif., 68
(a) Devon Bling, Ridgecrest, Calif., 70
Michael Choe, Brea, Calif., 70
Alt-(a) Anthony Cecere, Palos Verdes Estates, Calif., 70
Alt-Kyle Mendoza, Glendora, Calif., 71
May 8, Mount Kisco C.C., Mount Kisco, N.Y. (90/5)
John Stoltz, West Orange, N.J., 69
Michael Miller, Mount Kisco, N.Y., 69
Mitch Gray, Pelham, N.Y., 70
Gregory Bisconti, South Salem, N.Y., 71
(a) Turner Foster, East Hampton, N.Y., 71
Alt-John Dipilato, West Harrison, N.Y., 72
Alt-Joseph Gothmann, Watertown, Minn., 72
May 8, Fox Hollow G.C., Trinity, Fla. (50/3)
Brad Brunner, Tampa, Fla., 67
Caleb Johnson, New Port Richey, Fla., 68
(a) Tyler Wilkes, Tampa, Fla., 69
Alt-(a) Colin Kresl, Lakeland, Fla., 69
Alt-Travis Huston, Clearwater, Fla., 69
May 8, The Rawls Course, Lubbock, Texas (58/3)
Beau Burgess, Lubbock, Texas, 69
Chris Ward, Lubbock, Texas, 70
Jarred Jeter, College State, Texas, 70
Alt-(a) Kyle Hogan, Cypress, Texas, 71
Alt-J.J. Killeen, Lubbock, Texas, 71
May 8, Hot Springs C.C. (Arlington Course), Hot Springs, Ark. (77/4)
Bobby Hudson, Memphis, Tenn., 65
(a) Nathan Jeansonne, Keithville, La., 65
Drew Evans, Dallas, 66
Jordan Russell, Byran, Texas, 66
Alt-Carson Roberts, Conway, Ark., 67
Alt-(a) Grayson Jones, Texarkana, Ark., 68
May 8, Troy Burne G.C., Hudson, Wis. (78/5)
Robert Bell, Pierz, Minn., 68
(a) Jack Ebner, Edina, Minn., 70
Brian Hills, Aitkin, Minn., 70
(a) Matt Tolan, Eau Claire, Wis., 70
(a) Frank Lindwall, Cedar Rapids, Iowa, 71
Alt-Clayton Rask, Otsego, Minn., 71
Alt-Dylan Baker, Eden Prairie, Minn., 71
May 9, Orange Tree G.C., Orlando (84/5)
(a) Chris Nido, Miami, Fla., 69
Bart Bryant, Winter Garden, Fla., 70
(a) Canon Claycomb, Orlando, 70
Andy Pope, Orlando, 71
(a) Luis Gagne, Costa Rica, 72
Alt-(a) Cristian DiMarco, Winter Park, Fla., 72
Alt-Dominic Frontero. Oviedo, Fla., 73
May 9, Oak Creek G.C., Irvine, Calif. (90/5)
(a) Nick Swanson, Isla Vista, Calif., 64
(a) Guy Clauss, Newport Beach, Calif., 67
(a) Matt Wilson, Cypress, Calif., 67
Bobby Nickell, San Juan Capistrano, Calif., 67
Satoru Suzuki, Lake Forest, Calif., 69
Alt-Zachary Taylor, San Clemente, Calif., 69
Alt-Eric Hird, Los Angeles, 70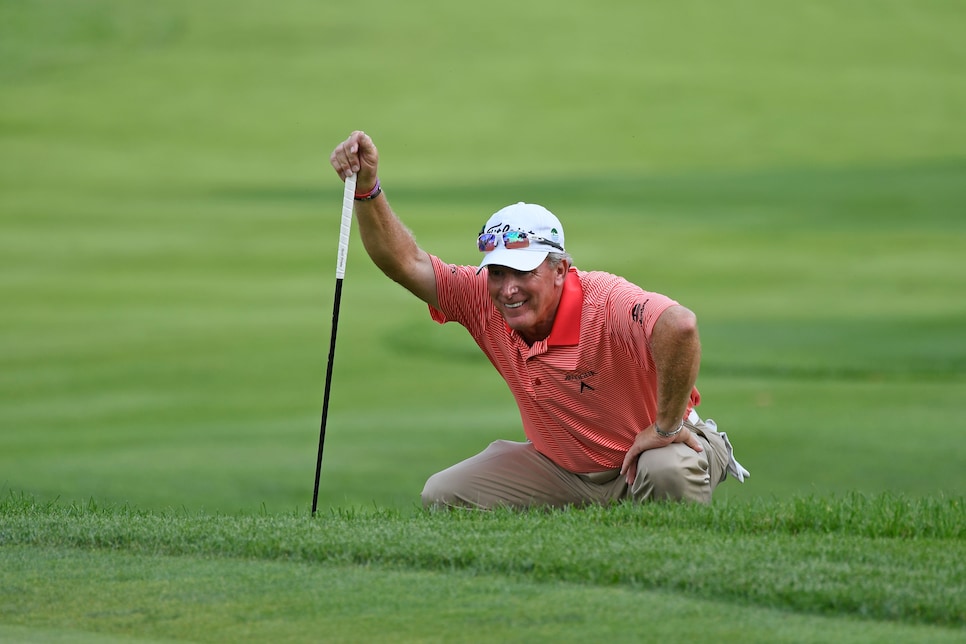 May 9, Wichita (Kan.) C.C. (49/3)
(a) Sam Stevens, Wichita, Kan., 64
(a) Kristoffer Ventura, Norway, 66
Woody Austin, Derby, Kan., 68
Alt-Christopher Tidland, Stillwater, Okla., 68
Alt-(a) Nick Heinen, Edmond, Okla., 68
May 9, Butler (Pa.) C.C. (71/4)
David Ross, State College, Pa., 67
Jake Mondy, Blacksburg, W. Va., 69
(a) Kyle Grube, Indiana, Pa., 70
TJ Howe, Osceola, Pa., 70
Alt-Devin Gee, Oakmont, Pa., 70
Alt-(a) James Meyers, Wexford, Pa., 71
May 9, CommonGround G.C., Aurora, Colo. (84/5)
Jonathan Kuzava, Littleton, Colo., 64
Tom Gempel, Lone Tree, Colo., 65
(a) Glenn Workman, Pueblo West, Colo., 67
(a) Davis Bryant, Aurora, Colo., 67
(a) Jack Castiglia, Lakewood, Colo., 67
Alt-(a) Darrin Hall, Golden, Colo., 67
Alt-Kane Webber, Australia, 68
May 9, Columbia C.C., Blythewood, S.C. (78/5)
(a) Keller Harper, Atlanta, 66
Mathew Nesmith, Columbia, S.C., 66
Emmanuel Kountakis, Augusta, Ga., 69
Brad Thorne, Moore, S.C., 69
(a) Andrew Spiegler, Abingdon, Va., 69
Alt-Scott Parel, Augusta, Ga., 70
Alt-(a) Scott Stevens, Chattanooga, Tenn., 70
May 9, Duke University G.C., Durham, N.C. (84/5)
(a) Stephen Franken, Raleigh, N.C., 68
(a) Bryce Hendrix, Greensboro, N.C., 68
(a) Blake McShea, Zebulon, N.C., 68
(a) Alex Smalley, Wake Forest, N.C., 69
(a) Jackson Van Paris, Pinehurst, N.C., 69
Alt-(a) Nicholas Lyerly, Salisbury, N.C., 70
Alt-(a) Joshua Martin, Pinehurst, N.C., 70
May 9, Blue Mash G.C., Laytonsville, Md. (90/5)
(a) Ben Warnquist, Olney, Md., 67
(a) Gabriel Lench, Lake Mary, Fla., 67
(a) Jeffrey Long, Ashburn, Va., 68
(a) Mickey Demorat, Merritt Island, Fla., 68
(a) Mitchell Klooz, Laurel, Neb., 69
Alt-(a) Peter Knade, Easton, Md., 70
Alt-Junhak Lee, South Korea, 70
May 9, Hombre G.C. (Bad/Ugly Courses), Panama City Beach, Fla. (39/2)
Chase Seiffert, Panama City, Fla., 69
(a) Jacob Solomon, Auburn, Ala., 70
Alt-(a) Garrett Johnson, Hayden, Ala., 71
Alt-Michael Smith, Lafayette, La., 71
May 9, Holston Hills C.C., Knoxville, Tenn. (78/5)
Sebastian Vazquez, Mexico, 63
(a) Harrison Ott, Brookfield, Wis., 65
Brad Sill, Spartanburg, S.C., 65
(a) Austin Squires, Union, Ky., 65
(a) Mason Greenberg, Southlake, Texas, 66
Alt-(a) Lukas Euler, Germany, 67
Alt-(a) Richard Todd, Nashville, Tenn., 67
May 9, Jackson (Tenn.) C.C. (74/4)
Stuart Macdonald, Canada, 65
(a) Eric Ansett, Spokane, Wash., 67
Henrik Simonsen, Ooltewah, Tenn., 69
Carr Vernon, Poplar Bluff, Mo., 69
Alt-(a) Cooper Sears, Nashville, Tenn., 70
Alt-Michael Vance, Jackson, Tenn., 70
May 10, Pinehills G.C. (Nicklaus Course), Plymouth, Mass. (84/5)
Steven Burak, North Easton, Mass., 69
(a) Matthew Naumec, Wilbraham, Mass., 69
(a) David Spitz, Weymouth, Mass., 69
Max Gilbert, Canada, 70
Michael Martel, New Ipswich, N.H., 70
Alt-Chris Fitzpatrick, Wellesley, Mass., 70
Alt-(a) Herbie Aikens, Pembroke, Mass., 70
May 10, Bermuda Dunes (Calif.) C.C. (71/4)
Brennan Amirkhizi, Encino, Calif., 69
Michael Feuerstein, San Diego, 69
Josh Anderson, Murrieta, Calif., 70
Allen Geiberger Jr., Palm Desert, Calif., 70
Alt-(a) Torey Edwards, Long Beach, Calif., 71
Alt-Geoffrey Dean, Palm Desert, Calif., 71
May 10, Wine Valley G.C., Walla Walla, Wash. (77/5)
Joel Skarbo, Seattle, 70
Derek Barron, Tacoma, Wash., 71
Damian Telles, The Dalles, Ore., 71
(a) Andrew Von Lossow, Spokane, Wash., 71
(a) Derek Bayley, Rathdrum, Idaho, 72
Alt-Robert Fisher, Oregon City, Ore., 72
Alt-David Phay, Oak Harbor, Wash., 73
May 10, OakWing G.C., Alexandria, La. (45/3)
Eric Ricard, Shreveport, La., 66
Stuart Smallwood, Paris, Texas, 66
Ben Suarez, Deridder, La., 66
Alt-Chuck Spears, Pineville, La., 67
Alt-Grady Brame Jr., Hammond, La., 67
May 10, Sewailo G.C., Tucson, Ariz. (54/3)
Brett Coletta, Australia, 66
(a) Travis Fredborg, Canada, 68
(a) Travis Werbylo, Tucson, 68
Alt-Chris Nallen, Tucson, 68
Alt-(a) George Cunningham, Tucson 69
May 10, Farmington C.C., Charlottesville, Va. (96/6)
Michael Moyers, Stanardsville, Va., 64
Chris O'Neill, Richmond, Va., 68
John O'Leary, Reston, Va., 68
Alex Simmons, Charlottesville, Va., 68
Barrett Kelpin, Kalamazoo, Mich., 69
(a) Thomas Walsh, High Point, N.C., 69
Alt-(a) Kelly Chinn, Great Falls, Va., 70
Alt-(a) Scott Reisenweaver, Midlothian, Va., 70
May 10, La Purisima G.C., Lompoc, Calif. (88/5)
Manav Shah, Bakersfield, Calif, 70
Reilly McMahon, Santa Maria, Calif., 70
(a) Thomas Lehman, Scottsdale, 71
Matt Hansen, Los Osos, Calif., 71
(a) Tim Widing, Cambria, Calif., 71
Alt-(a) Richard Chavez, Lompoc, Calif., 72
Alt-Kyle Pollema, Lakewood, Calif., 72
May 10, DuPont C.C., Wilmington, Del. (86/5)
(a) Danny Dougherty, Wilmington, Del., 68
(a) Erick Alonso, Jupiter, Fla., 68
Zachary Oakley, Lewes, Del., 68
David Sanders, Mount Laurel, N.J., 69
(a) Cole Miller, New Tripoli, Pa., 70
Alt-Zachary Lese, Silver Spring, Md., 70
Alt-(a) Ashton Poole, Charlotte, N.C., 70
May 10, Hurricane Creek C.C., Anna, Texas (122/7)
(a) Grant Hirschman, Memphis, 64
(a) Logan McAllister, Oklahoma City, Okla., 67
Derek Chang, Alpharetta, Ga., 68
Case Cochran, Dallas, 68
Vincent Whaley, Atlanta, 68
Jace Long, McKinney, Texas, 68
(a) Cooper Dossey, Austin, Texas, 68
Alt-Nathan Tyler, Mesquite, Texas, 68
Alt-Christopher Brown, Fort Worth, 68
May 11, The Legacy G. & T.C., Port Saint Lucie, Fla. (83/5)
Jonathan Garrick, Atherton, Calif., 69
Pat Patterson, Boca Raton, Fla., 69
Colin Amaral, Jupiter, Fla., 70
(a) Randy Leen, Port Saint Lucie, Fla., 70
Jamison Sindelar, Horseheads, N.Y., 71
Alt-(a) Jordan Pomeranz, West Palm Beach, Fla., 71
Alt-(a) Amadeo Figus, Italy, 72
May 11, River Landing G.C. (River Course), Wallace, N.C. (83/5)
Chad McCann, Wilmington, N.C., 68
(a) Thomas Owen, Fayetteville, N.C., 68
(a) Easton Paxton, Riverton, Wyo., 68
(a) Benjamin Shipp, Duluth, Ga., 68
(a) Christian Salzer, Sumter, S.C., 69
Alt-Matt Vick, Pinehurst, N.C., 69
Alt-Corey Gallagher, Roanoke, Va., 69
May 14, Dakota Dunes (S.D.) C.C. (30/2)
Jace Guthmiller, Yankton, S.D., 71
Dylan McCabe, Sioux City, Iowa, 71
Alt-Jon Trasamar, Blue Earth, Minn., 72
Alt-Danny Sinksen, Sioux Falls, S.D., 72
May 14, Creekmoor G.C., Raymore, Mo. (54/3)
Alex Springer, Stilwell, Kans., 72
Justin Bardgett, Chesterfield, Mo., 72
Ryan Argotsinger, Lees Summit, Mo., 73
Alt-Linus Lilliedahl, Columbia, Mo., 73
Alt-Travis Mays, Overland Park, Kans., 74
May 14, TimberStone G.C., Caldwell, Idaho (36/2)
Nick Travers, Boise, Idaho, 66
Kyle Mitsunaga, Boise, Idaho, 66
Alt-Donny Hopoi, Aiea, Idaho, 67
Alt-Zach Rawls, Boise, Idaho, 67
May 14, Pinewild C.C. (Magnolia Course), Pinehurst, N.C. (84/5)
(a) Spencer Skiff, Aiken, S.C., 67
Joel Lynn, Lillington, N.C., 68
(a) Thomas Deal, Cornelius, N.C., 69
(a) William Lincicome, Pinehurst, N.C., 69
Nathan Stamey, Bluffton, S.C., 69
Alt-Adam Webb, Greensboro, N.C., 69
Alt-Ryan Sullivan, Winston-Salem, N.C., 71
May 14, Delaware C.C., Muncie, Ind. (65/4)
(a) Peyton Snoeberger, Williamsport, Ind., 68
(a) Timothy Wiseman, Corydon, Ind., 69
Jamie Broce, Indianapolis, Ind., 70
(a) Ethan Shepherd, Greenwood, Ind., 70
Alt-(a) Luke Kelly, Brownsburg, Ind., 70
Alt-(a) Austin Vukovits, Fishers, Ind., 71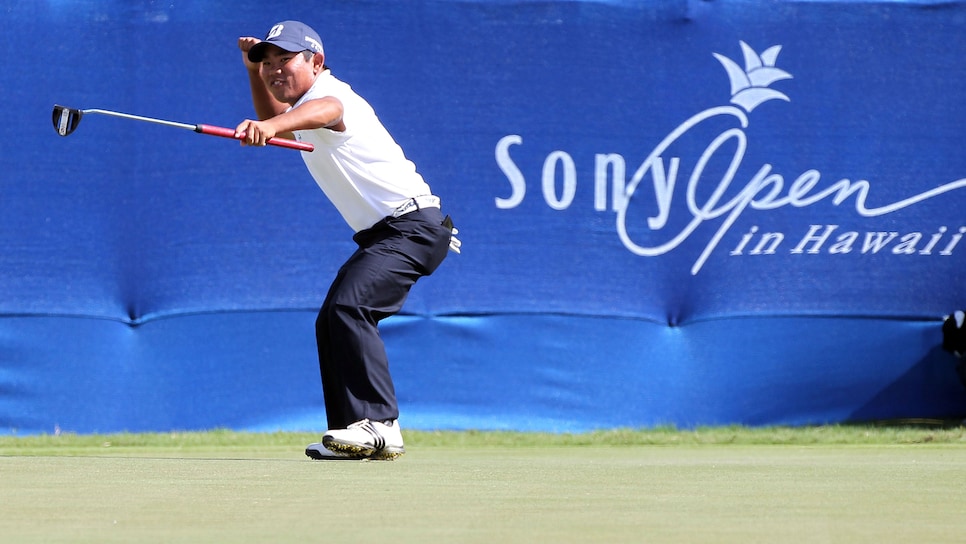 Sam Greenwood/Getty Images
May 14, Belfair Plantation (West Course), Bluffton, S.C. (78/5)
Tadd Fujikawa, St. Simons Island, Ga., 67
Tommy Schaff, Ridgeland, S.C., 68
D.J. Trahan, Charleston, S.C., 68
Cody Proveaux, Lexington, S.C., 69
(a) Matt Oquinn, Beaufort, S.C., 70
Alt-Drew Weaver, Atlanta, 70
Alt-(a) Arjun Puri, New York, 70
May 14, Classic Club, Palm Desert, Calif. (54/3)
Jae Kang, Irvine, Calif.. 71
(a) Christian Rajcic, Ramona, Calif., 72
Scott Cherry, Rancho Mirage, Calif., 72
Alt-David Gazzolo, Riverside, Calif., 72
Alt-(a) Christopher Tuulik, San Diego, 73
May 14, The Wanderers Club, Wellington, Fla. (68/4)
(a) Myles Creighton, Canada, 68
(a) Jason Hrynkiw, Canada, 68
Christo Greyling, Tequesta, Fla., 69
Steve LeBrun, Royal Palm Beach, Fla., 69
Alt-Spencer Mellon, Oakmont, Pa., 69
Alt-Josh Hart, Jupiter, Fla. 70
May 14, Hillendale C.C., Phoenix, Md. (93/5)
Randall Herriott, Brandywine, Md., 66
Joey Lane, Great Falls, Va., 66
Thomas Bonney, Durham, N.C., 68
(a) Michael Brennan, Leesburg, Va., 69
Sam Lyons, Charlotte, N.C., 69
Alt-Matt Oshrine, Baltimore, Md., 70
Alt-Geoff Montross, Alexandria, Va., 70
May 14, Stockbridge (Mass.) G.C. (55/3)
Chelso Barrett, Henniker, N.H., 69
Eric Mabee, Pittsfield, Mass., 69
(a) Sam Gaudette, South Hadley, Mass., 70
Alt-(a) Patrick Forbes, Canada, 71
Alt-Josh Hillman, Williamstown, Mass., 72
May 14, Pelican Marsh G.C., Naples, Fla. (69/4)
David Morgan, Naples, Fla., 67
Jonathan Lowrey, Fort Myers, Fla., 68
Chris Kennedy, Sarasota, Fla., 69
Mike Andre, Fort Myers, Fla., 69
Alt-Bogle Larue, Knoxville, Tenn., 69
Alt-Eugene (Jake) Daly, Cincinnati, Ohio, 70
May 14, The Grand G.C., San Diego (89/5)
(a) Daniel Kim, Chula Vista, Calif., 69
Danny Ochoa, Carlsbad, Calif., 70
Matthew Picanso, Vista, Calif., 70
(a) Tyler Moore, Escondido, Calif., 70
(a) Shane French, San Diego, 70
Alt-Russell Surber, San Diego, 71
Alt-(a) Taylor Wood, Coto de Caza, Calif., 71
May 14, Georgia National G.C., McDonough, Ga. (132/8)
Riley Davenport, St. Simons Island, Ga., 65
Tommy Gainey, Hartsville, S.C., 65
J.T. Griffin, Atlanta, 66
Max McGreevy, Edmond, Okla., 66
(a) Tyler Gruca, Alpharetta, Ga., 67
Deven Broadaway, Adairsville, Ga., 68
(a) Matt Lehman, Bluffton, S.C., 68
(a) Scott Odell, Claxton, Ga., 68
Alt-Drew Czuchry, Atlanta, 68
Alt-Daniel Gale, Australia, 68
May 14, Pawtucket (R.I.) C.C. (69/4)
Billy Walthouse, Longmeadow, Mass., 68
Mike Gilmore, Mamaroneck, N.Y., 69
Clark Robinson, South Windsor, Conn., 69
(a) Andrew O'Leary, Norfolk, Mass., 69
Alt-(a) T. Andrew Dipetrillo, Dover, Mass., 69
Alt-(a) Gregory Horvath, Manchester, Conn., 70
May 14, Orange County National (Crooked Cat Course), Winter Garden, Fla. (84/5)
(a) Ryoto Furuya, Iowa City, Iowa, 69
Kyle Wilshire, Georgetown, Ky., 69
Stu Michaels, Lumber City, Pa., 69
Cory Howard, Jacksonville Beach, Fla., 71
Kyle Henning, Brookfield, Wis., 71
Alt-James Vargas, Windermere, Fla., 71
Alt-Benjamin Bershad, Orlando, 71
May 14, Glen Oaks C.C., West Des Moines, Iowa (67/4)
Sean McCarty, Solon, Iowa, 67
(a) Dennis Bull, Fairbury, Ill., 68
(a) Lucas Scherf, Grinnell, Iowa, 69
Zach Steffen, Des Moines, Iowa, 69
Alt-(a) Andrew Huseman, Ankeny, Iowa, 71
Alt-(a) Jake Marvelli, Indianola, Iowa, 72
May 14, Kinsale G. & F.C., Powell, Ohio (110/6)
Brian Maurer, Williamsburg, Ind., 68
Troy Taylor II, Westerville, Ohio, 70
Wyatt Worthington II, Reynoldsburg, Ohio, 70
Avery Schneider, New Albany, Ohio, 70
Richard Schembechler, Cordova, Tenn., 71
Blake Solomon, Dublin, Ohio, 71
Alt-Alex Snyder, Germantown, Tenn., 71
Alt-Tim Ailes, Delaware, Ohio, 71
May 14, Catawba Island Club, Port Clinton, Ohio (45/3)
Michael Gligic, Canada, 67
Justin Pollock, Fremont, Ohio, 69
Mark Hoffman, Canada, 71
Alt-Dominic Choma, Ypslianti, Mich., 71
Alt-Andrew Stevens, Northville, Mich., 72
May 14, Wigwam G.R. (Gold Course), Litchfield Park, Ariz. (84/5)
Ryan Hogue, Mesa, Ariz., 65
Joel Dahmen, Scottsdale, 67
(a) Chad Wilcox, Phoenix, 68
Ken Eger, Canada, 69
Marty Jertson, Phoenix, 69
*Alt-Corey Knight, Avondale, Ariz., 69
*Alt-Sam Engel, Scottsdale, 70
May 15, New Mexico State University G.C., Las Cruces, N.M. (26/2)
Conrad Martinez, Tucson, 66*
Calum Hill, Scotland, 68*
Alt-Marty Sanchez, Santa Fe, N.M., 69
Alt-Jake Spencer, El Paso, Texas, 69
May 15, Edgewood Tahoe G.C., Stateline, Nev. (41/2)
Jared Becher, Reno, Nev., 69
Philip Dawson, Roseville, Calif., 70
*Alt-Joseph Dendary, Winnemucca, Nev., 70
*Alt-Trent Virden, Reno, Nev., 71
May 15, Maketewah C.C., Cincinnati, Ohio (168/10)
(a) Brennen Walsh, Cincinnati, Ohio, 65
Andrew Dorn, Cincinnati, Ohio, 69
(a) Will Grimmer, Cincinnati, Ohio, 69
Chad Howard, Dublin, Ohio, 69
(a) Hays Moreland, Memphis, Tenn., 69
Rob Chappell, Cincinnati, Ohio, 71
Alex Ebel, West Chester, Ohio, 71
(a) Joe McCarthy, Cincinnati, Ohio, 71
(a) Nicolas Paxson, Cincinnati, Ohio, 71
(a) Caleb Wolters, Dayton, Ohio, 71
Alt-Stephen Stallings Jr., Louisville, Ky., 71
Alt-Thomas Lill, Newton, N.C., 71
May 15, Illini C.C., Springfield, Ill. (66/4)
Chris Naegel, Wildwood, Mo., 67
Brandon Holtz, Bloomington, Ill., 68
Travis Kreiter, Brimfield, Ill., 68
Kyle English, Bloomington, Ill., 69
Alt-(a) Samuel AndersoN, Stoughton, Wis., 69
Alt-(a) William Marshall, Elburn, Ill., 69
May 15, Whistling Straits (The Irish Course), Sheboygan, Wis. (78/5)
Ben Bendtsen III, Mt. Pleasant, Wis., 70
Peter Webb, Madison, Wis., 70
Charlie Delsman, Hartland, Wis., 72
Max Hosking, Madison, Wis., 73
David Spengler, Luxemburg, Wis., 74
Alt-(a) George Kneiser, Oconomowoc, Wis., 74
Alt-Sam Frank, Delafield, Wis., 74
May 15, Collindale G.C., Fort Collins, Colo. (84/5)
Derek Fribbs, Thornton, Colo., 68
Nicholas Mason, Colorado Springs, 69
David Good, Ewa Beach, Hawaii, 69
Parker Edens, Greeley, Colo., 70
Trevor McKune, Littleton, Colo., 70
Alt-(a) George Markham, Phoenix, 71
Alt-Riley Arp, Fort Collins, Colo., 71
May 15, Ironwood C.C. (South Course), Palm Desert, Calif. (90/5)
Jeff Gove, La Quinta, Calif., 69
Kelby Scharmann, Trabuco Canyon, Calif., 69
Mark Geddes, Coronado, Calif., 70
(a) Ricky Castillo, Yorba Linda, Calif., 70
Michael Block, Mission Viejo, Calif., 71
Alt-Blake Barens, Orange, Calif., 71
Alt-Blake Schmitt, Palm Desert, Calif., 71
May 15, Southern Hills Plantation G.C., Brooksville, Fla. (55/3)
Parker Hewit, Westfield Center, Ohio, 69
Michael Kartrude, Royal Palm Beach, Fla., 69
Jack Newman, Clearwater, Fla., 69
Alt-Ken Looper, Mandeville, La., 69
Alt-Scott Smyers, Lakeland, Fla., 69
May 15, Knollwood C.C., West Bloomfield, Mich. (81/5)
Travis Dodson, Garden City, Mich., 67
Kosta Ramirez, Dearborn, Mich., 69
Kyle Rodes, Plymouth, Mich., 69
Joseph Juszczyk, Dearborn Heights, Mich., 70
(a) Colin Sikkenga, Kalamazoo, Mich., 70
Alt-(a) Peter Farner, Commerce Township, Mich., 70
Alt-(a) Tbone Codd, Brighton, Mich., 71
May 15, Ocean Course Hokuala, Kaua'i, Hawaii (13/1)
Jared Sawada, Mililani, Hawaii, 71 Alt-Patrick Murakami, Honolulu, 75 Alt-Bill Walbert, Kaneohe, Hawaii, 76
May 15, Sawgrass C.C. (East/West Courses), Ponte Vedra Beach, Fla. (84/5)
Tyler McCumber, Ponte Vedra Beach, Fla., 70
Bryan Martin, Thousand Oaks, Calif., 71
Thompson Mitchell, St. Simons Island, Ga., 71
(a) Chandler Blanchet, Gainesville, Fla., 72
Ted Smith, Westlake, Ohio, 72
Alt-(a) Jacques Wilson, Fulshear, Texas, 72
Alt-Timothy O'Neal, Savannah, Ga., 73
May 15, Missoula (Mont.) C.C. (28/2)
Wes Heffernan, Canada, 65
(a) Daniel Brunson, Wilson, Wyo., 68
Alt-Aaron Crawford, Canada, 68
Alt-Ryan Porch, Kalispell, Mont., 68
May 15, Cedar Ridge C.C., Broken Arrow, Okla. (80/5)
Dillon Rust, Edmond, Okla., 67
(a) Rob Laird, Edmond, Okla., 71
(a) Eli Armstrong, Edmond, Okla., 71
(a) Brendon Jelley, Tulsa, Okla., 71
Greg Mason, Tulsa, Okla., 72
Alt-Logan McCracken, Oklahoma City, Okla., 72
Alt-Chris Worrell, Enid, Okla., 72
May 16, Mission Inn R. & C. (El Campeon Course), Howey-in-the-Hills, Fla. (55/3)
(a) Dongjin Park, South Korea, 67
(a) Garrett Rank, Canada, 69
(a) Jonathan Yaun, Minneola, Fla., 70
Alt-Rodney Perry, Port Orange, Fla., 71
Alt-Joaquin Lolas, Peru, 72
May 16, C.C. of York, Pa. (78/5)
David Hilgers, Hershey, Pa., 69
(a) Connor Sheehan, Quarryville, Pa., 69
Alex Blickle, Reading, Pa., 70
Craig Hornberger, Lancaster, Pa., 70
(a) Steven Kluemper, Bethlehem, Pa., 70
Alt-Brett Melton, East Fallowfield, Pa., 71
Alt-(a) Joe Parrini, York, Pa., 72
May 16, The Wilds G.C., Prior Lake, Minn. (79/5)
(a) Ben Frazzini, Medina, Minn., 67
(a) Maxwell Tylke, Rosemount, Minn., 68
Donald Constable, Minnetonka, Minn., 69
(a) Dan Lensing, Wayzata, Minn., 69
Matt Rachey, Waconia, Minn., 69
Alt-Aaron Cockerill, Canada, 69
Alt-(a) Michael Schmitz, Bloomington, Minn., 69
May 16, Riverton C.C., Riverton, Wyo. (22/1)
(a) Jordan Costello, Pinedale, Wyo., 69
Alt-(a) Keenan Flemming, Canada, 70
Alt-(a) Joey Moore, Billings, Mont., 70
May 16, The Hills C.C. (Flintrock Falls Course), Austin (111/6)
Joel Thelen, Fort Worth, 66
Bobby Gates, The Woodlands, Texas, 69
Zachary Olsen, Memphis, Tenn., 69
(a) Stratton Nolen, Austin, Texas, 69
Rufus Brijalba, Austin, Texas, 70
Tayler Termeer, Austin, Texas, 70
Alt-(a) Jake Hendrix, Austin, Texas, 70
Alt-(a) Jay Reynolds, Austin, Texas, 71
May 16, Industry Hills G.C. (Eisenhower Course), City of Industry, Calif. (84/5)
Mark Anguiano, Hacienda Heights, Calif., 65
Brett Lederer, Lakewood, Calif., 68
Tain Lee, Irvine, Calif., 71
Alexander Bungert, Rancho Santa Margarita, Calif., 71
Ryan Smith, Colton, Calif., 71
Alt-Raj Samra, Downey, Calif., 72
Alt-(a) Jared Berlin, Los Angeles, 73
May 16, Quicksilver G.C, Midway, Pa. (35/2)
(a) Evan Long, Langhorne, Pa., 67
(a) Stephen Cerbara, New Castle, Pa., 67
*Alt-(a) Neal Shipley, Pittsburgh, Pa., 68
*Alt-David Lutterus, Wexford, Pa., 70
May 16, Kearney Hill G.L., Lexington, Ky. (102/6)
Sean Moore, Marshville, N.C., 65
Hunter Stewart, Lexington, Ky., 66
Ashton Van Horne, Georgetown, Ky., 66
Daniel Iceman, Shelbyville, Ky., 67
Dustin Korte, Metropolis, Ill., 67
(a) Joseph Deraney, Lexington, Ky., 67
Trey Cox, Lexington, Ky., 67
Alt-Joe Hurn, Mountain Top, Pa., 68
Alt-(a) Brendon Doyle, Louisville, Ky., 68
May 16, Pasatiempo G.C., Santa Cruz, Calif. (84/5)
Edward Olson, Aptos, Calif., 65
Douglas Quinones, Hidden Valley Lake, Calif., 67
Scott Hoyt, San Jose, Calif., 68
Alex Franklin, San Rafael, Calif., 68
Gregory Moss, Sherman Oaks, Calif., 69
Alt-John Greco Jr., Sunnyvale, Calif., 69
Alt-(a) George McNeely, Carmel, Calif., 69
May 16, Palmer (Alaska) G.C. (12/1)
(a) Jordan Miller, Anchorage, 70
Alt-(a) Adam Baxter, Anchorage, 75
Alt-(a) Michael Oldenkamp, Eagle River, Alaska, 77
May 16, Cherry Valley Club, Garden City, N.Y. (144/8)
James Hazen, Miller Place, N.Y.. 68
Cameron Wilson, Rowayton, Conn.. 70
Corey Birch, Ridgefield, Conn., 71
Mark Brown. Oyster Bay, N.Y., 71
Thomas Curtis, England, 71
Scott Ford, Manhasset, N.Y., 71
Brian Hughes, Raleigh, N.C., 71
Arthur Zelmati, France, 71
Alt-Jim Farrell, East Norwich, N.Y., 72
Alt-Dylan Newman, New Rochelle, N.Y., 72
May 17, ThunderHawk G.C., Beach Park, Ill. (90/5)
Bryce Emory, Aurora, Ill., 66
Harley Abrams, Evanston, Ill., 68
Brett Walker, Jupiter, Fla., 69
Conor Dore, Chicago, 70
Jordan Hahn, Spring Grove, Ill., 70
Alt-Ricky Costello, Homer Glen, Ill., 70
Alt-Kevin Paek, Glenvview, Ill., 71
May 17, Glenmaura National G.C., Moosic, Pa. (66/4)
Patrick Ross, Dunmore, Pa., 70
(a) Richard Riva, Lancaster, Pa., 70
(a) Eric Williams, Honesdale, Pa., 70
Austin Smith, Dallas, Pa., 71
Kyle Wambold, Macungie, Pa., 71
Alt-Brian Bergstol, Bangor, Pa., 72
May 17, Turning Stone Resort (Kaluhyat Course), Verona, N.Y. (39/2)
John Clare, Camillus, N.Y., 67
Craig Thomas, White Plains, N.Y., 72
Alt- Danny Yustin, East Amherst, N.Y., 73
Alt-Dante Migliore, Frankfort, N.Y., 73
May 17, The C.C. of Winter Haven, Fla. (76/4)
Michael Visacki, Sarasota, Fla., 66
(a) John Coultas, Valrico, Fla., 68
Nick Palladino, Clearwater, Fla., 69
Alexander Bremner, Waterman, Ill., 70
Alt-Will Wiseman, Windermere, Fla., 70
Alt-(a) Sam Grindle, Deer Isle, Me., 71
May 17, Omaha (Neb.) C.C. (69/4)
(a) Sean Song, Omaha, Neb., 69 Darin Fisher, Albia, Iowa, 70
(a) Andrew Beckler, Topeka, Kan., 70
(a) Nate Vontz, Lincoln, Neb., 71
Alt-(a) Alex Schaake, Omaha, Neb., 71
Alt-Raul Cortes, Omaha, Neb., 71
May 17, Ak-Chin Southern Dunes G.C., Maricopa, Ariz. (84/5)
Steve Allan, Australia, 68
(a) Ben Harden, Phoenix, 68
(a) Koichiro Ishika, Japan, 68
Byron Meth, San Diego, 68
Jesse Mueller, Phoenix, 68
Alt-(a) Adam Walicki, Phoenix, 69
Alt-(a) Bryan Hoops, Chandler, Ariz., 69
May 17, Granite Bay (Calif.) G.C. (83/5)
Corey Pereira, Cameron Park, Calif., 68
Dakota Robinson, Discovery Bay, Calif., 68
(a) Taiga Fujii, Japan, 69
Andy Miller, Napa, Calif., 70
Derek Zachman, Rocklin, Calif., 70
Alt-(a) Justin Gum, Lodi, Calif., 70
Alt-Jake Johnson, Cameron Park, Calif., 71