News
Chris DiMarco's son comes out on wrong end of coin toss (?), misses out on advancing to U.S. Open sectional qualifying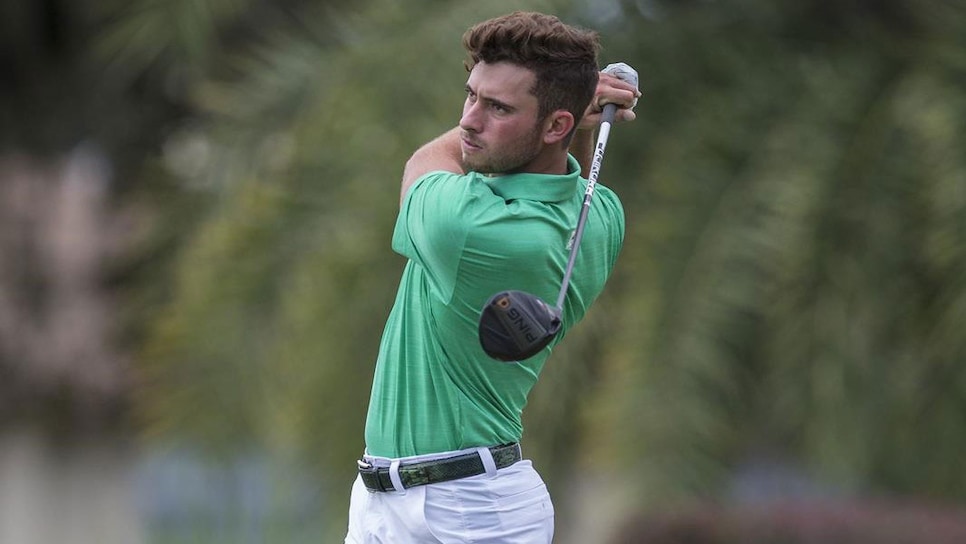 Courtesy of South Florida athletics
Chris DiMarco played in eight U.S. Opens. His son, Cristian, an up-and-coming amateur, will likely have to wait a little longer to play in his first. The younger DiMarco left his U.S. Open local qualifier at Orange Tree Golf Club in Orlando on Wednesday, after shooting an even-par 72, only to discover that he had tied for the last of five spots available for the 84-player field. When the other player (Luis Gagne, a college player at LSU who is from Costa Rica) couldn't be located, either, officials flipped a coin to determine who would get the spot. DiMarco lost, leaving him as first alternate.
LPGA player Christina Kim, who plays at Orange Tree, was present when this was all happening.
Indeed, it is. Golf Digest contacted the USGA about the protocol in such a situation and received this reply via email:
"The Florida State Golf Association, which conducted the qualifying, proceeded correctly per procedure to flip a coin when both players were not present to decide the final spot in a hole-by-hole playoff. If the playoff had involved more than two players, the spots would be decided by lot. It is unfortunate that the players did not remain on property to determine the last qualifying spot through their play."
For the left-handed DiMarco, it is incredibly unfortunate as the University of South Florida senior has some impressive credentials, including winning the 100th Florida Amateur last year and finishing T-2 in the recent American Athletic Conference Championship while helping the Bulls win a fourth-consecutive team crown. The Bulls will be competing in the NCAA Kissimmee Regional in Florida, May 14-16 at Reunion Resort's Watson Course.
UPDATED, 6:30 p.m.: Cristian DiMarco spoke with GolfChannel.com (his father is a commentator for the network) and explained that the previous year in the same local qualifier at the same course he had shot one-under-par 71 and was nowhere near being among those who advanced to Sectional Qualifying
"We thought we had no chance," Cristian said. "We thought it was a foregone conclusion."
A South Florida teammate called him later in the afternoon to tell him he had gotten into a playoff, but the news came too late.
"It's a learning experience," DiMarco said. "I'm very disappointed in myself for leaving, but in the grand scheme of things, is it really going to make a huge difference in my career? I hope not. I hope I'll play in many U.S. Opens."