News
U.S. Amateur contender bounced after rules snafu with his caddie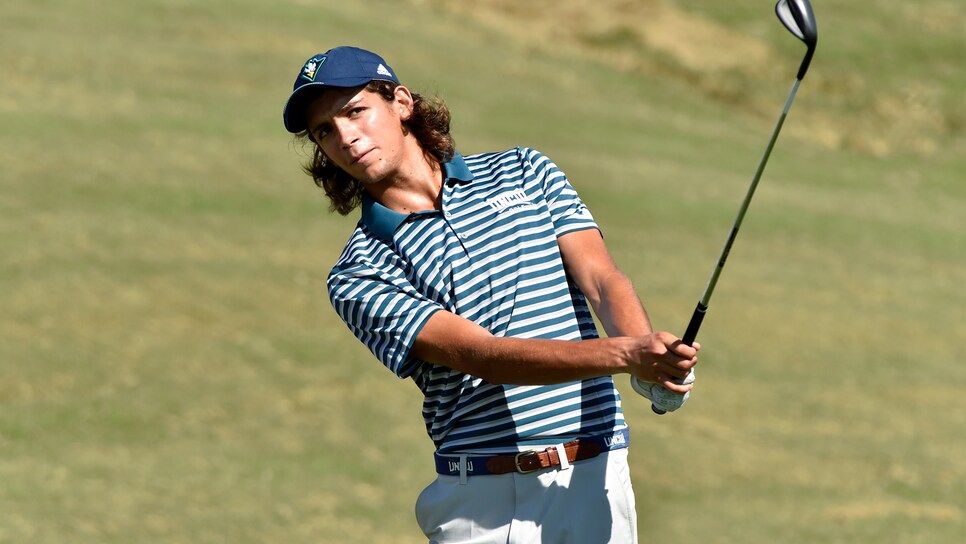 Segundo Oliva Pinto, shown in a UNC Wilmington file photo, lost his Round of 16 match in the U.S. Amateur because of a rules violation by his caddie.
BANDON, Ore. — To be eliminated from a critical match in the U.S. Amateur Championship due to a rules violation is brutal. To be ousted for something you had no direct hand in falls in its own category of cruelty.
Such was the unenviable circumstance of Segundo Oliva Pinto on Thursday in the Round of 16 of the U.S Amateur at Bandon Dunes. Locked in a hard-fought tie in howling wind conditions with Georgia Tech senior Tyler Strafaci, Olivo Pinto was preparing to play a greenside bunker shot on the 18th hole while Strafaci eyed a chip from 30 yards short of the green.
Oliva Pinto was on the green, examining where to land his ball when a commotion occurred near the bunker. Frank Strafaci, Tyler's father and caddie, had called to the rules official with the group when he saw Oliva Pinto's caddie, Brant Brewer, a local Bandon Dunes looper, step into the sand and swipe at it with his hand.
A long discussion ensued, with Brewer denying he did anything wrong, though a high-angle television replay clearly showed that he touched the sand. The official ruled that the caddie violated Rule 12.2b by testing the condition of the sand. The loss of the hole for Oliva Pinto ended the match, with Strafaci winning 1 up.
"That's one of the worst rules violations I've ever seen," Frank Strafaci said loudly as he walked from the 18th green.
Oliva Pinto, a 20-year-old from Argentina who is a rising junior transfer to Arkansas from UNC Wilmington, walked slowly to the clubhouse in stunned disbelief as onlookers offered their condolences.
"I didn't see anything," Oliva Pinto said, standing in front of the clubhouse. "I know as a player I'm responsible for my caddie, but I truly didn't know anything about it until the referee came over. It's just a bummer.
"[Strafaci] is a really good player and a good guy as well. I bet that's not the way he wanted to win the match, and that's definitely not the way I wanted to lose it."
Strafaci, 22, was emotional in a TV interview in the aftermath, and after he returned to the clubhouse, he said, "I just put myself in his shoes for a moment. I couldn't imagine that happening. We both played great. For 18 holes it was a phenomenal match. We played really well in those conditions. For it to come down to that sucks. He's a great kid, and I don't think he had any intent at all about it. I don't think he knew about it."
Oliva Pinto said he hadn't received a clear explanation from the caddie and added, "There's nothing he can tell me that means anything right now. We'd been having a great week. He's a great guy. If he did that, he didn't know the rules. I don't know what to say."
The match had been a punch-counterpunch affair, with Strafaci twice taking 2-up leads, only to have Oliva Pinto battle back, eventually tying the match for the second time with a win at the par-4 16th.
Extremely composed considering what had happened to him, Oliva Pinto smiled a bit and said, "We've just got to move on and take good things from this amazing week at Bandon Dunes."
Strafaci will play in the quarterfinals for the first time and on Friday faces 29-year-old Stewart Hagestad, the last remaining mid-amateur in the field. Strafaci won his Thursday morning match in the Round of 32, beating Peru's Julian Perico 2 and 1.