News
By going deep in U.S. Amateur, mid-am beast Stewart Hagestad is making a huge personal sacrifice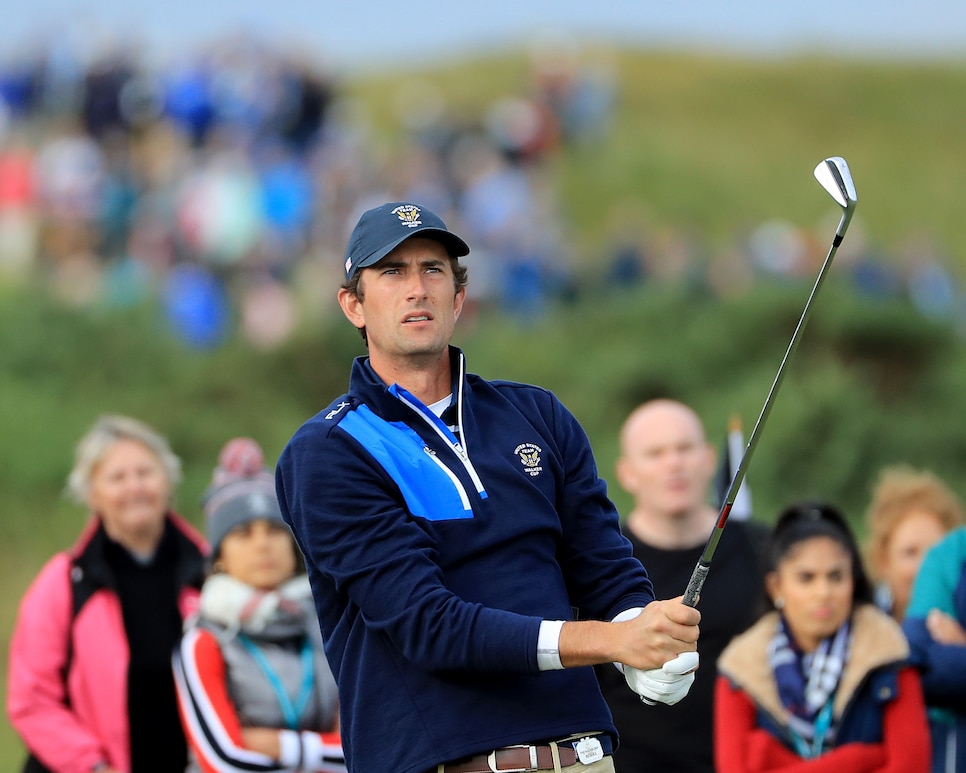 Stewart Hagestad, shown playing in the 2019 Walker Cup, reached the quarterfinals of the 2020 U.S. Amateur on Thursday at Bandon Dunes.
DC
BANDON, Ore. — Stewart Hagestad pushed his cell phone across the conference table in the Bandon Dunes Golf Course clubhouse. On his screen was the text he had received at 5 a.m. on Thursday, a couple of hours before his Round of 32 match in the U.S. Amateur Championship.
"Unbeliveable," Hagestad said with quiet exasperation. "You've got to be kidding, right?"
The message was from an administrator in the MBA program at the University of Southern California. It basically contained an ultimatum: Hagestad needed to be on Zoom calls on Thursday and Friday to continue his orientation for the program. If he missed them, he'd be eliminated as a candidate. In a pre-emptive bid, he had composed a thoughtful email explaining his situation—that he'd reached match play in the U.S. Amateur and could he please postpone the calls? The answer: a flat "no."
"We talk about the discussions I have with the kids out here," Hagestad said. "That's a real-life decision off the golf course that you have to deal with. You wake up for a 36-hole day with that on your mind."
There are 16 players remaining in the tournament after two rounds of match play were completed on Thursday. They are all accomplished in their own right. But only one of them is working toward an MBA while holding down a real-world job. Only one of them is 29 years old.
Hagestad is this year's aged outlier in the U.S. Am, the only player left who started playing when anybody who regularly hit 300-yard drives was a legend and college was as much about the next party as it was preparing to turn pro as soon as possible.
A career amateur who is talented enough to have won the 2016 Mid-Amateur, to have made the cut in the 2017 Masters, to have played on two winning U.S. Walker Cup squads, Hagestad continues to find new ways to push himself. The Newport Beach, Calif., native didn't make the cut in the first eight times he played the U.S. Am, but has subsequently reached match play four straight years. And now he's gone farther than ever before in this championship by reaching the quarterfinals. [His best previous effort was getting to the Round of 16 at Pebble Beach in 2018.]
Hagestad is treading increasingly rare ground. The last mid-amateur to reach the U.S. Am's quarterfinals was Nathan Smith in 2014. Austin Eaton, in 2005, was the last to advance to the semis, and Tom McKnight the last to make the finals in 1998. The last to seize the title was 41-year-old John Harris in 1993—before any of this year's other seven quarterfinalists were born.
Understand, though, that Hagestad isn't your usual mid-amateur either. He has a job in the financial world that affords him plenty of work flexibility and practice time. From March to October, he says he practices five to seven days a week and works out nearly that much.
"Dude, these kids are good," Hagestad said. "You have to take it seriously. You can't take it for granted. These kids are baby tour pros."
In three rounds of match play on a demanding Bandon Dunes track made more ornery by heavy winds that blew the flags violently on Thursday afternoon, Hagestad has beaten an 18-year-old (Abel Gallegos in the Round of 64) and two 21-year-olds (Spencer Tibbits in the Round of 32 and Harrison Ott in the Round of 16). Since overcoming a 2-down deficit through 11 holes against Gallegos, Hagestad hasn't trailed, and he scored his most sizeable win on Thursday by defeating Ott, 4 and 3.
Asked what his advantages are in this circumstance, Hagestad said, "It's a good question, because I've kind of been asking myself the same thing. I consider myself a pretty darned good wedge player. My short irons and wedges, I feel like I'm just as good as any of them. If I putt well, I feel like I'm a tough out. … I just feel like even if I don't have my best stuff, I can at least bring enough firepower to make it interesting."
Strafaci said on Thursday that he and Hagestad became friends when they were paired together in the stroke-play rounds in the U.S. Amateur at Pebble Beach. They grew closer getting practice squad reps in advance of the 2019 Walker Cup.
"Stew is unbelievable," said Strafaci, who won the North & South Amateur title earlier this summer. "Every mid-am in this field is great. But Stew ... he could play on tour right now. [Friday's] match is going to be gritty. I know I'm going to have to play the best I've played to beat him."
Hagestad has always said that he didn't want to bang heads with the world's best pro players, that he's been happy to mix it up with friends and be motivated to play at the top amateur level. This week, he's certainly defined that desire again, considering the high personal stakes he chose in competing.
"I do know if you play well in big events like these, people, care, they pay attention," Hagestad said. "I would argue to say that if you make a Walker Cup team, that's an impressive feat. And I wasn't willing to give that up."
An MBA can wait. A U.S. Amateur title would be priceless.