News
U.S. Amateur upstart has secret weapon: caddie who might be better than him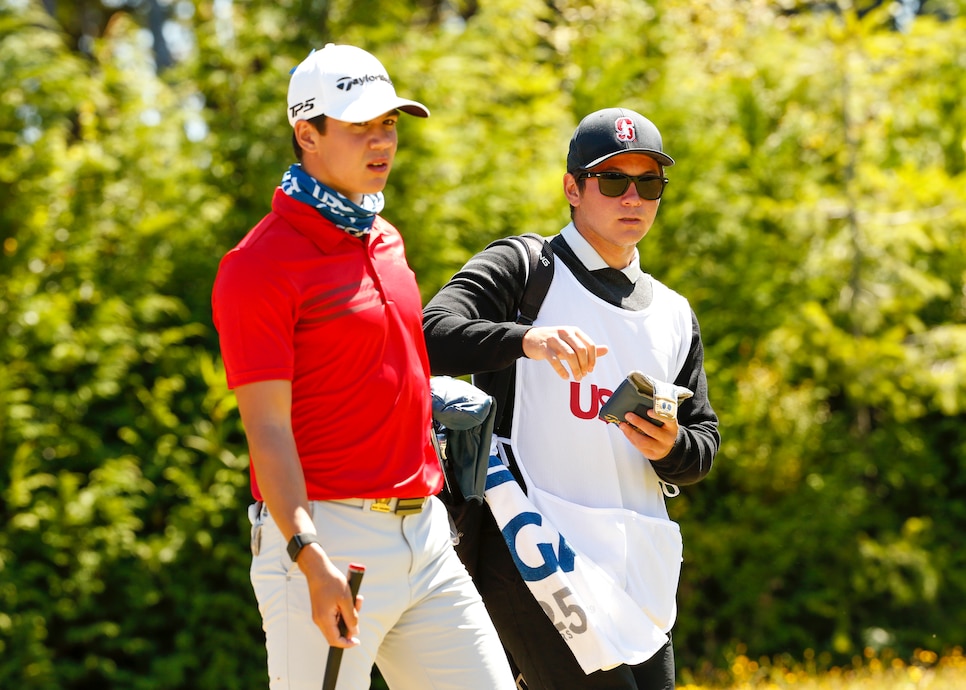 Michael Thorbjornsen (left) and his caddie for the week, Karl Vilips, have been best friends and competitors since their early junior golf days.
Steven Gibbons
BANDON, Ore. — It is one thing for a friend to say he has your back when there's nothing to be gained or lost. It is quite another to trust him with the very thing that means the most to you.
Michael Thorbjornsen is doing that this week in the 120th U.S. Amateur Championship. The 18-year-old is putting his faith and sharing his fate with Karl Vilips, who happens to be his best friend, but also a young man who figures to be his playing rival for years to come.
When Vilips, the 10th-ranked player in the World Amateur Golf Rankings, decided not to enter the U.S. Amateur because the broken bone in his hand was still healing, he happily accepted caddie duties this week at Bandon Dunes for the No. 43-ranked Thorbjornsen. Maybe it was a tough ask in some ways, because Vilips would have relished competing. But Thorbjornsen also knew how valuable a sharp, competitive mind could be on his bag, and that Vilips would attack the task as if his own dreams were on the line.
"I am very invested in what I'm doing," Vilips earnestly said on Wednesday. "I take everything I do very seriously. I want what's best for Michael. I'm not going to let him down."
Vilips has done no such thing through the first three days of this marathon of a tournament. After easily advancing out of stroke play with a three-under total, Thorbjornsen—the 2018 U.S. Junior Amateur champion—got his first taste of U.S. Amateur match play on Wednesday, and the pair dissected Bandon Dunes with precision in a 3-and-2 victory over University of Georgia junior Trent Phillips. In Thursday's Round of 32, Thorbjornsen takes on Swede and Boise State junior Hugo Townsend, who beat Michael Feagles, 4 and 2.
"The experience has been amazing," Thorbjornsen said of both his play and his work with Vilips. "Karl and I have known each other for 10 years now. We've been playing junior golf together for such a long time. If I could pick anyone to be on my bag, it would be him. He knows my game extremely well. I respect his game. He's one of the smartest, if not the smartest when it comes to golf IQ."
Neither had ever been to Bandon Dunes before this week. But showing a bit of the savvy that will serve them well in their Stanford education, they approached practice rounds as if Bandon Dunes were a "puzzle," Thorbjornsen said, studying all of the angles and certainly taking in how the wind can affect virtually every shot.
In that prep, Vilips had something of an edge. Growing up on the west coast of Australia, he played regularly with his dad on The Cut Golf Course, which is similar to Bandon in being exposed on the cliffs. Wind players aren't born, they're made, and Vilips is something of a wind whisperer. He notes, for example, that a draw that rides a considerable breeze will travel a good 15 yards farther than normal, while a fade in the same conditions might gain only 10 yards.
"It's all about the angles," Vilips said.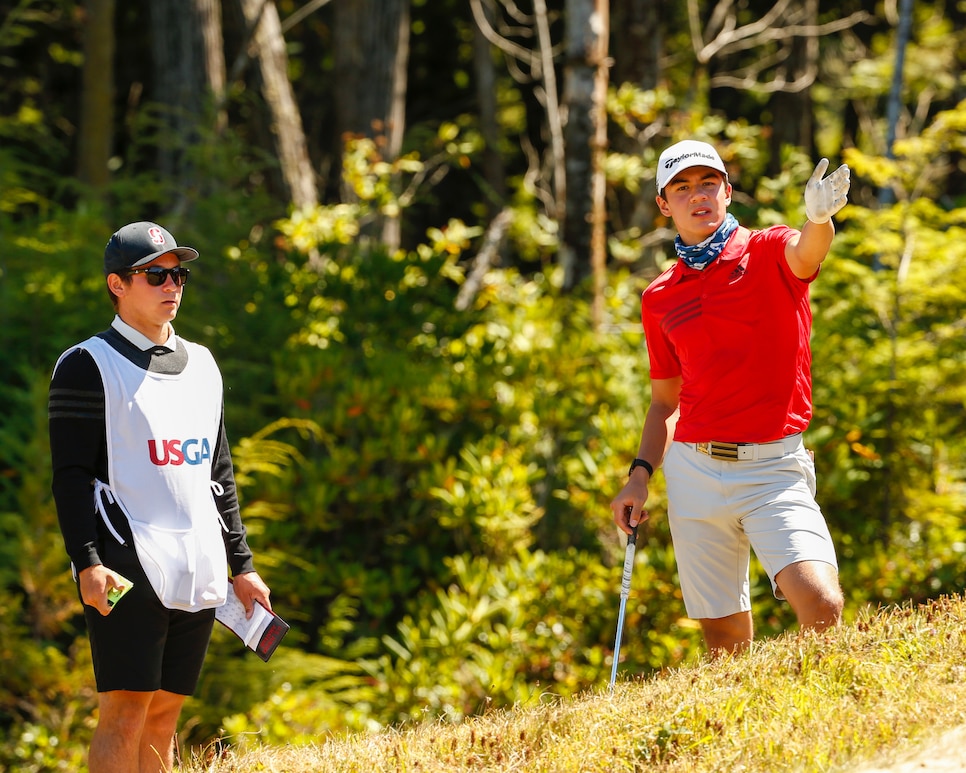 Michael Thorbjornsen (right) and caddie Karl Vilips strategize on a shot during the first round of the 2020 U.S. Amateur Championship.
Steven Gibbons
He admitted to one poor wind read over the first three days, but Thorbjornsen knows there have been far more circumstances where Vilips has saved him shots.
"We have a really good game plan for each and every hole, and each shot," Thorbjornsen said. "It's acting as repetition, in a way. I know what kind of shot I need to hit, and it comes down to pulling it off. I'm hitting a good amount of fairways and a good amount of greens. Fortunately, some putts have dropped."
It can be argued that Vilips is the more accomplished of the two in stroke-play competition. He won five AJGA events in his junior career and, at 15 years old, captured the 2017 Southern Amateur to join Bobby Jones as the youngest champions in the tournament's history. And Vilips can go extremely low, having set or tied numerous competitive course records, including those at Wannamoiset Country Club [61], Sedgefield Country Club [62], Pinehurst No. 4 [65] and the Country Club of North Carolina [63].
However, Vilips gladly gives the edge to Thorbjornsen in match play.
"I've played him in singles," Vilips said. "He's very straight for how far he hits it. He'll be 30 yards by you and in the fairway. He doesn't make many bogeys, and it slowly gets on a player's nerves. He sees it the other way around, and I tell him, 'Michael, you're that guy.' "
Friends since their early junior golf days, they have been inseparable at any tournament they're playing together. Nothing has changed in their late teens. While Vilips recovered from hand surgery in the last few months as the coronavirus pandemic wore on, he traveled from Florida to the Thornbjornsen's home in Wellesley, Mass., and stayed there for six weeks.
Has the experience this week made them even closer?
"I don't know," Vilips said. "That bond was already solidly there. I don't know that it can get much stronger."
There are competitive pangs, Vilips admits. They're coming not in the heat of battle this week, but on the driving range as they prepare. Vilips aughed when intimating that as soon as Thorbjornsen finishes hitting a club, Vilips picks it up and swipes at a few balls. Guaranteed, there's not another caddie hitting it better out here.
With the slightest twinge of regret, Vilips the golfer, not the caddie, said, "I would love this place."