News
It will be a different kind of Father's Day in U.S. Amateur finals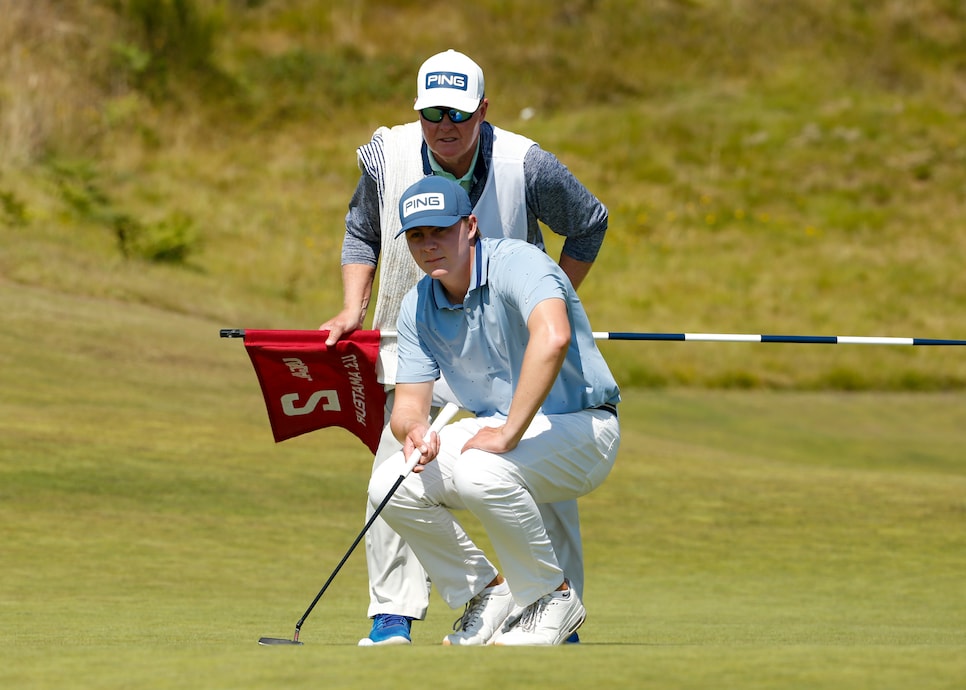 Charles (Ollie) Osborne and his caddie/father Steve Osbrorne read a putt on the second hole during the semifinal round at the 2020 U.S. Amateur at Bandon Dunes.
Steven Gibbons
BANDON, Ore. — In this case, it's truly like father, like son.
When Tyler Strafaci and Charles (Ollie) Osborne tee it up against each other in the 36-hole championship match of the 120th U.S. Amateur on Sunday at Bandon Dunes, their personalities and approaches to the pressure they face will be markedly different. Not only in their own demeanors, but those of their caddies—both of whom happen to be their dads.
Frank Strafaci Jr. is a fast-talking, edgy son of a New Yorker with longish gray hair who hails from a deeply accomplished golf family. There's a certain amount of, say, confidence that goes along with that. Steve Osborne speaks softly and deliberately, just as you might expect from an attorney by profession. You're probably not going to see him pounding his fist on a table in the courtroom like the lawyers do on television.
"My wife's Italian. She's the animated one," Steve said with a grin late on Saturday afternoon.
Ollie Osborne is decidedly not cartoonish, which is why his family dubbed him the "Silent Assassin" when he's on the golf course. "He'll be walking up the fairway, talking to no one, but he will beat you," his dad said with pride.
Tyler Strafaci, 22 and an rising fifth-year senior at Georgia Tech, doesn't mask his emotions or thoughts, explaining about his near-collapse in the semifinals on Saturday, "I wasn't responding to it well. I'm not gonna lie. I didn't do well with it. I was telling my dad there was a lot of negative self-talk."
The golfers are opposites to be sure, but that makes their first meeting of any kind all the more compelling, as does what is on the line for each of them if they can claim their first U.S. Amateur title. Strafaci got choked up after his 1-up semifinal victory over Aman Gupta when reminded that just by reaching the finals he'd made the 2021 U.S. Open at Torrey Pines and likely will get an invitation to next year's Masters, which his grandfather, Frank Strafaci Sr., played in three times. "So cool, awesome," he said after pausing to collect his emotions.
Said Osborne, after he'd beaten Matthew Sharpstene, 4 and 2, "It's kind of unbelievable. I can't believe that I'm here. It's just cool how this week has gone for me, and I'm excited to be in it."
A 20-year-old from Reno, Nev., who will be a junior this fall at SMU, Osborne looked doomed to not make it out of stroke play when he got the field's toughest draw for the first round—wind-swept Bandon Dunes on Monday—and shot 77.
"We had a little talk about how he has to just … feel that calmness within himself," Steve Osborne said. "He's at his best when he's that way. Whenever he plays with me, he knocks my socks off. I told him to just pretend you're playing dad."
Osborne responded the next day by tying the Bandon Trails course record with a 64. His run through match play thus far has been one of domination, with only his first-round match reaching the 18th hole. On Saturday, in the most benign conditions of the week, Osborne was 1 down to Sharpstene after losing the seventh hole, but countered with four birdies while winning six of his final nine holes.
"This week, I've just been looking at this like I have nothing to lose, everything to gain," Osborne said. "I try to be as aggressive as possible."
Osborne, who won the AJGA's 2017 Jordan Spieth Championship, has two college wins and came into the week somewhat under the radar because of his place at No. 460 in the World Amateur Golf Rankings. But he also advanced through two stages of qualifying to reach the PGA Tour's 2019 Barracuda Championship, and while playing on his home course of Montreaux Country Club in Reno, he came up one point shy [with a double bogey on the 18th hole] of reaching the weekend in the modified Stableford format.
His dad also recalled that in SMU's playoff to get into match play at the 2019 NCAA Championship, Osborne drained a 20-foot birdie that helped the Mustangs reach the final eight.
"The people who play him can see how good he is, and the best part is, he keeps working to get better," Steve Osborne said. "When the top guys play him, they see it."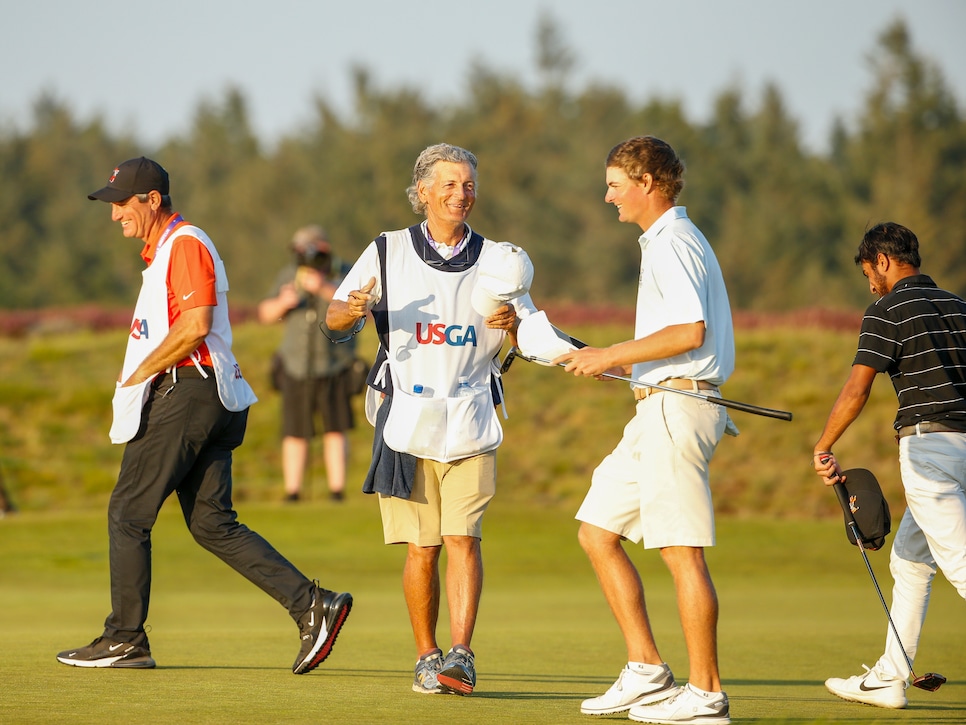 Tyler Strafaci and his caddie/father Frank Strafaci celebrate after he won his U.S. Amateur semifinal match.
Steven Gibbons
Strafaci and Osborne hadn't met until they greeted each other briefly on Saturday morning. Osborne figures to get a feel for his opponent early on Sunday. Strafaci, ranked No. 56 in the WAGR after winning this year's North and South Amateur and Palmetto Amateur, has had a much more tumultuous route to the final. He was part of the rules snafu on Thursday when the caddie for Segundo Oliva Pinto brushed the sand on the 18th hole—a violation called out by the elder Stafaci that resulted in a lost hole and match.
In the quarterfinals, Strafaci twice lost a 2-up lead to mid-am Stewart Hagestad before prevailing on 18, and on Saturday, Strafaci stormed to a 4-up lead on Gupta, only to be caught by the 17th hole. He prevailed when Gupta drove into a bunker at 18 and took three shots to escape.
"Another weird finish. I don't know how to describe it," Tyler Stafaci said. "Still, it was a great match. I still played solid. [Sunday] I've got to do a better job if I get ahead to keep the pedal down."
Strafaci admitted he had to overcome jangly nerves before he teed off. He said he spoke to former roommate and last year's U.S. Amateur champ Andy Ogletree on Saturday morning. "I said, 'Bro, I'm not going to lie, I'm pretty nervous. I've never been in this spot before.'" Strafaci said. "He was very good. He told me, 'You just have to understand, the other guy is as nervous, if not more nervous, than you are.' That kind of got me in a better mindset."
Both finalists are playing with hope and expectations on their shoulders, provided by their universities' rich tradition. Strafaci is seeking the fourth title for Georgia Tech, whose three champs include a legend, Bobby Jones [and his five U.S. Am wins]. SMU has four U.S. Amateur winners, with Bryson DeChambeau being the most recent in 2015.
Strafaci hung out and watched TV with the Havemeyer Trophy on the coffee table when he lived with Ogletree. Osborne has been bombarded with texts this week from some of the past Mustang champs, and, not surprisingly, he insists that doesn't add to the pressure.
"It actually kind of calms me down to hear, and they are telling you that you've got the game, just kind of do you," Osborne said.
Fathers and sons will no doubt be themselves on Sunday, and that's all the theater we could ask for.