News
U.S. Amateur triumph would add to Strafaci family's deep golf legacy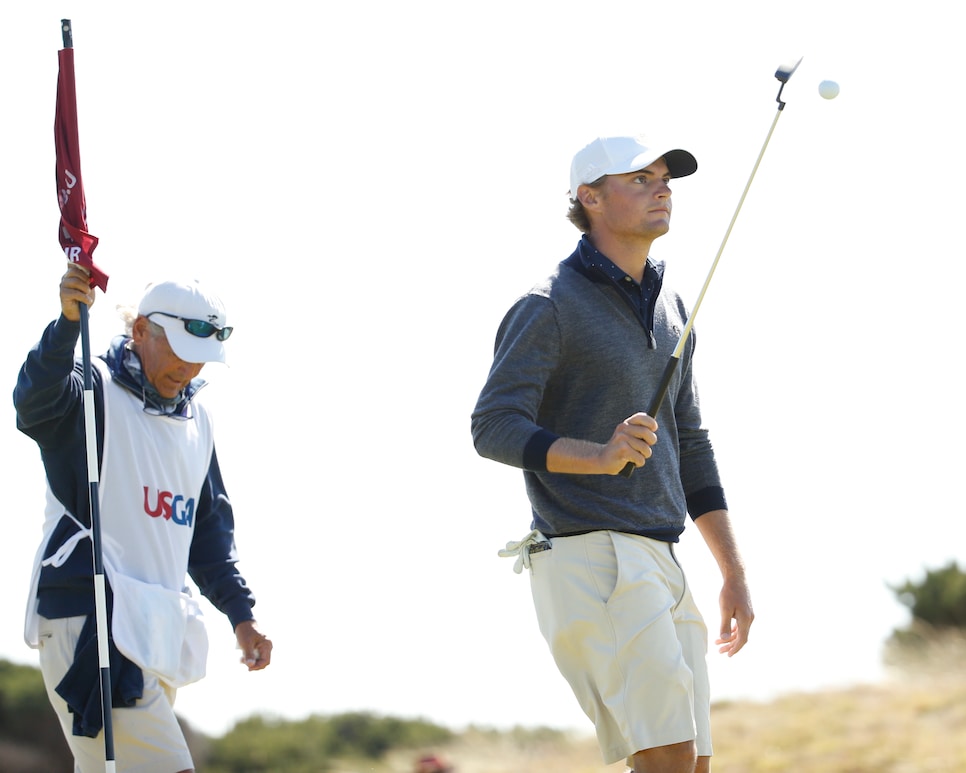 Tyler Strafaci and his dad, Frank. who is his caddie, are trying to continue a golf legacy established by Frank Strafaci Sr.
BANDON, Ore. — For most of his life, Tyler Strafaci has heard about the greatness of a man he never met. His grandfather, Frank Strafaci, died 10 years before Tyler was born, but he has loomed large in a golf-obsessed family because of the respect he earned as a person and a top-level amateur player.
On regular trips to play at the Pinehurst Resort in North Carolina, Tyler's dad, Frank Jr., made sure they always stopped to check out the locker with grandpa's name on it—Frank Sr.'s reward for twice capturing the prestigious North and South Amateur in the late 1930s.
Never in his wildest dreams could Tyler have imagined sharing that feat with his grandfather, but he pulled it off July 5, wrapping up the North and South at Pinehurst No. 2 with a 3-and-1 win over 2019 U.S. Amateur semifinalist William Holcomb V. No other grandfather-grandson combo had done it.
Mission accomplished for one summer. Legacy fulfilled, right?
Not even close. Frank Strafaci Sr. also won a USGA title, the 1935 U.S. Amateur Public Links, and, with due respect, 85 years later his grandson has a chance to possibly one-up him. Tyler Strafaci is two match-play victories away from seizing the 120th U.S. Amateur Championship, with the first of those showdowns on Saturday at Bandon Dunes Golf Course.
The 22-year-old Strafaci, a Georgia Tech fifth-year senior from Davie, Fla., faces Oklahoma State rising junior Aman Gupta, 21, in one semifinal, with Charles (Ollie) Osborne, 20, taking on Matthew Sharpstene, 21, in the other match. The survivors meet in the 36-hole final on Sunday.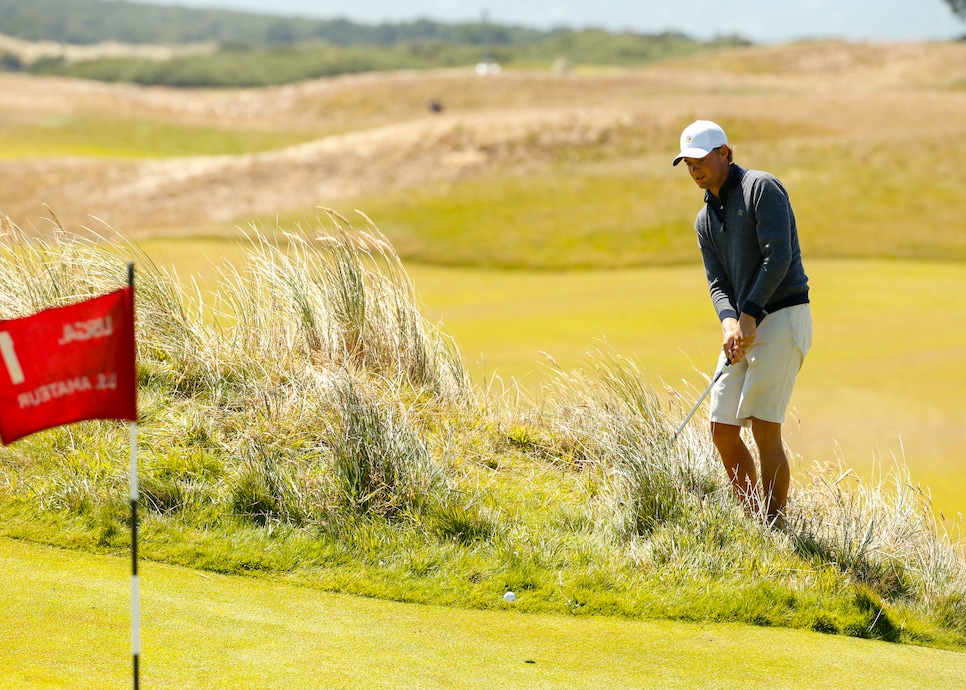 Tyler Strafaci plays his third shot to the first hole during the quarterfinal round at the 2020 U.S. Amateur.
Steven Gibbons
Strafaci advanced out of Friday's quarterfinals by beating a player who has become a good friend—mid-amateur stalwart Stewart Hagestad, who pushed his young competitor to the par-5 18th, only for the 29-year-old to desperately lash a driver shot off the deck into a hazard, allowing Strafaci to close it out with a two-putt par.
"I thought I played fantastic," Tyler Strafaci said. "I made some really good putts early on. I had three up-and-downs from a bunker in a row [at Nos. 3, 4, 5], and hit it [close] at 6 [to take his first lead]." Another strike he'll remember—an "obliterated" 250-yard 5-iron that led to another birdie at 9 and a 2-up advantage.
Strafaci also had to deal with some adversity, suffering back-to-back bogeys that let Hagestad get tied through 15, only to have the older player push his approach to the right at 17 into a hazard, suffer bogey and drop 1-down again.
"I knew when I drew Ty that we were going to have a real tough one today," Hagestad said. "He's a good golfer, but he's just such a mature person, and that comes from both his parents.
"His ranking [56 in the World Amateur Golf Rankings] doesn't reflect what he is. He's a stud."
On the bag, keeping Tyler focused and upbeat while lending an ear to his frustrations has been his father, Frank Jr., an accomplished golfer who competed in a handful of USGA events. Frank, 62, hadn't caddied much for Tyler since the junior golf days, but, as a Father's Day gesture, the son asked his dad to loop in both the North and South and U.S. Amateur.
Frank was ready, having trimmed down by 30 pounds while riding a bike during the coronavirus pandemic.
"It's been great," Tyler said of the teamwork. "Excuse my language, but I can bitch at him sometimes. If I'm stressed out there, he understands. He knows my game better than anybody. So I have him out there to calm me down.
"Usually," Tyler admitted, "I haven't liked him caddieing because we'd bicker back and forth. But he knows I'm at a level know where I'm in control of my game. Here's there to push me along instead of teaching me. He's there to reinforce and keep my head straight."