The Loop
UNLV football posts head coach job on Indeed, Craigslist up next
Hey football fans! Want to see what rock bottom looks like? Then you came to the right place, because this is the place where we tell you that UNLV—an actual FBS football program—has posted their head coach vacancy on Indeed, where anyone (even you!) can apply. This is something we can't even imagine Rutgers football stooping to, and if it's beneath Rutgers football, you know it's really, REALLY, REALLY bad.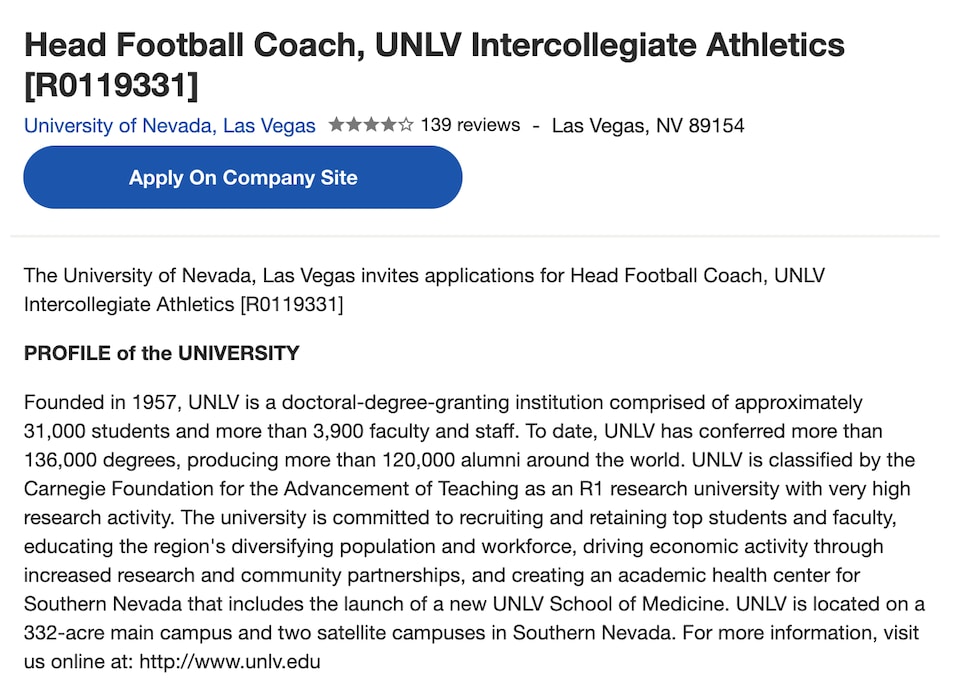 The first thing to note is University of Las Vegas's four-star rating. As a prospective Division 1 head coaching candidate, that's a good sign. The second thing to note is that a bachelor's degree is also required, which may or may not be good news for you, intrepid cruiser of online job boards. If that pre-requisite is met, feel to free to peruse the job requirements, which include.
Pretty basic stuff! Anyone can do it, just ask Jim Harbaugh. Then again basic might be just what UNLV are looking for. The Rebels are 20-40 under former head coach Tony Sanchez, wrapping up their third 4-8 season in the past four. But hey, they did just beat arch rivals Nevada in a 33-30 OT thriller, so perhaps now's the time to get in on the ground floor.