News
Tour Championship 2018: Rory McIlroy with a chance to prove doubters wrong at East Lake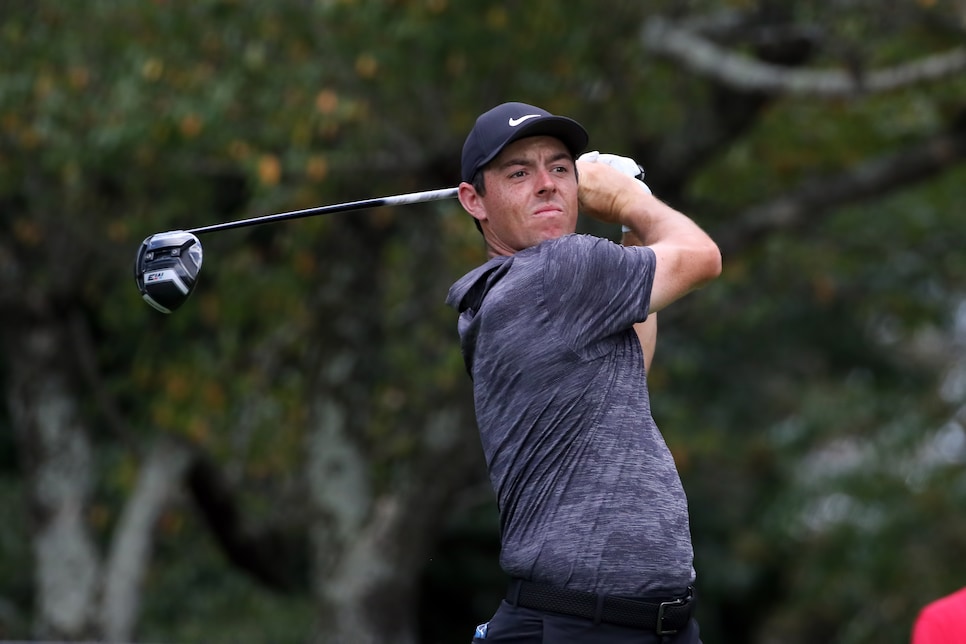 ATLANTA—Rory McIlroy already said what happens this week, or at the Ryder Cup, won't change the complexion of his year. There's truth to that. He's one of the vaunted, and cursed, players whose seasons are viewed through a four-tournament prism. Cruel in itself, especially so when you fall short on that spectrum.
Yet, whatever magnitude, or lack there of, is given to the Tour Championship, Sunday's final round at East Lake has indelible weight to it. Thanks to the man McIlroy will be playing with. Even if he's not paying that man much heed.
"All I can do is worry about myself. It doesn't matter who it is I'm playing with," McIlroy said. "It's obviously exciting for the golf tournament. It's exciting for golf in general that he's up there. But for me, all I can do is concentrate on myself. "
"He" being Tiger Woods, who holds a three-stroke lead after 54 holes. And because Woods is in position to win for the first time in five years, a win that would cap off one of the more sensational comeback campaigns in modern sport, this tournament—routinely relegated to secondary news against the passion for football—has been elevated to an A-1 story.
But while it's Tiger that has raised this profile, McIlroy is more than capable of stealing the headline.
The 29-year-old turned in a four-under 66, the second-lowest round on Saturday behind you-know-who. Similar to his first two rounds, McIlroy enjoyed a nice start—he's six under on the second and third holes this week—with only the seventh giving him trouble, failing to get up-and-down from a greenside bunker. That was his lone bogey, and more than made up for that miss with three more birdies on on the back.
"I gave myself plenty of chances, and I think the biggest thing today was only just that one bogey, and it was a silly bogey from the middle of the fairway, as well," McIlroy said. "Five birdies out there, one bogey, it's playing tough. Got to put your ball in the fairway, put yourself in position, and for the most part, I did that today."
No denying that, as Rory ranks second in the field in strokes gained/tee-to-green this week. Unfortunately, as has often been the case for McIlroy, the flat stick has let him down, ranking 23rd out of 30 in sg/putting. Considering the host of lip-outs he's suffered this week, not that hard to envision McIlroy as the one with the three-stroke advantage.
Still, he is one of two players standing in the way of Woods. For those thinking McIlroy will crumble under the pressure, think again.
"Again, all I'm trying to do is worry about myself," McIlroy said. "It's difficult. I don't—I mean, I think it's the same regardless of who it is in the lead. You're going out to try and shoot a good score. And whether that score holds up at the end of the day or not, again, it's just about focusing on yourself. Look, he's a notoriously great front-runner, but if I go out and I play similar tomorrow like I did today, I'll have no complaints."
In one sense, McIlroy has nothing to prove. Four major titles lend that credence. Conversely, if Woods, a player with 10 more majors and 65 more victories is still seeking validation, no one has immunity in today's "What have you done for me lately?" landscape. In that latter regard, the Northern Irishman has come up short. He wilted at Augusta National this spring following a hot start on Sunday, and his run at Carnoustie was too late. Critics have questioned his fire, his decision-making. McIlroy has brushed them off, calling his game a process, and while it's undeniably headed in the right direction, fans are eager for it to reach its way to a trophy.
He'll have that chance Sunday. Though playing with Woods can be burdensome, McIlroy—see Hazeltine—thrives under such pressure. Moreover, aside from Woods, McIlroy might be the most popular player with galleries in the sport. He won't be alone in this fight.
That said, McIlroy kept stressing the need to look inward Sunday night. To not let the noise, in either connotation, get to him.
"Just keep telling yourself," McIlroy said on focusing on himself. "Just keep saying that over and over in your head."
What happens on Sunday won't change Rory's season. But it would make a heck of a statement.