News
Watching Tiger Woods through the roars at East Lake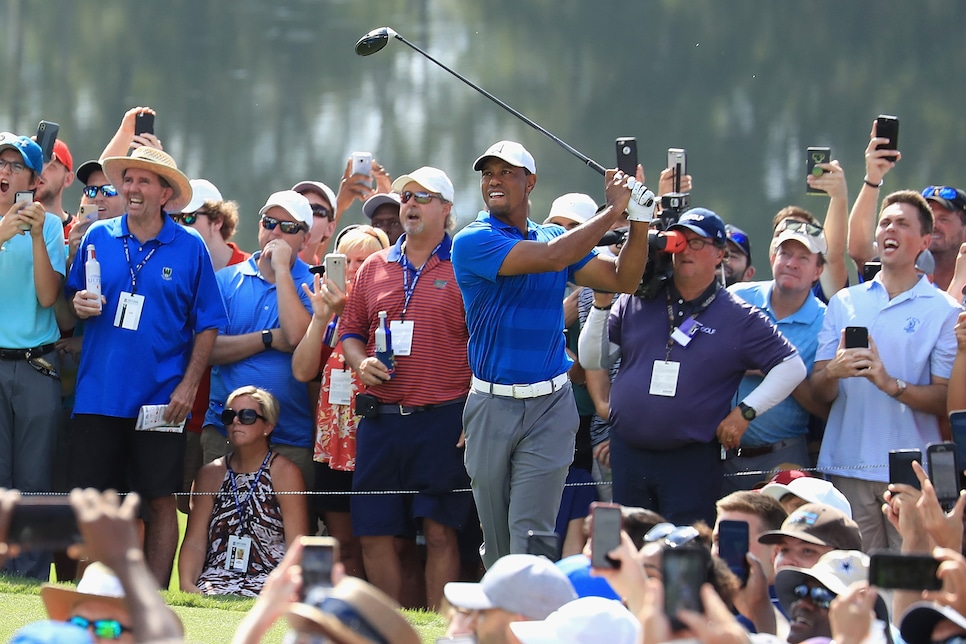 ATLANTA—They started on the 14th. Well, technically they started at the first, but they rumbled their way to the 14th, which is the furthest hole from the first on the course. It's not a particularly big place, East Lake, weighing in at 190 acres. However, though the namesake pond that sits at the heart of the property takes up a good chunk of real estate, it also spreads things out. No matter; the 14th could have been a few acres back, or in Athens or Augusta. They—the roars, that is, and the man who produced them—would have still been irrefutable.
Happened to be on the 14th with Brooks Koepka and Bryson DeChambeau when Tiger Woods was on the first green Saturday afternoon. In case the rejuvenation of Tigermania wasn't enough to draw a crowd, the 42-year-old was making his first Saturday start as 36-hole co-leader in three years. There was a undeniable frisson in the air, an energy usually seen at a college football tailgate. As a fellow scribe would later note, "He made Saturday feel a lot like a Sunday."
And sounds. Oh, those sounds.
Koepka and DeChambeau were lining up approaches on the 520-yard par 4 when the first cries went out, erupting to the level that both looked in the direction from where they came. After a brief glance, they shot each other a half-smile and head-shake. Tiger had birdied the first.
Still with the two Ryder Cuppers as they teed off on the 16th, another boom off the water, so loud that it could only be coming from the eighth, which sits opposite the 16th tee box. Only there were no real crowds to speak of on the eighth. The noise emitted from further back. A quick double-check to the phone, but we didn't need confirmation: Woods had made another birdie. According to video on Twitter, off a sizzling approach to eight feet.
You see, the topography here is such that everything funnels towards the lake, forming a basin and producing a natural acoustic few courses can boast. Only so many fans can physically watch Tiger on one hole. But, thanks to the East Lake contours, everybody could hear him go.
Departing the Koepka/DeChambeau pairing and seeking a respite from the sun, a pavilion beckoned, which sits off the 16th tee and towards the left side of the driving range. There's no real vantage point of golf to speak of. This is a forum for socializing, with fans decanting themselves on couches or hanging their arms over a railing, usually drink in hand, as they gaze upon the lake.
Still, a number of conversations and daydreams were cut short as cheers from the other side of the pond would send hordes to the tent to check a TV—thank the golf gods for seven-second delays—to see what transpired. The cheers after his drained 21-footer on the third were easily distinguishable; the sounds after his approach to seven feet on the fifth were more muted, comparatively speaking, yet still left no doubt who they were for.
"Yeah, I got off to a nice start there," Woods said afterwards with a smile.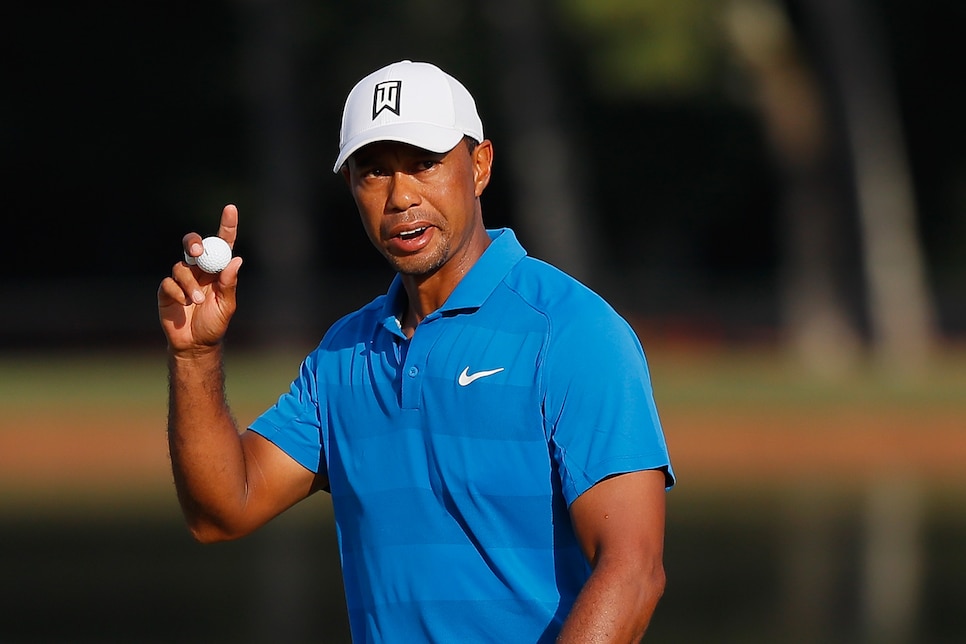 From our location, there was silence when Woods reached the sixth, a par 5 that's been one of the easier holes at East Lake, forcing one 20-something to continually refresh his phone. "Whew," he told his friends when discovering Woods had made another red figure. "Was worried there for a second."
Tiger's seventh was an experience for those on the pavilion deck. The thunder, at least it reverberated like thunder, was so different that a well-oiled man was convinced Justin Rose knocked in an eagle. "No way it's Tiger again," he said repeatedly. It was, as Woods had put his approach 172 yards to five feet. He converted, his fifth birdie in a row and sixth on the day.
"Why couldn't it been Tiger who eagled?" a woman asked. The man's reply was quick, and true: "It woulda been like an earthquake if that happened."
There were more than just roars on Saturday. On the way from the pavilion to the 10th tee, polite applause could be heard from the eighth, signaling Woods had played the hardest hole on the course without incident. The same could not be said of the ninth. Woods yanked his tee shot way left into the brutal bermuda. While the execution of the chip was as good as one can do in that spot, 10 feet remained. Woods missed, a fact hammered home by a wave of, "OOOOOOhhhh" that dipped through the trees.
That was quickly replaced with shouts of encouragement and holler as Woods parted the masses on his way to the 10th. Forget tailgate. This was Duke-Carolina-at-Cameron madness. As it should have been. Despite the bogey on nine, Woods made the turn in 30 strokes, 12 under for the tournament to mount a four-stroke lead.
Tiger always receives shrieks and screams and calls of his name. This was different. They were guttural and provocative and buoyant. Much was made of the crowds in St. Louis for the PGA Championship. That was a display where the gallery lifted Woods' spirits, urged him to continue, just one more birdie, and baked him in love when he finished. With a four-shot lead, the Atlanta patrons felt like they had the winning lottery ticket, high-fiving their good fortune, and were on their way to cash it in.
But 27 holes remained before that ticket could be cashed. Standing outside the media center on the 10th hole, waiting for the phone to charge (constantly checking Twitter in 90-degree heat will do a number on your battery), claps without yells could be heard from the top of the hill, meaning Woods two-putted for his par. These eyes witnessed Woods put a delicate chip on the 11th green to eight feet, with a barrage of "YAAAHHHHSS!" letting it be known he saved par.
"This week I have been consistent," Woods said about his putting. And he has, ranking first in strokes gained/putting. "My speed has been good. I'm seeing the arc of the putts, and the best part is that I'm releasing that toe, and that toe feels like it's hooking every time. It's a great feeling. I feel great when I've got a lot of release in my hands."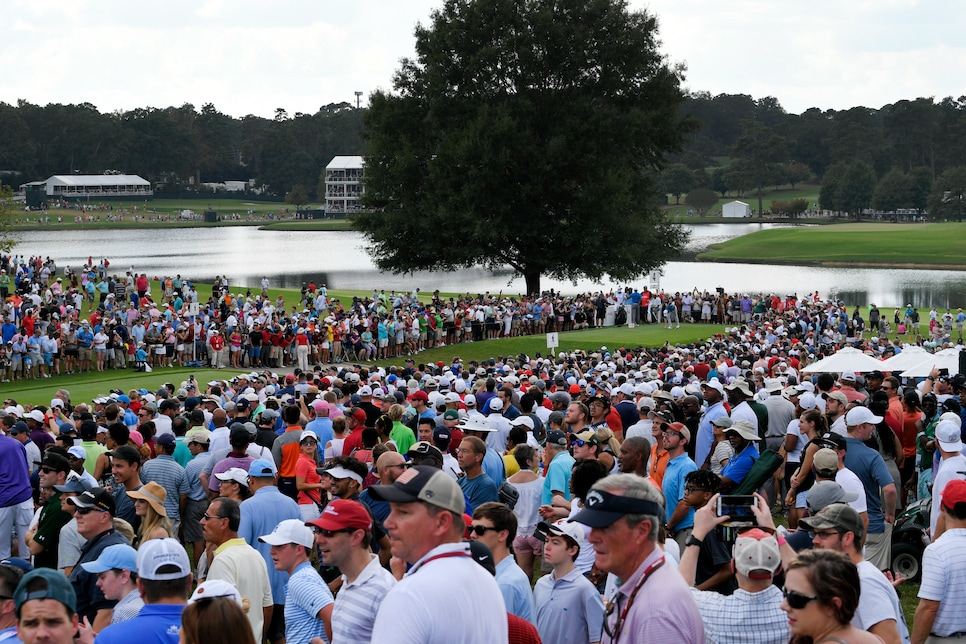 With phone in hand, a journey to the back nine, where a lone "Come on …," with an ensuing chorus of hurrah, gestured that Woods made another birdie at the 12th, his seventh of the afternoon. Woods made pars on the 13th and 14th, before arriving at the 15th, a dangerous 200-yard par 3, to approval from the grandstand like a conquering hero. His shot did not live up to the welcome, finding its way into a greenside bunker. If the tee ball let fans down, Tiger's recovery did not, nearly sinking it from the sand, at least according to the crescendo of "ooooOOOOO" and "Ahhhh" that followed. Woods cleaned up the five footer with authority, keeping pace at 13 under.
Unfortunately for Woods, he was a victim of the 16th again. A day after making double bogey, Woods' tee shot found the thick stuff, and was forced to try and run it up to the elevated green. The approach was offline, though, falling off to the right-side collection area. From the 17th hole, a group of us could see Woods take a swing at his third, but were unable to see where it landed. Didn't need to; the greenside groans let us know Woods had flubbed his shot.
"I was just trying to squeeze it up in the left bunker, and that rough turned it open," Woods said. "It came out hot and off it went to the right. That's the only spot I couldn't miss it.
"Third shot, ironically enough, I was trying to hit it 40 or 50 feet right of the hole and just take my bogey and get out of there, and I went underneath it."
He was able to get up-and-down to save bogey, but Woods' lead shrank from five to three thanks to a birdie from Rose. More groans on the 17th after a 14-foot birdie didn't break, and for the sake of brevity, the same fate awaited on the 18th green, as Woods failed to up-and-down from a bunker for birdie.
But, before his approach from 240 yards found the beach, Woods put the hurtin' on his driver, pounding his tee ball some 350 yards down the 18th fairway. The walk from that tee box to his second, even to the bunker, was an endless stream of ovation.
The performance warranted it, of course. Woods' five-under 65 was the best round of the day, putting him three shots ahead of Rose and Rory McIlroy, who will be paired with Woods on Sunday, and 18 holes away from something that hasn't happened in five years.
"I would love to be able to win this event," Woods said. "I've got a three-shot lead. I've got a bunch of guys behind me that have been playing well and are playing well, and we'll see what happens tomorrow."
In that same breath, that ovation was more than that. You can say it was for everything he's been through, which it is, but also for everything he's done this year. Victory or not, Tiger Woods has cobbled together one of the most miraculous comebacks in modern sport. It's the type of experience you get only a few times, if ever, in fandom. There will be much time to dissect and discuss, but in the moment, that ovation would suffice.
Maybe that's why, as Woods made his way off the course following Round 3, a teenager was screaming into his phone, "Oh my god, dude, Tiger! Did you hear?"
In Atlanta, and around the world, golf fans did.